Who would have thought our freedom of movement could have been so drastically restricted as the world succumbed to Coronavirus? Who could have envisaged the dramatic consequences lockdown would wreak – not least on our physical and mental wellbeing?
So with every gradual easing of these nationwide restrictions, it makes sense that we begin to explore our slowly expanding boundaries once more, particularly as they could be constricted again at any moment. 
Travelling abroad may prove difficult for the foreseeable future but there's no reason why we can't cautiously explore our own great outdoors once more. Our right to roam has returned and journeys are back on the agenda. And while it makes sense to avoid towns, cities and popular beauty spots in favour of the wilder corners of the country, getting there is still far from easy. 
So with public transport still posing social distancing issues, and paid-for accommodation, whether hotels or campsites, in short supply and high demand, perhaps there is another way to enjoy a truly 'wild' weekend, and that bike gathering dust in your shed might just be the key.
The beauty of bikepacking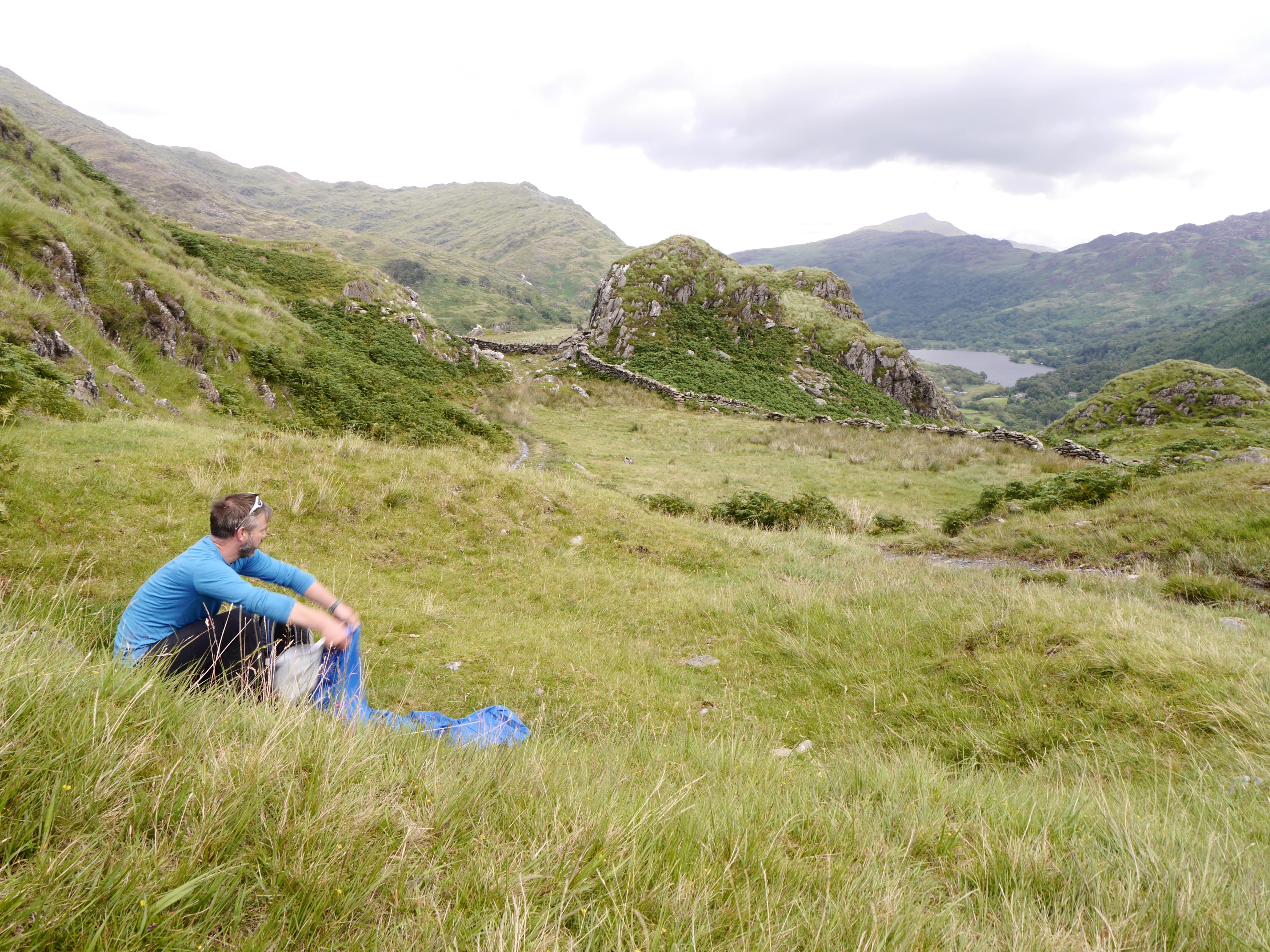 The discovery of bikepacking was, for me, something of an epiphany. With limited time to go riding off-road, I would revisit the same local trails time and again. In need of a liberating night beneath the stars one evening I packed a rucksack, strapped a bedroll under my top tube and headed for the hills. 
After a short singletrack ride towards the setting sun I hunkered down in a clearing to enjoy the tranquillity of a place that should have been familiar but in the twilight seemed magically transformed. 
Bikepacking can be a wonderfully exhilarating way to explore the outdoors, whether it's the countryside around you or the farthest-flung wilderness. At its heart is a fusion of mountain biking and minimalist camping – allowing you to set off on self-supported, overnight forays into Britain's beautiful wild spaces. 
Using a vast network of bridleways, forest trails or ancient byways, you can embark on adventures big or small, from short loops to epic journeys. I have ridden the length of Wales on bikepacking adventures, and ventured deep into remote glens in the Scottish Highlands to spend the night in isolated mountain bothies, though I still grab the chance when I can to camp out on my local hills, before lockdown often riding straight to work in the morning. 
Though you can spend a night in a pub, B&B, bunkhouse or on a campsite on an off-road journey, for me the epitome of bikepacking is a wild camp in the middle of nowhere. There is nothing more memorable than making camp for the night on a mountain plateau or by a lake shore, or slinging your hammock between trees in a forest clearing. 
And there's something quite special about knowing you are the only soul for miles, lying beneath the clearest of stars, with breathtaking views awaiting you in the morning.
Where to wild camp
With some 90% of English land in private hands the chances are someone will own the land you chose to camp on. Although not permitted (wild camping can be seen as trespassing), it's not a criminal offence unless you cause damage or a disturbance.
Ideally you should ask permission of the landowner, though this is often impractical. However, with a little common sense, consideration and discretion it's easy to find appropriate places to camp, allowing you to enjoy a wild night without disturbing anyone, or being disturbed yourself. 
Choose a spot away from paths, roads and houses, and lay a bivvy bag (a waterproof cover for your sleeping bag) in the trees or behind a hedge. Tarp shelters are useful in bad weather, and can be pulled down in minutes. 
And although a tent is more obtrusive, the microlight varieties that work best for bikepacking tend to be low and compact, though again use these with discretion. Wherever you decide on, arrive late and leave early, cause no damage and leave no trace, and stay no more than a night.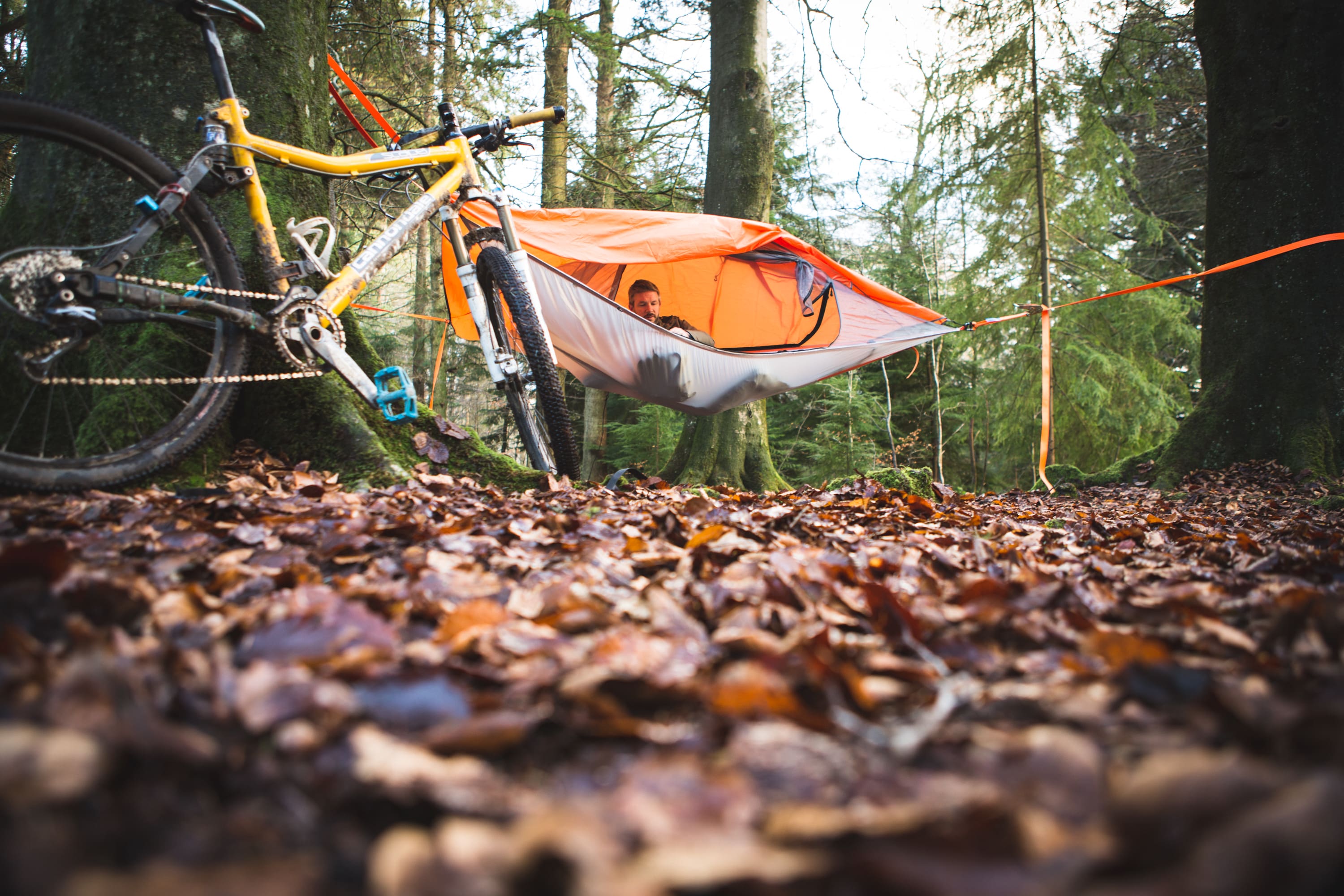 There are places where wild camping is permitted, such as large parts of Dartmoor and Scotland since the 2003 Land Reform Act. The rights of those fishing on the foreshore – the area of shoreline exposed between high and low tides – or navigating rivers and canals to sleep there at night were enshrined under the Magna Carta. 
Owners of land in mountainous areas tend to tolerate wild camping too, especially if you're above 450m and more than an hour's walk from the nearest road.
You could start by joining the Backpackers Club, which provides a list of pubs and farms where you can camp free of charge. It's worth joining the Mountain Bothies Association too; their 81 maintained but unmanned bothies are in some of the remotest and most beautiful parts of Scotland and the north of England, and your £20 will support the wonderful work the volunteers do to keep them open and habitable throughout the year 
What kit will I need for bikepacking?
You don't need lots of fancy kit to try bikepacking. If you already ride off-road, or go camping, however infrequently, the chances are you already own much of the equipment you'll need. 
You're ready for your first bikepacking adventure with as little as:
An old mountain or hybrid bike
Bed roll
Sleeping bag
Bivvy bag
Tool kit
Food supplies 
Suitable bag 
While bolt-on panniers may be the luggage of choice for road cycle tourists, riding off road requires something a little less rigid. 
Companies such as Apidura, Planet X, Wildcat Gear and Alpkit make a wide selection of dry bags, slings and pouches that will fit snugly beneath the seat, bars and top tube of almost any bike, keeping your kit dry, stopping it from rattling around on rocky trails and spreading the weight out across your bike, helping it to handle more predictably. 
A solo rider can easily carry a camping mat, sleeping bag, stove, tarp and bivvy bag this way, with room to spare for tools, a change of clothes, food supplies and water. Some handlebar slings are robust enough to carry a microlight tent and I have even gone on adventures with a tree tent beneath my bars!
If bitten by the bug you might decide to invest in a compact stove, a microlight tent or hammock, or even a dedicated adventure, gravel or fat bike, but you can certainly enjoy an off-road adventure without these expenses.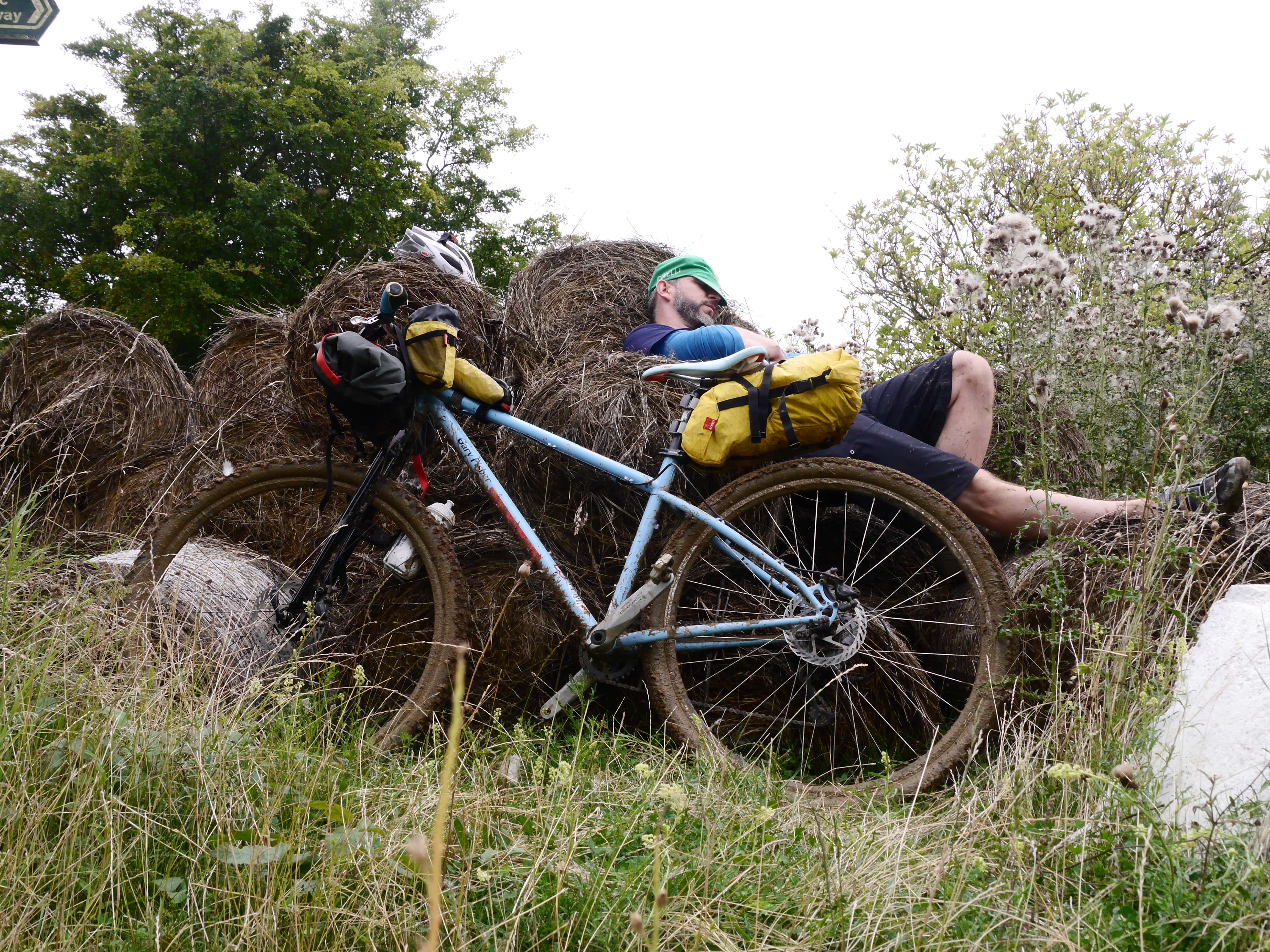 By taking the paths less travelled, your tyres can be the first to touch a trail in weeks, months – years even. Perhaps start by continuing along that local trail you've always meant to explore further. 
Camping en route can lead you into wonderful uncharted territory. With a little planning, you can cover large distances on multi-day rides, even finding your own food and water as you go. 
Fresh air, exercise and exploring the great outdoors are more important than ever, and bikepacking can give you all this and more.
Bikepacking: Mountain Bike Camping Adventures on the Wild Trails of Britain by Laurence McJannet (£16.99, Wild Things Publishing) is available from all good bookshops.