We're talking about converting a campervan, be it to launch a business, make the most of every weekend or even quit the day job and set off on adventures new.
We speak to twocampervanners who've taken some of the UK's most popular vans and transformed them to get ahead of the 'van'guard - here's how they did it...
Mercedes Sprinter - Courtney Stevens
For Leeds-based Courtney, 25, and her partner James Mechan, 30, converting a campervan really does signify a new life. Courtney, who works in digital marketing, and James are mid-way through turning their Mercedes Sprinter into a home-from-home to leave the UK in January - possibly for good!
The couple, who've been together for four years, are taking to van life in search of a new and sustainable way of living. In their bright orange, ex-Electric Centre van called DeeDee, they aim to travel around Europe, working on freelance projects and living off-grid.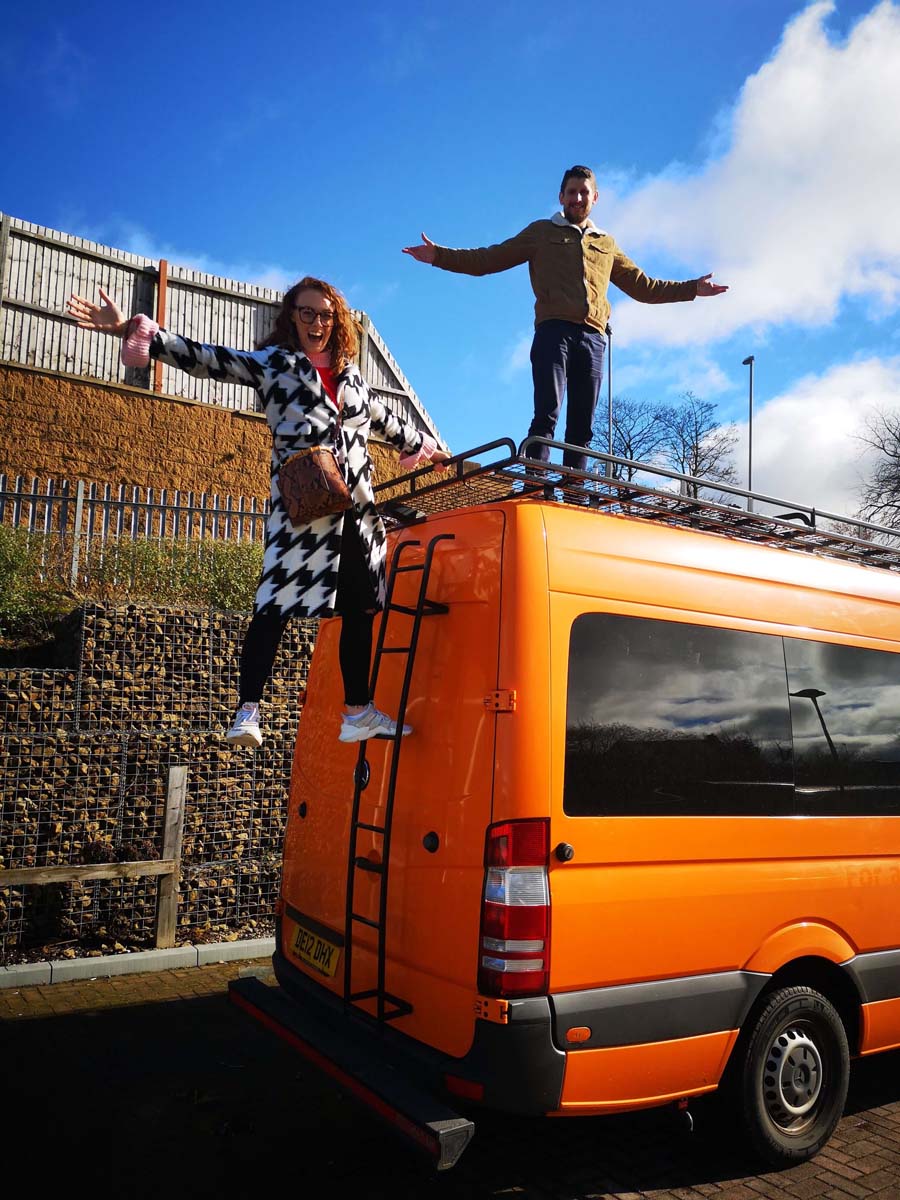 Courtney said: "Like many young couples who're struggling to settle down and get on the property ladder, we decided this would be the perfect way to see the world, save money and limit our impact on the planet - a tiny home on wheels is significantly less impactful than a house, after all.
"The idea of travelling and living in a campervan came up soon after we got together. We both love being outdoors and knew the van life was huge in places like America, but I had no idea so many people in the UK were doing it until we were halfway through the build.
"We did a lot of research online into what kind of van we wanted - and it was then we realised we didn't know where to begin! We had no DIY skills, so going on YouTube and Instagram was really helpful. It's a proper community.
"Our Sprinter is 2012, with low mileage and in good condition. We paid £6,500 in March 2018 after setting aside £20,000 for the purchase and conversion in total. We knew we wanted the largest van we could get with a standard licence and found lots of tutorials on a blog called 40 Hours of Freedom. 
"We saw so many half-converted vans before we bought DeeDee, but we really wanted to do it ourselves. We're taking our time as we didn't want it to become a chore - we also didn't want to hate each other!"
Courtney and James, who are sharing each step of their build on Instagram (@DrivingDeeDee), are planning to head initially to the south of France. 
"We're thinking about buying a plot of land in rural France and not coming home," said Courtney. "We want a sustainable set-up and are confident we can make it work. 
"We'll use solar power converted to 12v and have a full shower - I am adamant about coming back from a hike and jumping into a hot shower! We'll also have a portable toilet and filtered water, so we can drink from the tap. It'll be lush - the world is our oyster!"
The hardest part: "We fitted the windows ourselves but had a leak, so we got a company out to refit them. Another challenge is how long everything takes, but we've had to slow down and accept it is what it is.
The best thing: "We're really proud of the fact we're doing it ourselves, even though things go wrong. Converting DeeDee has definitely brought us closer together. Had we not embarked on the conversion, we'd just be spending more time in front of the TV!"
VW Transporter - Dave Blunt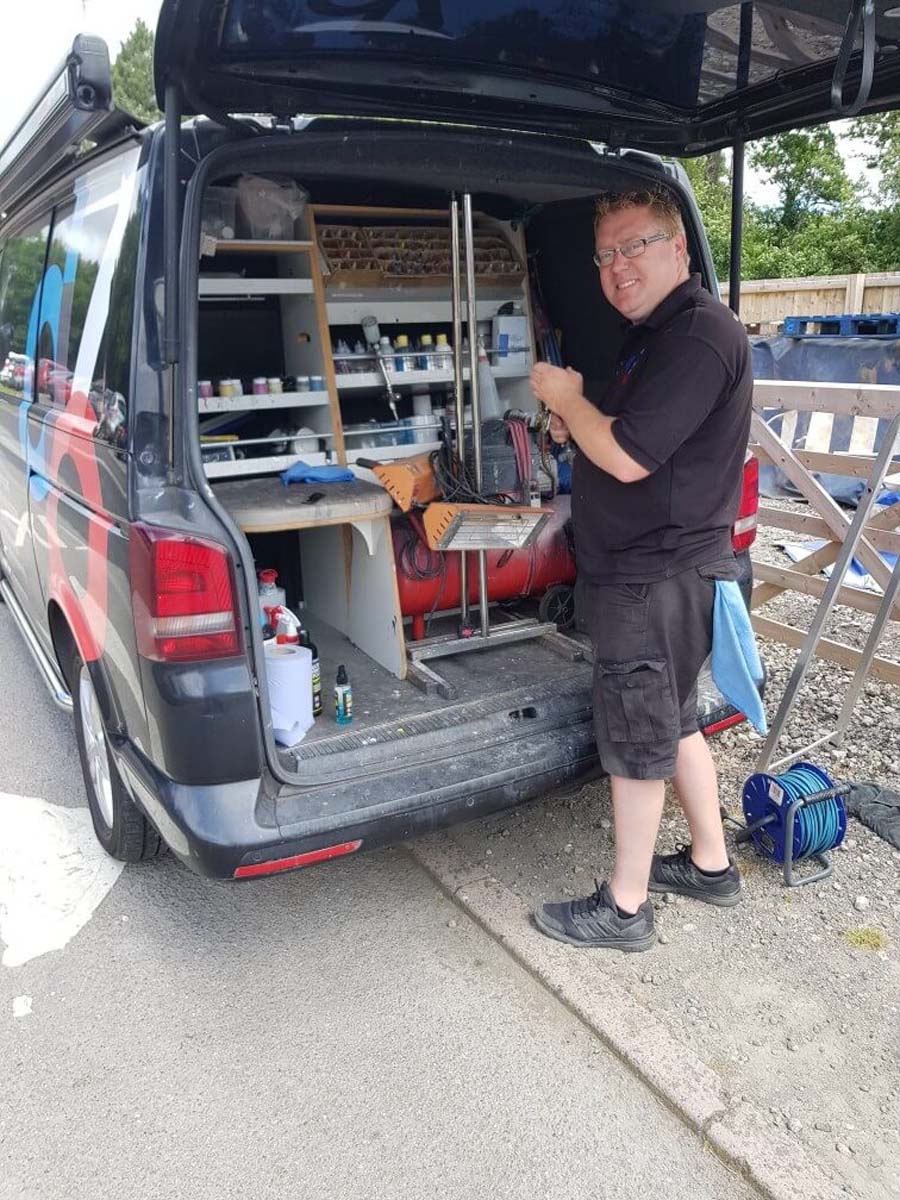 When Dave, 46, launched a new business and moved in with his partner within a short space of time, he needed a reliable work van that could also accommodate busy family life with four teenagers. 
After running a vehicle bodywork repairs franchise for 12 years, Dave, who lives in Bridgend, decided in 2014 that the time was right to set up his own business. The popular Transporter was top of the list for Dave, already a VW enthusiast who had previously owned a 1974 T2 campervan called Emily.
Dave said: "I loved running the franchise and had built up a loyal customer base in south Wales, but felt it was time to start up on my own. I launched DB7 Repairs and invested in a six-seater VW Kombi van from new, which cost £28,000.
"It had an empty cargo area at the time and I just made do for a year, before taking it for a full refit. I had  new wiring and lighting, as well as bespoke racking for my equipment, which includes the paint, spray guns and infrared heaters to dry the paintwork."
The leisure aspect was just as important for Dave's family, which also includes their Cavachon called Max. 
"The front seats spin around to face the back, creating a family area for picnics and games," said Dave. "We had a table with our logo on fitted, as well as charging points for phones and touch LED lights in the ceiling. 
"I also bought and fitted a Fiamma side awning that acts as a sun shade - or a wind shelter, depending on the Welsh weather! It means we can get outdoors all year round. 
"The conversion cost £6,000 in total and I take pride in keeping the van as immaculate as possible, which reflects the standard of my work on customers' vehicles. We've gone from strength to strength and having the right van has played a huge part in that."
The hardest part: "I'd learnt from running the franchise how I like everything to be set up, so I'd already made the mistakes! It's wonderful having everything where I need it."
The best thing: "We're lucky enough to live near the stunning Glamorgan Heritage Coast and we go to Porthcawl or Ogmore-by-Sea most weekends. Having the van really brings us together as a family. It's also lovely to be able to take Max out with me on certain jobs too - he just curls up in the back as I work!"
Inspired? If you're thinking of converting a new or classic, the right campervan insurance is essential to cover your wheels. And if you use your van for work purposes, you'll need commercial van insurance in place.