So let's take a top-level look at the larger vans on the market. Due to the different legislation involved in heavier vans, we're just looking at those with a maximum Gross Vehicle Mass (GVM) of 3,500kg.
To keep things simple, we'll keep to the subject of vans rather than chassis-based derivatives, and we'll stick to conventional diesel-engined models as we've a separate feature dedicated to electric vans.
Ford Transit
The market leader for as long as anyone can remember, the Ford Transit remains as popular as ever. With a variety of options for load length (three), height (two) and GVM (four) there's a Transit for every job. 
They're all powered by Ford's 2.0 litre EcoBlue engines with outputs ranging from 105PS to 185PS and there's an optional 10-speed automatic transmission.
Three mainstream trim levels are offered: Leader, Trend and Limited. The more specialist Trail model has additional equipment and trim designed for those working in more arduous conditions.
Mercedes-Benz Sprinter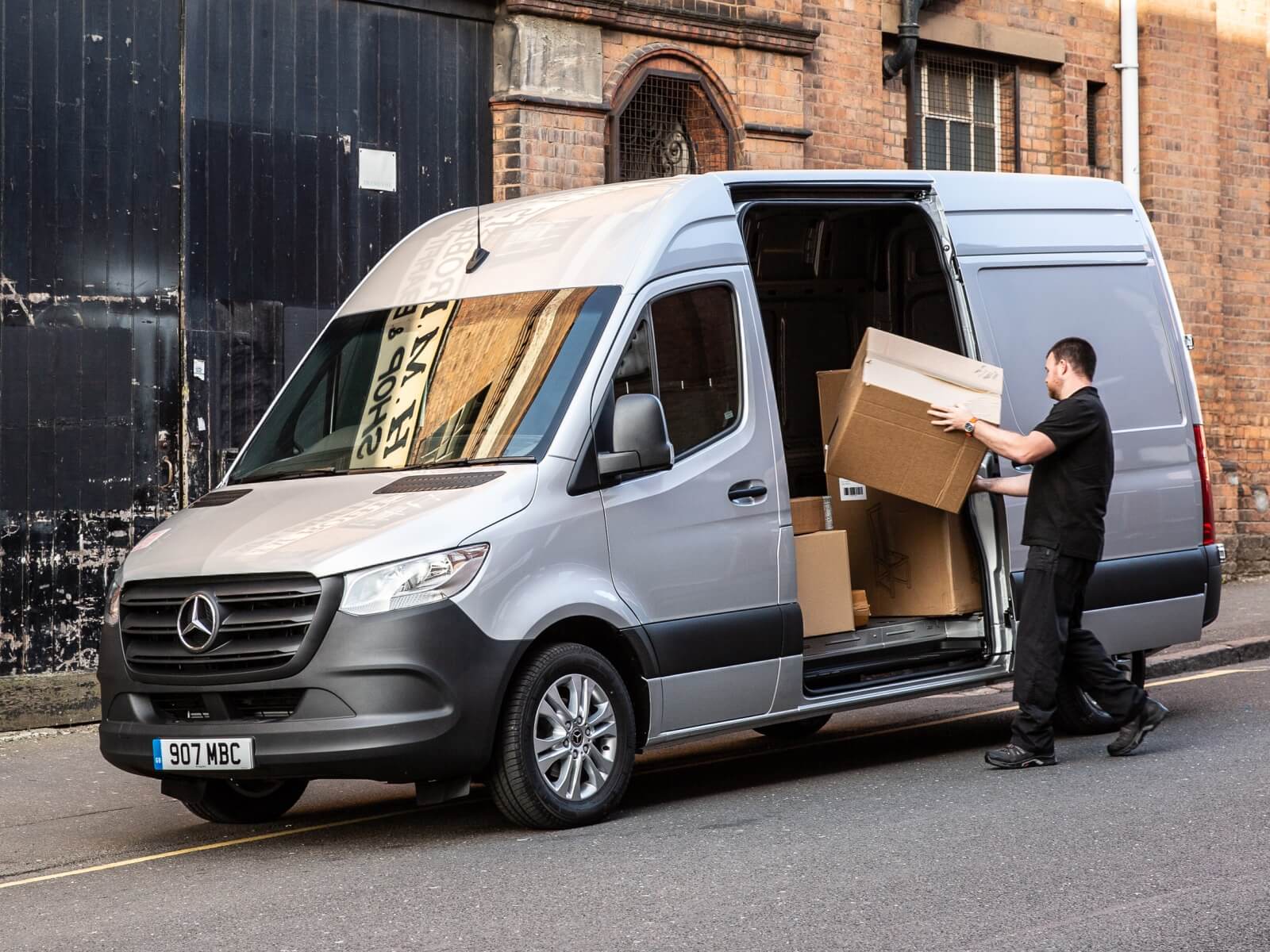 Usually found nipping at Ford's heels in the monthly sales charts, the Sprinter benefits from the excellent build quality you'd generally associate with the German manufacturer. The fact that it is often the van of choice for the parcel delivery sector is probably due to the colossal load volumes available. The L4 derivative has a massive 4.8 metre load bed. 
There's a good choice of engines – a Sprinter can be ordered with 143hp, 150hp, 163hp, 170 hp or 190hp units. Seven and nine speed automatic transmission options are there and now Mercedes offers the Sprinter in front as well as rear and four wheel drive.
Previously, the van was only available in a standard level of trim (but with a long option list), but more recently Pure, Progressive, and Premium series have been offered with an increasing level of specification.
Citroen Relay/Peugeot Boxer
We've put these two together as they're essentially the same van with different badges (although you'll find some differences in specification and trim levels). It's a van that many think of as being a little dated in comparison to the likes of the Transit, but equipment levels are up there with the rest.
There's not a huge choice of engines, with the 120PS and 140PS offerings now looking a little restrictive compared to some other vans.
Where the Relay and Boxer excel is in load capacity. There's a choice of four lengths and three heights and the L2 model, while having the same volume in the load bay as the equivalent Transit has a payload of 1,570kg (almost 100kg more than the Ford). 
These vans have a reputation as good, solid workhorses and are the van of choice for many tradespeople.
Fiat Ducato
This is another van very similar to the Relay and Boxer, but we've given it its own section. Its recently facelift gives it a very distinctive look, particularly from the front. The new Ducato now has some state-of-the-art driver assistance technology, and the cab now has a 7.0-inch touchscreen which includes smartphone integration via Android Auto and Apple CarPlay.
While offering the conventional 120HP unit, Fiat is very proud of their 'Multijet' engine which is unique to Ducato and available at 140HP, 160HP and 180HP outputs. A nine speed automatic gearbox can also be specified.
Vauxhall Movano
You might think that the Movano is a rebadged Renault Master – this was the case until summer 2021 but now, as a result of Vauxhall becoming part of the Stellantis group (formally PSA) the latest Movano is another van to share the Relay/Boxer/Ducato platform. 
With body and payload options similar to its siblings, Movano is available with 2.2-litre diesel engines producing either 140PS or 165PS but there's no automatic gearbox in the price list.
Renault Master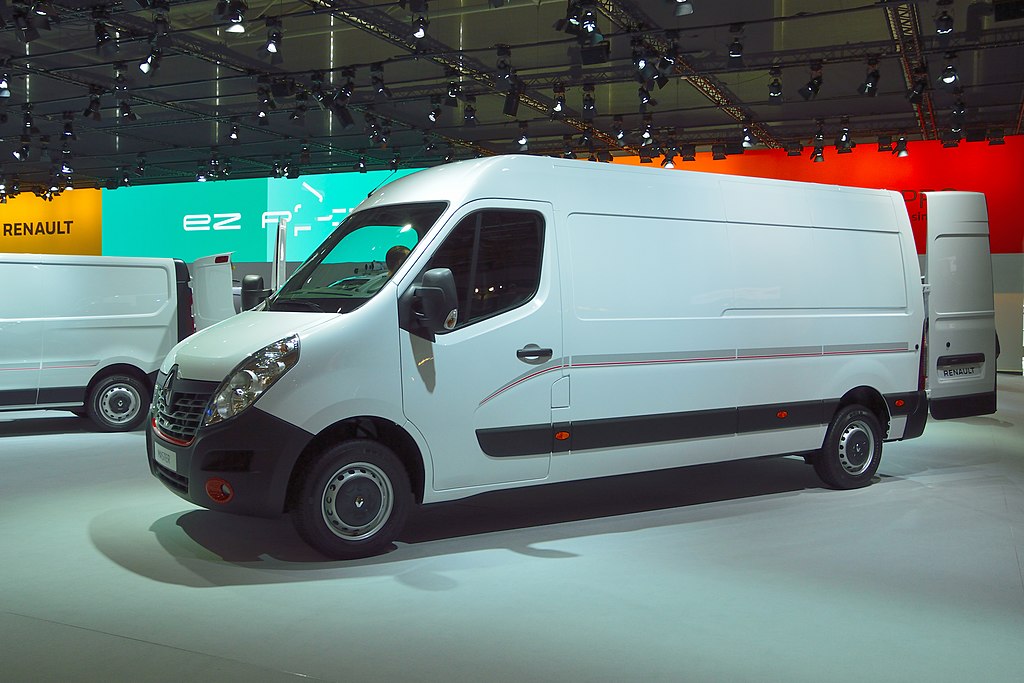 The Master has been around for quite some time now, and is one of the oldest vans on the market. The last major facelift was in 2019 which saw revised engines, a new front end and a refreshed cab which is much improved.
As with many competitors the Renault is available in four lengths and three heights. Like the Citroen and Peugeot, the Master's strength lies in its excellent payload, with up to 1,551kg on offer – a figure many others cannot compete with.
Powertrain availability is exceptional, with 110hp, 130hp, 135hp, 145hp, 150hp and 180hp outputs on offer from the 2.3-litre diesel engine and a choice of front or rear wheel drive. The 150hp and 180hp engines can be coupled to a six speed automatic gearbox.
There are just two trim levels to consider: Business and Business+. 
Nissan NV400
Put the NV400 next to the Renault Master and you'll be hard pushed to tell the difference apart from the front styling, as these are essentially the same van. There are some specification differences, and the Nissan is available in three trim levels: Visia, Acenta and Tekna. 
Possibly the one major difference between these two vans is not one you can see. The Nissan has a five year warranty, compared to three for the Renault – something to bear in mind if these vans are on your shopping list. 
Nissan recently announced a re-branding of their van ranges, and the NV400 will soon be badged as the Interstar.
Volkswagen Crafter/MAN TGE
Many still think the Crafter is just a rebadged Mercedes Sprinter. This was the case until 2017 when Volkswagen launched the new Crafter, which is a completely new design from the wheels up.
There are three lengths, three heights, two GVMs and two trim levels to choose from. Payloads are up to 1,376kg. Strangely, VW offer an option to partially strip the van of equipment to boost carrying capacity up to 1,531kg.
The Crafter is powered by a 2.0-litre diesel engine which can be specified at 102PS, 140PS and 177PS outputs. Front, rear or 4MOTION all wheel drive is available and an eight speed automatic box is an alternative to the six speed manual transmission. 
Truck manufacturer MAN (part of the same group of companies as Volkswagen) market the Crafter under the TGE badge. It's broadly very similar with minor specification differences.
Maxus Deliver 9
Looking remarkably like another bestselling large van, Chinese firm SAIC are marketing the Deliver 9 in the UK under the brand name Maxus (previously used by the now defunct LDV, confusingly another brand name previously used by SAIC).
Three body lengths and three heights offer load volumes up to almost 13 cubic metres and payloads are up to 1,360kg. There's just the one engine, a 2.0-litre diesel unit producing 163hp and there's no automatic option although both front and rear wheel drive are available.
Two trim options – Standard and Luxury – provide quite a good specification level, with air conditioning and rear parking sensors as standard on all vans.