The Ford Transit and the Mercedes Sprinter have battled for supremacy in the sales charts for a long time, not just here in the UK but across Europe and beyond. 
If you've ever been in the market for a large van, you've almost certainly considered one, the other or both. 
Here, we put them head to head to see if one has the edge...
Body and weights
Both vans have many combinations of length, width, height and GVM (Gross Vehicle Mass). We're just looking at vans up to 3,500kg GVM due to the additional legislation that applies to heavier vehicles.
The Transit comes in three lengths (L2, L3 and L4), two heights (H2 and H3) and four GVMs (2,900kg, 3,100kg, 3,300kg and 3,500kg). You'll get a load length of just over three metres in the L2 and payloads range from 895kg to 1,472kg, depending on the GVM you opt for.
Jump up to the L4 and 4.2 metre loads will be accommodated with ease. This van is only available with the H3 roof so you'll get 15.1 cubic metres of load volume. Payloads are up to 1,176kg.
With the Sprinter there are four lengths (L1 to L4), two heights and just two GVMs (3,000kg and 3,500kg). L1 is shorter than any Transit, with a load length of just over 2.7 metres but with an optimum payload of a fraction over 1,400kg. 
At the other end of the range the L4 can take 4.8 metre load lengths, and with the H3 roof has a load volume of 17cu/m. This volume comes at a price though – payloads are only around the 1,000kg mark, depending on specification and engine.
Engines and drivetrains
Plenty of options here from both manufacturers. The Transit is fitted with 2.0 litre 'Ecoblue' diesel engines with outputs of 105PS, 130PS, 170PS and 185PS. Ford claim class-leading torque outputs from the Ecoblue unit, with 415nm being produced by the 185PS engine.
There's also a mHEV (mild hybrid) option which stores power generated from the vehicle when slowing down, and a fully electric Transit is due to go on sale in 2022. There's a 10-speed automatic gearbox on offer, and the Transit can be ordered in front, rear or all wheel drive.
There's quite a spread of official combined fuel consumption figures for the Transit, from 24.4mpg to 43.5mpg depending on model and engine.
Engine availability on the Sprinter is dictated by your choice of front, rear or all wheel drive options. There are three engine sizes, 1950cc, 2143cc and 2987cc. They come in outputs of 143hp, 150hp, 163hp, 170hp and 190hp. Seven or nine speed automatic gearboxes can be specified. There's also a fully electric Sprinter now available, and you'll find more detail on this in our electric van review.
Combined official fuel consumption figures for the Sprinter range from 29.1mpg to 32.1 mpg.
Trim and specification levels
Transit is offered in three mainstream trim levels: Leader, Trend and Limited. Leader has a 4.2-inch multimedia screen, Bluetooth connectivity, power windows and several safety features including side wind mitigation, curvature control and emergency brake warning. 
Move up to Trend and you'll get a heated windscreen, cruise control, parking sensors, power mirrors and automatic wipers and lights. The touch screen is upgraded to 8 inches. Limited spec also includes air conditioning, alloy wheels and side park assist.
It's only relatively recently that Mercedes have adopted a similar strategy with trim levels – previously there was only a standard Sprinter which could be enhanced with options. Now Pure, Progressive and Premium offer a choice in refinements included with the van.
Sprinter Pure has a 7.0-inch touchscreen which includes smartphone integration using Apple CarPlay and Android Auto. You'll get cruise control and safety features including active brake assist, adaptive ESP, attention assist and crosswind assist. 
Next up, the Progressive adds a small number of driver aids such as an armrest and adjustable steering column. The range-topping Premium gets air conditioning, wheel trims and a parking package. 
Connectivity
All vehicle manufacturers are clamouring to include various forms of remote monitoring systems and the van market is no exception, with both the Transit and Sprinter including basic telematics as standard across the range. 
FordPass Pro is a system that uses an inbuilt modem to communicate. A smartphone app can receive vehicle health alerts, allow you to remotely lock and unlock the van and even allow the engine to be started, warming the cab. Guard mode warns you of any activity with the vehicle, allowing early warning of attempted theft. 
Mercedes-Benz claim that Mercedes PRO Connect is the most powerful integrated van monitoring system on the market. Although only included for free in the first three years, it offers valuable information such as theft warnings including GPS tracking. 
Geo-fencing means you can set an alert if the van strays out of a pre-defined area, and you'll get real time updates on critical parts allowing proactive action to prevent breakdown and downtime.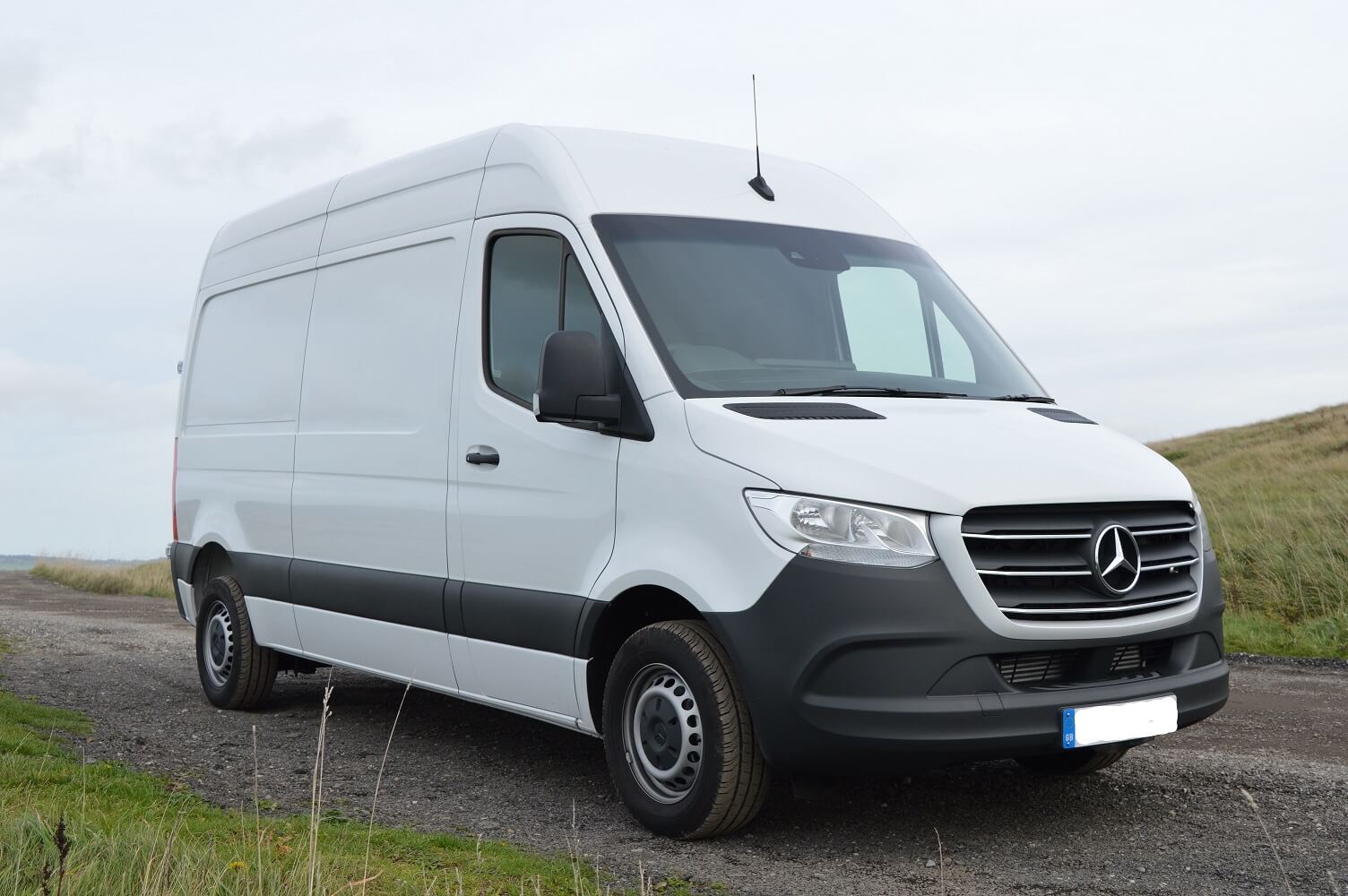 Security
Both the Transit and Sprinter offer enhanced security, the manufacturers recognising that theft of and from vans is on the rise. The Transit comes standard with an Category 2 immobiliser, and a Thatcham Category 1 alarm with cab interior sensing is available as an option. 
The van also features power door deadlocks shielded by strengthened mountings. The Ford Pass Pro remote monitoring system can also provide an alert to a smartphone should the vehicle be moved without authority, and provide its location. 
Mercedes-Benz provide every Sprinter with an anti-theft alarm, and the doors are fitted with double locks. In a similar way to the Ford, the Mercedes Pro Connect system can provide a driver or operator with movement alerts and location information.
Driving impressions
Here are my thoughts after driving both of these vehicles at length.
Transit: The efficient 185PS engine ensures you're never without a reserve of power. It's quiet, oozes torque at lower revs and the van returned just over 30mpg in the week I had it, the majority of driving being high speed motorway use. 
The electric power steering is an absolute pleasure around town, providing a well-balanced feel and light operation. Albeit tested unladen, the van handled and rode perfectly and, on one drive of over 200 miles without a break, I arrived at my destination as fresh as if I'd travelled in a decent passenger car. 
The Transit boasts excellent build quality inside and out and has an air of refinement which is difficult to define.
Sprinter: The van was tested unladen, but performance was more than adequate and it is expected that with a load on it would be acceptable. The front wheel drive configuration could only be provoked into mild understeer when pushed and felt safe and competent.
Overall, the driving experience felt refined and composed, although on one motorway journey, a combination of a headwind and a road surface which wasn't perhaps the best gave a surprising level of noise in the cab.
This is more to do with the smoothness of modern Euro 6 engines, as this noise would've been drowned out by engine noise in a van manufactured just a few years ago.
The trip computer mysteriously reset itself a couple of times while on test, but I'd estimate fuel consumption was around 31mpg during my week with the van. 
So which is best?
There's definitely no clear winner. Transit may win on payload and possibly specification (although the inclusion of smartphone integration on even the basic Sprinter is to be commended) and the engines are arguably more modern and efficient than those on the Sprinter. 
Sprinter has more body style permutations (offering both smaller and bigger vans than Transit at either end of the range) but isn't class leading on payload. 
Mercedes dealer backup may well have the edge according to feedback from fleet operators and there's no doubt that a Mercedes-Benz badge might just sway the decision for some.