Buying a ready-converted campervan, however - apart from setting you back some serious money - doesn't allow you to create a bespoke van like no other on the road, so you might prefer perform a camper van conversion yourself
What to think about before converting your campervan
Creating a layout that works for your lifestyle is essential, so plan out how you want to use your van before excitedly ripping out the seats! 
If you're tall and hope to stand fully upright in your van, a 'pop-top' roof that pushes up to give extra headroom can be a godsend. Will you be travelling on family adventures? Some pop-tops come with folding bunks that fit into the roof space, while you can also buy hammock beds to suspend over the cab seats at night for smaller children.
Do your research on which campervan is right for you. Old-school VW splitties and bay windows remain highly coveted, but they can be expensive to run and are not always as reliable as their water-cooled counterparts. 
Mercedes Vitos and Ford Transits have generous space, while smaller vans such as the VW Caddy and Citroën Berlingo are well worth investigating if you're travelling solo. 
Small details like cutlery drawers and clothes storage might sound really boring when all you want to do is hang out around the campfire, but, trust us, you'll be glad of detailed planning in the long run! Visit a couple of van shows and check out how other vanners have configured their space. Owners are a friendly bunch and most are than happy to talk for hours about how they converted theirs.
DIY or professional camper conversion?
If you're handy at DIY, you can save a substantial amount by taking on the van conversion to camper van yourself, although it might take longer if you're fitting it around work and family life. You'll have more motivation in the summer months, as well as longer daylight hours to see what you're doing. 
You might want to rope in help from some tool-savvy friends - with payment by way of campervan road trips, of course. There are loads of step-by-step videos online, as well as advice on the best materials to use for each task.
Van conversion companies are a better bet if you don't know one end of a jigsaw from the other, but do get a number of quotes, as prices vary considerably. Ask for recommendations and bear in mind that reputable companies will have long waiting lists - often of many months. If you buy your van in March and expect a full conversion by Easter, you might not end up with the results you hope for.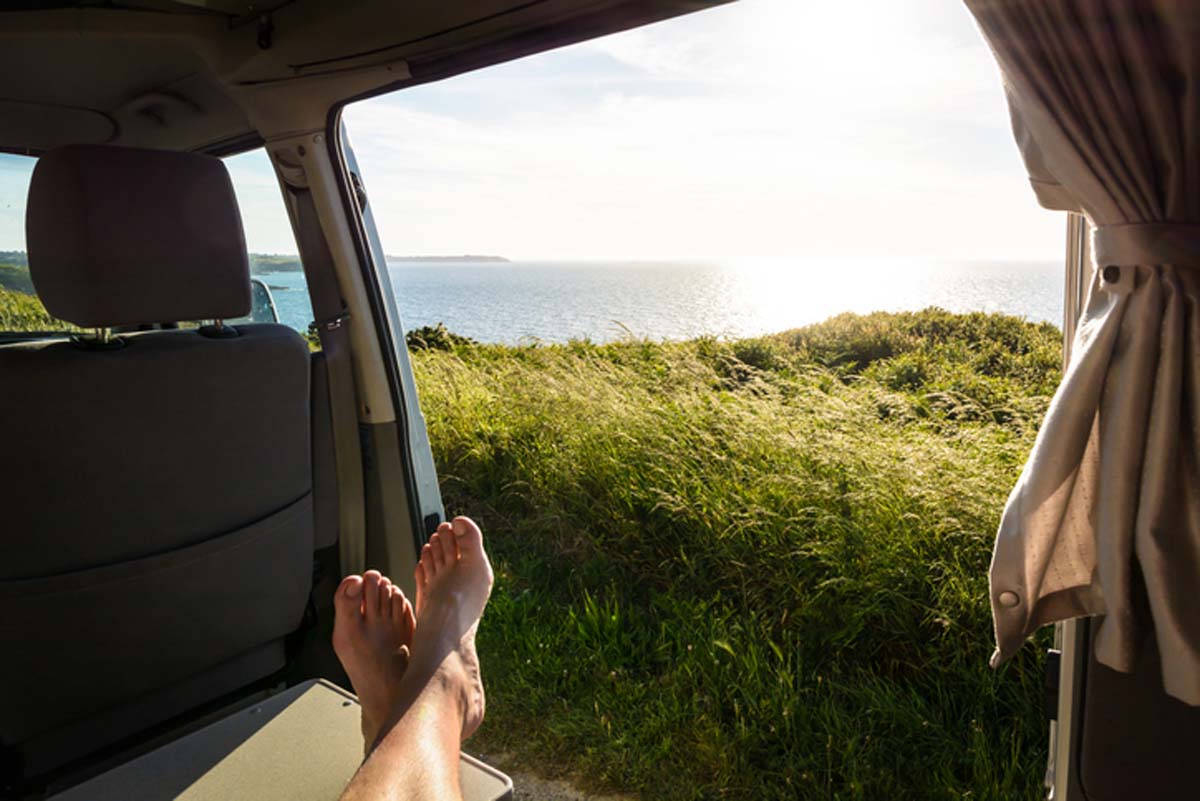 What will I need in my campervan?
Campervan beds - Rock n' roll beds - seats by day that fold down into a double bed by night - are extremely popular and great for multi-purpose van use. But bear in mind they're fixed to the floor, reducing the flexibility of your living space, and they also require some work underneath the van to attach the fittings - not a task for everyone!  
Van insulation - Good insulation will not only keep your van toasty on colder nights, but will help keep it cool in the summer, too. You can insulate the whole vehicle - including the floor - or just certain areas, such as the panels around the living space. If you're a hardy type planning a spot of winter campervanning, look into thermal materials such as double foil or wool lining. A combination of the right insulation and ventilation will prevent condensation from building up and causing rust inside your van. Insulation mats for the windows are handy, not only to help prevent condensation but also for a little privacy at night! You can buy these ready-made to suit the specification of your van's windows and with suction pads on one side, to attach with.
Electrics - While you can charge phones and tablets via an adaptor connected to your vehicle's 12v main battery, many vanners like to have more sophisticated electrics for, well, everything including the kitchen sink, hob and mini-fridge. One option is to carry an outdoor extension lead - a waterproof 15m cable with a circuit breaker, RCD and a 240v site mains plug. These are perfect for use on campsites; book a pitch with an electric hook-up (they usually cost a little more) and connect it directly to the post, which is usually shared between two pitches. Another option is to fit 240v sockets in your van. Here, the wiring can be quite technical, so even if you're carrying out most of the conversion yourself, this might be the one section for which to call in the specialists. 
Solar panels for a campervan - Solar panels are becoming increasingly popular, and cheaper than it used to be. You can buy rigid or flexible panels to install on the roof of your van or use portable panels when you pitch up, and you'll need a controller to convert the energy into a 12v charge. The Camping and Caravanning Club has useful advice on solar power for your campervan.
Converting your camper: what it means for your van insurance
When you convert a van into a camper, it's essential to tell your insurer as it could affect the vehicle classification and, therefore, the cover you need. You must also mention any modifications and, if you've carried out all of the above, there'll be a few.
Admiral Campervan Insurance covers your van for a number of uses, and you'll be pleased to know our policies include benefits such as:
-    Windscreen repair
-    Sat-nav cover 
-    24-hour emergency helpline
-    Stereo cover for that all-important road trip playlist 
-    European cover 
Making the most of your campervan
All that's left to do now is decide where to go! Whether you're keen to park up overnight and try a little wild camping in your van or prefer the relative 'luxury' of campsites, there are lots of great websites to help plan your trip. 
Consider joining a club such as the Caravan and Camping Club, which welcomes all types of camping units and gives generous discounts when you buy from a range of retailers, visit worldwide attractions and travel abroad by ferry. 
If you're heading to a festival in your van, don't forget your festival insurance, while our gadget cover is handy if you're travelling with expensive iPhones and devices.