And, while the driving skills for a car and van are similar, a bigger and heavier van is different to handle, with some new considerations. So here are some top pointers to help you get your van adventure on the road
What licence do I need to drive a van?
A standard UK driving licence will allow you to drive any vehicle weighing up to 3.5 tonnes, but it's important that you drive a vehicle appropriate for your driving experience. 
If you passed your driving test after 1997, you might need to take extra tests before you can drive a vehicle weighing between 3.5 tonnes and 7.5 tonnes. 
The rules on what you can tow are also different depending on when you passed your test. Check your driving licence information to see what's permitted.
Which van should I buy?
To start with, think about:
Considering aspects like these will help you to narrow down which van's best, and our van finder tool will help you narrow it down. There are many options and models to choose from and vans like the Volkswagen Transporter, Ford Transit and the Vauxhall Vivaro are all popular choices.
 
The best tip we can give is to do your research: 
Compare models and deals
Check out reputable sellers
Use a pricing guide such as Parkers to get accurate prices 
Always buy the best van you can afford 
What's the difference between short wheelbase and long wheelbase vans?
If you're new to the van world, you'll notice that people talk about 'short wheelbase' (SWB) and 'long wheelbase' (LWB) vans. The wheelbase is the distance between the centre of the front wheels and the centre of the back wheels.
 
Size can make a big difference in carrying capacity and ease of day-to-day driving. The manoeuvrability of SWBs makes them good for driving around the city and fitting into most parking spaces, but the extra length of LWBs provides more storage space, which is useful for carrying large equipment or more cumbersome materials.
Getting the right van insurance
Before hitting the road, you'll need to get van insurance. Depending on what you plan to use your van for - whether it's for personal trips, transporting business tools and equipment or delivering goods for third parties - there are plenty of options available to give you the cover you need. 
For safe drivers, taking out Admiral Van Black Box Insurance can be an affordable option and it includes a theft tracker.
What to look out for on the roads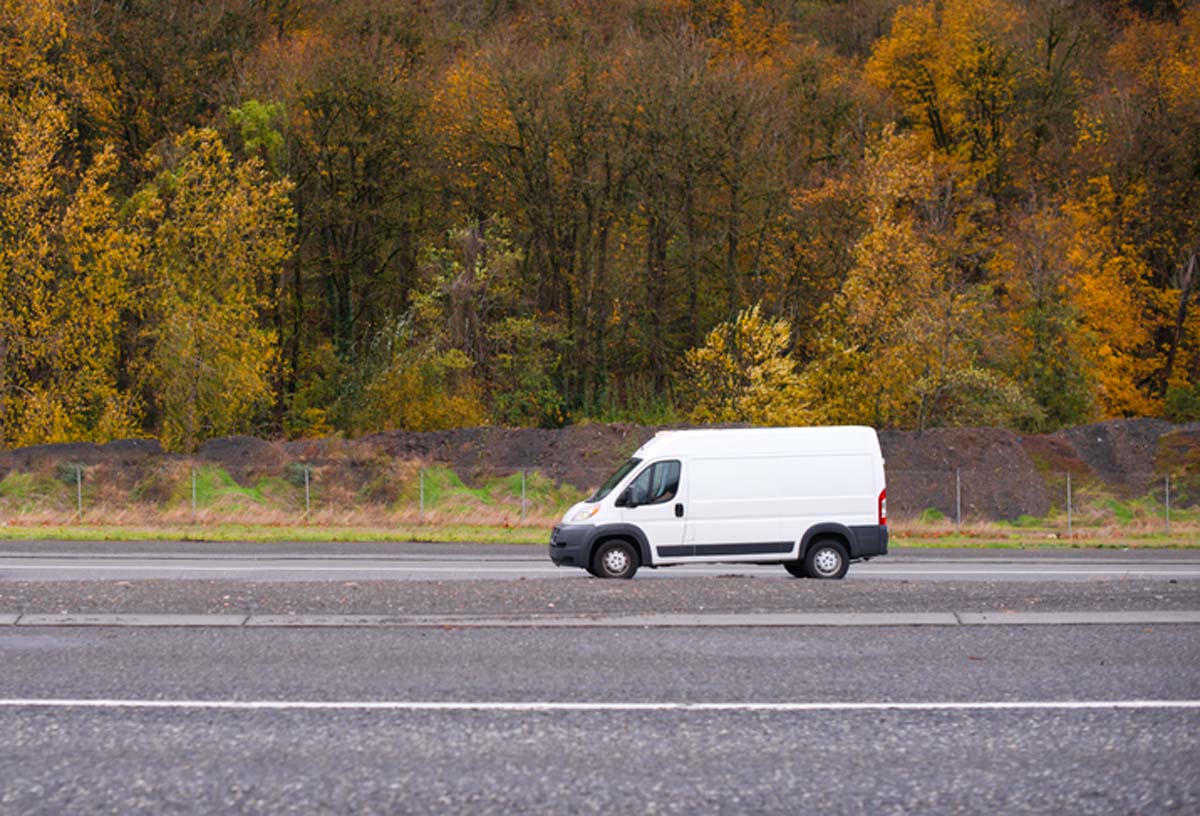 When you're driving a van, the main difference to a car can be the lack of a rear view mirror. Before you set off, make sure you set up your seating position and side mirrors to get the best view of the road behind you.
 
In most vans you'll have a higher vantage point; you'll be able to see further ahead and anticipate driving decisions sooner, making for a safer drive. But remember that vans have a 10mph slower speed limit than cars on some roads, including a limit of 50mph on single carriageways and 60mph on dual carriageways.
 
You'll need to give yourself more time when braking and allow for slower turning, particularly when your van is loaded up - the larger and heavier your vehicle, the slower the reaction time. It's also useful to know the dimensions of your van, especially when it comes to car parks with height restrictions!
Van security and maintenance
You won't want your new van or its precious contents to get into the wrong hands, so try to make your van thief-proof. Always remember to keep valuables out of sight and remove them if you're going to leave the van unattended for any length of time. Lock the doors and never leave your keys in the ignition when you step outside.
 
Try to show your van some love and take good care of it; regular services, frequent tyre pressure and oil checks will all help to keep it in tip-top condition. Plus, it will help you get the best resale price if you ever decide to change or upgrade vehicles.
What's the van payload?
Another way to keep your van (and passengers) safe is to load it properly. The total safe weight that your van can carry is called the 'payload', while the space inside your van designed for carrying a load is called the 'loadspace'.
 
Uneven and over-ambitious loads can have a major impact on a van's stability, making it harder to handle and taking longer than expected to brake, so it's wise to take care when loading contents. 
For the safest possible journey when carrying a load, take a look at this helpful guide on how to improve load-safety by the DVSA.
Life on the road with your new van
The great thing about owning a van is that you can customise and configure it to your heart's content (or as much as your purse strings allow). 
Whether your 'van life' means you're off to a festival or delivering goods around town, your van will become an essential part of everyday living, making time on the road a joy.
 
When you're part of the van driver community, you'll usually find help is at hand if you're stuck in a tricky manoeuvre or reversing situation. And don't be surprised if other drivers of the same van make and model flash their lights or wave as you go along - it's part and parcel of being a van driver!