Car ownership is an expensive business. From the price of fuel, to car insurance and making sure it's serviced and passes its MOT every year – it all adds up.
In fact, the average UK motorist spends £162 per month on car running costs, or almost £2,000 per year, before they even consider the cost of the vehicle itself, 2018 research from Kwik Fit revealed.
Our pricing team has calculated the 10 cars which are, on average, cheapest to insure for drivers over the age of 25 – and there's a real mix. We've only included cars where we have 50 or more examples on cover, and the figures don't take into account other data that could affect the price. 
1. Ford KA+ - average annual premium: £356.63
Good looking, practical and competitively priced, the five-door Ford KA+ is something of a hidden gem. Launched in 2016, the well-packaged KA+ is only available with a 1.2-litre petrol engine (69bhp or 84bhp), but still manages to be an engaging car to drive and cheap to run.
It's a foot longer than the KA (2009-16) it replaced, and slightly shorter than the Fiesta, but surprisingly spacious inside, partly due to its high roofline. So, there's space for adults in the back, while the luggage capacity is a useful 270 litres. 
The only slight disappointment is that it only achieved a three-star Euro NCAP safety rating, at a time when most new small cars rate four or a maximum five stars.
2. Land Rover 110 – average annual premium: £359.46
In 2016 the last Land Rover Defender left the assembly line at Solihull. If you count the Defender alongside its predecessors, the Series I, II and III Land Rovers, it was in continuous production for 68 years. 
The '110' reflects the length of the wheelbase. The 110 had five doors compared to its close relative the 90 (see number 4, below), which has three. 
Highly collectable, arguably no other car matches the Land Rover in all-terrain capability and practicality. The reality is they can feel big and unwieldy compared to modern SUVs, and can be quite heavy to drive, especially in town. 
That said, the Defender 110 is an icon. Well looked after, it probably won't let you down and should only increase in value.
3. SEAT Mii - average annual premium: £366.63
Similar to its Volkswagen Group cousins, the VW Up! and Skoda Citigo, the competitively-priced Seat Mii is about as good as a city car gets. Available as a three or five-door, there's just one engine in the line-up - a lively 1.0-litre three-cylinder petrol (59bhp or 74bhp).
On sale since 2012 and roomier than it looks from the outside, it's engaging to drive with light steering and superb visibility. Great for nipping around town, it will also happily tackle a longer motorway cruise. Priced from just over £10,000, it's a great new car buy, while three-year-old second-hand examples with low mileage are available for less than half the price.
4. Land Rover 90 – average annual premium: £368.07
See Land Rover 110 above. 
5. Skoda Yeti - average annual premium: £370.36
Produced between 2009-17, the quirky yet highly practical Yeti has always been a hard car to categorise because it's as much a family hatchback as it is an SUV. Available in two or four-wheel drive, there's no shortage of space inside, front and back, and there's a generous 416 litres of boot space - 1,580 litres with the back seats folded. 
The Yeti has a lot of serious fans – partly down to its looks, but also because it's fun to drive, distinctive, well made and versatile. It's won numerous trophies, including Best Small SUV at the What Car? Used Car of the Year 2018 Awards.
6. Volkswagen up! - average annual premium: £372.22
Developed alongside its close relatives, the Seat Mii and Skoda Citigo, the VW up! is one of the most entertaining small cars on the market. Add excellent build quality, plus low running costs, and this little cutie is sure to put a smile on your face. The Up! is available with a punchy little 1.0-litre engine (59bhp, 74bhp or swift 89bhp). 
Deceptively spacious and available as a three or five-door, there's just room for two adults in the back. Boot space is a decent 251 litres, or 951 with the back seats down. The up! was launched in 2011 and named World Car of the Year in 2012. Updated in 2016, it's won many other awards over the years including the 2017 Auto Express City Car of the Year.
7. Seat Arona – average annual premium: £375.71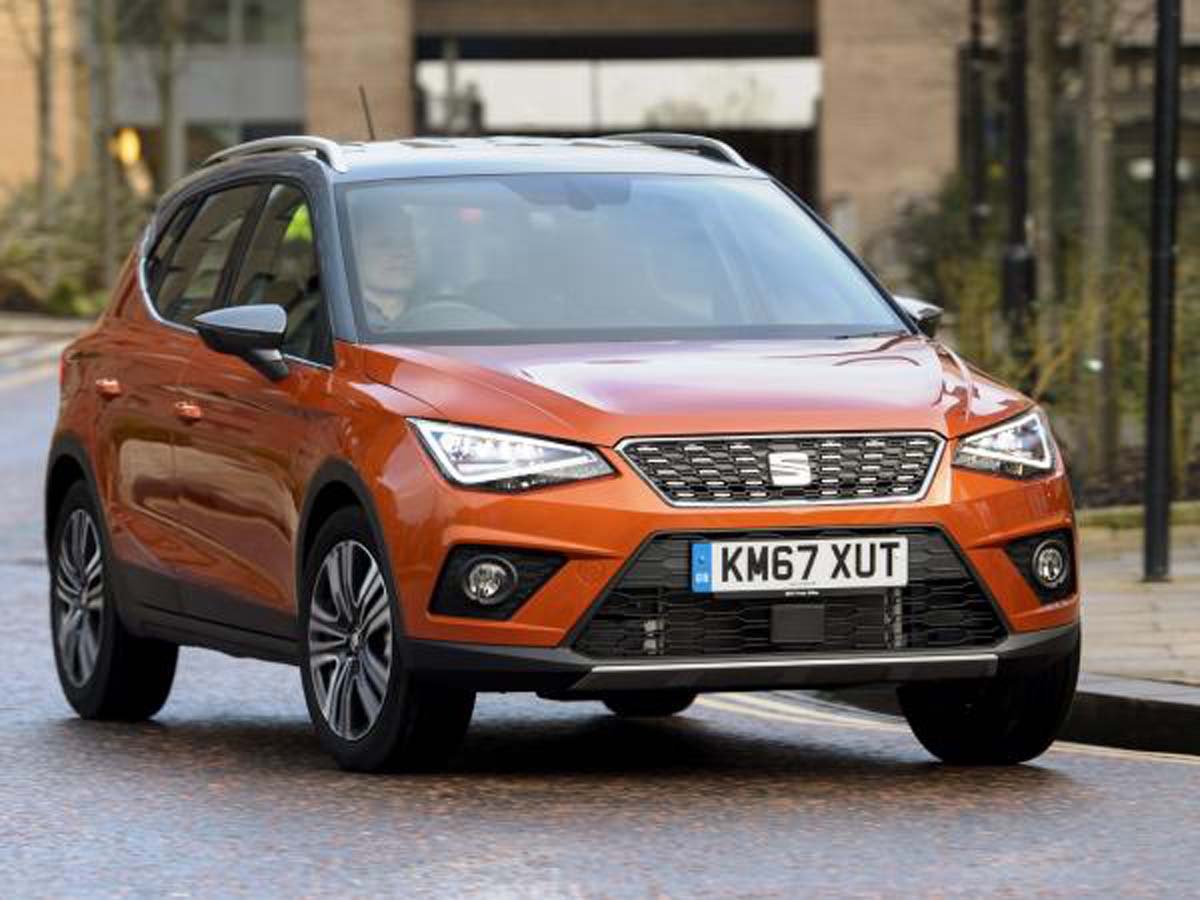 Based on the Seat Ibiza hatchback, the Arona is comparable to its close rivals, the Volkswagen T-Cross, Kia Stonic and Suzuki Vitara, and although it's a little more costly, many options are available for under £20,000. 
Even the cheapest option has a 94bhp 1.0-litre turbocharged petrol engine, which is fine for most people driving round town. More power comes in the form of another 1.0-litre option, with 114bhp and a 148bhp 1.5-litre turbocharged petrol. Also available are two 1.6-litre diesel engines (94bhp or 114bhp). 
The ride is comfortable, and the handling and steering are great, making it a fun drive – but don't expect a proper SUV driving position, as you're not much higher above the road than a standard hatchback. 
The Arona also made it onto our list of the best new compact crossovers.  
8. Skoda Citigo - average annual premium: £378.69
Skoda's award-winning city car is fun to drive, well packaged and looks cute. Not unlike its not-so-distant relatives, the Volkswagen up! and SEAT Mii, you can buy a new Citigo for less than £10,000, though the pick the range (the frugal SE L 1.0 MPI 75PS GreenTech) will set you back a little more.  
Two adults can travel in the rear seats and there's a decent 251 litres of space in the boot (959 litres with the back seats folded). The Citigo also makes a wise second-hand choice and there are plenty of low mileage examples in good condition available. Almost identical to its Volkswagen Group cousins, the Seat Mii and VW Up!, the Skoda Citigo is well packaged, fun to drive and generally one of the cheapest cars to insure. Launched in 2012 and updated slightly in 2017, the Citigo has won many awards including Best city car £9,500-£11,000 at the What Car? Car of the Year 2018 Awards.
9. Mini Paceman – average annual premium: £379.73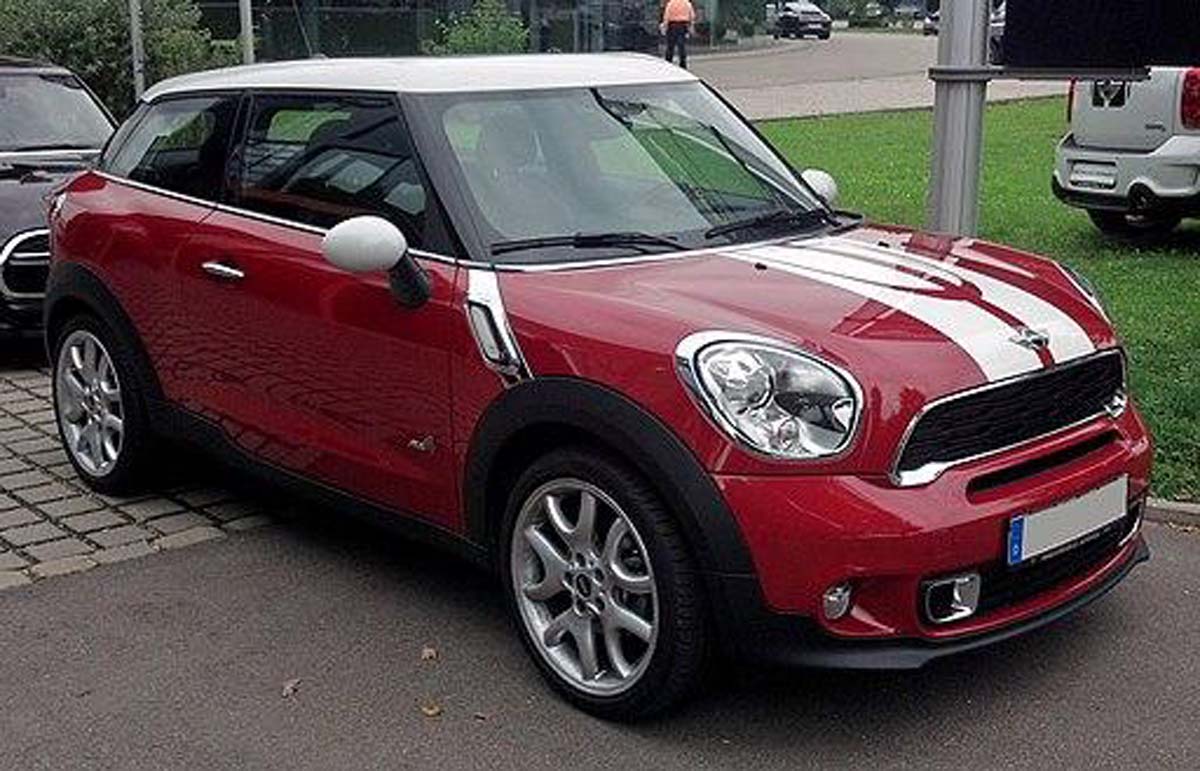 The Mini Paceman, a crossover SUV in production between 2012 and 2016, was an attempt to capitalise on the popularity of the Mini Countryman by making a three-door alternative. Mini's aim was to produce a car that would appeal to those looking for a sporty car with that bit more space than a standard Mini hatch. 
Available in two- or four-wheel drive (the latter of which is called ALL4 by Mini), the Paceman offers two 1.6-litre petrol engines, one of which is turbocharged, and two diesels (a 1.6- and a 2.0-litre). It's a great drive on a smooth road, with responsive steering and generally good handling – but the pay-off here is that it's a firm ride. 
The Paceman is a four-seater, with sculpted rear seats and a decent amount of space in the back despite a tapered roof not unlike the Range Rover Evoque. Overall it's a stylish car, but a bit divisive compared to other Mini models.  
10. Dacia Duster - average annual premium: £381.52
The best-value SUV on sale in the UK starts at less than £10,000 new. If you want the four-wheel drive version you'll have to shell out around £2,000 more or go for a second-hand, low mileage example. You won't be disappointed - the Duster isn't plush, but it's rugged, roomy, looks good and pleasant to drive.
On sale in the UK since 2013, the Duster's various awards including Carbuyer's 2013 Car of the Year and 2018 Carbuyer Best Car for Winter. And the good news is that it's set to be an even better used buy because there's a second-generation car for 2018 which will dent the prices of older Dusters.