You'd be forgiven for thinking that these vans might be the same, apart from the badge. Let's face it, the two manufacturers are now owned by the giant Stellantis operation, which also manufactures vans under the Citroen and Peugeot banners. The diesel equivalents now share the same engines, and side by side, at first glance, there's perhaps little to separate the two. 
But, you'd be wrong. The electric versions of these two vans have been developed separately and there are some pretty important differences. Tim Cattlin gets under the skin of these two heavyweights to see what sets them apart...
One thing we should clarify from the off. For many years, the Vauxhall Movano, Renault Master and Nissan NV400 have essentially been rebadged versions of the same van. All has changed with the latest incarnation of the Vauxhall, announced in 2021. It now shares the same platform as the Citroen Relay, Peugeot Boxer and Fiat Ducato – vans which, whilst not always boasting the latest tech and creature comforts have long had a reputation for class leading payloads and a being no nonsense, fit for purpose workhorses.
So – to the comparison of these two newcomers to the electric vehicle market. Some things are the same, some certainly not.
Body derivatives
First, the Movano-e. Availability is restricted to L3 and L4 wheelbases with the H2 medium roof (diesel buyers have three body lengths and three roof heights to choose from). They're both rated at 3500kgs GVM (Gross Vehicle Mass) and have payloads of 710kgs and 665kgs respectively. Just to put that into context, the diesel equivalents offer 1495kgs and 1410kgs of carrying capacity. Load lengths are 3705mm and 4070mm.
The Fiat E-Ducato is offered in three lengths - Long wheelbase, XL Wheelbase (these two identical in dimensions to the L3 and L4 Movano) but also a shorter Medium wheelbase model which has a load length of 3120mm. You also have a choice of three roof heights compared to just the one for the Vauxhall.
Available payloads are significantly higher than the Movano, comparing like for like the Fiat equivalents will carry up to 1060kgs or 1015kgs, subject to the battery pack selected (more on that later).
Fiat has stolen a march on Vauxhall by offering an E-Ducato at 4250kgs GVM. This takes advantage of the dispensation given to drivers of electric vans which allows them (after some brief but mandatory training) to operate vans of this weight on a normal driving licence.
In practice, this means that you can buy an E-Ducato with a payload of up to 1885kgs, depending on the model selected.
Drivetrains, Batteries and Ranges
The Movano-e isn't built in its entirety by Vauxhall, the vehicle being converted by British firm BEDEO. The company equip the van with a 90kw (120PS) electric motor which produces a healthy 350Nm of torque, propelling the van to a top speed of 75mph.The battery capacity is 70kwh and the official WLTP Combined cycle gives the van a theoretical range between charges of up to 139 miles. The 7.4kw on board charger will fully charge the van from a standard wallbox in 12 hours, and a public DC fast charger gets you up to 80% of capacity in an hour.
Fiat also fit a 90kw motor to the e-Ducato, but one which has a lower torque rating of 280Nm. They limit the top speed to 62mph, presumably to extend the available driving range as much as possible. 
There are two battery options on the Fiat. You can select a three cell, 47kwh pack which offers a WLTP combined driving range of up to 91 miles, or a five cell 79kwh array providing a practical 148 miles of use between charges. Fiat claim, under official City testing conditions, a range of 230 miles is possible (It's important to always remember that these official figures should only be used for comparison purposes. With a full payload, in inclement, cold weather, the range will always be significantly less than the official figure).
There are three onboard charger options, but even with the slowest, coupled up to a standard wallbox a full charge should be achieved in as little as eight hours. The Public DC, zero to 60 miles of range charge time is around 30 minutes.
Specification and Equipment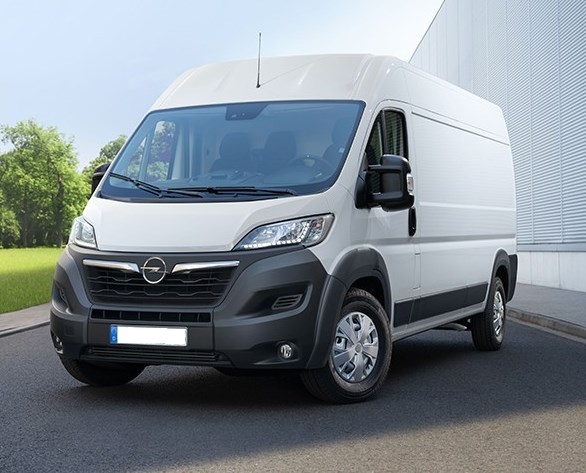 Movano-e is available in just the single, Dynamic trim level. As standard, you'll get a 5" colour touchscreen multimedia unit which, along with a DAB radio also boasts satellite navigation. Air conditioning and cruise control are fitted, as are rear parking sensors. 
Standard and eTecnico are the two levels of trim offered by the Italian manufacturer for the e-Ducato. Opt for standard and you'll get a pretty high level of tech for your money, including an upgraded 7" touchscreen with DAB radio, climate control and LED lighting in the loading bay. Driver aids are aplenty, including a lane departure warning system, advanced emergency braking, traffic sign recognition and rain and dusk sensors. An alarm, reverse parking sensors and blind spot detection tech are also fitted.
Upgrade to eTecnico and you'll see navigation has been added to the touchscreen, along with Apple CarPlay and Android Auto together with a rear camera. 
Price and Warranty
Electric vans don't come cheap. The Fiat starts at £57,454 + VAT and £62,623 + VAT will buy you the lowest priced Movano-e. These prices exclude the government PIVG (Plug In Vehicle Grant) which will reduce the cost significantly (but is subject to change without notice).
The Movano-e has a warranty of 3 years / 100,000 miles and an additional battery warranty that guarantees 70% capacity will remain at 8 years / 100,000 miles.
Fiat is offering a 5 year mileage limited warranty with 8 years of coverage on the smaller battery pack and ten years for the 79kwh option.
Which is Best?
With more model availability, higher payloads, greater range between charges and a more comprehensive level of specification, it's hard to argue against the Fiat at present. But, to achieve a decent range you'll need to specify the more expensive five cell battery pack, and the Vauxhalls motor has much greater torque.
The Movano isn't limited to a fairly restrictive 62mph either. One thing is for sure, the coming years will see all manufacturers developing their products, particularly as battery technology advances. 
 
I started my career selling vans in the mid-eighties, progressing through dealer groups to management level. In 2010 I joined vehicle valuation company CAP, being made responsible for forecasting future used values for all makes and models of vans and trucks, this data being used by leasing companies and manufacturers to assess future risk. This role entailed very early exposure to new models including extensive testing across Europe.
In 2016 I started up my own consultancy business dedicated to the LCV industry. In addition, my freelance written work has been used by a number of clients and I am a regular contributor to WhatVan? magazine. I'm also a judge for their annual 'Van of the Year' awards.
To relax, I enjoy travel and walking near my Yorkshire home.