So here's our bang up-to-date look at the electric van market. We'll also take a look at the hybrid powered vehicles you can buy right now.
Ford
The big news has to be the launch (although it's not available until 2022) of the Ford E-Transit. Its diesel-engined sibling usually sits at position two or three in the monthly sales figures so this van really needed to make its mark for the manufacturer. 
The E-Transit, powered by a 135kW (kilowatt) or a massive 198kW (that's the equivalent of 269hp!) electric motor has an official Worldwide Harmonised Light Vehicle Test Procedure (WLTP) range of up to 196 miles between charges, and can be charged from 15% to 80% in 34 minutes using the DC fast charger. 
Ford are not just content with having a high tech driveline, they've also taken the opportunity to pack the E-Transit with the latest, state of the art driver aids and connected services. 
The dash is dominated by the 'SYNC4' 12-inch touchscreen and included is the FordPass connect modem with a lifetime subscription to the Ford Telematics facility, allowing remote monitoring including alerts of potential breakdowns – details of which, in conjunction with Ford's new 'Liive' (not a typo) system can be relayed directly to the dealer in readiness for the van arriving for rectification.
Price? From £42695 + VAT which is very, very competitive indeed.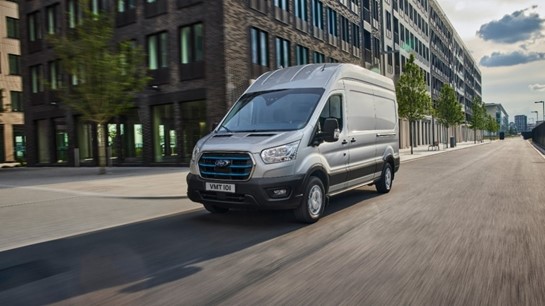 Mercedes-Benz 
After some build up, Mercedes-Benz recently brought the eVito to market, the all-electric version of their popular medium van. An average range of 93 miles (WLTP) on a full charge might not suit some van operators but others who work close to base may be tempted as the van can be fully charged in as little as six hours. The eVito has a payload of 923kg and a load volume of up to 6.6cu/m (identical to the diesel powered van).
Since our last review, the Mercedes-Benz eSprinter has finally hit the showrooms with the first customers having taken delivery. While it's a smart looking van with the build quality you would expect from the German manufacturer, on paper the eSprinter falls quite a bit short in comparison to the E-Transit. Maximum range is just 95 miles and the payload of 731kg is a little uncompetitive. 
There's just the one derivative, based on the L2H2 panel van which offers plenty of load volume. The eSprinter may well work for those involved in local, urban delivery operations.
Fiat
Another electric van which has made the move from theory to practice is the Fiat E-Ducato. Unlike some other manufacturers who only offer their electric vans in one or two body variations, Fiat are marketing the E-Ducato in three lengths and three heights. If you combine this with the various chassis-cab and passenger carrying versions, and the different trim levels and weights, there are around 400 derivatives available.
The van has a 90kW motor (dwarfed by the units available in the E-Transit) and there are two battery packs available – go for the larger one and the official range between charges is a healthy 147-175 miles. Expect a lot less than this if you're carrying plenty of weight, especially on winter days.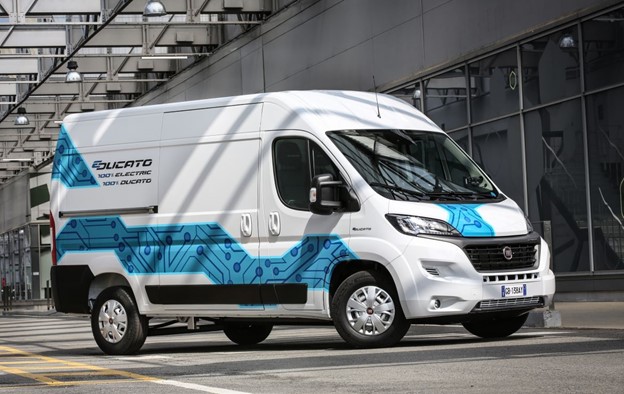 Renault
The French manufacturer has been selling the Kangoo ZE since 2011. In its latest guise this little van has a claimed real-life range of up to 124 miles and charging times from six to 17 hours (the latter from a conventional three pin domestic socket). All models can carry a payload of over 600kg.
Based on the passenger car of the same name, the Renault Zoe is a small van designed for urban use. Its colossal quoted range of up to 245 miles (WLTP) makes it a strong contender for those looking for a zero emission solution for city and suburban driving.
Renault's Master ZE has been around since 2018, but they don't really make a big song and dance about the electric version of their very practical large van, and with the likes of Ford and Maxus making rapid developments the Master is perhaps being left behind.
Range is quite limited with an official WLTP figure of 75 miles in summer and just 50 miles in winter. Payloads however are perhaps the strength of the Master with up to 1425kg on offer, not far short of the capacity of the diesel-engined version. 
Just the one size of battery is available with a capacity of 33kW, and the motor has an output of just 57kW. As with Fiat, Renault don't restrict you to one version – the Master ZE comes in 13 derivatives including chassis-based models.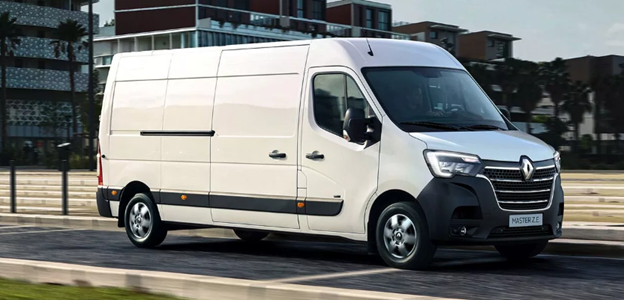 Nissan
Here's another manufacturer with a long electric van heritage. Although the diesel-engined equivalent has been discontinued, the e-NV200 remains popular with a recent upgrade to its electric drivetrain which it shares with the Leaf car. 
Although designed perhaps with the urban delivery market in mind, it has an excellent WLTP range of up to 187 miles and a rapid charge facility of 40 minutes to 80% capacity. It's rumoured that the e-NV200 won't be around for much longer, sadly.
The Stellantis (formerly PSA) group 
Currently comprising the Vauxhall, Peugeot and Citroen van ranges, Stellantis offer a fully electric version of their medium-sized panel van, the more or less identical Vivaro-e, e-Expert and e-Dispatch respectively. 
With their 100kW/136PS electric motor these vans could be a game changer for those hesitant in making the move to a fully electric van, with a payload of up to 1226kg, a WLPT range of up to 206 miles, fast charging in just over 30 minutes and a full medium van sized loadspace. 
Available very soon are the Vauxhall Movano-e, Citroen e-Relay and Peugeot e-Boxer – again, three vans which will be very similar, particularly under the skin. The electric conversions are actually carried out here in the UK by a third-party company although the vans are marketed as factory supplied products.
The 90kW motor is equivalent to a modest 122hp and the 70kWh battery pack promises a range of 139 miles. The Vauxhall is only offered with this battery, although the Citroen and Peugeot products can be sourced with a smaller, 37kWh cell pack.
Two body sizes are offered, and payloads should be around a useful 1150kg. 
Volkswagen 
VW have been steadily developing electric versions of their van range and these are just starting to come to market. On sale now is a fully electric version of their bestselling and iconic Transporter. Built in conjunction with specialist firm ABT, the e-Transporter is based on the long wheelbase version of the standard van and therefore offers 6.7cu/m of load volume. 
Compared to the Vivaro-e, e-Expert and e-Dispatch it has a slightly disappointing claimed range of 82 miles and a lower payload of 1001kg. The all-important fast charge facility achieves its 80% top up in 45 minutes.
Transporter's bigger brother, the Crafter has previously been available in electric form in Europe (and a number have unofficially been imported and converted to right hand drive here) but there are no plans for a UK electric Crafter until the launch of an all new van, potentially in 2022.
MAXUS
Chinese manufacturer SAIC brings to the UK market its range of vans under the 'MAXUS' brand (formerly LDV).
The eDeliver 3 van, competing with the Renault's Kangoo ZE and the Nissan e-NV200 is offered in two wheelbases. Payloads are around the 1000kg mark with load volumes up to 6.3cu/m. The charge time is a competitive six to eight hours depending on the battery pack. 
A WLTP range of 150 miles together with a good level of equipment and a keen sale price makes it a strong proposition, providing you're not too concerned about brand perception.
The order books open for the electrically powered version of their large van, the eDeliver 9. It's available in two body sizes and with three battery options – 51.5kWh, 72kWh and 88.55kWh (with the last option available in the long wheelbase van only).
The 150kW electric motor (that's equivalent to 204hp) will be sprightly enough and with the largest battery the WLTP maximum range is a very competitive 219 miles. The payload on the 3500kg GVM (gross vehicle mass) version is a fairly conservative 860kg. 
Specification inside the van is good, with a 10-inch touchscreen, air conditioning, cruise control, parking sensors and reverse camera all coming as standard. 
The eDeliver range hasn't been around for long, and many potential buyers might want to see how robust the vans are in tough working environments before taking the plunge.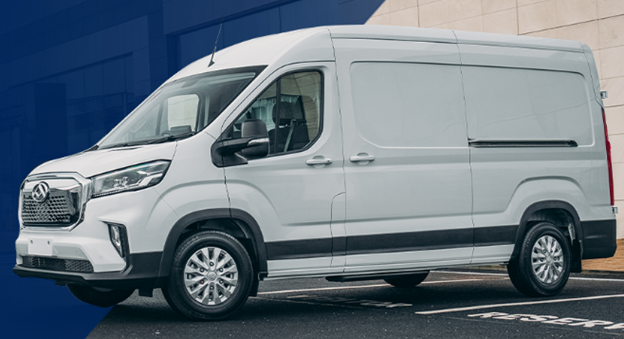 Hybrid vans
Using a combination of electric and conventional internal combustion engines, hybrid panel vans are few and far between, with just two currently on the UK market.
The Ford Transit Custom PHEV (plug-in hybrid electric vehicle) has an electric drivetrain with a three cylinder petrol engine on board which is used purely as a generator, never directly driving the wheels. 
Known as a 'range extender', this means that the driver never needs to worry about finding a charging station en route but can plug in the van overnight to top up. You'll get around 35 miles of running from a full charge.
Also using this range extending technology is the LEVC VN5, which might look very familiar as it's based on the London taxi. Using a 1477cc petrol engine, it has an electric range of up to 61 miles.
Why go electric?
Switching to an EV isn't just about doing your bit for our planet. You can also save on your monthly outgoings with cheaper car tax and journey costs.
Use our journey calculator to get a breakdown of your commute costs if you choose to switch to an EV.