For those who don't need to carry large loads, small vans are the ideal choice because they're practical, cheaper to insure and run, perfect for nipping between jobs and easier to park in busy town centres.
Ideally, small vans should also be comfortable, easy to drive and rugged, yet still offer a decent amount of payload for those occasions when you need to carry that little bit extra.
There's a good choice from some big brands, including the Ford Transit Connect, Volkswagen Caddy and Citroen Berlingo, plus 100% electric vans such as the Renault Kangoo Z.E. – perfect for the new Ultra Low Emissions Zones.
We've chosen 10 of the best small vans on the market, including a couple of newcomers. We've also added the van lengths for each model for easy reference. 
1. Vauxhall Combo Cargo - 4.40m / 4.75m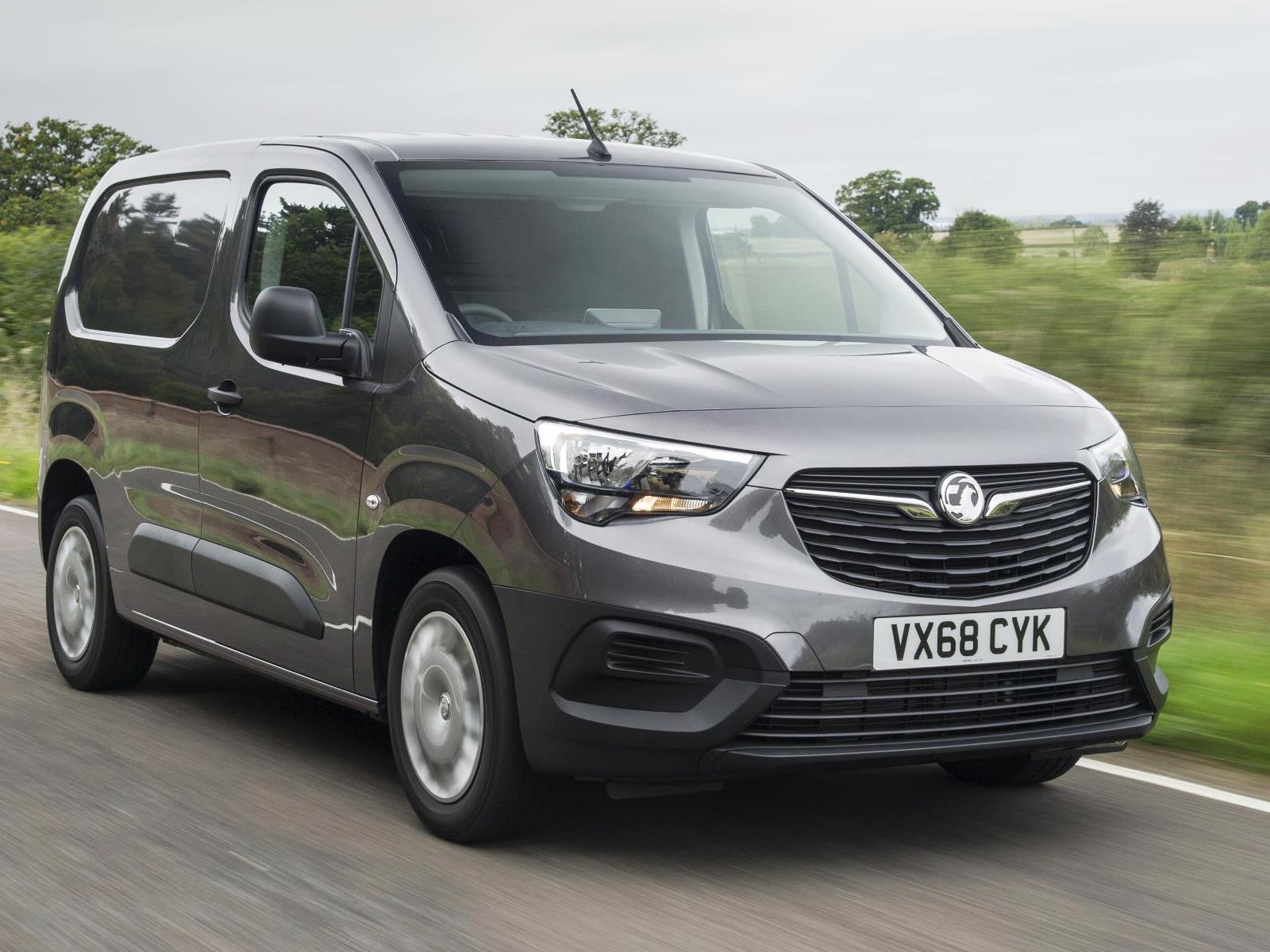 Jointly crowned Compact Van of the Year at the What Van? Awards 2021 with its almost identical cousins (the Peugeot Partner, Citroen Berlingo and Toyota Proace City) the Vauxhall Combo is available in two lengths and one roof height, and there's a crew van too.
Boasting a wide range of efficient petrol and diesel engines, plus a good selection of driver assistance and safety systems, it's available with the fast and smooth EAT8 eight-speed automatic transmission.
All four versions of the van can now also be specified with a fully electric powertrain (badged Citroen e-Berlingo, Peugeot e-Partner, Vauxhall Combo-e and Toyota Proace Electric). 
Loadspace: up to 4,400 litres
Payload: up to 1,000kg
Fuel economy: up to 54.3mpg (diesel)
Electric range: up to 171 miles
2. Fiat Doblo Cargo - 4.39m / 4.74m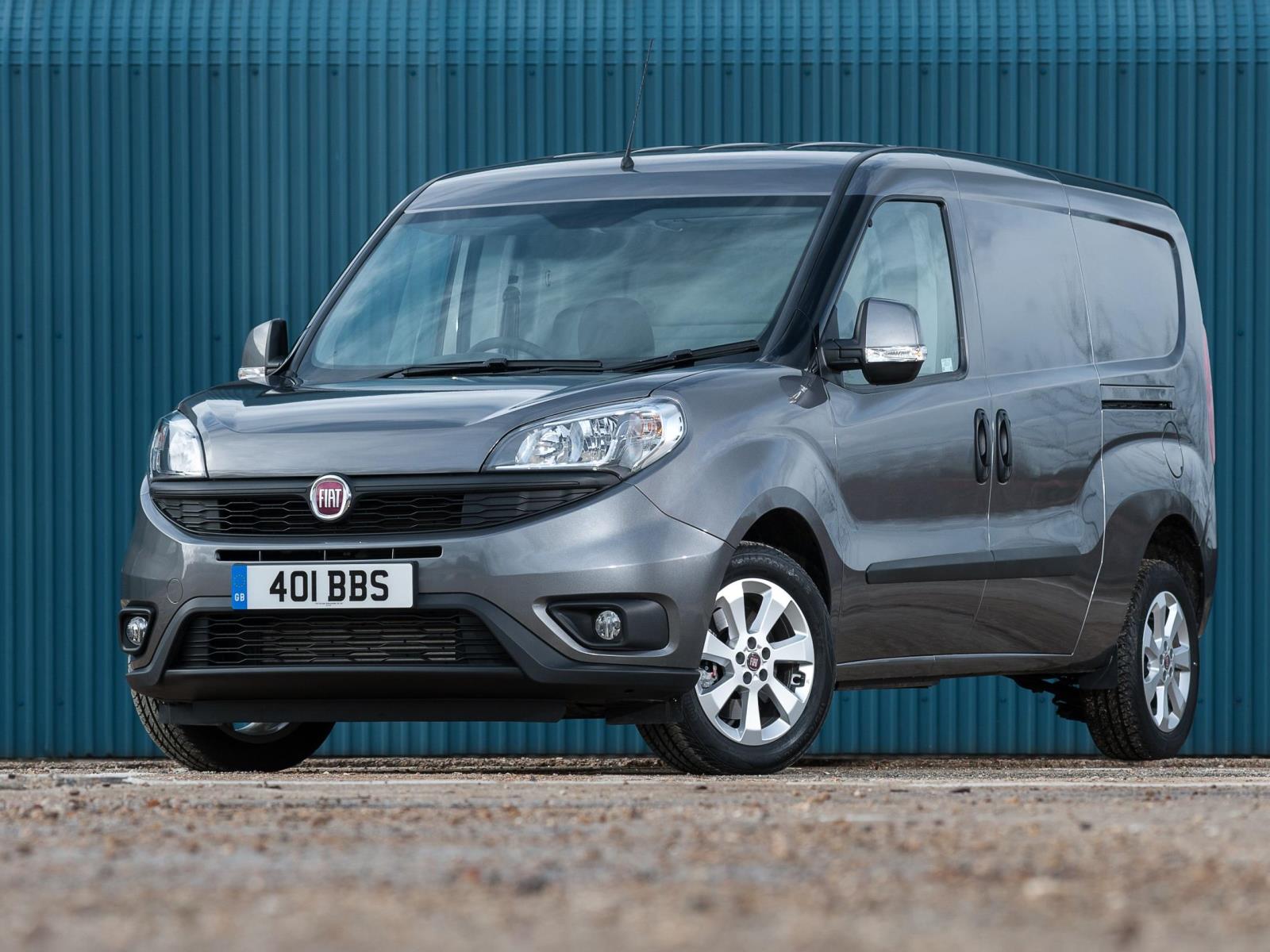 It may have slightly divisive looks, but the versatile Doblo Cargo has been dubbed the Tardis of the small van world. There are four versions – the Cargo Van (standard length), Cargo Maxi (longer), Cargo High Roof and Cargo XL, which combines extra length with a high roof. 
Here's What Car?'s verdict: "The Fiat Doblo Cargo has all the hallmarks of a quality small van. It drives well, can transport both volume and weight, but is let down by a tired and uninspiring interior."  If you fancy something from Fiat, but smaller, then investigate the Fiorino. 
Loadspace: up to 5,000 litres
Payload: up to 1,005kg
Fuel economy: up to 47.1mpg (diesel)
3. Ford Transit Connect - 4.42m / 4.82m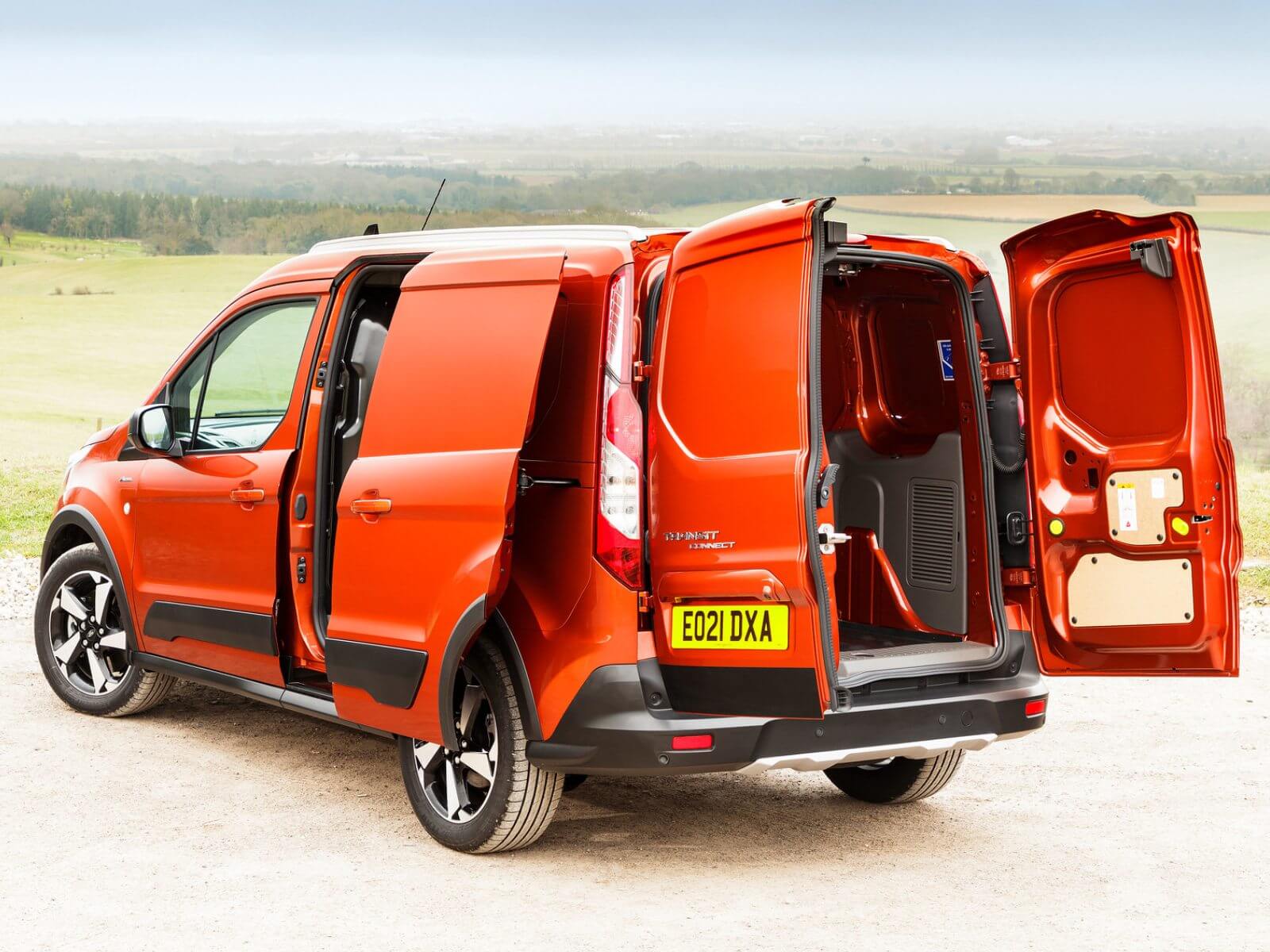 One of the UK's biggest-selling small vans, the Transit Connect is now in its second generation (2013-) and it was refreshed in 2018. Featuring Ford's excellent 1.5-litre EcoBlue diesel engine and 1.0-litre EcoBoost petrol, it's more like driving a car than a van.
Offered with standard and long wheelbases, the double cab version has a second row of seats and sliding side doors for improved access. If you want to stick with Ford and go even smaller, then there's the Ford Transit Courier and Ford Fiesta Van.
Loadspace: up to 3,600 litres
Payload: up to 982kg
Fuel economy: up to 62.8mpg (diesel)
4. Mercedes-Benz Citan - 4.49m / 4.91m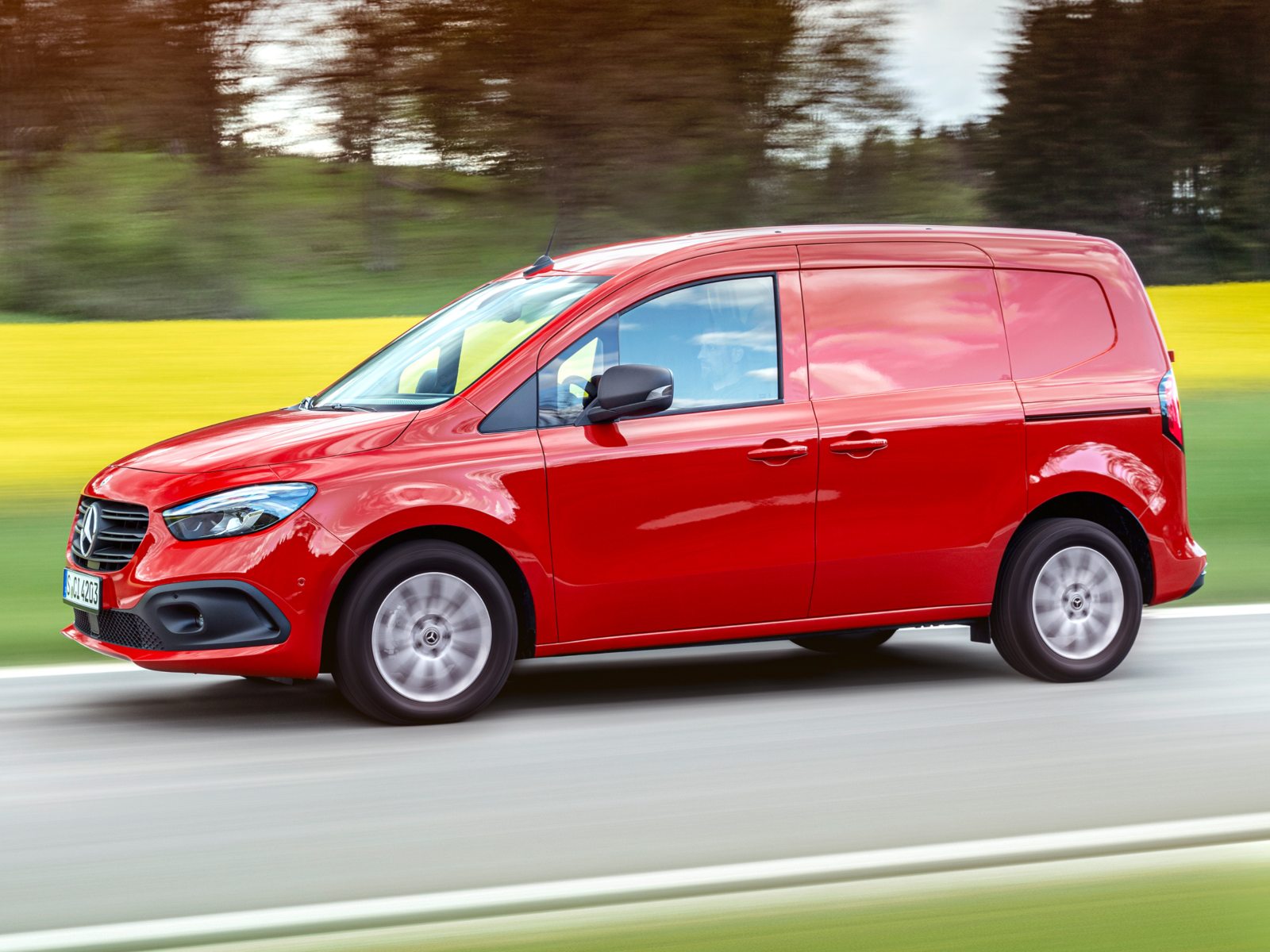 Unveiled in 2021, the all-new second-generation Citan is the fruit of a partnership with the Renault-Nissan-Mitsubishi Alliance and is basically the same as the new Renault Kangoo and Nissan Townstar.
Apparently the Citan is "nimble and robust" and will "excel in an inner-city environment". Boasting compact external dimensions and a high loading volume for a wide range of possible uses, there are wide-opening side doors on both sides and a low loading sill.
Powered by a range of petrol and diesel engines, in a first for Mercedes-Benz an all-electric version will also be available (badged eCitan) with a fast-charging capability (10-80% in 40 minutes).
Loadspace: up to 2,900 litres
Payload: up to 752kg
Fuel economy: tbc
Electric range: up to 177 miles
5. Renault Kangoo - 4.49m / 4.91m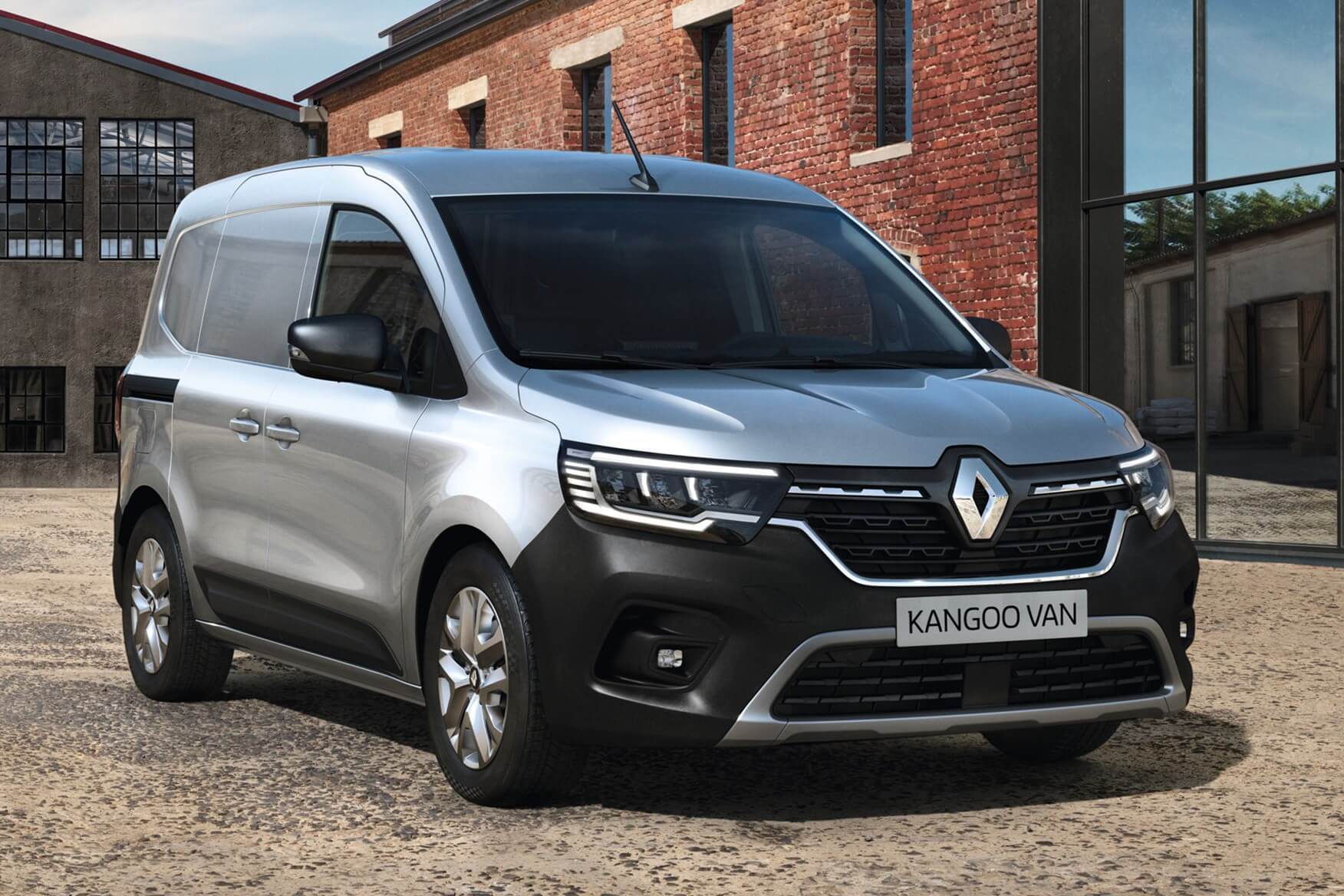 Co-developed with the Mercedes-Benz Citan and Nissan Townstar, the smart new Kangoo has big boots to fill because it has consistently been a big seller for Renault, while the all-electric Kangoo Z.E. is Europe's most popular electric van.
On sale in 2022, the third generation Kangoo will be available in two lengths, with load volumes slightly increased in comparison with the outgoing model.
Featuring a car-like interior and the latest safety and driver assistance technology, it will have petrol and diesel engine choices, and once again there will be a pure electric version.
Loadspace up to 4,900 litres
Payload: up to 1,000g
Fuel economy: tbc
Electric range: up to 165 miles
6. Volkswagen Caddy Cargo - 4.5m / 4.85m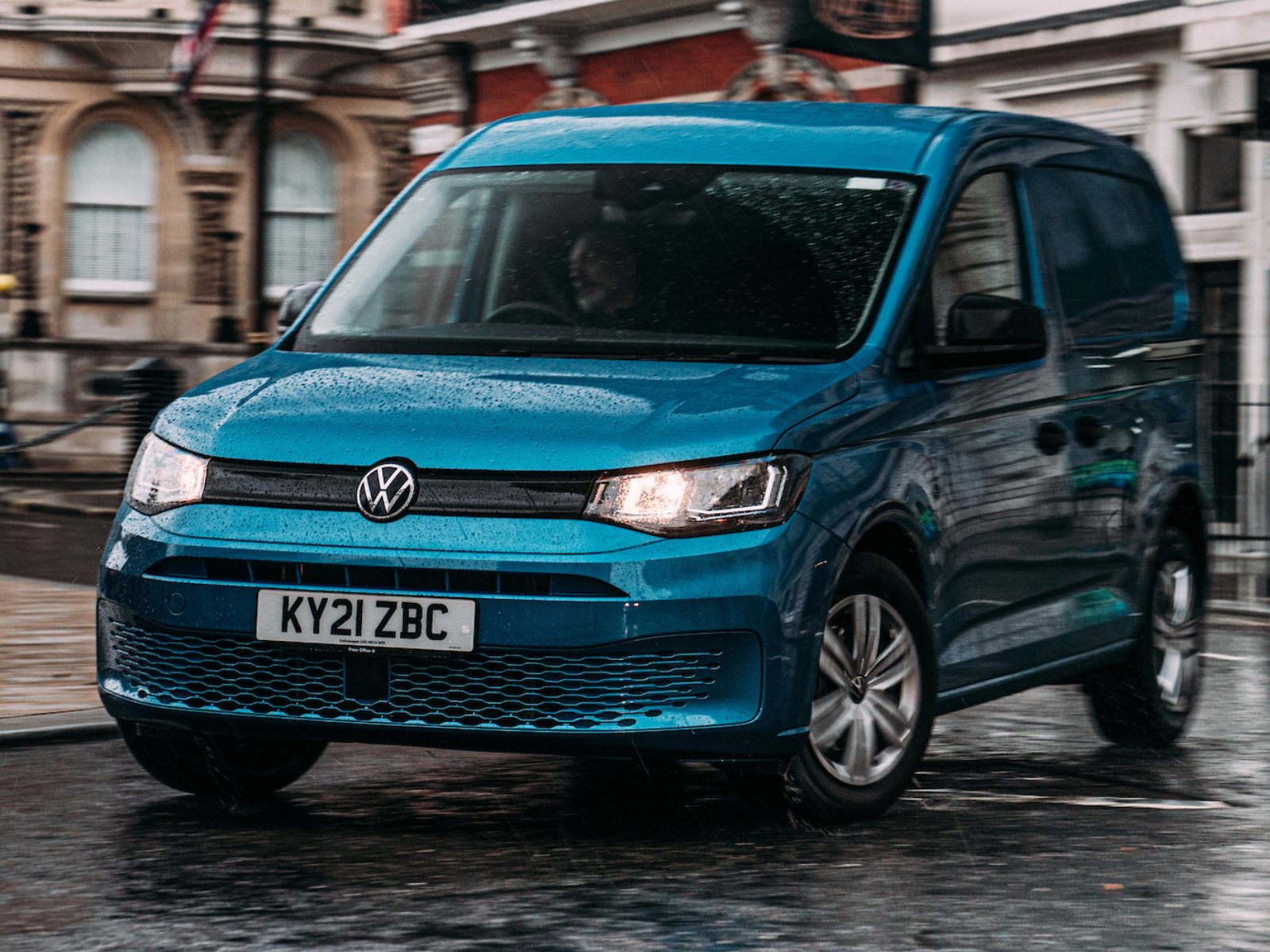 Launched in 2021, the all-new fifth-generation version of VW's iconic small van is more civilised and connected than ever.
Featuring a fresh design, suspension, trim levels and technology, it comes in two sizes – standard short-wheelbase (SWB) and Maxi long-wheelbase (LWB).
Well-built and boasting serious badge appeal, the Caddy Cargo is available with Volkswagen's excellent range of petrol and diesel engines, plus a seven-speed DSG – one of the best automatic gearboxes on the market.
Loadspace: up to 3,700 litres
Payload: up to 700kg
Fuel economy: up to 58mpg (diesel)
7. Ford Fiesta Van - 4.04m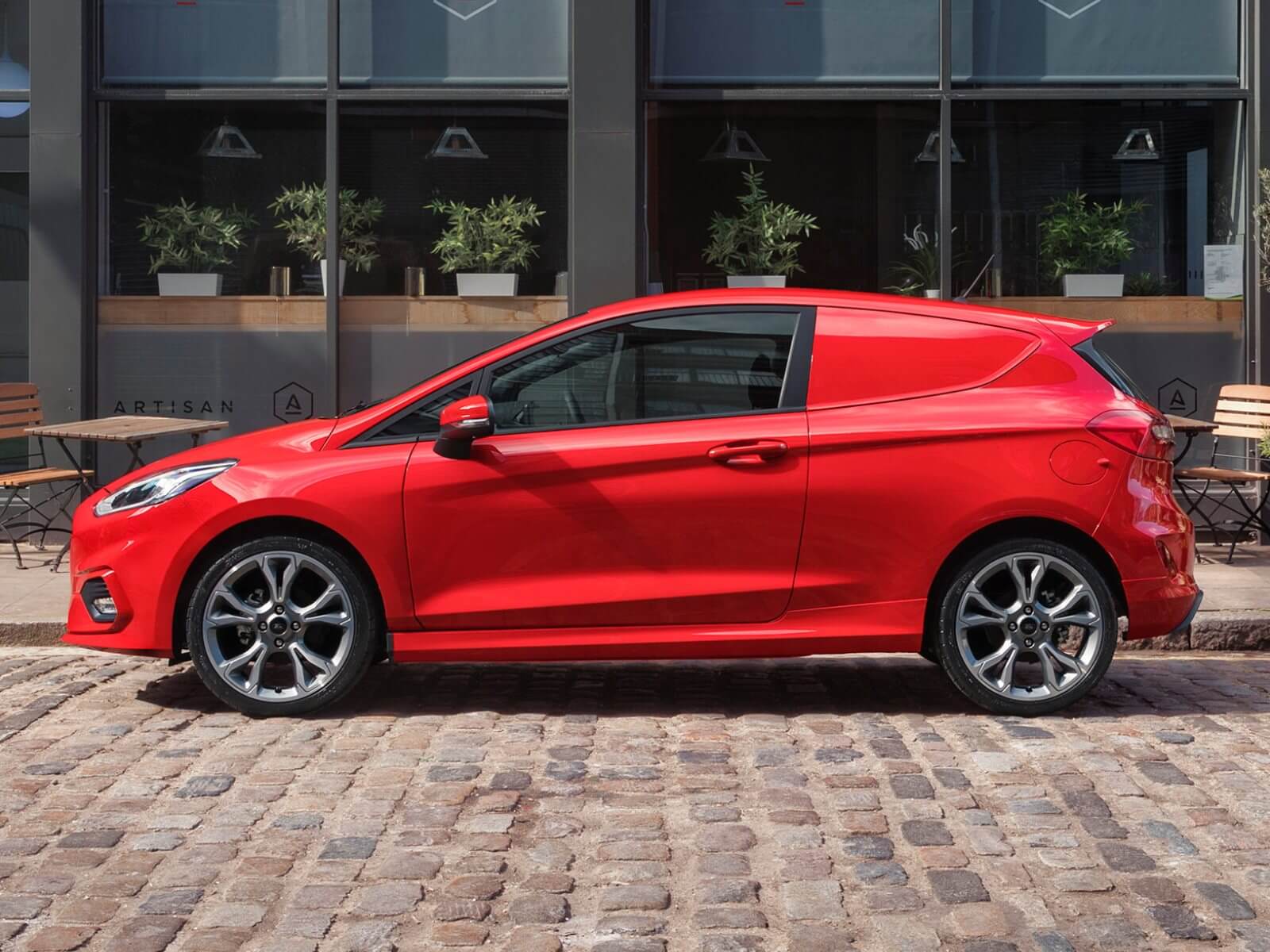 Available in Trend and Sport specs, the Fiesta Van is about as close to a dynamic car-like driving experience that you can get in a commercial vehicle.
Powered by the Blue Oval's excellent 1.0-litre EcoBoost 123bhp turbo petrol engine paired with a slick six-speed manual gearbox, it's packed with all the latest safety and driver assistance tech and a joy to drive.
A mesh bulkhead and four useful tie-down points let you transport cargo safely and securely without worrying about them moving around as you drive.
Loadspace: up to 960 litres
Payload: up to 515kg
Fuel economy: up to 56.5mpg
8. Renault Zoe Van E-Tech Electric - 4.08m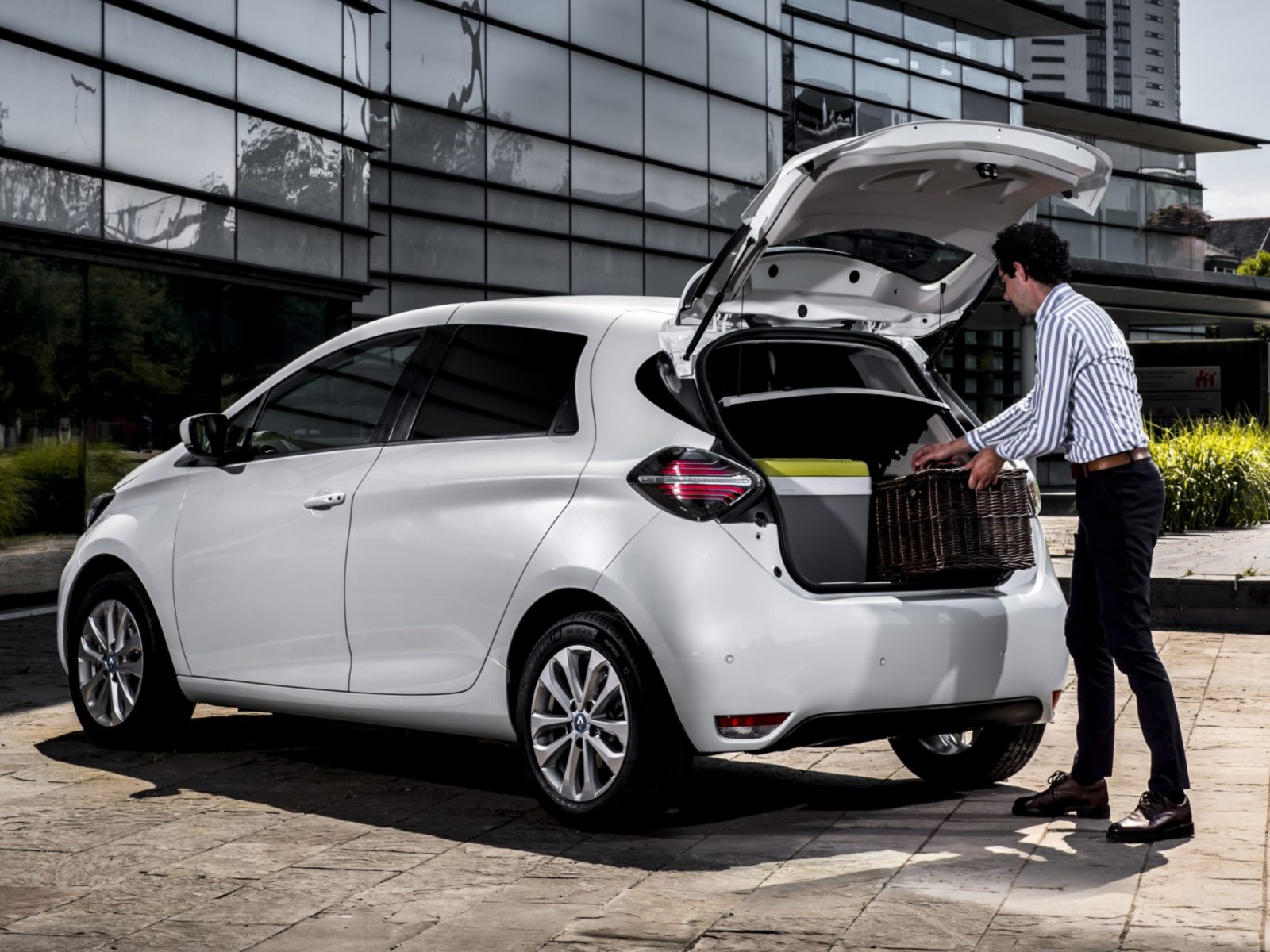 Winner of the Best Value for Ownership Costs category in the 2021 What Car? Van Awards, the commercial version of the popular Zoe EV comes with a 50kWh battery and R110 electric motor developing 80kW (108hp) and a torque of 225 Nm.
It can be charged overnight at home or work, or hook it up to a fast 50kW DC charger and you can get up to 90 miles of range in just 30 minutes.
Just like a regular Zoe to drive (refined and fun), it will give you full and free access to low emissions zones. The loading area is modest, but flat, while the dividing mesh bulkhead behind the front seats is suitably solid.
Loadspace: up to 960 litres
Payload: up to 457kg
Electric range: up to 239 miles
9. Fiat Fiorino - 3.95m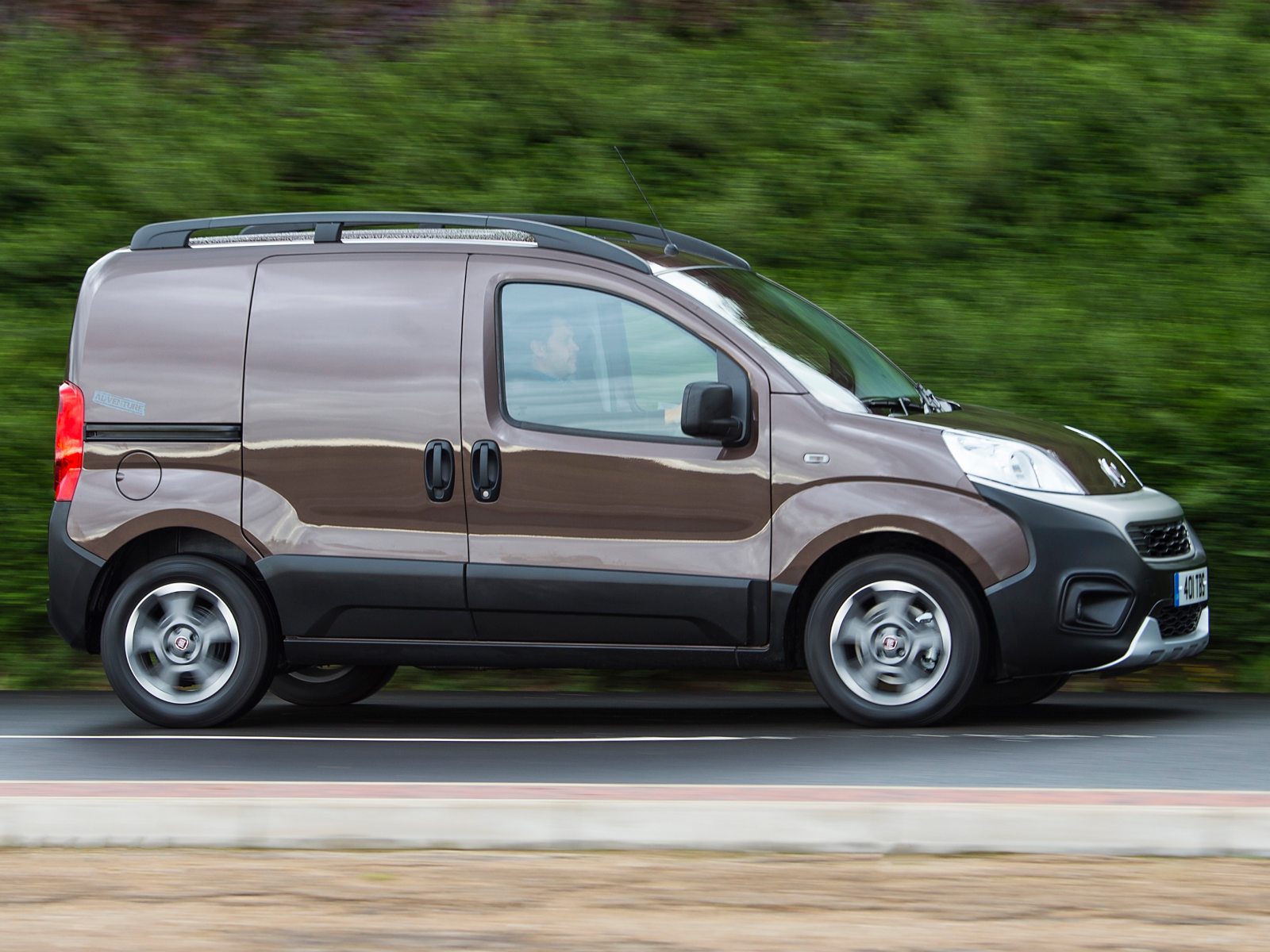 Small, agile and easy to drive, the cute Fiat Fiorino has a great load capacity for a car-derived van of its size.
Originally co-developed with the Peugeot Bipper and Citroen Nemo, it's now the last of the triplets still on sale in the UK. 
Powered by a choice of frugal 1.3-litre diesel engines (80 or 95hp), the Fiorino is starting to look a little dated inside the cabin, but it's still a cracking city van.
Loadspace: up to 2,800 litres
Payload: up to 610kg
Fuel economy: up to 57.6mpg (diesel)
10. Ford Transit Courier - 4.16m
Apart from the little Fiesta Van, the agile Transit Courier is the smallest van in Ford's commercial vehicle line-up. If you're based in an urban area, this compact, practical and economical van is hard to beat.
Available with Ford efficient 1.5-litre EcoBlue diesel and 1.0-litre EcoBoost petrol engines, it's well equipped and one of the most car-like vans in our selection to drive. If you want to stick with the Blue Oval, but go smaller, it's worth checking out the new Fiesta Van for size.
Loadspace: up to 2,300 litres
Payload: up to 595kg
Fuel economy: up to 57.6mpg (diesel)