But is there a better, more efficient way to get that payload on and off your vehicle? Are you doing it safely or maybe unwittingly allowing your employees to put their health in jeopardy? 
Here are our tips for loading and unloading your van safely, starting with… 
The right van for the job
This may be one for future reference, but when thinking about buying a new vehicle there are some considerations that could make the day job a whole lot easier.
Doors
If you're carrying pallets, make sure the side door is wide enough to take one, otherwise they'll all have to go through the back. If you regularly reverse up to a loading bay, make sure the rear doors fold back against the van sides. Damage is far less likely that way.
And don't make the mistake of ordering a van with a rear tailgate. Fork trucks don't like them…
Cargo
Carry lots of uniformly square packages? (Yes, we're thinking boxes!) If so, it might be worth considering a box or Luton van. 
Advantages? No wheel arch intrusion, so you've a flat floor, straight sides, and a nice big rear door. You'll get more boxes in but beware the pitfall of overloading from a weight perspective. It's easy to do.
Tail lifts 
Not a cheap option, but how else can you safely unload a customer's new washing machine at the roadside? They're not necessary for most van users but those involved in carrying heavy items in a Luton van should seriously consider one.
Bulkheads 
Now standard on the majority of new vans and a vital safety feature. If you're carrying heavy loads which could move in an accident, a substantial, steel structure is required to avoid injury to the driver or passengers. 
Some bulkheads have multi functionality, allowing long loads to protrude through under the passenger seat.
Getting the load in (and out again)
Sounds simple? It often is but a bit of thought can ease the day along nicely.
Location: Ever wondered why most vans on the UK market have the side loading door on the left side of the van? It's for driver safety and to encourage pavement access to the loadspace. It's important to check before loading/unloading that there's no risk to yourself or others and you're not obstructing vision for other road users
Rear door security: It's absolutely vital that the rear doors are firmly secured in the open position, be it at 90 or 180 degrees. A gust of wind can blow the door into the path of traffic, cyclists or pedestrians
Heavy stuff: Get some help, even if you're working alone for the rest of the day. It'll help reduce stress and fatigue, making the whole operation that little bit safer
Fork trucks: A great aid to getting heavy loads or pallets into the van. But is the same facility available where the load is to be dropped? Sounds like a schoolboy error but an easy trap to fall into
Spread the load: Again, for those who operate to the max when it comes to weight, make sure it's loaded evenly throughout the loadspace. Although you might be within the maximum payload limit for the van as a whole, careless loading can mean that an axle (usually rear) is illegally overweight, potentially leading to prosecution of the driver and seizing of the vehicle
Multiple drops? Get organised: How many times have you seen a parcel delivery driver stopping to sort their load out halfway through the run? If a bit of time is taken to load the van from the back to the front (so the last drop is the first in) there's a potential for some serious time saving. It's not always practical or possible due to other considerations, but worth a thought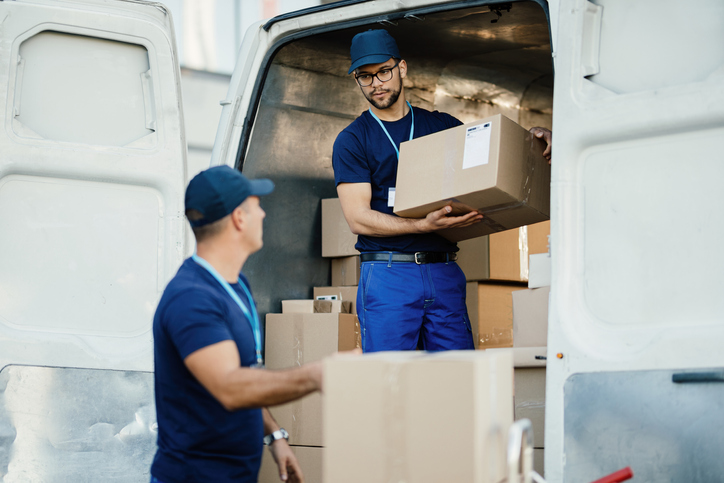 Safe and secure
Securing the load is probably the single most important aspect when operating a commercial vehicle. It's the driver's responsibility to make sure the load doesn't pose a threat to anyone including passengers and any third party. 
Depending on the nature of the load, different equipment and techniques can be used to make sure the payload stays in place:
Lashing eyes: Most vans these days have them fitted to the floor. Ideal for securing pallets with straps or loads such as bags of fertiliser or building materials
Rails: Perfect for tying taller loads to the van sides, preventing movement under all but the most severe driving conditions
Load lock: Like rails but with the added advantage of allowing straps to be clipped in and tightened with a ratchet mechanism
Telescopic bars: These fit across the width of the van interior, clipping into load lock rails or similar. Prevents loads moving forwards or backwards
Not only will securing the load properly prevent it getting damaged, it'll also ensure the van itself doesn't sustain any knocks or bumps. Ply lining is great, but it won't stop a tonne weight which has started to slide under heavy cornering…
Pickups, dropsides and tippers
Much of the above also applies to light commercial vehicles with an open back but there are also one or two extra things to consider.
Load height 
You'd have to be really going some to strike a railway bridge with a load on a light truck, but if you're heading to a destination with a low height restriction (car park etc) it's worth checking you can access the drop off point without being involved in an unfortunate and embarrassing incident – even if it's somewhere that doesn't usually pose a problem. 
Weather
Carrying a load that's susceptible to water damage? Ensure it's protected by a high-quality cover and the tarpaulin is well secured and won't blow away at 60mph on the motorway. 
Weather can also affect load weight. Consider this: you've loaded your tipper with over one tonne of sand. It's as much as the truck can legally carry. You've parked it overnight ready for the morning's drop. There's been a rainstorm overnight and now the sand is saturated. With water. Which is heavy…
I started my career selling vans in the mid-eighties, progressing through dealer groups to management level. In 2010 I joined vehicle valuation company CAP, being made responsible for forecasting future used values for all makes and models of vans and trucks, this data being used by leasing companies and manufacturers to assess future risk. This role entailed very early exposure to new models including extensive testing across Europe.
In 2016 I started up my own consultancy business dedicated to the LCV industry. In addition, my freelance written work has been used by a number of clients and I am a regular contributor to WhatVan? magazine. I'm also a judge for their annual 'Van of the Year' awards.
To relax, I enjoy travel and walking near my Yorkshire home.