There's nothing quite like looking out over stunning snow-capped mountains and breathing in pure Alpine air while gliding down pristine powdery slopes.
So, if you're tempted to dip your toe in the water – or, in this case your snow boot in the white stuff – where do you start, and what travel insurance will you need?
When is the ski season?
Most European ski resorts open at the end of November and close mid to late April.
A few of the highest, such as Tignes in France, are even open until mid May, which means you can combine a winter sports holiday with long hours of sunshine – and even ditch the ski jacket for a t-shirt!
If you're tempted by picturesque wintery scenes, you might fancy a festive December ski getaway. Unfortunately, so do lots of other people; this is peak season, which means high prices and very busy slopes.
Low season starts in January. There should be plenty of fresh snow, but the temperatures can be much cooler. On the plus side, it's the month to find good-value ski holidays and quieter slopes!
February, with its warmer temperatures and frequent snow, is high season and a popular time for families. If you don't have kids, avoid February half-term week – it's the single most expensive time of the year for skiing. However, if you have to go in the half term break, take a look at our guide to family skiing holidays which covers off family-friendly resorts, booking tips and lessons. 
Low season returns in March, when the slopes are quiet again, the days warmer and the snow usually good. Fewer crowds mean shorter queues for ski lifts (so more time for skiing) and great offers on accommodation, flights and lift passes.
In any season, piste closure is a possibility and can occur for several reasons, including a lack of snow, risk of avalanche and high winds. Skiing insurance will help cover the costs of reaching slopes further afield or pay for alternative activities on piste-closure days.
Where are the best resorts for beginners?
Prices vary hugely depending on the resort and country, so it's good to do your research. Start by finding a resort that offers good English-speaking tuition, as well as lots of confidence-boosting green and blue runs.
Look for places that have accommodation near the ski lifts, good après ski, a resort crèche if you have young children and facilities for when you're not on the slopes, such as a pool.
With wide gentle runs, Arinsal in Andorra is a great place to start. Geared up for families and new skiers, its green pistes are designed exclusively for beginners.
For adults and older children, Obergurgl in Austria is ideal. As one of the highest ski villages in Europe, it's the most reliable resort for snow. And, with excellent English-speaking instructors and quiet slopes, it's perfect for beginners and improving intermediates.
Alpe d'Huez in the French Alps is great if you're in a group of mixed ability. Its fantastic snow-bowl of easy nursery runs and wide-open pistes also make it a perfect place to learn.
What type of skiing insurance do I need?
With any type of holiday, you need travel insurance, and this is especially so for a skiing break. Our winter sports insurance covers you for elements specific to skiing such as:
Piste closure

Lost, stolen or damaged ski equipment

Replacement equipment hire

Illness and injury
If you take out Admiral's Single Trip or annual cover, we provide skiing cover as a winter sports upgrade to the standard protection included in your policy. Accidentally finding yourself on a black run may be a concern, but at least having the right cover in place is one thing you won't have to worry about!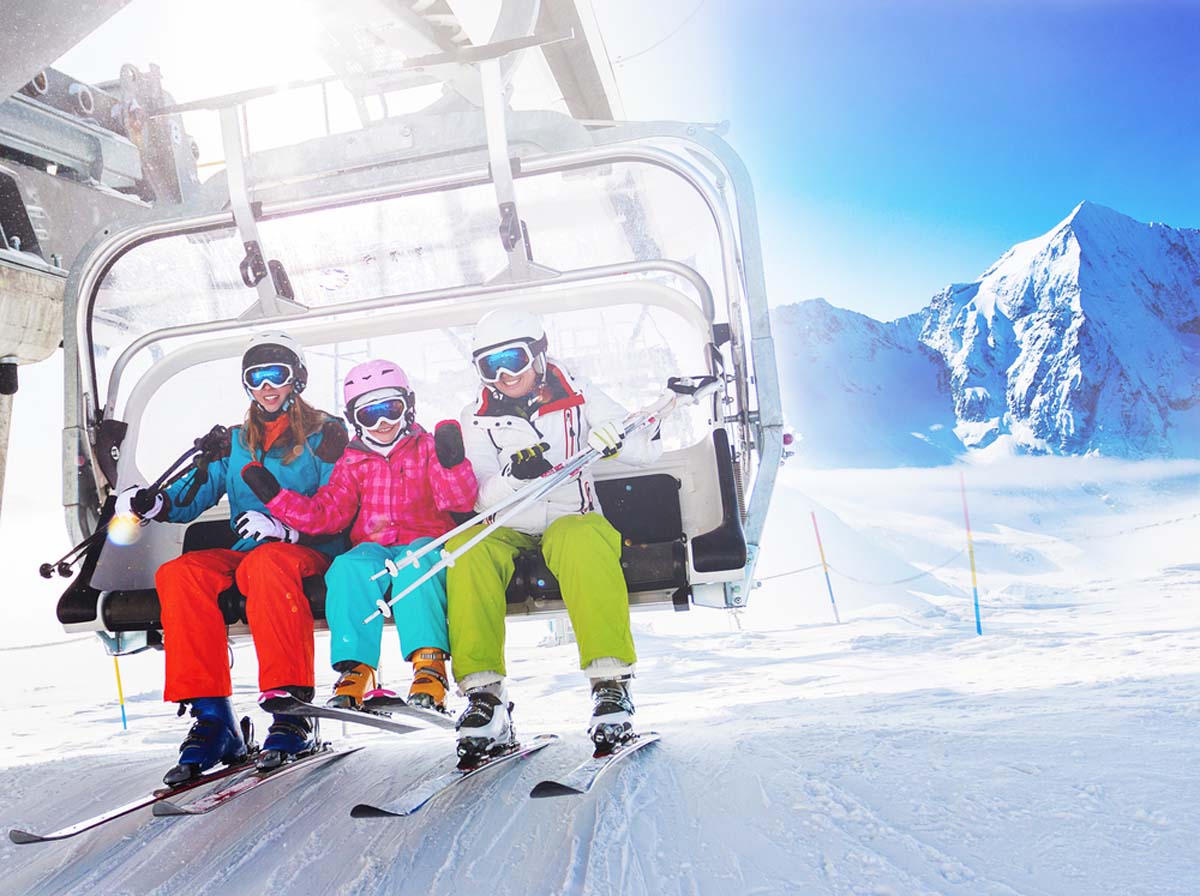 What types of skiing are there?
Whether you're a skier or snowboarder, there's plenty of scope to mix things up a little. If you love walking, you might enjoy cross-country skiing, also known as Nordic skiing. It's a great way to explore winter trails and you can hire cross-country skis from most resorts.
Mogul skiing – skiing over a series of bumps – is great fun once you've got the basics covered. If sheer exhilaration is what you're after, standing atop a mogul run, looking for a line and weaving through the bumps is just the thing!
Some resorts also offer night skiing, where gliding down beautifully illuminated slopes under a starry sky can be a magical highlight of a wonderful trip.
You can't talk about skiing without the après, and there's no better vibe than at a festival on the slopes or in the ski resort. We can help you find your perfect ski festival anywhere in the world with just five questions - check out our ski festival finder. 
What do I need to pack for my skiing holiday?
You'll need a few essentials for your skiing holiday, but don't grab your credit card just yet! You don't have to buy boots, helmets, skis and poles, as you can hire them at your resort for a cost of around £100 a week.
A ski jacket and salopettes are essential but, as first timers, try to borrow from friends and family, or rent them. Gloves or mittens are a must (as a beginner, your hands will be in the snow a lot!) and don't forget your thermals – ski socks, long sleeved layers and long johns.
The reflective snow means eye protection is also vital. A good rule to follow is 'sunglasses for sun, goggles for cloud'. High altitudes also mean stronger UV, so eyes, lips and faces all need sunscreen protection.
For a complete guide, check out this Ultimate Ski Packing Checklist 
Are there any extra costs on a skiing holiday?
You'll need a pass to go up even the most basic of lifts, which can be bought in advance or at the resort. A typical lift pass costs around £245 for an adult six-day pass, while better value family passes are usually available too.
Pre-booking your ski and snowboard hire can save you a considerable amount – sometimes up to 50% – while renting a beginner's set of adult skis will cost around £55 for six days.
As a beginner, you'll need tuition. Private lessons can expensive – although you'll progress more quickly  while group lessons, available as half or full day sessions, are cheaper. And check with the ski school before you buy lift passes and hire kit, as lots of packages are available.