Festival insurance - all you need to know
Everything you need to know about cover for UK and festivals abroad
Whether your bag's music, books, yoga, vintage cars or even gin, there's a festival for everyone. From a teenage rite of passage to a reunion for original hippies, festivals are great gatherings for like-minded people keen to celebrate the big passion in their lives.
Once limited to a handful of big-name summer shows, such as Glastonbury and Reading, there are now literally hundreds of festivals to choose from, all year round.
Many are family-friendly, with imaginative activities to keep little ones busy, while a growing number focus on fitness and wellbeing, offering a quieter vibe and the space to find balance.
But before you head off armed only with a tent and some sun cream, hold up! There's a little more to it than that - including your personal safety and having the right festival insurance in place - so read on!
How should I pay for festival tickets?
The first thing to note is that tickets for the headline music festivals don't come cheap, and you can expect to pay upwards of £200 for a weekend pass to events such as Glastonbury, Reading and Leeds (that's if you can get your hands on one before they sell out, of course).
Some, however, including Camp Bestival and Festival No. 6, are now offering instalment plans, giving you the chance to make payments over the course of several months.
The first instalment, which includes a booking fee, tends to be non-refundable, but this can nevertheless be a great option for cash-strapped students or group bookings.
You can, of course, pay directly from your current account, and a packaged bank account - offering perks such travel insurance, a free overdraft and gadget cover for your mobile phone - can be a good option if you tend to go to lot of festivals and events. Packaged accounts work well for some people, but do make sure that the benefits add up for you.
Packaged bank accounts come with a monthly fee, which tend to vary widely between providers. Also, some impose age limits on the travel insurance, which could leave older festival goers finding they aren't actually covered should they need to make a claim. You might also be able to get all the benefits at a lower price by shopping around and comparing travel insurance online.
Paying by credit card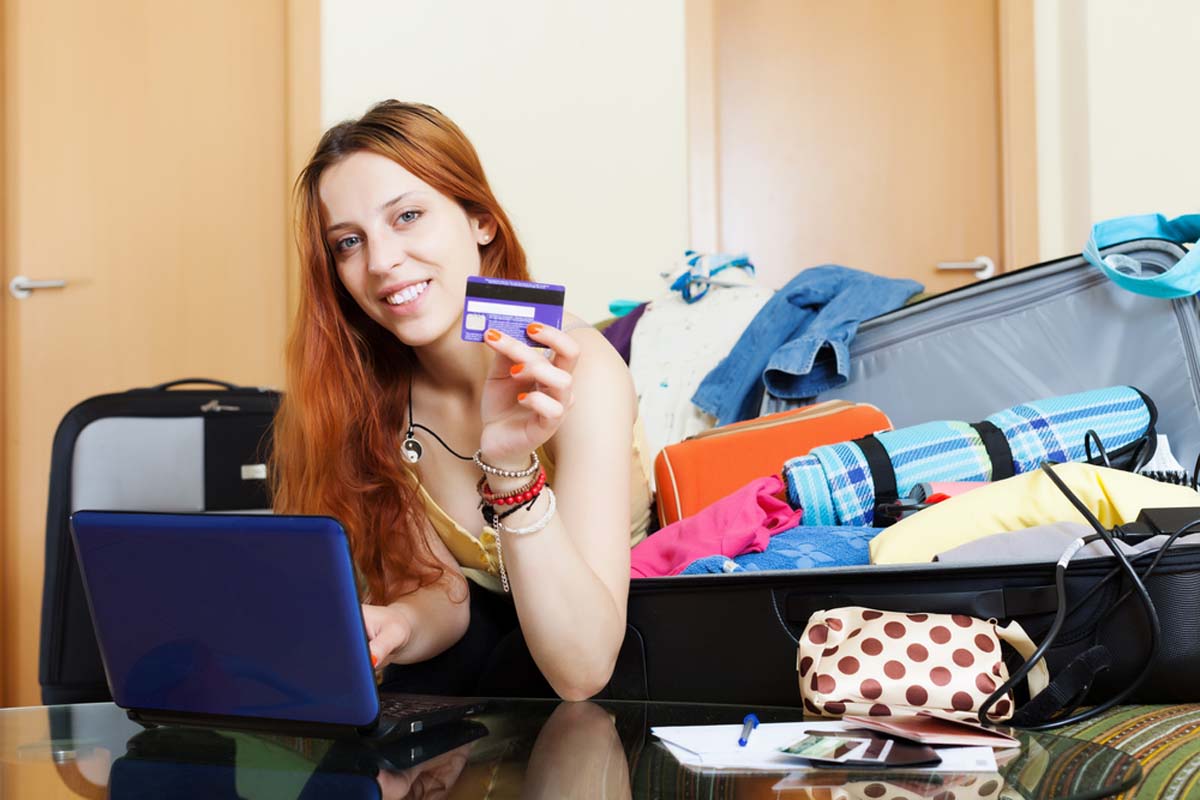 Many people like to pay for large expenses, such as holidays and festivals, with a credit card. Using a credit card offers greater consumer protection than a debit card, with purchases of between £100 and £30,000 covered against breach of contract, misrepresentation or the seller going bust. You might find using the card incurs a surcharge, but many people see this as a price worth paying for the peace of mind it brings.
A premium credit card can offer good rewards, especially if you're fortunate enough to jet across the world for the festival season! You can quickly clock up air miles, cashback and rewards points, as well as enjoying perks at the airport and having travel insurance included in the package. Premium cards tend to be quite exclusive, however, and you might find that, rather than applying for one, you have to wait to be invited.
Travel cards can be another good option if you're heading to Europe or further afield for a festival, as they are designed for overseas use and don't charge transaction or commission fees when used outside of the UK. Again, some include travel insurance, but take care to read the small print as you might end up paying an annual fee or needing to spend a certain amount each month before you can access the perks.
It (hopefully!) goes without saying you need to avoid ticket touts, either online or outside the festival gates. You could easily get caught up in a scam, turning your festival fun into a damp squib in more ways than one!
What type of insurance will I need for a festival?
Taking out travel insurance is a sensible idea for any break, even a weekend festival in the UK. While all reputable events will have first aiders on hand and an NHS hospital relatively nearby should you become ill, you'll still want to protect your cash, bank cards and personal belongings.
You may find expensive items, such as electronic equipment and jewellery, are covered under your home insurance. For extra peace of mind, Admiral Travel Insurance's gadget insurance add-on covers up to three items to a value of £1,000 that are lost, stolen or damaged in one trip, including smartphones, tablets and the all-important sat-nav that will get you safely to your festival in the first place!
And, should your mobile phone be stolen, our gadget cover will also reimburse you, up to the policy limit, for any calls, messages or data usage in the first 24 hours after it's found to be missing.
Overseas festival insurance
Heading to an event abroad, such as Ibiza Spirit or Sziget Festival in Budapest? Then you'll need more than standard travel insurance, to make sure you're fully covered against anything going wrong.
There are three types of overseas travel insurance: European, Worldwide, and Worldwide excluding USA, Canada and Caribbean. As do many other insurers, Admiral stretches the boundaries of Europe to include some areas bordering Europe and the Mediterranean, so you might find your festival insurance is classed as 'European' even if the location is a little further afield.
And don't forget to take your European Health Insurance Card (EHIC) with you; it's no substitute for full travel insurance but it will ensure you receive basic medical help in an emergency.
Staying safe at festivals  
A YouGov survey carried out in June 2018 for the Press Association revealed more than a fifth of festival-goers had faced unwanted sexual behaviour, with this figure rising to 30% among women and 43% among women under 40.
Also, sadly theft from tents, and even of tents themselves, is not uncommon at festivals, so it's always a good idea to leave valuables at home. Divide your cash and cards into separate areas around your tent when you're sleeping, in case of opportunistic thieves, keep anything really important with you every time you're away from your tent and stay in a group.
Take advantage of security lock-ups, which should be manned 24/7, and label everything before you go - more than 700 items were handed to lost property at Glastonbury in 2017, including 250 wallets and 118 mobile phones.