Spring is in the air, and so is the sound of maps rustling and backpacks zipping closed. With travel restrictions easing, we're gearing up for the great British getaway - but while flights abroad are taking off again, there's no doubt that the UK staycation is still here to, well, stay.
For many of us, priorities have changed during the last two years, leading us to connect more closely with the environment and refocus our holiday wishlists. So here are our eight great spring break ideas for nature lovers.
1. Red kite watching 
Once the UK's most common bird of prey, red kites were wiped out in Scotland and England 100 years ago and endangered in Wales, but a number of programmes have seen these stunning birds return to our skies. Central Scotland's only red kite feeding station, Argaty Red Kites, is the result of a partnership between the RSPB, Scottish Natural Heritage and landowners the Bowser family. Visitors to Argaty can take a ranger-led tour to a bird hide and learn about red kites without disturbing their habitat, and you can even stay in a newly-renovated cottage on the estate and enjoy bespoke wildlife tours.      
Mid Wales is also renowned for its red kite population, and in recent years sightings have become common as far south as the Swansea Valley.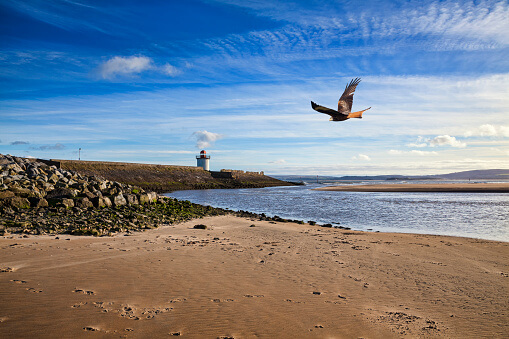 2. Stargazing 
Stargazing is one of the best ways to learn about our beautiful natural world, and spring is a particularly good time to wrap up warm and watch the night sky. Head to Selsey, West Sussex, where the skies are so clear that legendary astronomer Sir Patrick Moore made it his home. Tucked between the South Downs - itself an International Dark Sky Reserve - and the sea, Selsey is a great spot to gaze at the Milky Way on a clear night. 
Further west, the Brecon Beacons National Park was the first area in Wales to be awarded International Dark Sky status due to its natural nighttime environment. The authorities and the community have made great strides in replacing lighting that used to pollute the night sky and are working towards making all the reserve's lighting stargazing-friendly.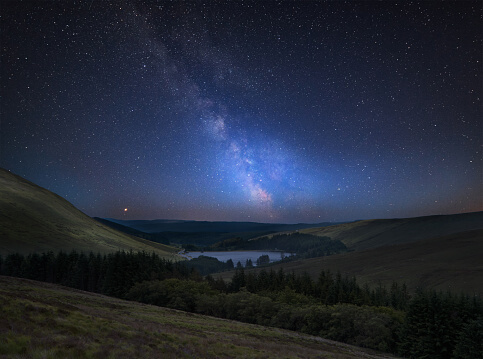 3. Plymouth
Urban Devon might not seem like an obvious eco hotspot, but read on for more about Britain's Ocean City. Plymouth Sound is home to the UK's first National Marine Park, where National Lottery Heritage Funding is being used to develop green marine jobs and tackle climate change, while the city has been awarded 'plastic free' status. The Ocean Conservation Trust, presenter Ben Fogle and local business Plymouth Gin have teamed up to encourage tourists to take part in a one-hour litter pick as part of a sustainable holiday, while Visit Plymouth is working with Great Western Railways to promote eco-friendly travel. What are you waiting for - go (south) west!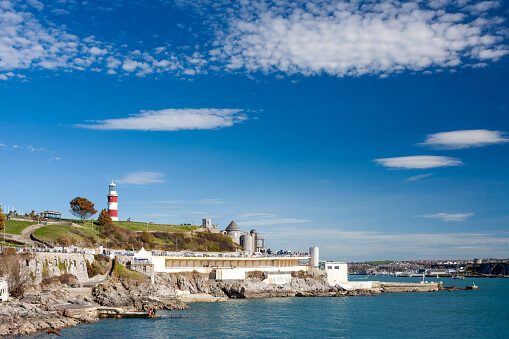 4. Red squirrel spotting 
According to the Wildlife Trusts, red squirrels are in danger of becoming extinct in England in the next 10 years. Currently, 50% of England's native red squirrel population lives in the Kielder Forest, where visitors are encouraged to report sightings to the Northumberland Wildlife Trust. As a native species, red squirrels are integral to our heritage and countryside - unlike grey squirrels, which were introduced from North America by the Victorians. 
Red squirrels can also be seen on Anglesey and in parts of Scotland. Listen out for their distinctive chatter and look for tell-tale gnawed pine cones - and beware cones falling from above when walking in the forest!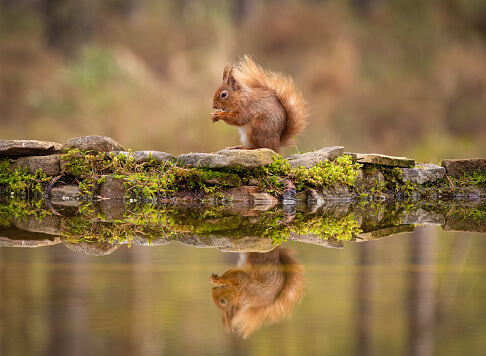 5. Sea kayaking with basking sharks 
The Hebridean Isle of Mull is one of the UK's richest wildlife destinations, and the opportunity to kayak alongside porpoises and basking sharks proves that remote doesn't mean boring! Basking sharks - the second largest shark species in the world - are spotted frequently along Scotland's wonderful west coast, particularly around the isles of Mull, Tiree and Coll. Growing up to 12m long and at seven tonnes, they can certainly look frightening, but they feed entirely on plankton and are far more at risk of being harmed by boats and fishing nets than posing a threat to humans.
Wilderness Scotland specialises in customised holidays in the Highlands and Islands, helping visitors discover this rugged landscape responsibly. Sea kayaking trips include the Sound of Iona, Erraid Island – west Scotland's sunniest spot - and the golden sands of Uisken Beach. Oh, and in case the sharks aren't enough, you might see eagles overhead, too. Don't 'mull' over it - book today! 
6. Wellness retreats 
Wellness retreats offer a holistic break for mind and body, with programmes including meditation, healthy eating, mindfulness, yoga, massage and fitness. By definition, they focus on peace, quiet and digital detoxing, meaning retreat destinations are usually snuggled deep inside sumptuous countryside.
Basubu is the go-to online marketplace for yoga and wellness breaks, such as meditation retreats, nature walks or wild swimming weekends. You can sign up for forest bathing in Brighton or even a yoga and sewing retreat in Perthshire - just don't rely on a strong phone signal when you get there! 
7. Heart of England Forest
A conservation charity based in the Midlands, the Heart of England Forest is planting and protecting more than 30,000 acres of woodland, wetlands, grasslands and other habitats for the benefit of wildlife, the environment - and people! As a result, many rare and red-list species are being reintroduced to the Forest. These include 30 species of butterfly - including the high-priority brown hairstreak and the small heath - while 12 of the Forest's ponds are home to great crested newts, a species protected by law in the UK.
Birds to spot throughout the year include redwings, fieldfares and tawny owls. With so much nature in which to immerse yourself, it's a good job the charity has a number of eco-friendly holiday cottages, caravans and boat mooring sites in which to extend your stay!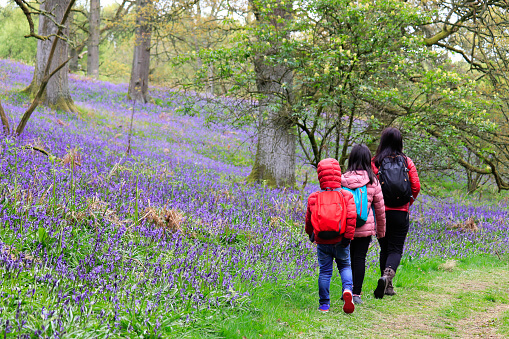 8. Bluebell walks
No late spring walk actually classes as such unless you see bluebells, in my book, and luckily in the UK we have plenty of woodland hotspots. Join a guided walk at Combermere Abbey estate on the Cheshire / Shropshire border, which is usually open only to holidaying guests but welcomes walkers on certain weekends in April and May (booking essential). Dogs are invited too, and you and your canine companions can also stay in a dog-friendly cottage in Combermere's grounds.  
Over on the Emerald Isle, Tollymore Forest Park in County Down, where some scenes from Game of Thrones were filmed, is renowned for its carpet of bluebells. In Wales, it's hard to beat the National Trust's Dinefwr Park at this time of year, with plenty of places to stay in the prettily-painted town of Llandeilo. 
Need more inspiration? These UK staycation destinations might help, while our guide to the best cycling holidays in the UK will also boost your eco-travel credentials. If you're worried about travelling with a mental health condition, our guide will help keep your wellbeing topped up while you're away. 
This new chapter in tourism is very exciting but, with the pandemic still present, our travel insurance still offers cover for certain events related to COVID-19 (conditions apply).
With more than 20 years' experience in journalism and PR, I've worked with the BBC, ITV, Trinity Mirror, Metro, MSN and many more leading media, as well as a range of third sector and corporate clients including Macmillan Cancer Support, Visit the Vale and the NHS. A number of my short stories have been published in anthologies and I've written three collections of walking trails in south Wales. Always happiest in the great outdoors, I'm an Ordnance Survey Get Outside Champion and blog about my hiking and camping adventures at www.girlonthetrail.co.uk. I have two teens and a rescue greyhound called Lionel, who, to my shame, is possibly the world's worst hiking dog (the teens aren't much better).