We've all heard of kerb appeal, but what about green appeal?
Building a sustainable house has its benefits: cheaper running costs, better efficiency and a warm, fuzzy feeling that you're not polluting the Earth too much.
However, our research into UK house buyers shows that a home's sustainability is becoming a key player in housing– a green appeal is beginning to influence the market.
We've surveyed 2000 UK homeowners' perceptions of energy-saving measures and used Rightmove data to showcase the most popular green home improvements and how they impact on a home's value.
We list which features appeal the most to buyers and provide the best value while sharing some tips from industry experts on making your home more eco-friendly.
Do buyers actually care about green homes?
Yes.
Buyers are becoming more aware of energy savings when purchasing a home. Our research shows that three-quarters (76%) of buyers would be more likely to buy a property with energy-saving measures.
Factors like EPC ratings and a home's age are at the forefront of a buyer's mind, with an average of 24% stating they'd pay more for a home with a rating of C or above.

Property and garden experts, Tonya and Rea, supported the importance of EPC ratings:
"The first thing to look at is your EPC (Energy Performance Certificate), which details the environmental impact of your home to give an idea of the running costs - an important aspect to buyers as the cost of energy continues to rise.
"We are seeing more buyers request to see the EPC and questioning the rating. The certificate also gives recommendations to improve the rating and reduce energy costs. You could make these upgrades before placing your property on the market and show off a new and improved energy performance rating in your property listing."
Despite the upfront costs, prioritising energy efficiency is a way to generate interest in your property and improve its value.
However, what green, energy-efficient features do buyers care about the most?
What eco-home improvements provide the most value?
We compared the sale price of homes with different energy-saving features across 13 UK cities with like-for-like properties in the same area that didn't have them.
The research suggests solar panels are the best green investment for sellers; homes with these were selling at an average of 25% more compared to similar properties in the same area without them.
The second most valuable investment is insulation, as homes with this feature sell for an additional 22%. Heat pumps also add up to 10% of property value.
| Green investment | Average % uplift in value vs similar properties in the same area |
| --- | --- |
| Solar panels | 25%+ |
| Insulation | 22% |
| Heat pumps | 10% |
| Hive/smart systems | 7% |
| Triple glazing | 2% |
However, a home's eco-friendly properties aren't always evident. How can you communicate the value of these improvements to buyers, especially for high-value additions like good-quality insulation?
Jonathan Rolande, Professional property buyer and market commentator, states that clear communication about your green investments is paramount:
"With the rising cost of fuel as well as our concerns about the environment, a home's green credentials are more important than ever. "Before showing your property to potential buyers, consider the temperature – it should be around 20 degrees in each room, even those you don't use. Be sure to clean windows inside and out too to let in the maximum amount of natural light.
"You can also wow potential buyers by preparing ahead of viewings. If your household bills are low, keep some recent bills handy to show prospective buyers. Certain features, such as insulation, can be hidden at first glance so be sure to mention to buyers if you've recently installed insulation into the loft or walls."
Cost-of-living is always an issue for buyers, so don't just bank on installing high-value improvements – make sure you're showcasing them, too.
Which green home improvements have the most appeal?
Generally, the most appealing home improvements line up with the features that add the most value.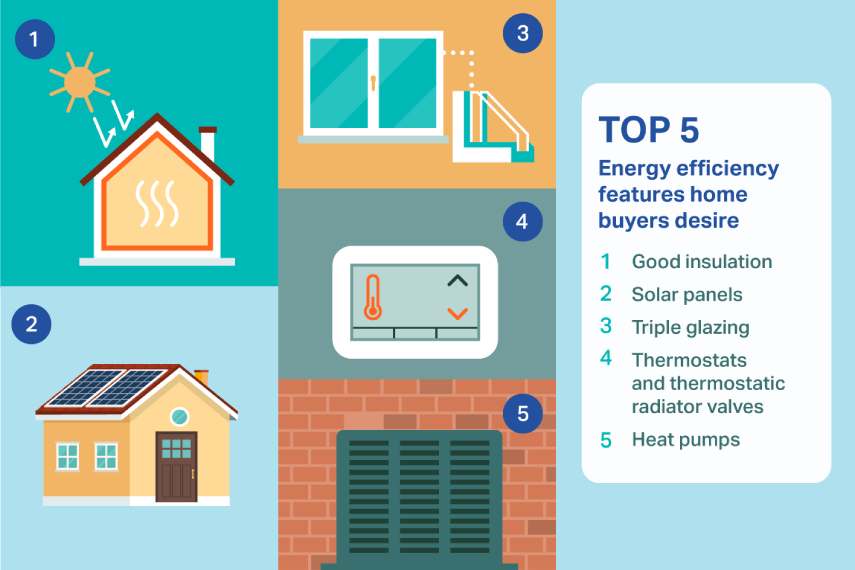 Good insulation tops the list with 47% of buyers finding it appealing, followed by 38% for solar panels and triple-glazing and 25% for thermostats and heat pumps.
Interestingly, popular additions like smart meters, electric car chargers and non-PVC front doors are missing from the top five, but Connie Simmonds, a property expert at Fine and Country, comments that they can still add value:
"The benefits of installing a smart meter and thermostat to allow the future homeowner to monitor and control their energy use ensures the home is heated as efficiently as possible. It's a great way to show off your 'green' side and influence a potential buyer.
"Don't forget to put some effort into the kerb appeal of your home. Installing an electric charging point to attract eco-conscious buyers or swapping out the PVC front door for one made from sustainable materials, could be very beneficial when showing your property. Finally, houseplants are an affordable way to give your home a sustainable, green feel."
Some green appeal features are more desirable than others, but even if you can't afford things like solar panels, other additions like houseplants are cost-effective options.
What are the most popular green home improvements?
Over 80% of homeowners have already invested in energy-saving technology to improve their green appeal.
Insulation (60%) is the most popular investment, with thermostats and thermostatic radiator valves (44%) falling in second. Solar panels, heat pumps and triple-glazing followed shortly behind: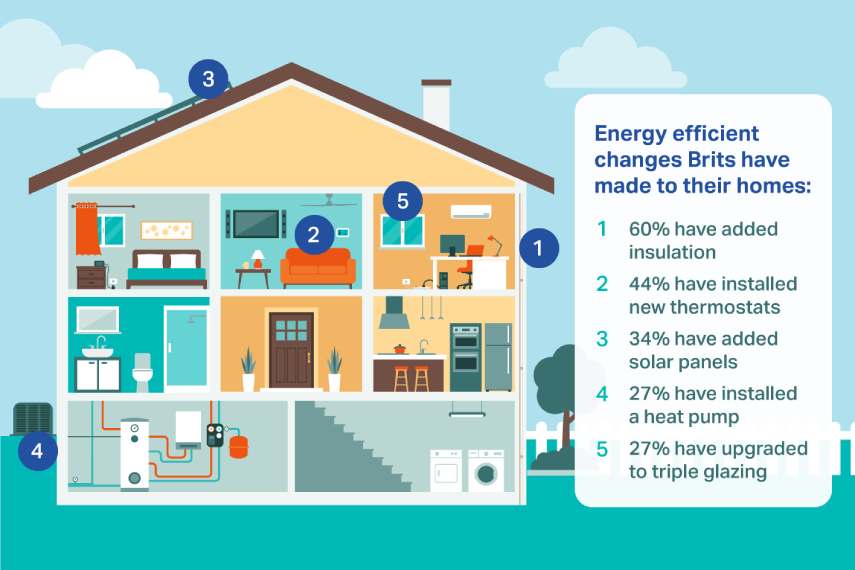 Ben Wilson, Managing Partner at the Knight James Group, highlights triple glazing as one of the most cost-efficient ways to add value to your home:
"[A] great way to improve the green appeal of your home is through investing in good quality triple glazed windows. They will save you money on heating your home, reduce external noise and make for a very noticeable way for buyers to see your home's green credentials. If you have a period property, opt for wooden windows as the uPVC and aluminium equivalents can devalue the property."
He adds that underfloor heating is an underrated method of showcasing your green appeal, as it's "more efficient than conventional radiators, saves you money and frees up valuable floor space."
The evidence shows buyers and sellers are thinking about green appeal – it's not solely about kerb appeal anymore.
By using some of the expert tips above and getting help from Admiral Money, you can enjoy cheaper energy costs while increasing your green appeal.
Oh, and you're helping to save the planet, which is always a bonus.
Before taking on house repairs or improvements, make sure you're covered with home insurance. You can bundle your car, van or home together with one policy with MultiCover, too.