We're going back to our roots, quite literally, in 2022, with sustainable gardening set to be one of the big trends of the year. Rewilding in particular is predicted to surge, as Brits seek to create soothing sanctuaries for themselves and nature.
Already a nation of growers, we truly fell in love with gardening during the pandemic, with the Nationwide reporting that non-essential spending on garden plants and equipment rose by 77% in 2021. The benefits of connecting with nature became more apparent as various lockdowns wore on, and we discovered the joys of attracting wildlife to even the smallest outdoor spaces. 
According to the Society of Garden Designers, a continued drive for sustainability looks likely to be the overriding theme in 2022. SGD member, designer, broadcaster and author Ann-Marie Powell predicts that 'nature-scaping' and 'curated wildling' will be the buzz words, and has noticed more enquiries from clients wanting natural, loose gardens. "People want gardens that look like they are 'of nature' rather than the more obviously designed spaces," she said.
Fellow SGD member Ana Sanchez-Martin, of The Garden Company, agrees. She said: "I hope that more and more people will be jumping on the rewilding wagon! One of the positive effects of the pandemic is that people now understand the therapeutic effects of gardening. They want to create a sense of sanctuary in their garden, to be surrounded by plants and to be enveloped by nature and to increase biodiversity."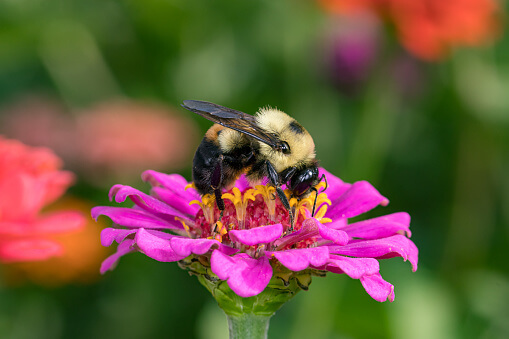 What is rewilding?
Rewilding is the large-scale restoration of nature until it can take care of itself. Richard Bunting, spokesperson for Rewilding Britain and also for rewilding charity Trees for Life, said: "It's about reinstating natural processes and – when and where it makes sense – missing native species. 
"We welcome rewilding on all scales. By making their gardens wilder, people can help boost biodiversity and climate action in their local area, as well as enjoying the health and wellbeing benefits of engaging with nature. Wildlife-friendly gardens also help to ensure greater connectivity of nature-recovery areas across the landscape, which is hugely important!"
Why is rewilding important?
According to Rewilding Britain, more than half of the globe's wildlife has been lost in living memory, while climate change is creating shocks from sea level rises to extreme weather patterns marked by fires, floods and droughts. 
And the UK is one of the world's most nature-depleted countries, ranked 189 out of 218. "The country should be rich in wildlife, but species from songbirds to insects to plankton are collapsing," added Richard, who also runs an online nature recovery resource called Little Green Space. "Traditional conservation has helped slow the pace - but it hasn't been enough to stem this tide of destruction. 
"This loss of nature is the loss of our life support system. As Sir David Attenborough put it, 'We are dependent on the natural world for every breath of air we take and every mouthful of food we eat.'"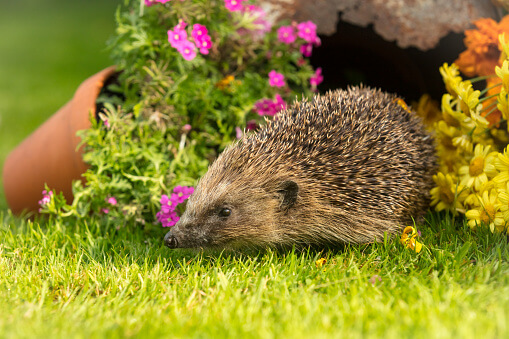 Let the grass grow
One of the kindest things you can do to help nature heal is simple - leave the lawnmower largely in the garden shed. "Mixing up grass types will help biodiversity," said Richard. "Mow the grass nearest to the house, because closely mown grass mimics the grazing pattern of wild ponies and attracts certain birds, but leave other areas to grow longer or create an area of wildflower meadow.
"This will need cutting just once a year and will provide a sequence of flowers and seed heads that will change weekly. Leaving weeds to grow in a wild corner will also attract interesting bugs - dandelions, for example, can support over 50 species of insect!"
If you're shuddering at the thought of unmanicured lawns and edges, why not test the water during No Mow May? This initiative from Plantlife calls on gardeners to 'let it grow' for one month, and join in with the Every Flower Counts survey over the spring bank holiday. Not only will this help Plantlife discover how many bees the UK's lawns can feed, you might decide to lock away your lawnmower for good as a result!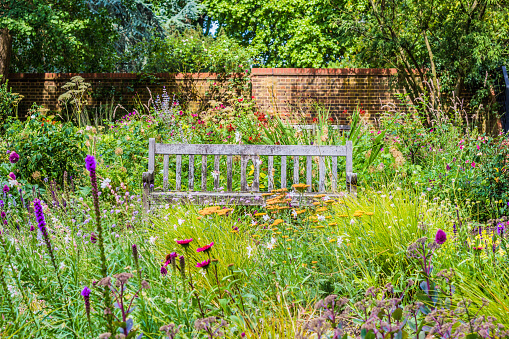 Embrace decay
Similarly, if your idea of gardening heaven involves raking debris into neat piles, ready for disposal, stop right there. Richard said: "Dead branches, piles of leaves, logs and rocks can provide a habitat for insects and hedgehogs, or food for beetle larvae. Decay is part of the natural cycle of returning nutrients to the ground. A compost heap will also provide home to all manner of creatures." 
Plant trees
Trees are essential for giving us oxygen, storing carbon and stabilising soil. A tree canopy also acts as a natural filter and, according to the Royal Parks, each tree removes 1.7kg of pollutants from the air every year. More than 20 species of tree also have medicinal properties!
Native trees such as silver birch, rowan, hawthorn, elderberry, holly, yew and crab apple give the greatest benefits to our ecosystem, while top fruit trees such as apples, pears, plums and cherries are also good for wildlife. "Plant at a mix of heights for different species," said Richard. "Long-tailed tits require trees above head height, whereas wrens and dunnocks need dense cover low down." 
Plant with nature in mind
Plants that provide all-round nectar, pollen, seeds and berries also encourage the right kind of visitors to our gardens. Richard added: "Try pollinator-friendly clover, lavender and snowdrops. Encourage ivy and leave the nettles – they are where butterflies lay eggs.
"Ditch cheap supermarket perennials as they can be full of chemicals and don't deadhead all your plants in autumn, as leaving a selection will benefit birds such as sparrows and finches. Evergreen plants such as holly will provide shelter for invertebrates in winter months. 
Don't dig
No-dig gardening has been practiced for thousands of years - and it could be the 21st century key to saving us from climate disaster. Pioneer Charles Dowding said: "Gardeners are responsible for carbon emissions caused by their digging, which disturbs carbon in the soil and releases it. About 10% of the soil's carbon is released into the atmosphere every time you dig over your soil. No-dig methods simply involve piling nutrient and carbon-rich compost on the surface, and leaving the earthworms to do the rest!" 
If you have a larger garden, you might decide to rewild one section initially, perhaps by creating a wildflower patch next to a neater lawn. Note that rewilding isn't simply about doing nothing and that it's important to rewild responsibly - allowing your garden to become an overgrown wilderness could impact on your neighbours' enjoyment and even, potentially, their safety. Our guides Which side of the fence am I responsible for? and How to get on with your neighbours will help ensure your new passion doesn't impact others.
You might also like our Environmentally friendly garden trends, while our garden insurance guide offers tips on deterring thieves from targeting your outdoor space and garden shed. 
With more than 20 years' experience in journalism and PR, I've worked with the BBC, ITV, Trinity Mirror, Metro, MSN and many more leading media, as well as a range of third sector and corporate clients including Macmillan Cancer Support, Visit the Vale and the NHS. A number of my short stories have been published in anthologies and I've written three collections of walking trails in south Wales. Always happiest in the great outdoors, I'm an Ordnance Survey Get Outside Champion and blog about my hiking and camping adventures at www.girlonthetrail.co.uk. I have two teens and a rescue greyhound called Lionel, who, to my shame, is possibly the world's worst hiking dog (the teens aren't much better).