From family heirlooms to treasured engagement rings, it's important to protect your jewellery in case it's stolen, damaged or lost.
Sometimes, your home insurance covers them; at other times, you'll need specialist cover.
Here, we discuss what type of jewellery insurance you need, how to protect special items and partner with LMG Jewellery to reveal how much your jewellery might be worth.
How to insure jewellery
Most contents-only and home insurance policies cover jewellery automatically up to a certain limit – for Admiral customers, it's £1,000 or less. Be aware that contents aren't covered on buildings-only insurance.
It also protects other valuables like TVs, laptops, bicycles and mobile phones.
Any items worth more than £1,000 must be declared as a specified item on your home insurance. We call this high-value item insurance.
As these specified items are high-risk, you'll need additional personal possessions cover to protect them outside the home.
You may want to add accidental damage cover for jewellery, which will cover you if it gets lost or damaged.
When do I need specialist insurance?
It depends.
As mentioned, you'll need our high-value item insurance for goods that exceed £1,000. Our cover limits are:
Admiral – £20K (up to £10K per item)

Admiral Gold – £30K (up to £15K per item)

Admiral Platinum - £50K (up to £25K per item)
We can't cover you if you have jewellery that exceeds £50,000 collectively or £25,000 per item.
If you have jewellery that exceeds that value, you need specialist cover.
How do I get the right level of jewellery insurance?
The value of jewellery changes over time, so keep us updated– you may end up with the wrong cover level if you don't appraise it regularly.
This starts with a professional valuation which most high-street jewellers and specialist providers like The Guild of Valuers & Jewellers offer. 
You can share updated valuation documents with your insurer and amend your cover if needed.
How much is my jewellery worth?
The value of jewellery changes often. For example, gold has increased in price substantially since 2021: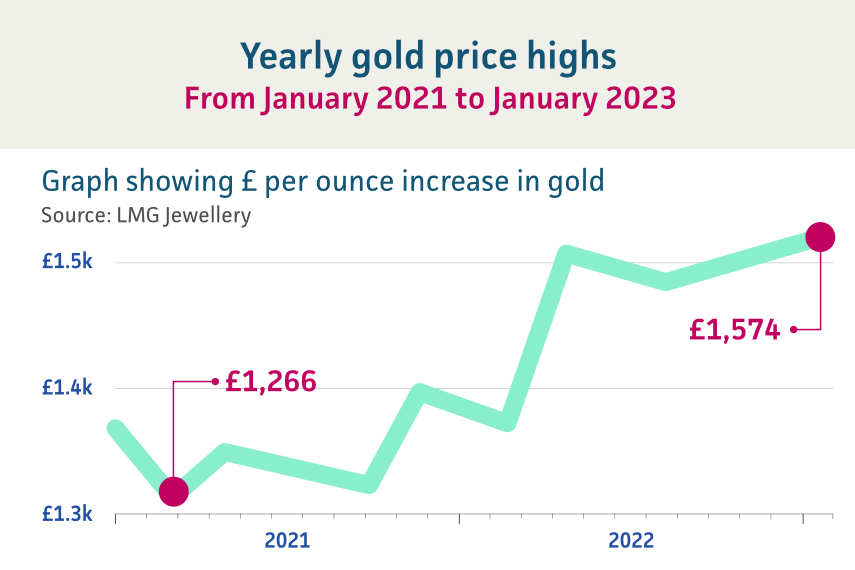 You may miss out on this extra value if you lost it this year and didn't inform us of the value change. For example, a 3.00 ct diamond ring inflated by 30% between December 2021 and 2022.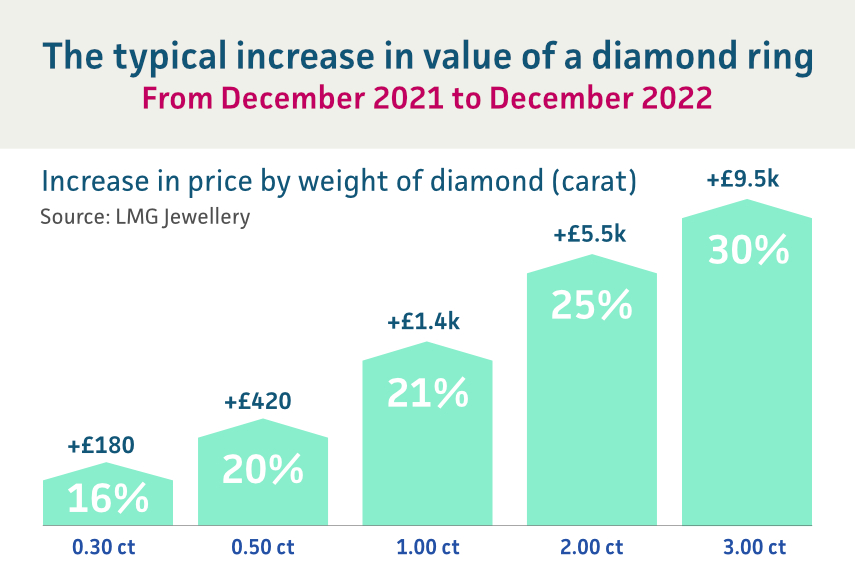 In partnership with independent jewellery claims expert LMG Jewellery, we've revealed the price inflation between January 2022 and 2023 for some of the most common items.
See the data below:
We also shared the data for ten-year value changes for popular items:
The watch prices reflect the lowest price model available. 
How to keep your jewellery safe
Keep all receipts
Where possible, keep all receipts and documentation relating to your items after you buy them.
Create an inventory
We recommend keeping an inventory of your jewellery and precious items. They help you notice if something is missing or if an item is due for appraisal.
Make sure you photograph each item and store them digitally.
Store it in the right place
Store all jewellery, especially engagement rings, in a cloth bag.
It separates each item, lowering the chances of them scratching or damaging each other.
Clean it properly
To clean non-porous gemstones, brush them gently with a soft toothbrush in warm, soapy water. Pat dry thoroughly afterwards.
For porous gems, like opals and emeralds, wipe them with a damp cloth and then dry them. Avoid using cleaning supplies.
Keep all gemstones away from liquids and chemicals to preserve their appearance.
Never cook or clean with jewellery on either; the chemicals and ingredients can erode them.
Put on the jewellery last
To preserve your pearls, always think of them as the 'finishing touch'.
Apply all make-up, hair products and perfumes before you add them; this prevents contact with chemicals which can cause erosion.
Be diligent with home security
Remember to stay diligent with home security. Burglaries are common, but you can take steps to reduce the chances of them happening.
Lock your doors and store valuables in a secure place. If you have the means, buy a safe.
We recommend using burglar alarms. Read here to see how they work.