New building regulations will come into effect in England from June 2022. But what does this mean for homeowners who are looking to make home improvements, such as building extensions?
In December 2021, it was announced that Building Regulations are to be updated, effective from 15 June 2022. The government has set out a range of new measures and standards, which affect both new and existing homes.
The headline-grabbing announcement is that new-build homes in England are required to cut CO2 emissions by 30%, to help the country move towards its net zero target.
But amendments to Part L (conservation of fuel and power) and Part F (ventilation) will have an effect on existing homeowners, including those intending to make home improvements such as extending their properties.
Among other objectives, these measures are intended to reduce energy use and cut carbon emissions for new buildings and work done to existing buildings.
What are the new measures?
Here are some of the new measures which affect existing homes outlined in Part L and Part F of the Building Regulations.
Ventilation improvements
Standards of ventilation are seeing an uplift in new homes, but also the guidance stipulated in Part L apply to new extensions on existing buildings.
Numerous issues are caused by poor ventilation, including mould and damp, which can be a health risk. It can also lead to building fabric degrading. Improvements to ventilation can include extraction systems to remove water vapour and air pollutants. As such, these new measures should help safeguard the health and safety of residents, while also improving the longevity of building materials.
Uplift for fabric standards
The efficiency requirements of fabrics used in construction are outlined by the Fabric Energy Efficiency Standard (FEES), which is seeing an uplift. Using better quality materials will lead to buildings being more energy efficient. Again, this applies not only to new builds, but to extensions and work carried out on existing buildings. Increased standards for thermal elements will lead to an improvement of fabrics used in roofing, walls, floors, external doors and windows.
Low-carbon heating
Any new or replacement heating systems in homes must be designed with low-carbon heating in mind. So while you can still install a gas-powered boiler system, for example, it should be low-carbon ready – such as a hybrid heating system.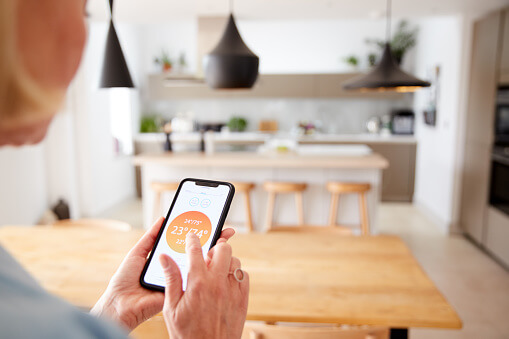 Why are these measures important?
While extensions can often be built without the need for planning permission, any construction undertaken nonetheless needs to comply with Building Regulations.
If building work doesn't comply, homeowners risk unlimited fines, and possible enforced demolition. For this reason, it's important to get this right during the design stage.
More broadly, the higher standards regarding cutting energy use and carbon emissions will help ensure households are cleaner and greener. And it's a step in the right direction towards the country achieving net zero by 2050.