From fuel to food, we've all relied on a service station at some point. Sometimes, they feel like a lifesaver, even if we're only stopping for a hot cup of coffee.
However, convenience comes at a price.
We've conducted a mystery shopper study highlight the higher cost of popular service station food and fuel compared with supermarket prices.
As part of our research, we've discovered that service stations carry a "snack tax".
Below, we've listed the food and service stations with the highest snack tax as well as the priciest service station fuel pumps in the UK.
How much are common food items at service stations?
We previously investigated food costs at motorway services in 2017 and 2019. Compared with data from those years, we can see the inflation over time for on-the-go food purchases.
The eight most popular on-the-go items in the basket price study are:
Cheese sandwich
Water bottle (500ml)
Coke (500ml)
Large sausage roll
Walkers Ready Salted crisps
Dairy Milk bar
Wine Gums
Regular latte
For the eight most-common food items, drivers will pay, on average, 57% extra for their goods. At Tesco, these items will cost £11.99, while a service station will charge £6.67 more.
The scale of the snack tax is most evident when comparing these individual items, with a packet of crisps costing drivers twice as much at a service station than the supermarket, at £1.50 on average.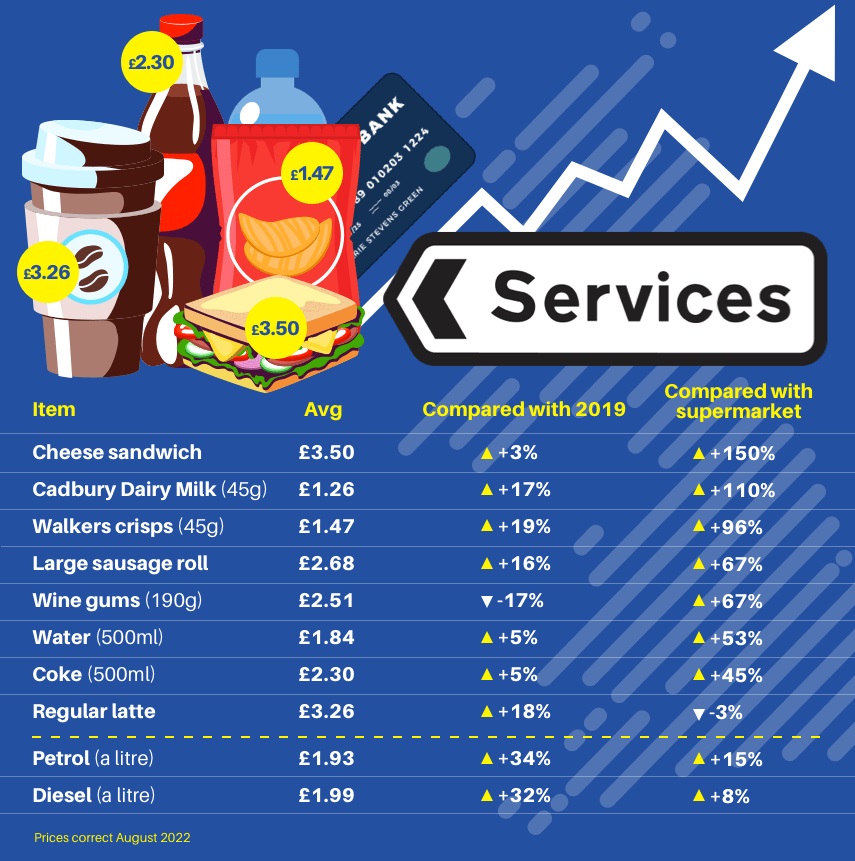 Other highlights from our research include a cheese sandwich, which costs 150% more in a service station than a supermarket, and a Cadbury's Dairy Milk, which costs 110% more.
Inflation has had an impact. Service stations charge 6% more for snacks than 2019 and 33% more than 2017.
Surprisingly, a regular latte was the only item investigated that is more affordable in 2022 than in 2019.
How do service station prices differ across the UK?
| Rank | Region | Service station basket price (avg) | £ more than supermarket basket price | Service station snack tax |
| --- | --- | --- | --- | --- |
| 1. | North East | £20.51 | £8.52 | 71% |
| 2. | West Midlands | £20.40 | £8.41 | 70% |
| 3. | South West | £20.06 | £8.07 | 67% |
| 4. | London | £19.97 | £7.98 | 67% |
| 5. | South Wales | £19.25 | £7.26 | 61% |
Should you avoid using service stations?
Given the cost-of-living crisis, it makes sense to plan ahead for road trips. Generally, view service stations as a necessity.
Clare Egan, Head of Motor Insurance, said:
"When the increasing cost of food and drink is front of mind, we're all a bit more mindful of where the extra few pennies and pounds are going.
"The cost of fuel has shot up this year, reflecting the higher oil prices as the demand for fuel has increased.
"However, on average, motorway services are charging 14% (54p/litre) more than the supermarkets for petrol, and 7.5% (60p/litre) more for diesel. If you have to stop and fill up mid-journey, read our guidance for boosting your fuel economy to help you get the furthest for your fuel."