The number of unlicensed vehicles in the UK has fallen since the last survey in 2017, when 755,000 vehicles were found to be untaxed. However this rate is still significantly higher than when motorists were required to have paper tax discs in their vehicles.
The last full year motorists had to display paper tax discs in their cars was 2013, when the figure was just 0.6%. The huge increase in tax evasion after the system was digitised in 2014 is shown below.
Estimated VED evasion rate in Britain (2007-19)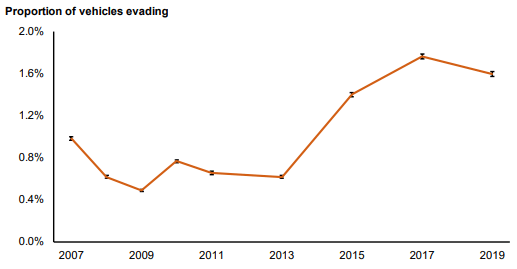 Of all the untaxed cars found by the 2019 survey:
43% were 10 or more years old
9% were less than two years old
54% were untaxed for two months or less
36% had changed hands since October 2018
It's thought the potential lost revenue from these missed tax payments could amount to £94 million, which is a much greater figure than the £14 million the DVLA hoped to save by moving the system online. However, there's still a chance some of this total could be reclaimed at a later date through penalty payments.
If you're caught without valid car tax and your vehicle hasn't been registered SORN, you'll receive a letter and fine of £80, but you won't get any points on your licence. If you're not the registered keeper of the vehicle you're driving, the letter and fine will go to their address.
For the full lowdown on VED, take a look at our guide: Car tax explained.