It's not all landscaped gardens and stately homes, there are wild places and exhilarating activities all across the country. 
Despite its relatively modest size, adventure is never too far away in the UK. Thanks to great transport links and reputable activity providers, it's easy to plan an adventure holiday for the whole family. 
From biking, forest walks and hiking, to kayaking, coasteering and surfing, there's plenty of thrilling activities to be discovered here. 
Check out my guide to some of the best adventure holidays across the UK and inject a little thrill into your next getaway. 
Surfing - Newquay Cornwall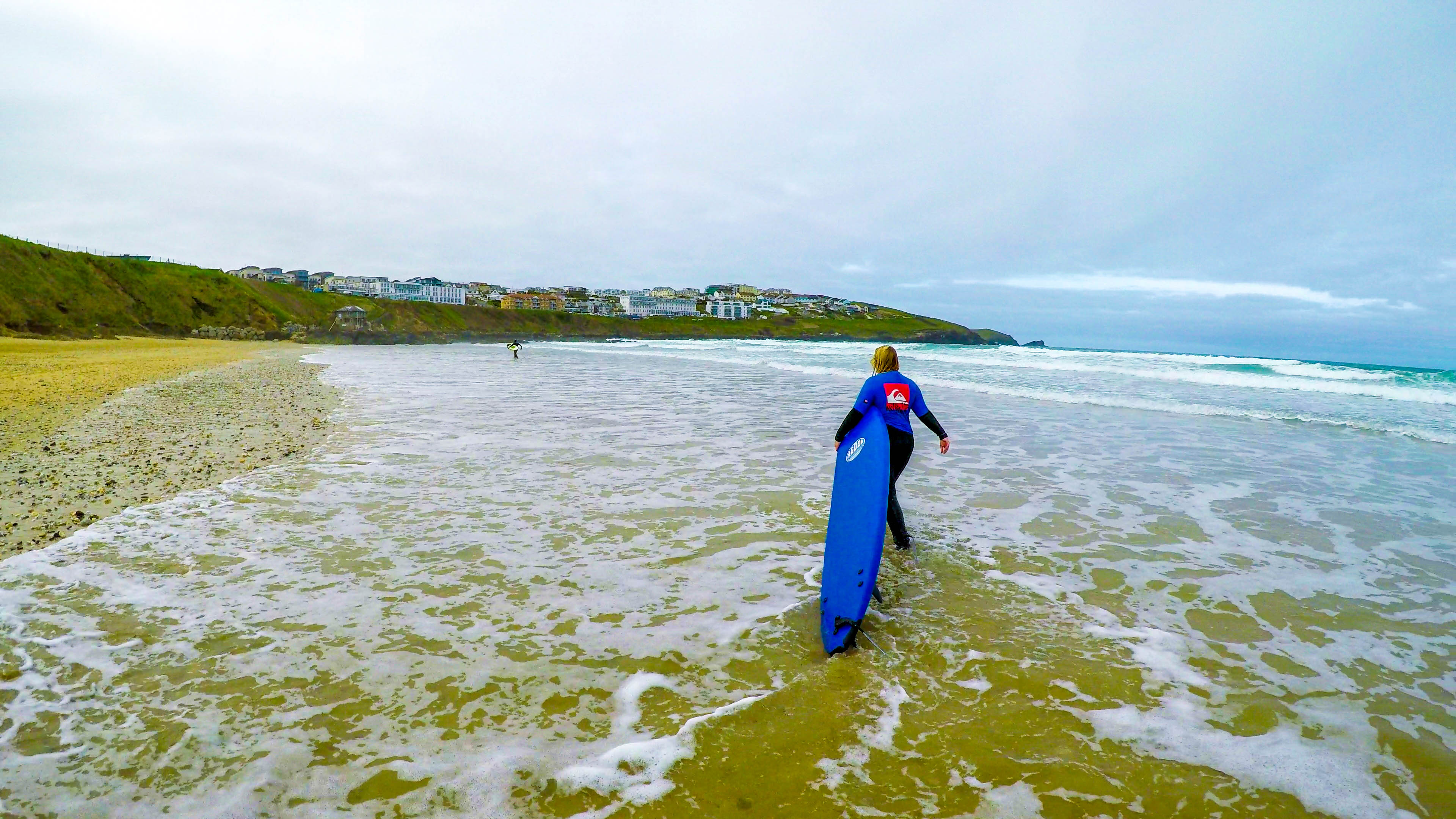 Over the last few years, Newquay has been quietly shaking off its party town image to establish itself as a hipster-mecca and surfer's paradise.
Here you can surf, paddleboard and hike along the scenic coastal paths. it's an ideal location for an adventurous family holiday near the sea. 
This chilled, coastal town is one of the best surfing spots in the UK, with Fistral Beach offering world-class waves to ride. 
The large Atlantic swells provide consistent waves throughout the year and cater to a range of surfing abilities. If you're new to surfing, I highly recommend you book a lesson as the powerful waves can catch you off guard.
 
Book a half-day surf course for round £40 to learn from the pros. You'll be riding those waves in no time!
Mountain Biking - Elan Valley Wales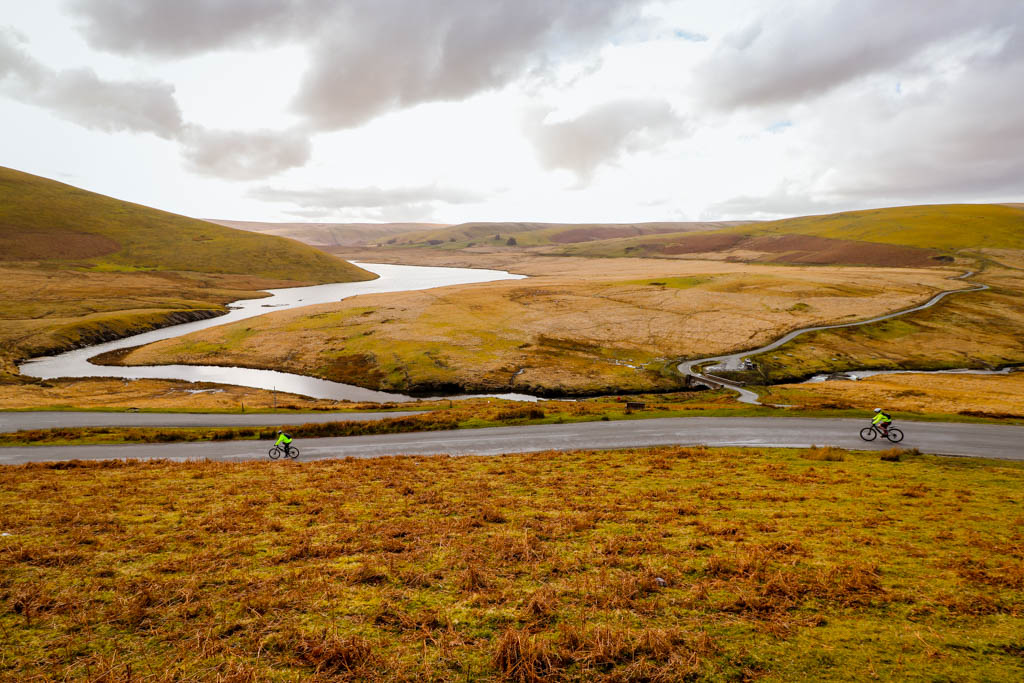 The Elan Valley is a picturesque river valley in mid-Wales, situated to the west of the town of Rhayader.
The area roughly covers 70 square miles of beautiful lake and countryside. It's a rather serene and peaceful destination for an outdoor holiday in Wales. 
One of the best activities here is mountain biking through the rugged landscape. You can bring your own bike, or book a guided mountain bike tour to help you navigate the rocky trails with a seasoned pro. 
It's utterly glorious to bike on some pretty epic trails around wild, Welsh landscapes and not see another person. You'll pass by grassy valleys, streams and sheep when you explore the Elan Valley on two wheels. 
Make sure to also cycle by some of the iconic Elan Valley Reservoirs to get some gorgeous snaps of these photogenic and historic dams. 
Paddleboarding - the Wye Valley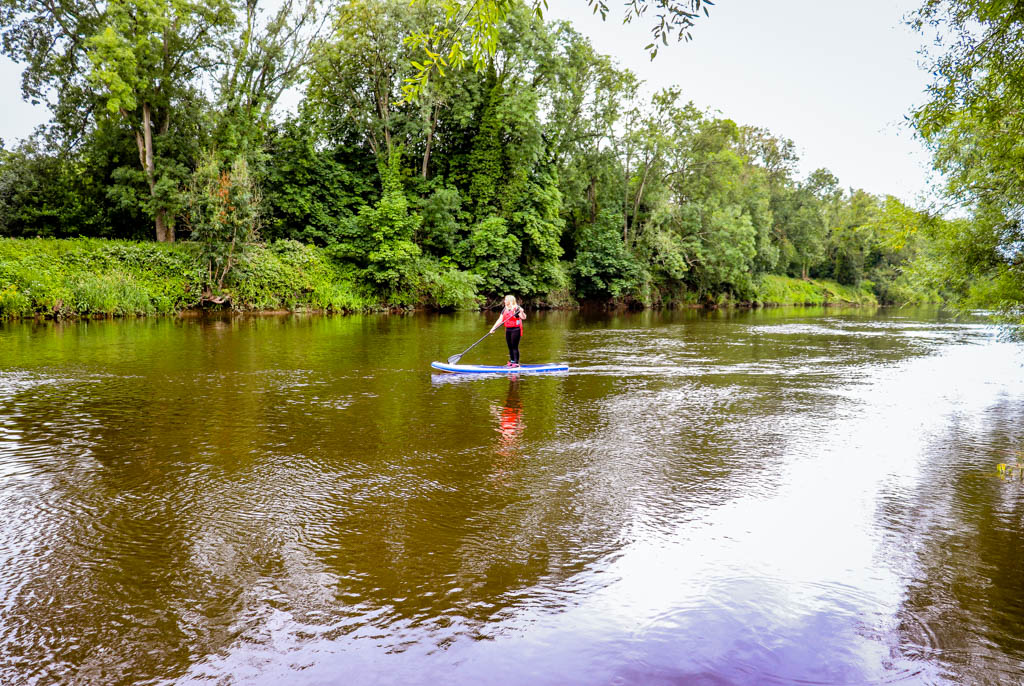 The Wye Valley borders England and Wales and is an Area of Outstanding Natural Beauty. It's the perfect place for hill and river walks as well as a spot of paddleboarding on the River Wye.
Stand-up paddleboarding – or SUP - is an entertaining activity for all the family and suitable for most ages and abilities.  But you'll need to put a fair amount of effort into to stay upright and balanced when you're learning the ropes. 
It's pretty much guaranteed you'll all fall in at some point, so perhaps take a waterproof camera to capture the most hilarious fails.
Gently paddling down the river is a novel way of experiencing the beautiful scenery of the Wye Valley, spotting wildlife and getting a good core muscle workout.
There are several companies in the area offering SUP experiences for all ages. Why not try a 'mega-SUP board', which can fit up to eight people onboard and try paddling as a group? (COVID regulations allowing, of course) 
You'll either have bonded by the end of the river trip, or there'll be a gigantic meltdown. Always great to add a dash of drama to a family holiday, keeps things fresh. 
Longboarding - Derry Northern Ireland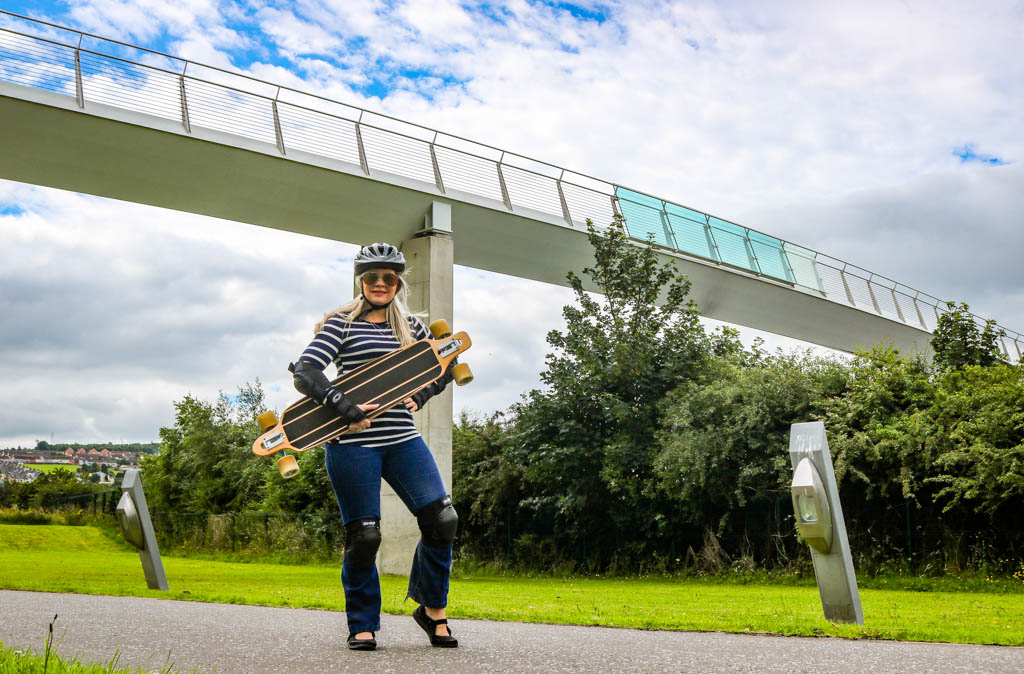 Derry, Londonderry or Legenderry, is a city known by several names in Northern Ireland.
The political complexities and history of this enchanting walled city can appear overwhelming to some  visitors but Derry's a brilliant city to visit if you're looking for unique activities, live music and great craic with locals. 
For a city, it has a surprising amount of activities available including paddleboarding, kayaking and longboarding, all within an urban setting. 
I highly recommend taking a 'Boom Board tour' and learning how to master the art of longboarding through a lively cityscape. 
This tour is a hipster mash-up of longboarding and craft beer sampling, so you can have a boozy, adventure on wheels, while on a guided tour of Derry.
Your two-hour city tour begins with a longboard lesson in pretty St Columb's Park. You'll then hit the streets with your boom board as you show off your 'mad skills'.
It's an unusual way of exploring a city, while learning a new skill. Longboarding in Derry is, for sure, a brilliant way of injecting some activity into a city break. 
Wild Camping - Isle of Skye Scotland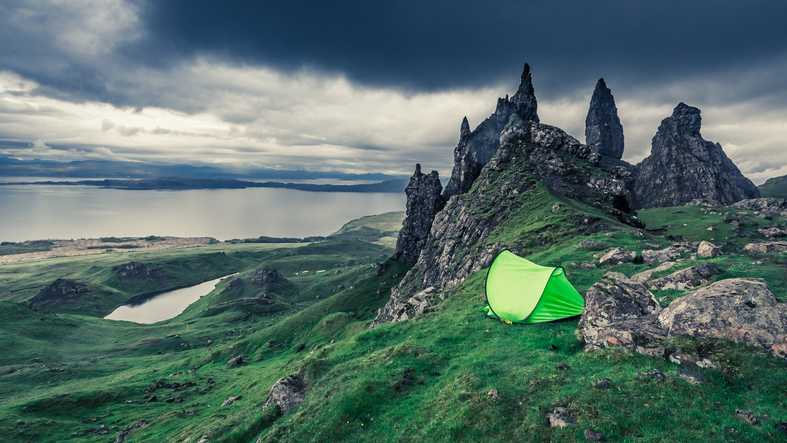 Brave the elements with a wild camping adventure in Scotland and get back to basics, surrounded by nature.
Camping on the wild side in Scotland takes a fair bit of planning and preparation though and you'll need to fully embrace your inner Bear Grylls.
It's an ideal activity for the serious adventure lovers who want a more remote place to camp.
While wild camping in Scotland is legal, you still need to be a responsible and considerate camper and follow local regulations.
Consider your camping spot very carefully when wild camping. I'd go for a dry and relatively flat area to pitch up. There's nothing worse than waking up at 4am and realising you're sliding down a hillside. 
Other considerations include toilet hygiene, being careful to not damage fragile ecosystems and keeping any fires completely controlled. Don't the tourist that burns down the Isle of Skye. If you're unsure or accident-prone like me, use a camping stove instead. 
There are several incredibly picturesque places to wild camp in the Isle of Skye including Coral Beach, Quiraing and Camasunary Bay. 
It's really rather special to be able to create your own micro campsite when surrounded by nature. I highly recommend waking early and watching the sunrise from your tent porch, with a steaming brew. 
Coastal walk -Teignmouth Devon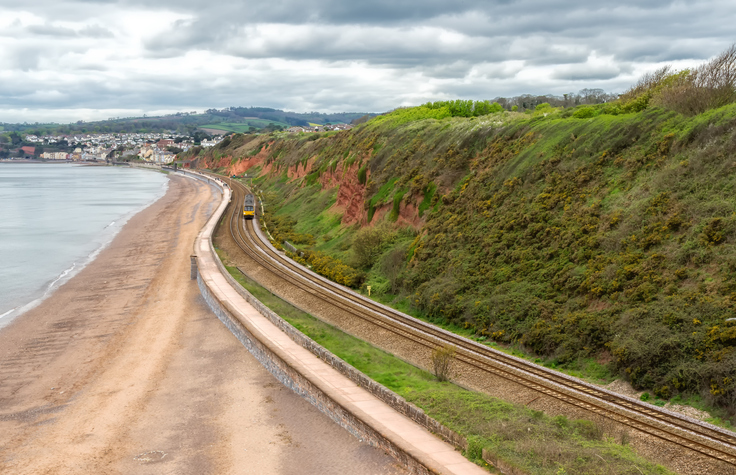 If you're a fan of bracing seaside walks, then the South West Coast Path is the one for you.
This picturesque National Trail is 630 miles long, running from Minehead all the way to Poole Harbour in Dorset, taking in the magnificent coastlines of Devon and Cornwall. 
Some of the most charming sections of the path are located near Teignmouth in Devon; a traditional seaside town boasting sandy beaches, a classic Victorian Pier, historic Georgian houses and coastal walks.
Walking from Teignmouth to the seaside resort of Dawlish offers ramblers splendid seaside and country views of Devonshire. Plus, you'll get to see the South Devon Railway Sea Wall, Britain's most photographed stretch of railway line. 
The start of the walk is near Teignmouth railway station, and there's also a station at Dawlish Warren midway along the walk if you've had enough. 
Part of this walk also goes underneath the railway and is impassable at high tide so be sure to check the tide times before you set off.
It's an easy coastal walk that's suitable for families looking for a pleasant stroll on their adventure holiday that isn't overly strenuous. 
Rock climbing - Forest of Dean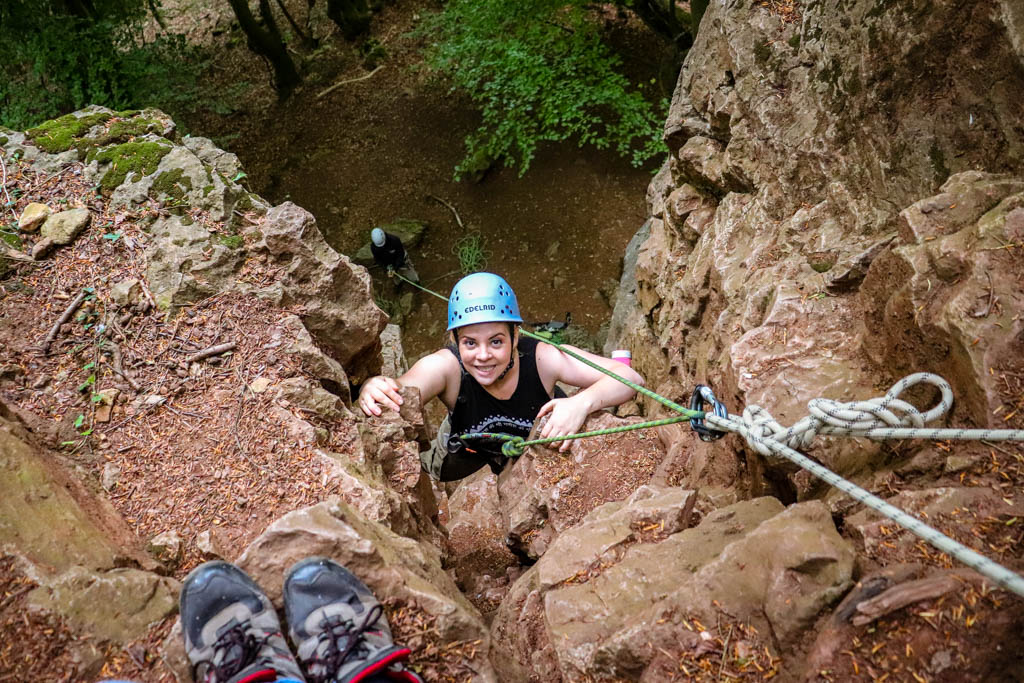 Symonds Yat is one of the most iconic spots in the Forest of Dean and is the perfect location for wannabe rock climbers and thrill-seekers. 
Most of the climbs are single pitch and easily accessible with the right equipment and expertise. 
The scenic limestone cliffs have a good mix of climbing grades that provide a vigorous challenge in a scenic setting.
Climbing can seem a bit daunting to beginners as it's a technically challenging sport, where you ascend upwards using ropes and the natural features of the rock. 
Challenge your fears and book a climbing session with a local outdoors company to learn the basic skills required to climb and abseil safely.
Going on a climbing trip is a great activity to push you out of your comfort zone and feel a sense of achievement when you reach the top of the cliff. Think of all the Instagram kudos you'll get with a #SummitSelfie. 
Kayaking - the Lake District
There's no better way to explore the rivers, islands and coastline of the Lake District than by boat.
The Lake District is located in Cumbria and is a favourite haunt for outdoor enthusiasts, who come for its mountains, lakes and spectacular hikes.  
Have a water sports themed adventure holiday and paddle in some of the most idyllic settings in the UK. 
Enjoy a different perspective of the national park when you captain your own vessel and explore the jaw-dropping scenery of this popular outdoor space.
Some of the best places to canoe and kayak in the Lake District include Ullswater, Coniston Water and popular Lake Windermere, the biggest lake in England.
If you're relatively new to kayaking and canoeing, I would recommend booking a session with a local outdoor company. The lakes here are deep and cold and it can be easy to get into trouble if you are inexperienced paddler. 
If you're a paddle pro, however, several places in the Lake District hire out canoes, kayaks and life jackets at a reasonable cost. 
Coasteering - Ballintoy, Northern Ireland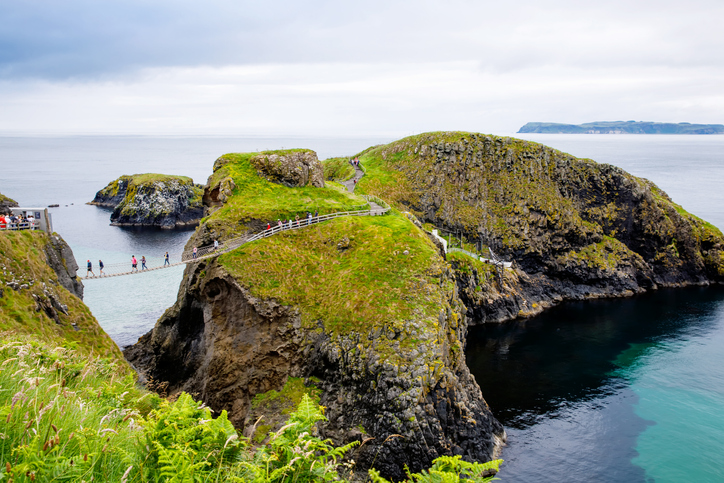 If you're looking for a unique adventure, this is one of the more off-beat coasteering spots in Northern Ireland. 
Coasteering is one of the fastest-growing outdoor adventures in the UK and many companies are starting to offer guided experiences. 
It's primarily an aquatic adventure that treats the cliffs and tidal pools of the coastline as a thrilling and natural assault course. 
You can do a combination of climbing, scrambling and cliff jumping along a dramatic coastline. 
Ballintoy is a brilliant spot to experience the thrill of scrambling around rocky outcrops, leaping from cliff tops and feeling the full force of the raging Irish sea as you dive in. 
You might even recognise the area, as it was used as a filming location for Game of Thrones. 
Book with a professional outdoor company to get fully kitted up and explore a water playground with the guidance of highly qualified professionals. 
It's a real test of courage to take a plunge off a clifftop into the frothing ocean below but the sheer adrenaline payoff is totally worth it. 
Hiking - Pumlumon Fawr Wales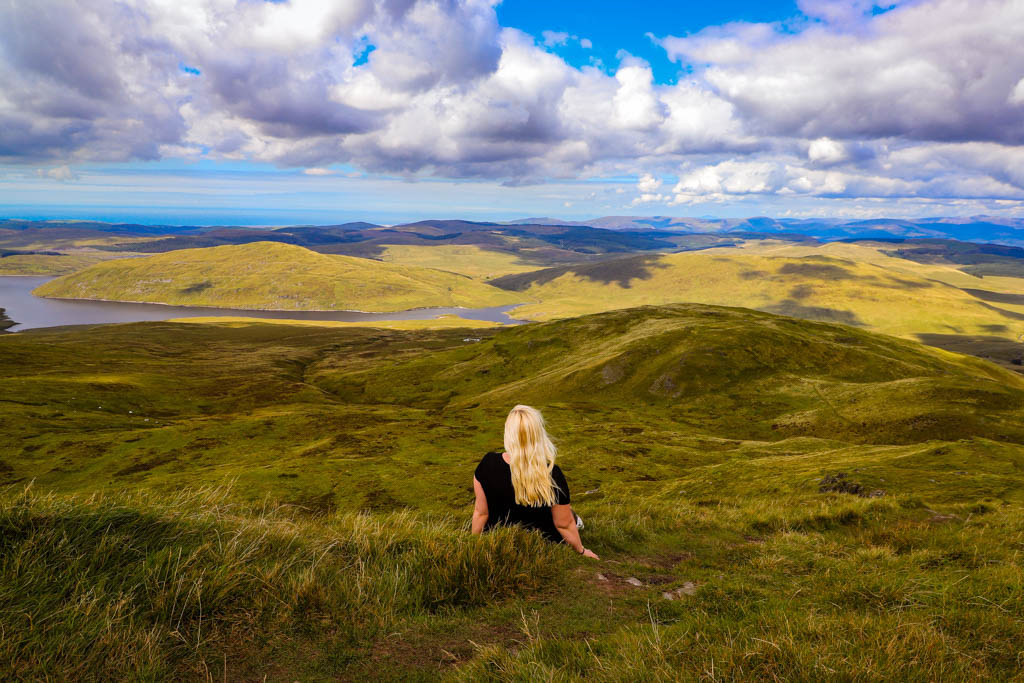 Few spectacular day hikes in the UK aren't overrun with tourists, all desperate for a summit selfie.
Unlike other tourist-heavy hiking hotspots, there's no queues, no crowds and no litter at Pumlumon Fawr, the most secret mountain in Wales.
At 2468ft, elusive Pumlumon Fawr, [Plynlimon is the anglicised name], is the highest point in central Wales.
It's a mountain that has escaped the attention of day-trippers and selfie-seekers, who instead head to the familiar peaks of Snowdon and Pen y Fan, for those coveted Instagram shots.
This might be because it's definitely not a 'have a go' kind of mountain. There are no marked trails, cafes, toilets, massive tour groups, or gift shops here. It's truly the last wilderness in Wales.
It really is a hiking holiday for hardcore adventure enthusiasts who aren't afraid of a challenge. My best advice would be to book a guided hike with a professional mountain guide, so you don't end up lost on this remote mountain. 
Walk the Caradoc Jones Trail to the summit. It's  a glorious yet challenging route through some of the most tranquil scenery in Wales, where you're unlikely to see another soul. 
Pony Trekking - North York Moors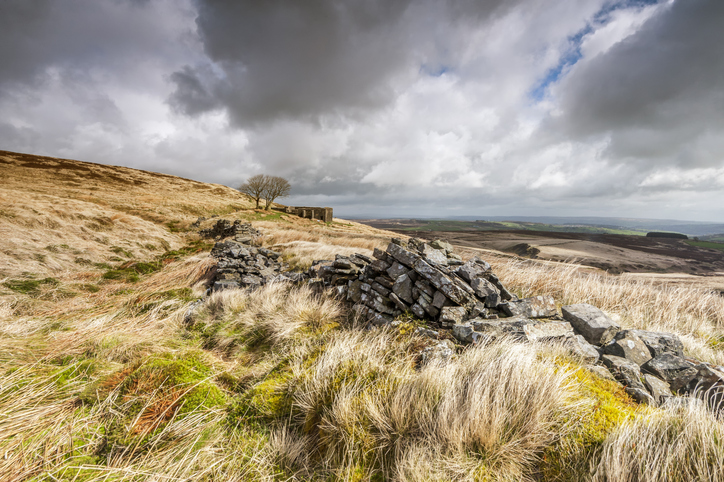 Beguiling and tranquil, the North York Moors are located in the upland of Yorkshire and contain wild expanses of heather moorland, river valleys and pine forests. 
The moors are inextricably linked to classic melodrama Wuthering Heights. The bleakly beautiful moors and unforgiving nature are woven throughout the narrative. 
There's more to the moors than dramatic prose, there's a range of outdoor activities to awaken your sense of adventure. Explore the moors on horseback and book a pony trekking experience trotting through secluded bridleways. 
There's a range of stables and providers in the area offering guided pony treks for beginners and experienced riders. Let a riding pro guide you through a diverse and unyielding landscape that inspired one of the most beloved novels in literature.
Embarking on a UK adventure holiday? Keep covered on your adventure with Admiral UK Travel Insurance!