With wild camping, open water swimming and paddleboarding now being – dare I say it – a little passé, here are some thrill-inducing activities that you might not have tried yet but really should!
Ruckrafting
What is it? Part wild swimming, part backpacking, this is the one for you if you're keen to extend your open water forays into day-long or even multi-day adventures. 
A ruckraft is a small but sturdy inflatable U-shaped raft, onto which you can clip a dry bag containing all your kit, from your hiking boots and stove to your tent or bivvy. Simply attach the lead to your waist and off you swim, hopping back onto dry land when you're ready to walk, sleep or eat!
Where to try it: Ruckrafting, or packrafting, as it's also known, is growing in popularity in places like the Lake District, with its 16 lakes and many inlets and islands. Devon is also a good spot, due to its stunning views, good water quality and sandy beaches.
Parajetting
What is it? Also known as paramotoring, this is powered flying with a wing and a small engine called a powered paraglider, or PPG, which is worn like a backpack and gives enough thrust to take off, gain altitude and maintain flight. 
Classed as a foot-launched ultralight aircraft in many countries, paramotoring is a self-regulated sport with no formal pilot licensing or flight hours requirement. Most students complete the training within a 10-day course. 
Where to try it: There are a number of flight schools in the UK where you can experience a tandem flight and learn to paramotor. Once you've completed your training, the world is your oyster! See parajet.com to find a school near you.
Gravel biking
What is it? With mountain biking soaring in popularity during lockdown and following Team GB's first ever MTB medal in Tokyo, in the form of Tom Pidcock's cross-country gold, gravel biking adds another level. Also called gravel grinding, this involves a mix of mountain and road cycling, seeking out mainly unpaved paths, forest trails and gravel tracks. 
You'll need to upgrade your road bike to a drop-bar version designed to cope with a range of terrain and give you greater control off-road, then a new world of exhilarating routes, fewer vehicles (and people!) and gorgeous scenery will open up. You could even try bikepacking along Britain's wild trails to make your adventures last longer – but don't forget the bike insurance!
Where to try it: Head to the hidden gem of southern Scotland, where the Scotland Starts Here campaign is opening tourists' eyes to the beauty of the border region. Further south, Bike Park Wales has a diverse range of trails for beginners and pros, and even offers a vehicle uplift service to take you and your bike to the top of the trails.
Slacklining
What is it? Slacklining entails balancing on a line of webbing, between two and five centimetres wide, between two fixed points, usually trees. As the name suggests, the line is looser than a tightrope and acts dynamically, requiring control and focus. Slacklining is an independent sport with a number of disciplines, and is also used by athletes as a balance training aid.
Where to try it: In your garden, for starters! Slacklining is basically an activity you can try anywhere, as long as you're mindful of others around you. But many 'slackers' like the social aspect of joining a slacklining club, as well as learning from and sharing tricks and techniques with others.
Via ferrata
What is it? Translating as 'iron path', via ferrata involves traversing cliffs and steep mountainsides using metal rungs, ladders, wires and rope bridges permanently attached to the rockface or overhanging a gorge. 
More challenging than a hill walk but not as technical as rock climbing, via ferrata is physical but fun, and guaranteed to give spectacular bird's eye views! Participants wear a climbing harness attached at all times to a safety line, meaning that, if you do slip, you won't go far.
Where to try it: Traditionally popular in the Alps, particularly the Dolomites, the first via ferrata in the UK was created in Honister Slate Mine in the Lake District. A number of courses are now open in England, Scotland and Wales.
Sea kayaking… with dogs!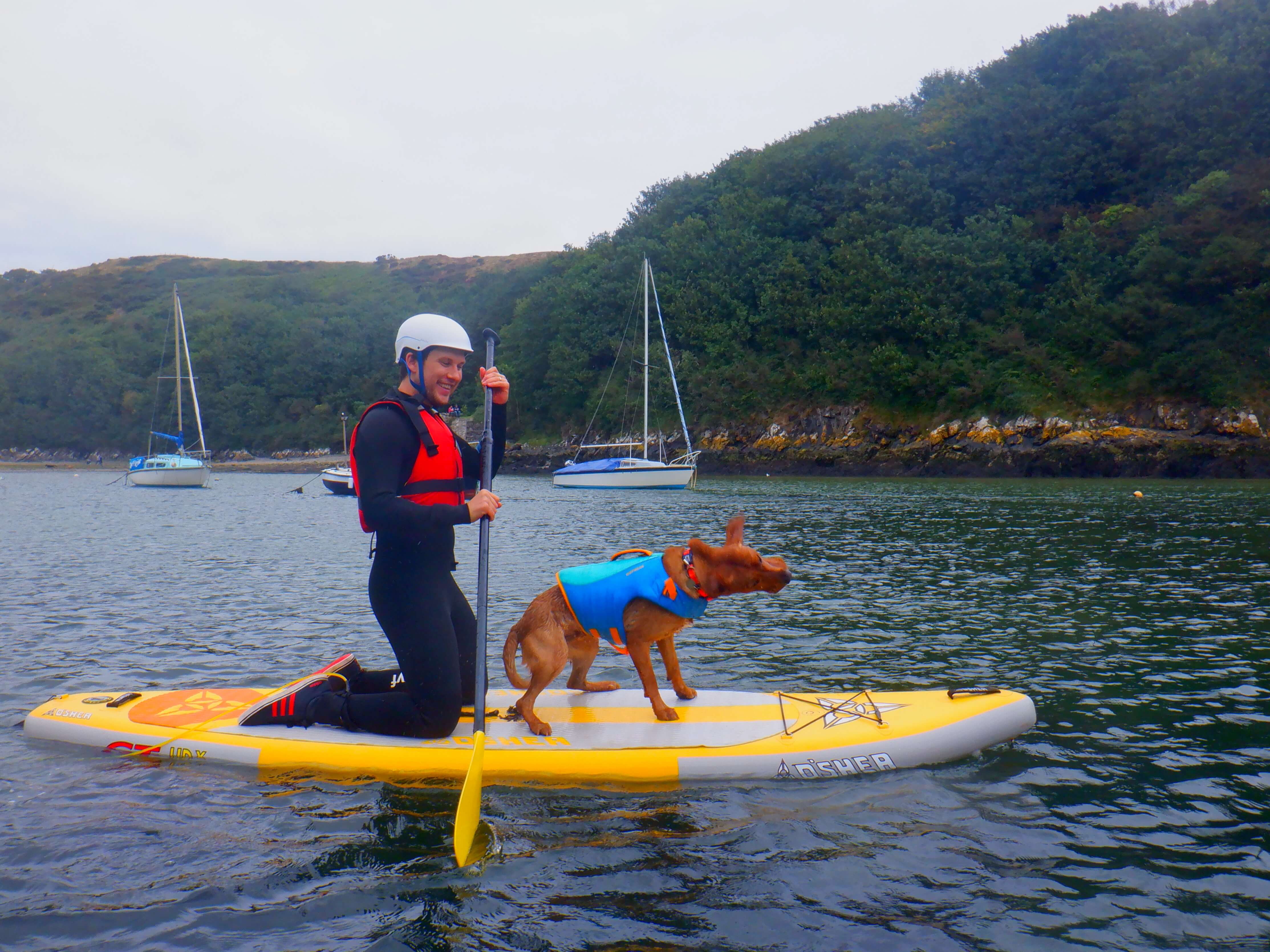 What is it? If you can't bear to leave your four-legged friend behind when you go adventuring, this is for you! Dog Days Adventures was launched by coasteering pioneers Tyf after the Coronavirus pandemic provided the breathing space for the team to think up some fresh ideas. 
Sparked by the coastline adventures of a colleague's Jack Russell, Tyf began to welcome canines on kayaking and paddle boarding trips. Enjoyment clearly depends on your dog's individual temperament, but if he or she loves being in and around water, this could cause a splash! You might also want to read our guide to hiking safely with dogs if your pooch prefers to keep their paws dry.
Where to try it: Tyf is based in St David's and runs coasteering, kayaking, SUPing, climbing and surfing activities along the Pembrokeshire coast. 
Sea snorkelling
What is it? If you're already a strong open water swimmer, snorkelling is a fantastic way to get up close to nature. The UK coast is home to an amazing array of marine mammals, including seals, basking sharks and even seahorses, as well as vibrant aquatic plants. While, in theory, all you need to get going is a mask and a snorkel tube, it's a good idea to take lessons in order to fully understand marine law, water safety and how to breathe effectively. The British Sub-Aqua Club is a good place to find out more.
Where to try it: The Isles of Scilly is a wonderful place to snorkel with seals, seeing these beautiful creatures in their natural habitat. For basking sharks, head to Oban on the west coast of Scotland or the warm waters of Cornwall. One of the few places in the UK to spot seahorses is Dorset's Studland Bay – but please read these guidelines for divers from The Seahorse Trust before you go. 
Live action gaming
What is it? All parents know how hard it can be to get teenagers outdoors, but what if you could combine fresh air with their favourite video games? A unique experience at Grafham Water in Cambridgeshire mixes games such as Fortnite and Call of Duty with real-life adventure. 
A bit like a giant, outdoor laser quest, the game is based on players scavenging the landscape to find utility boxes containing extra ammo, respawns and special weapon upgrades to take down the other team! And, as the challenge is set in a stunning eight-acre woodland, you could try out the cycling trails and watersports while you're there, as well as sleep out under the stars in the campsite.
Where to try it: Rumble Live Action Gaming, Huntingdon.
Remember that if you're using specialised equipment for your adventures, you'll need the right insurance both at home and when away. Kit stored at home or in a shed can often be included on your home contents insurance, but you will need to tell us about individual items of value. 
For personal equipment including cameras, sat navs and smartphones, gadget insurance can be a wise investment for adrenaline junkies! And whether your outdoor experiences take place in the UK or abroad, the right travel insurance will cover you and your family in the event of an injury or illness. 
Read the policy wording to check if the activity you want to try is covered as standard, or if there's any extra to pay. If you're in any doubt, get in touch with us to discuss what we cover.