Marrakech is one of my favourite cities for an adventurous winter break. It's unlike anywhere else in the world and feels a million miles from a traditional European city break, yet the flight time is three hours 40 minutes and there are plenty of budget flights available (I flew from Liverpool for less than £50 return). If you've done all the usual city break holidays like Paris, Berlin, Milan etc then I highly recommend visiting for a memorable and exciting weekend away.
If you're visiting for a long weekend, here's a perfect three-day itinerary including things to do in Marrakech to show you the best the city has to offer, and also give you the chance to explore the stunning High Atlas Mountains too.
Day 1 in Marrakech, Morocco
As soon as you arrive, go to your accommodation to leave your luggage and head straight out to explore.
Begin with an organised tour
There aren't many cities where I recommend beginning your trip with an organised tour but Marrakech is a crazy, overwhelming maze. It's so easy to get lost and an organised tour is the easiest way to get your bearings while being introduced to the most iconic sights in the city.
I recommend taking a two or three-hour walking tour, which you can book through your accommodation or a reputable online tour provider like Get Your Guide, Viator or Urban Adventures.
Lunch at Cafe Arabe
After your tour you'll be in need of refreshments, so make your way to Cafe Arabe for a welcoming rooftop terrace and a fantastic selection of drinks. The menu is varied, with some traditional dishes and some international dishes, so it's a great place to introduce yourself to Moroccan cuisine.
Le Jardin Secret
Once you've finished your lunch, head across the street to Le Jardin Secret. These beautiful gardens are a glorious escape from the hustle of the city and it's a lovely place to relax in the sunshine.
Shopping in the souks
You can't visit Marrakech without bartering for a bargain in the crazy souks. Yes, they're very busy and the sales people can be a little pushy, but this is all part of the fun. You'll find everything from leather handbags to herbs and spices, souvenirs for your home, rugs, shoes, clothes and teapots in the Marrakech markets.
Dinner at Maison Arabe
If you'd like to splash out on a fancy meal in Marrakech then I can't recommend Maison Arabe enough. We dined outside in the beautiful gardens under the twinkling stars and romantic candles. The food was divine but it was the magical garden setting that made it so special.
Day 2
Jardins Marjorelle
There's no lazing in bed this morning I'm afraid as it's an early start to visit Jardins Marjorelle. These incredible gardens are the most popular tourist attraction, so I recommend getting there as soon as the gates open to avoid the crowds and enjoy it when the temperatures are cooler.
Wander through the vast expanse of perfectly manicured gardens and feel like you're stepping into another world. If you're a photography fan then this place is a photographer's dream!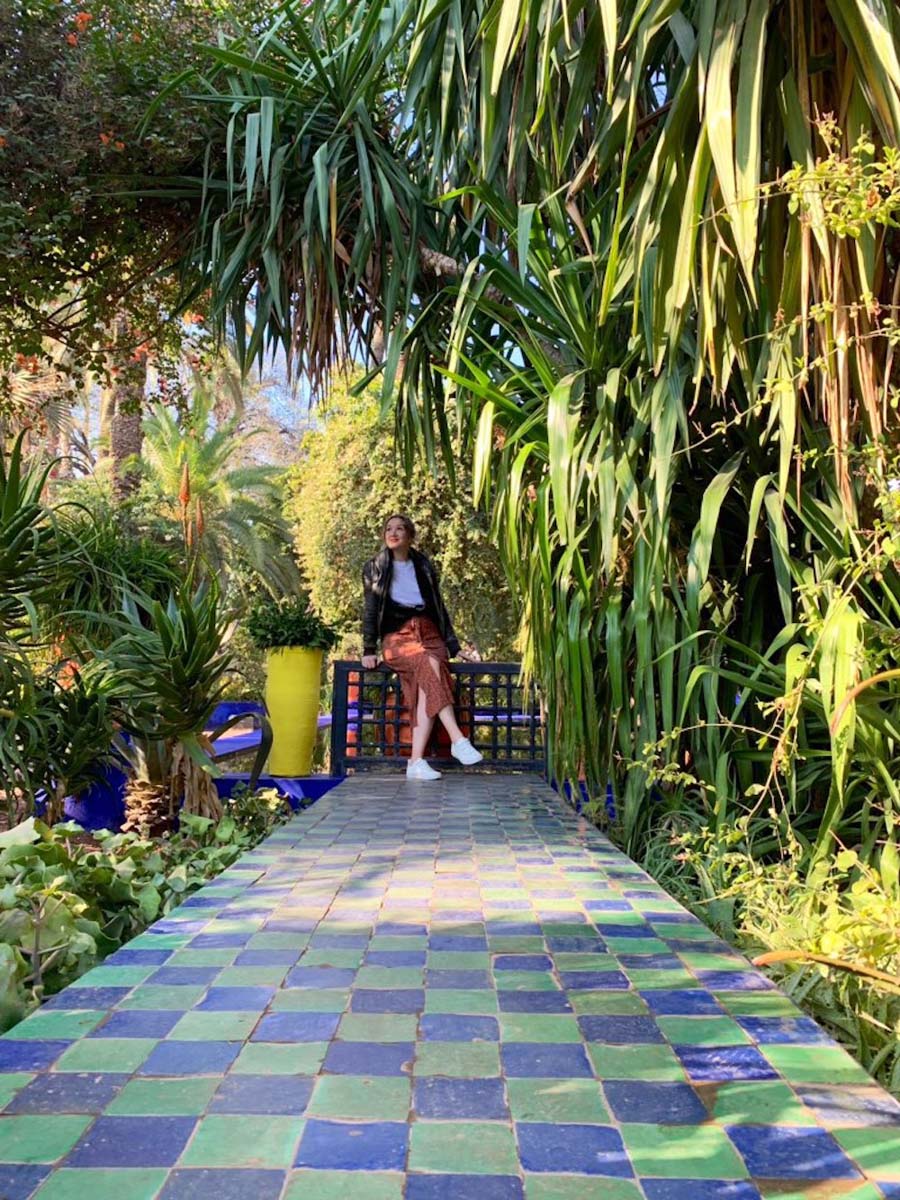 Brunch at Cafe Nomad
You'll have walked up an appetite by now so make your way to the popular Cafe Nomad for a delicious brunch overlooking the hustle and bustle of the medina.
Moroccan Hammam
It's finally time to relax and what better way to do it than with a Moroccan Hammam. Many riads offer a traditional Moroccan Hammam experience but if yours doesn't there are plenty of spas open to tourists.
In a beautiful steam room you'll be scrubbed and buffed and polished until you emerge feeling squeaky clean and refreshed. Combine it with a massage for the ultimate in relaxation.
Street food tour
One of the highlights from my trip to Morocco was a street food tour with Marrakech Food Tours. It's an amazing opportunity to visit all the food markets around the medina with a helpful and knowledgeable local who can explain what everything is.
If it's your first time visiting, it can be a little intimidating visiting these market stalls and knowing what to order so this is a great way to try lots of local food! We visited eight stalls and had eight mini meals. It was delicious and a really unique way to see the city and learn more about Morocco's history through the food.
Day 3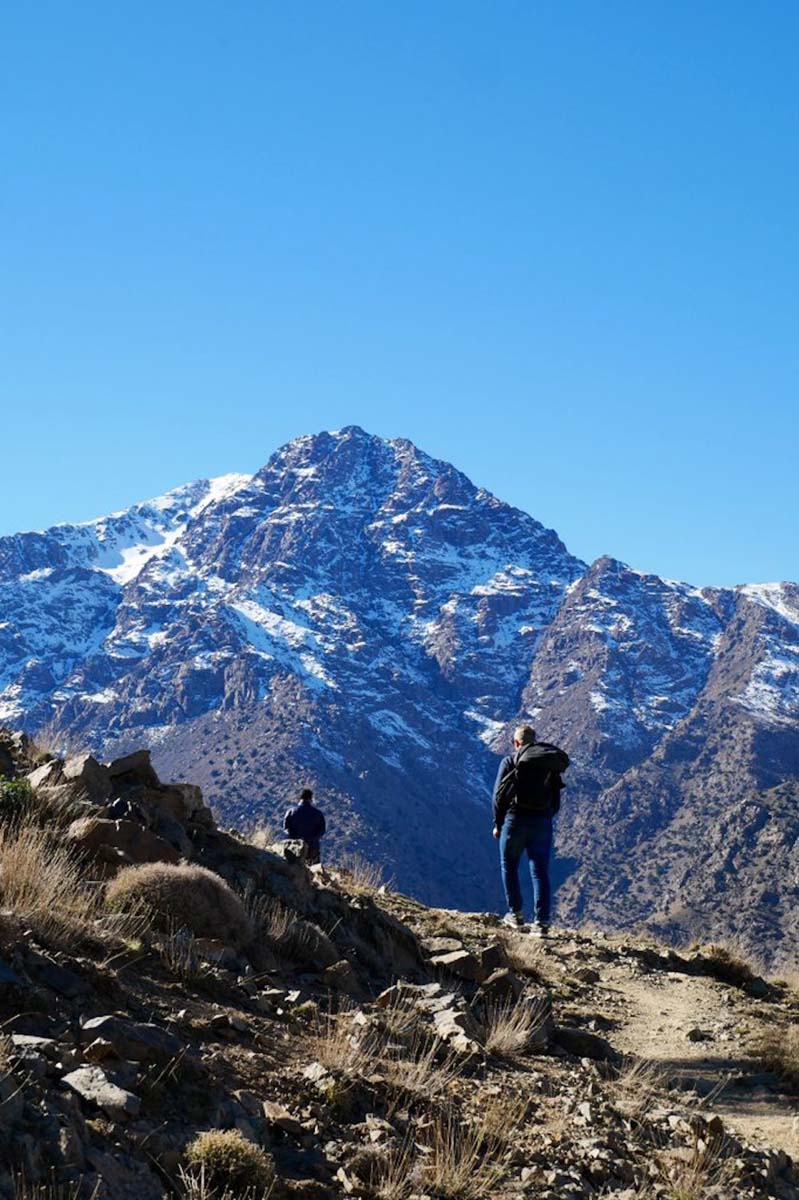 High Atlas Mountains
We're getting out of the city today for some fresh air and to visit the beautiful High Atlas Mountains. Once again, I recommend booking a day tour so you have a guide to collect you and drive you up into the mountains. Some tours are simple driving tours that take you to the stunning viewing points and you'll stop for a traditional lunch before returning to the city.
We chose a tour that included a three hour hike as well as a scenic drive and lunch. We saw snow capped mountains and traditional villages and seriously worked up an appetite for the steaming tagine that was waiting for us after the hike.
Dinner in the medina
Once you've returned to the city, spend your final evening in the medina. You'll probably be feeling more comfortable with the crowds and the chaos so enjoy the performers, the snake charmers and the magicians, sample some more of the street food and find a rooftop cafe to enjoy your final pot of mint tea.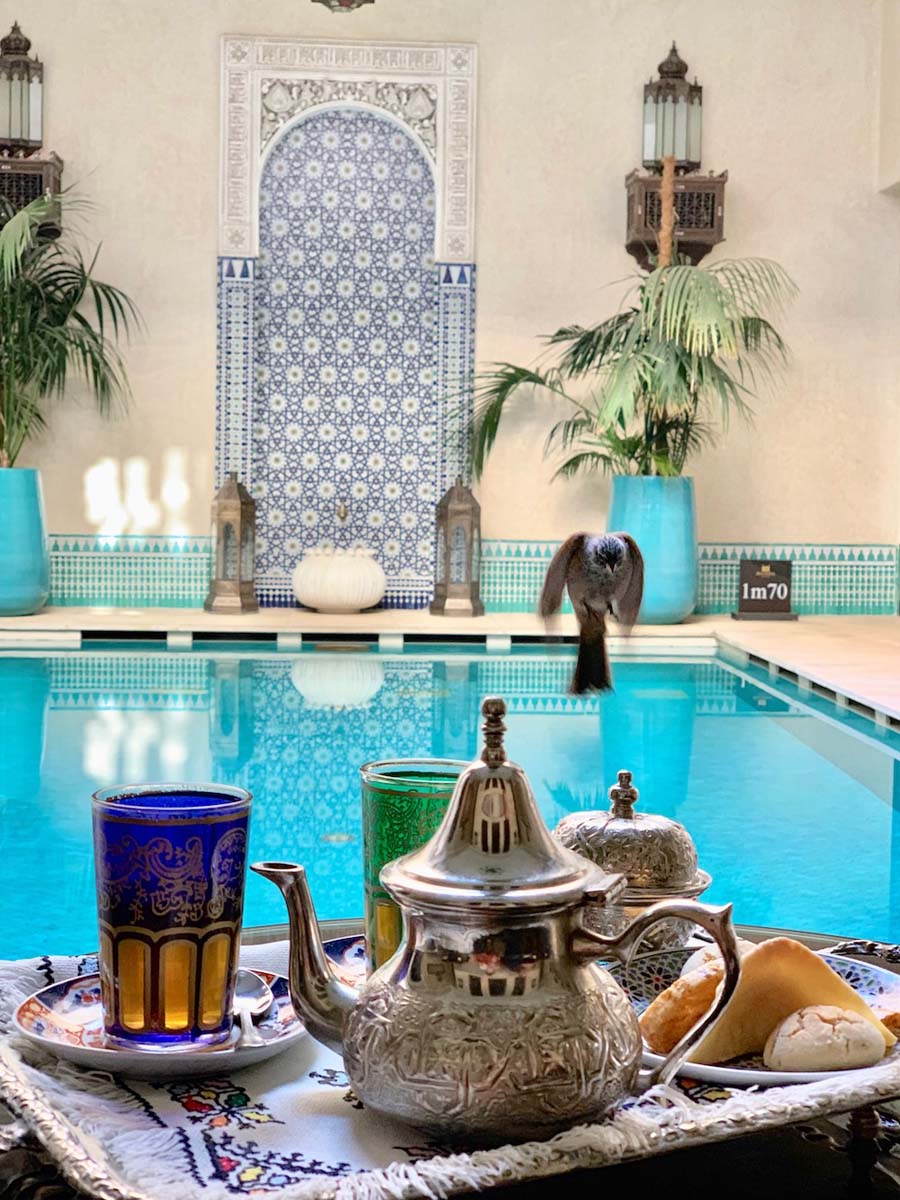 Things to know before visiting
Use Google Maps (discreetly!)
The streets of Marrakech are a maze of narrow roads and tiny alleyways that are incredibly difficult to navigate, so I recommend using Google Maps to find your way around. Plot all the places you'd like to visit into Google Maps and it'll be easier to find them while you're out and about.
You'll need to load Google Maps while you have wifi in your Marrakech hotel but it will work on GPS throughout the day if you don't have a data package that works in Morocco. Remember to check your maps discreetly because you're a vulnerable target if people realise you're lost. It might be worth using earbuds so you can listen to the directions from Google Maps rather than constantly checking your phone.
How to avoid pickpockets
Marrakech is known for its scammers and pickpockets but, statistically, the city isn't actually that bad in comparison to other cities like Barcelona, Rome and Prague. It's still worth being careful and my main advice is to carry very little worth stealing. I usually have my phone and a small amount of cash in a discreet inside pocket and I keep them close at all times.
If you're carrying bulky bags filled with expensive items then it's easy for people to steal things because you can't feel the weight difference when something is removed from your bag.
How to avoid the pushy salesmen
People can be very pushy in their sales tactics which can be a little intimidating. It's best to be firm but polite as you decline their help. Smile, look them in the eye and firmly say: 'No, thank you.' People are very chatty so just be aware that if someone strikes up a conversation with you, it can be hard to get away!