How do you like the idea of catching your 40 winks somewhere slightly different? We've all stayed in standard hotels but now it's time to stay somewhere quirky and memorable. 
The UK has so many eccentric and unusual accommodation choices for those of you looking for more than just a pillow to lay your head. There are historical places, remote choices and, well, pretty whacky ones too. 
The most unusual of them are often glamping spots but I've included a few options that are a little more 'glamour' than 'camping' for those of you who like a little more luxury on holiday.
Here are 10 of the most unusual places to stay in the UK.
Geodome, Kirklington, Yorkshire
These incredible geodomes at Camp Katur in Yorkshire are the ultimate way to connect with nature while staying warm, cosy and comfortable. The clear domes offer 360-degree views across the meadows and surrounding forest and each one has a private bathroom and kitchen. 
Guests can watch the stars twinkle in the night sky while staying warm in bed next to a roaring fire as each dome has a log burner and a private BBQ outside. The following morning you'll wake up to see the sunrise and watch rabbits hopping around the dewy meadow and the birds busy in the trees above you, all without leaving the comfort of your bed!
Camp Katur is home to many other glamping options such as a lodge that sleeps up to 18 people, hobbit huts, yurts and bell tents.
Wooden Fairyhouse, Clynnog-Fawr, Wales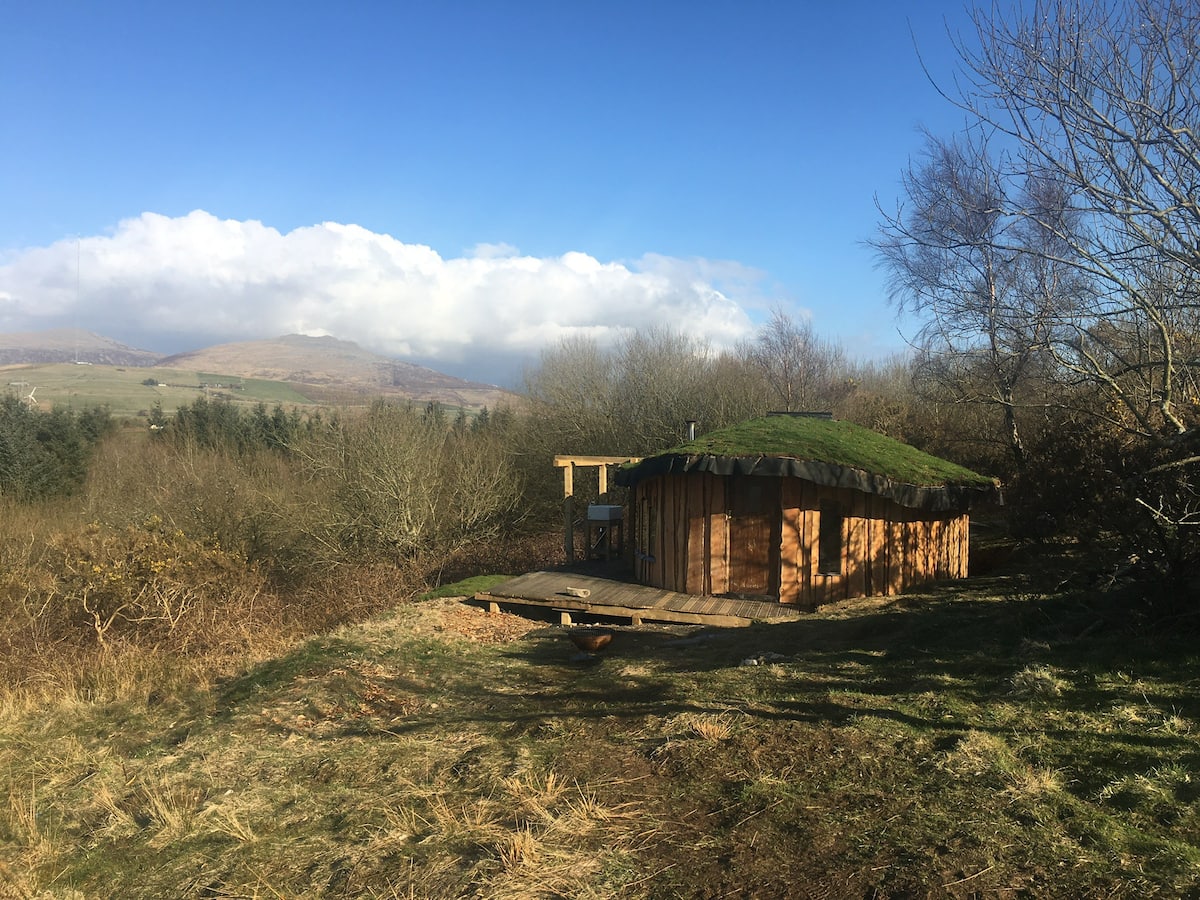 This handmade wooden yurt (nicknamed the Fairyhouse) is the perfect place to get away and have an 'almost wild' experience, albeit with a bed and solid roof over your head. 
 
The Fairyhouse is set in the meadow of a regenerative farm. The grass-roofed yurt is surrounded by woodlands, a lake you can swim in, a veggie patch you can pick your dinner from…and even a USB charging point in case you don't want to completely disconnect!
It sleeps four people, so it makes a magical place for a family to escape to while you reconnect with nature and hide away from the world!
Warwick Knight Caravan, Gloucestershire
A converted 1950s caravan has never looked so stylish after the Warwick Knight Caravan had a serious makeover. The caravan conversion was documented on George Clark's Amazing Spaces and now serves as a welcome retreat for those looking for an unusual escape!
The caravan sleeps four people with a double bed and cosy bunks which are perfect for kids. The stylish interior provides everything you need and an outdoor bathroom with a wood-fired shower even adds some excitement to shower time! 
The real cherry on top here is the roof terrace (yes, it's a caravan with a roof terrace!) where guests can relax and watch the sunset over the surrounding countryside.
 
Double Decker Bus Glamping, Shrewsbury, Shropshire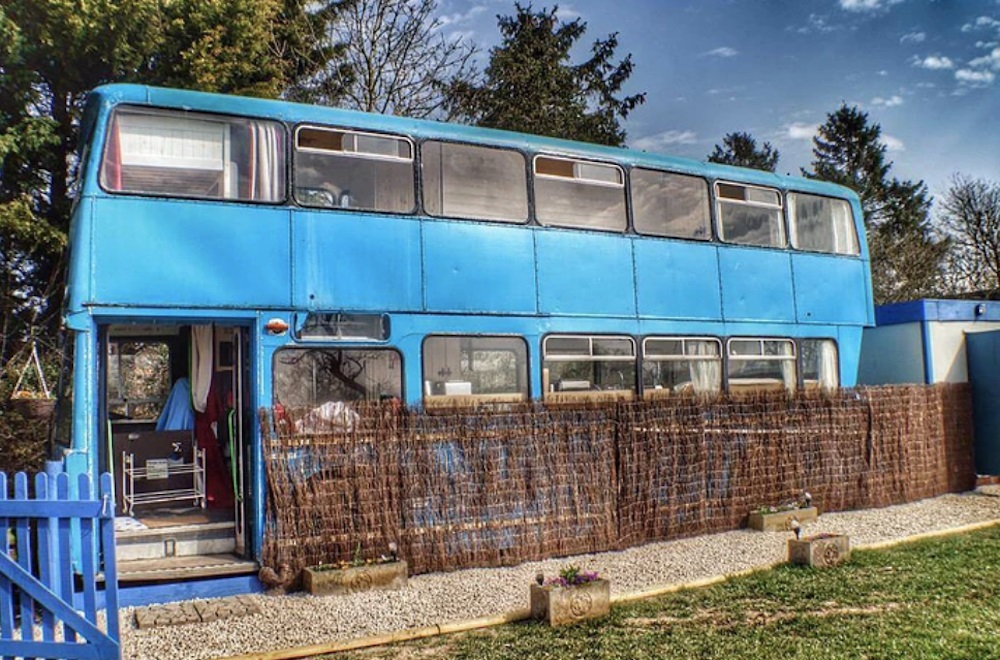 While many of us may have accidentally fallen asleep on the night bus, there will be nothing accidental about your nap on Betsy Blue! 
 
Pigeon Door Glamping is home to three converted double decker buses that sleep either five or six people. Each bus has a private garden and hot tub and is set within a ¾ acre smallholding. Betsy Blue, Billie Blue and Bettie Bus provide a wonderfully quirky and memorable escape just five miles south of the beautiful town of Shrewsbury. 
 
The Boatel, Machynlleth, Wales
Is it a boat? Is it a hotel? It's both…and it's neither! The Boatel, located in the Dyfi Valley Biosphere, is run by Airbnb superhost Sarah and her husband Alex. The accommodation is a boat in a field that's been converted into a bedroom of sorts. Next to it is a shed with a boat as its roof, which serves as a communal kitchenette and common area.
It's not fancy – guests are warned that it's little more than camping under a wooden roof, but it's no ordinary camping experience. The shed won the Amazing Spaces Shed of the Year award in 2013, and judging by its mostly five star guest reviews, it remains an award-worthy place to stay!
The Pond House, Thornborough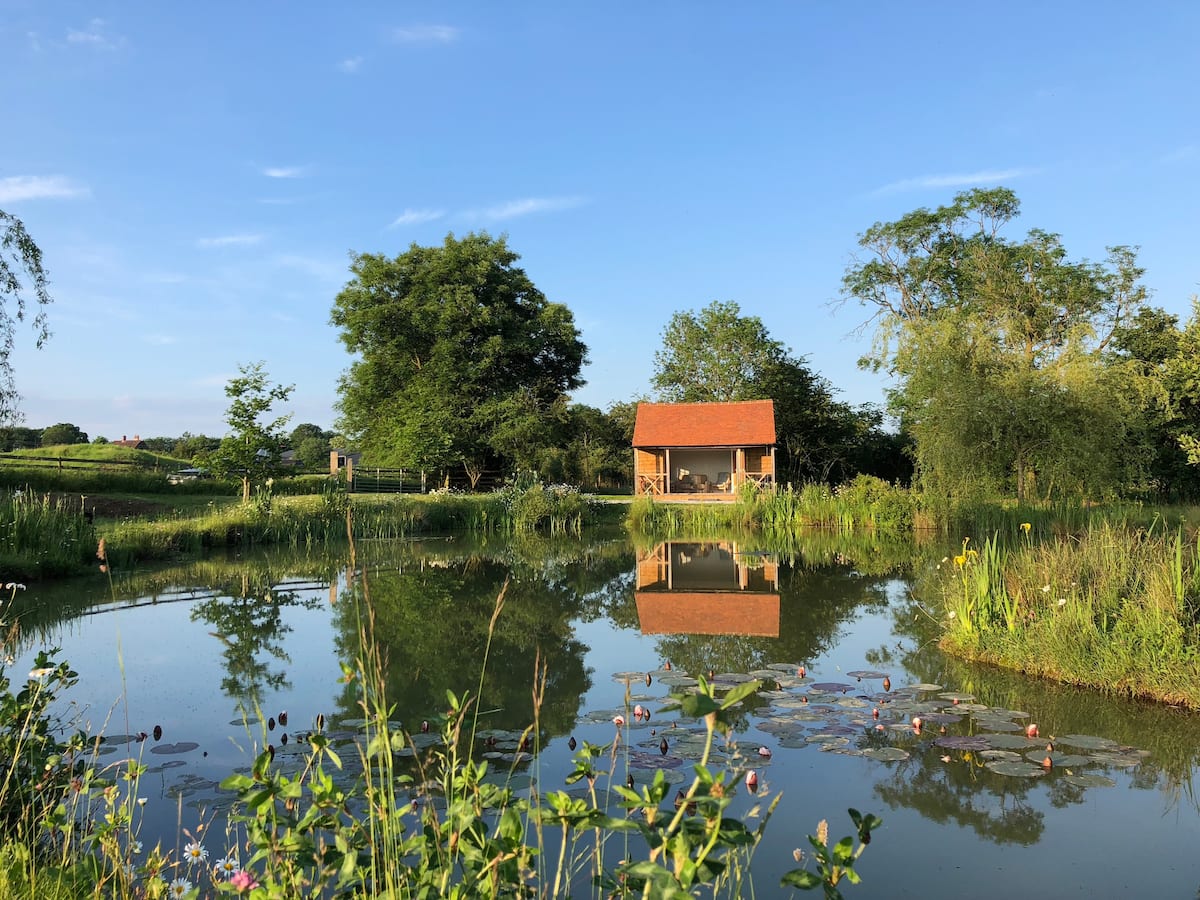 The Pond House shepherd's hut is an example of simple luxury at its very finest. This cosy hut sleeps two and is designed to be a relaxing hideaway. 
You'll be away from life's everyday distractions as there's no TV or Wi-Fi, but with beautiful bi-fold doors opening up to a tranquil pond surrounded by wild flowers and stunning countryside, what more would you want to watch? 
Cosy up inside or make the most of your private terrace and fire pit where you can sit out and watch the stars.
 
Luxury treehouses, Powys, Wales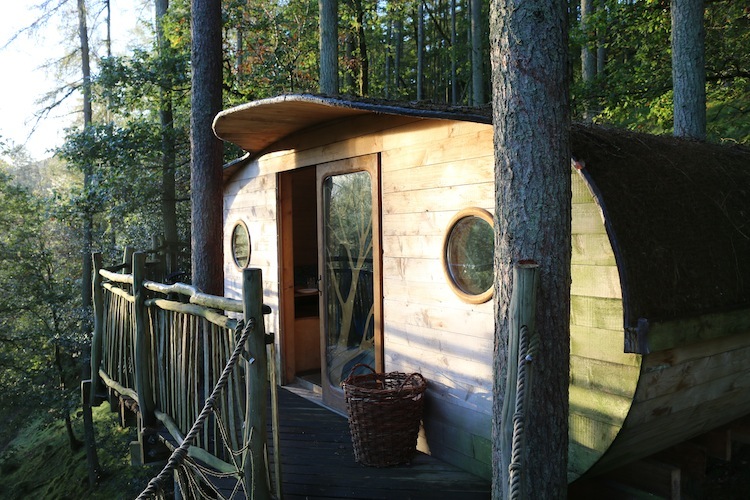 Live out your childhood fantasy of running away and living in a treehouse at Living Room Treehouses in Wales. Set in a secluded forest and surrounded by a blanket of wildflowers, these rustic-looking tree houses offer all the luxury you could need. 
Wood-fired showers stand beneath each treehouse for a back-to-nature experience that's still luxuriously warm. Cosy beds, simple kitchens and treetop verandas make this a gorgeous escape, whether it's a romantic one for couples or a magical one for families.
 
Port Lympne Safari Park, Kent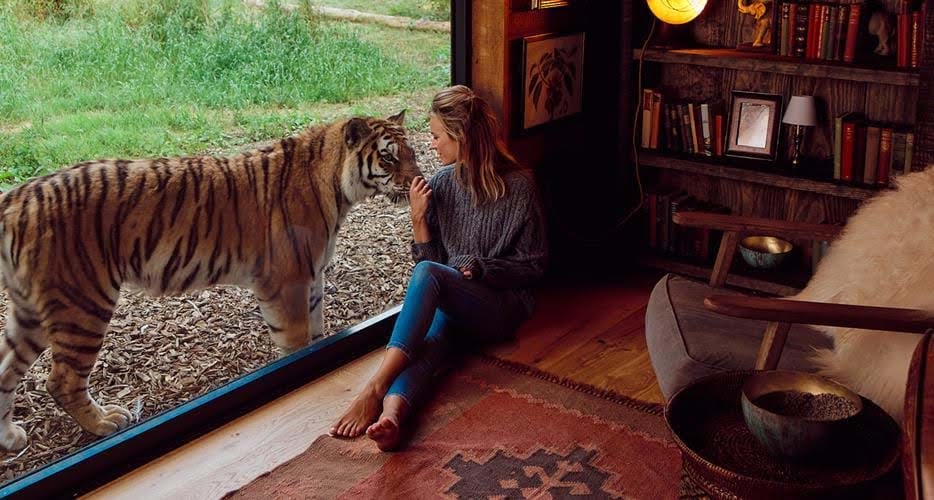 Fancy glamping accommodation in a nature reserve? It doesn't get much more unique than this. Port Lympne Safari Park has a beautiful collection of lodges, huts, treehouses and safari tents that get you up close and personal with the animals. 
Stay in the Tiger Lodge, nestled within the landscaped gardens of the tiger's home. These luxury lodges have panoramic windows looking out to the tigers for a uniquely immersive experience. 
The lodges come with all the glamour you could wish for with cosy log burners, monsoon showers, mini bars and coffee bars and French doors off the master bedroom leading to private balconies. Guests also get exclusive access to the safari park outside normal visiting hours.
Looking for something a little more luxurious?
If you like a little more 'glamour' than 'camping' in your glamping trip then you'll love these final two options. They may not be traditional 'glamping' but they're simple, charming accommodations with quirky and unusual roots.

The Old Railway Station, Petworth, Sussex
The historic Old Railway Station in West Sussex is now a fully functioning hotel with modern rooms inside the original 1892 station house. It's also home to these splendid Pullman railway carriages. 
The carriages have been charmingly restored and retain many of their original features while providing a comfortable and quirky place to stay. The carriages have en-suite bathrooms and a delicious breakfast feast is served in the hotel, so you won't miss out on any luxuries!
 
Appleton Water Tower, Sandringham, Norfolk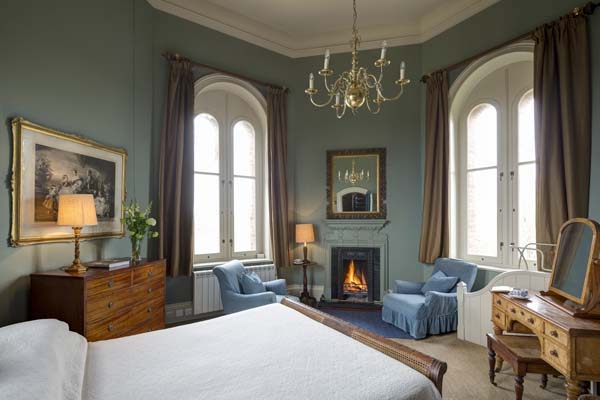 Built in 1877, Appleton Water Tower now functions as unique accommodation that is leased out by the Landmark Trust. It may have originally been a 32,000-gallon cast-iron tank but it is now a luxurious two-bedroom home in the treetops. 
Decorated like a traditional English country home, the Victorian water tower is filled with antique treasures and historical touches that remind you of its long history. Appleton Water Tower even has a spiral staircase to an open viewing platform at the top where you'll find a perfect spot for a starlit night.