A self-drive ski holiday could be the answer. This budget-friendly option can be a brilliant way to help you find the best snow, travel at your own pace and get more bang for your buck (or Euro). So here's our guide on the best 'drive-to' resorts, what travel and car insurance you'll need and how to get the most from your Alpine holiday.
What are the benefits of self-drive ski holidays?
1. Cost savings You can make some great savings by driving to your ski resort. For example, during mid-season, the cost of four people travelling by car can be roughly the same as one person flying. This is even after you've combined your ferry crossing or Eurotunnel fee with all the associated driving costs of the trip, such as fuel, road tolls and parking. 
2. No weight limits, luggage restrictions or ski carriage charges It's almost impossible to pack light on a ski break, so taking the car or van (especially with a roof box) can really come into its own. Bringing your own ski equipment, along with hold luggage, can easily add £150 or more onto your flight, but driving means no ski carriage fees or waiting by the luggage carousel (or lost luggage counter). You'll also save money on ski hire.
3. Ideal for self-catering Having no weight or liquid restrictions when you're travelling is also perfect if you're self-catering. You can bring favourite food brands from home for any fussy eaters, and even better, do your big food shop in larger hypermarkets en-route. This means you can avoid the eye-watering prices at the resort and get in the all-important supplies for après too! 
4. Great for families As well as being a more affordable way to go skiing, travelling by car is also great for family or friends who hate flying. You can break up the journey and stop at points of interest on the way. You'll also be grateful you can fit in more favourite toys, games and gadgets to help you survive your family ski holiday! 
5. Chasing the snow  With a vehicle at your disposal, you're no longer tied to one destination when it comes to choosing which slopes to 'slay'. This is especially handy if you have a lift pass that includes other resorts in the same valley. Fancy schussing down some different runs? Just explore other resorts close by. Is the snow patchy near you? Simply drive to a higher resort!
Which are the best ski resorts to drive to?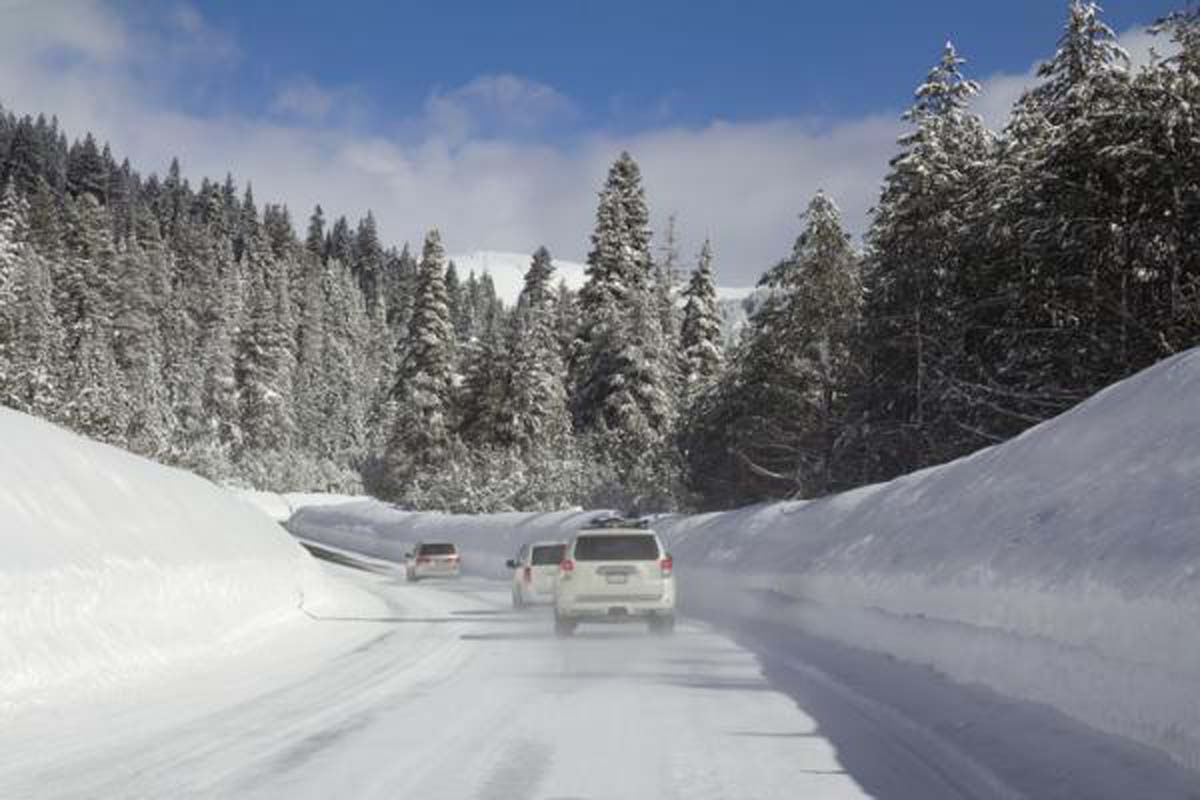 The good news is there are plenty of resorts to choose from, all within a 10 hour drive from Calais. As well as enjoying the French ski scene, you can also find Alpine resorts with similar journey times in Germany, Italy and Switzerland. Before setting off, take a look at our guide to driving in Europe for some useful tips.
Taking eight hours, La Clusaz is one of the best French ski resorts to drive to, straddling five mountains with access to 250km of slopes. The well-known resorts of Chamonix and Megѐve both take less than nine hours to reach, and Les Gets and Flaine offer similar drive times.
In the Swiss Alps, an eight-hour drive from Calais can bring you to the neighbouring resorts of Les Diablerets and Villars-sur-Ollon. These traditional resorts are popular with British families, offering a good variety of slopes and English-speaking ski instructors. 
In Italy, you can reach the charming resorts of Courmayeur and the crowd-free slopes of La Thuile in just under nine hours, while Oberstdorf, in the Bavarian Alps, takes just over eight hours and offers some of the most extensive skiing in Germany.
If you want to hit one of the ever-popular ski festivals in Europe, or further afield, take a look at our Ski Festival Finder – find your perfect ski festival by answering five quick questions. 
What insurance will I need?
To drive your car in the European Union (EU) you'll need the right car insurance. Although you'll find some insurers include European cover as standard - excluding Essential tier, Admiral Car Insurance comes with 90 days European cover - many will need you to add this to your policy - check with your provider about what cover you need. 
Admiral's European covers also benefits all named drivers on your policy, just remember to take the certificate with you on your trip. Take a look at section six of your policy book for more information on driving your car abroad.
You'll need to take out travel insurance for your ski holiday too. Our winter sports insurance covers you for elements specific to a ski holiday and our gadget insurance add-on can help to protect your devices, for example, if your phone decides to go off-piste!
How should I drive in snow and icy conditions?
Making sure your car's fit for winter is key. With a journey of around 2,000 miles ahead of you, getting your car checked and serviced before you go is strongly advised.
Other preparations include:
Anti-freeze - Ensure your coolant is the correct mix to cope with temperatures as low as -20°C
Snow chains - In most Alpine countries, carrying them is a legal requirement. Practise putting them on before you leave
Packing a spade and sacking - Helpful for clearing snow and using as traction
Checking regulations - Don't be caught out; familiarise yourself with European driving laws and signage
Overseas breakdown cover - Make sure you have it! Admiral European Breakdown cover offers help across Europe
When driving in snow you should keep a good distance between you and the car in front. Staying in a higher gear while keeping your speed down will help you remain in control and breaking gently should avoid skidding. Also, remember it's the law to keep your headlights on in falling snow and to make sure they remain clear and visible. 
A self-drive ski holiday can save you money and provide you with a fantastic winter adventure. And if you're enjoying the savings and flexibility of having the car, you could always think about extending your holiday on the way home. So, Disneyland Paris anyone?