Whether this is your first ski trip or you've faced the slopes plenty of times before, make sure you have the required protective accessories, just the right number of layers and all the necessary ski gear in place.
All great holidays start with a checklist. So here's a handy ski trip packing list for a stress-free mountain adventure.
Ski gear
Skis

Ski poles

Ski boots

Helmet

Goggles
Depending on where your ski trip takes you, you might not want to take all the ski gear with you. If you're travelling overseas, it's usually best to go for a rental deal.
Ski clothes
Get all your layers sorted before going on your ski trip. You want to be free to add and remove layers as needed once you're there, so these base, mid and outer layers must have a big tick next to them on your ski trip packing list.
Ski jacket (the outer layer)

Ski gloves

Ski trousers

Ski socks

Thermals (the base layer)

Lightweight down jacket (the mid-layer)
Casual clothes
You don't need as many clothes on a ski trip as you take on a summer holiday because you'll be wearing your ski gear during the day. But the parties at ski festivals require more glam clothes for dancing, so your ski trip packing list should have a good mixture. It's also a good idea to bring items that can be re-worn as this will save on your luggage weight.
Jeans

Jumpers

Scarves

Coat

PJs

Thick socks

Bobble hat

Snow boots

Night-out clothes

Fancy dress

Novelty jumpers/onesie for the brave among you!
If you're going to a mountain-top festival for the first time, read our guide to ski festivals for newbies!
Ski toiletries
It's usually a good idea to take your toiletries with you on the trip as resort prices can be quite steep. Make sure you don't miss the sun cream from your ski packing list. It might seem counter-intuitive, but the dangers of sun exposure should not be neglected at the top of the mountain.
Sun cream

Moisturiser or after sun

Lip balm

Toothpaste and toothbrush

Shampoo and soap

Ibuprofen

Plasters
Catching the sun in sub-zero temperatures is one of the great things about skiing – read our article on 17 things only true ski aficionados understand for more.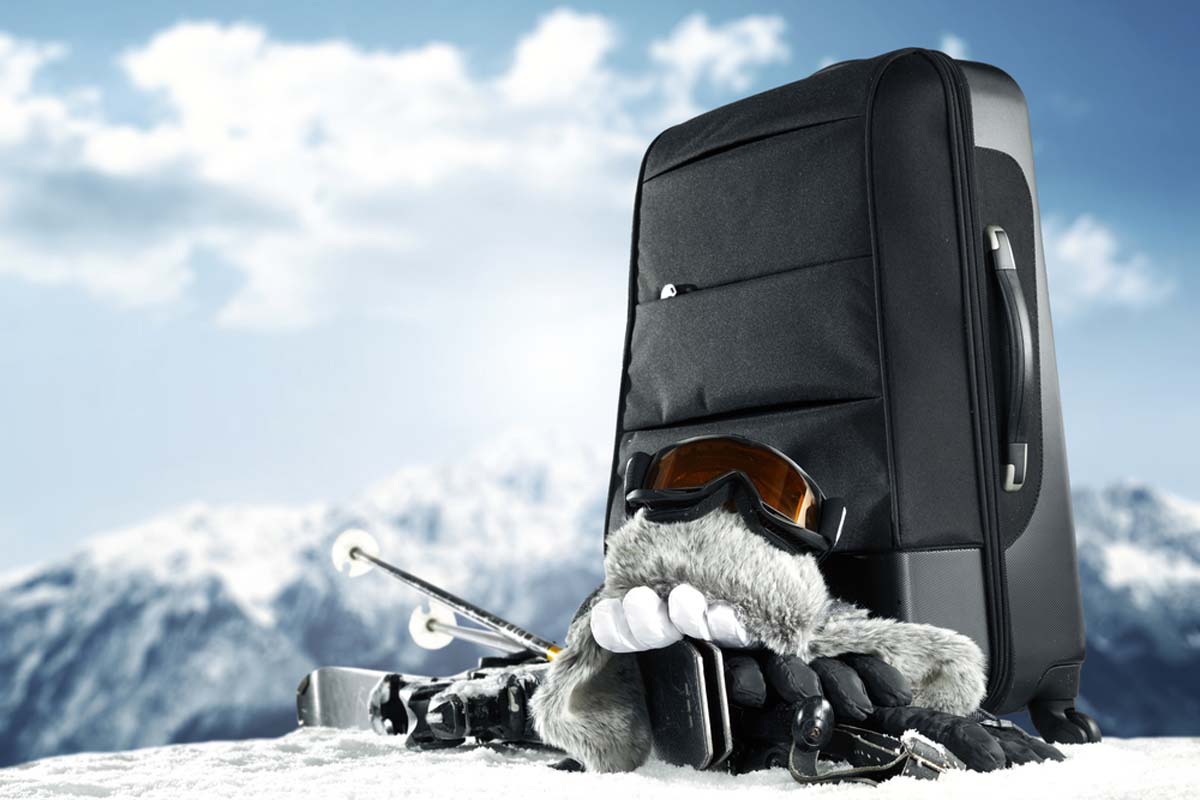 Documents
Check you have all your documents packed safely. Make sure your passport has at least six months before it expires and if you plan on hiring a car, don't forget your driving licence.
You should also make sure you have travel insurance. Accidents are common on the pistes and all the gear is really expensive to repair or replace, so make sure you're protected for any eventuality. Find out more about our Winter Sports travel insurance.
Passport

Driving licence

Boarding passes (both ways)

Insurance details

Accommodation and ski hire details

Tickets and passes
Other stuff
Travel first aid kit

Phone charger (with adapters)

Ear plugs

High-energy snacks
Ski trip packing

tips
Now you have a list with everything you need for your ski festival trip, but how will you fit it all into the bag? Start looking for things you don't have to put in there.
For example, to save some space don't pack your ski jacket – wear it on the plane instead. If you're considering leaving some items at home (like an adapter or toiletries) and purchasing them at the resort instead, you'll need to be prepared to pay a little more for them.
Don't fold your clothes as this takes up more space in your bag – roll them up instead and use the rolls to fill in the gaps between other items. The corners of your bag are usually empty as not much fits there, but a rolled-up jumper will.
Use plastic bags for waterproofing. If your clothes are still wet but you need to pack them for your return trip, put them into plastic bags first. You can also use the bags as part of your organising system to compartmentalise toiletries or to separate clean clothes from dirty ones. Tuck fragile things in your ski helmet to protect them too.
Have a wonderful and safe ski trip!