Japan is unlike anywhere else on the planet. Wherever you go, you're guaranteed complete cultural immersion, utter fascination, and lovely people. Whether you're looking for sensory overload or total serenity, you're in for an absolute treat. Everywhere you look, you'll see something either beautiful, captivating or kawaii - almost impossibly cute. 
Welcome to the Land of the Rising Sun. Let's dip into some of Japan's highlights, season by season.
Japan in the spring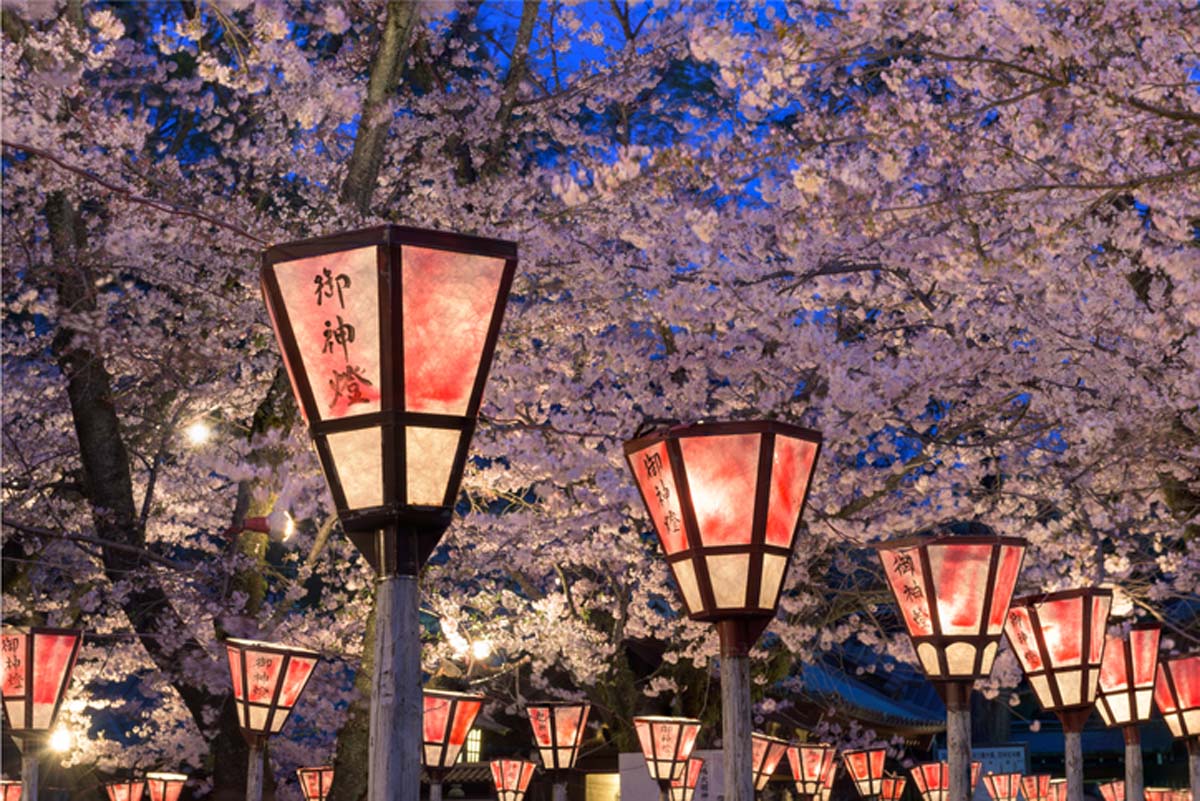 The swoonsome cherry blossom (sakura) season is the big one in Japan. Essentially the cherry blossoms sweep across the country like a pink wave, beginning as early as January in the southernmost points, and reaching the northernmost points by May. Early April is usually the time to see them in the major cities such as Tokyo, Kyoto and Osaka.
Keep an eye out for parties specifically to view the flowers (hanami). Grab a beer and a bento box, lay on a mat, gaze upwards and sigh deeply at the blushing flecks of happiness.
Eating cherry blossoms is also a thing. Various types of food and drink are flavoured with the blossoms and leaves. They can also be salted and pickled in plum vinegar, then used in all sorts - from teas to sweets. You can eat them straight from the jar too, although they're pretty salty.
One thing we will say about the peak of spring is that the locals are fully aware of it. The nicest part of spring - usually late April to early May - is a national holiday called Golden Week. Expect everywhere to be busy, traffic to be bananas, and prices to rise accordingly.
Summer in Japan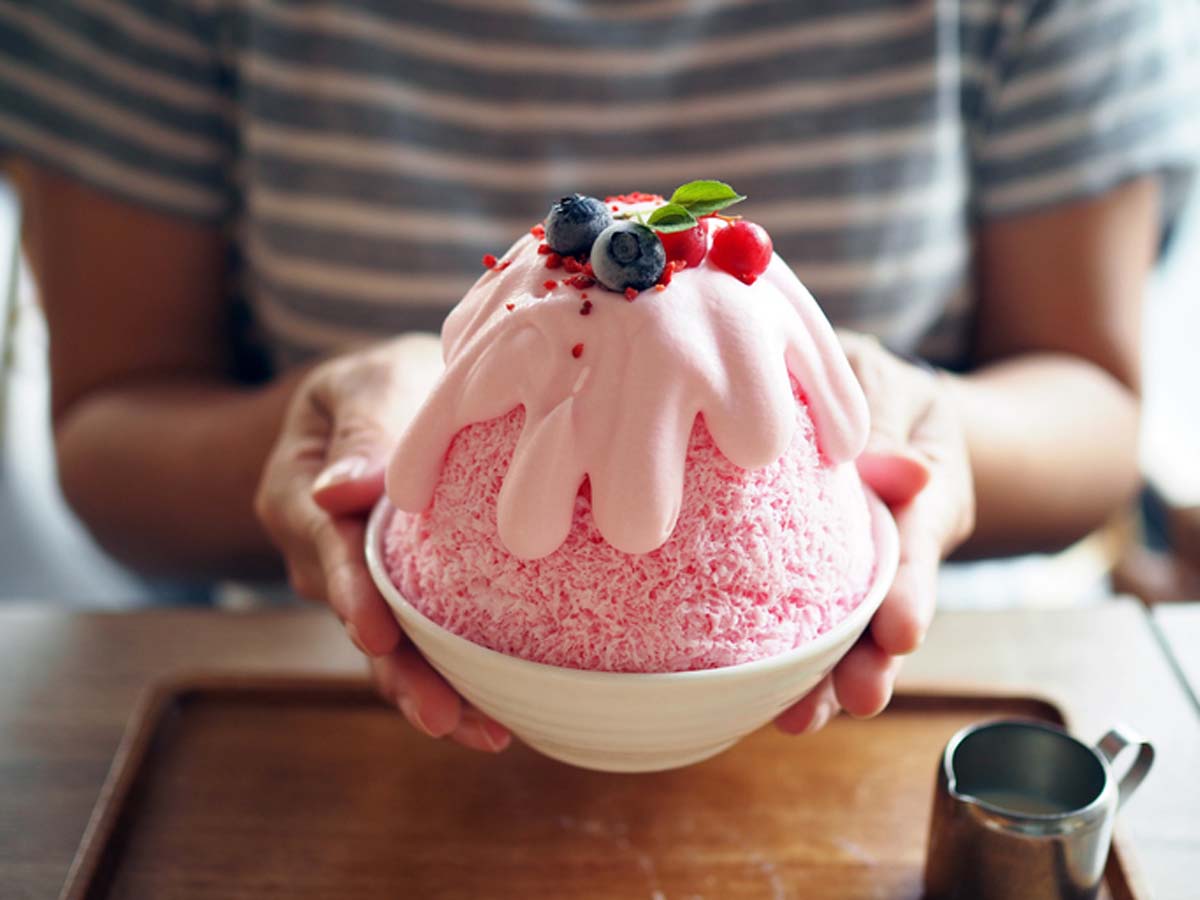 It's festival season! A summer festival (natsumatsuri) in Japan is not be missed, with dazzling arrays of street performances, food vendors and fireworks. 
If you're in Tokyo, then the Sumidagawa Fireworks Festival is absolutely banging. It's also the world's oldest fireworks display. The sparks take place over the Sumida river near Asakusa, but it's super popular, so might demand a bit of forward-planning. 
Restaurants book up and charge a premium, so now might be a good time to stock up in a 7-Eleven before pitching a spot (more on this shortly).
And of course this year (2020) the Summer Olympics are being held in Tokyo from 24 July to 9 August so expect the already busy capital to be even more buzzing if you're there at the same time.  
For authenticity, the Gion Festival in Kyoto has its origins in the 9th Century. It takes place over July in its entirety, but 17 and 24 July are the big days. Both of these days see the Yamaboko Parade, featuring processions of massive yet intricately designed wooden floats - many of which are built from scratch in the same year. 
The festival is comparatively sedate, although the three days leading up to each procession are huge street parties (yoiyama). These are the best times to see locals dressed in traditional summer kimonos (yukata), sample the street food… And let your hair down, frankly.
Summer in Japan is really humid. Beer gardens also come alive in summer for those wishing to cool off with a frosty one. But as responsible travel pals, we have to remind you to stay hydrated, and have regular water breaks! 
For cooling off food-wise, udon and soba can be eaten cold with dipping sauces. There's plenty of skewered fresh fruit available. We also recommend kakigōri, which is a dessert made of ice shavings, usually flavoured with syrup, and sometimes condensed milk. As you'd expect in Japan, these are seldom dollops of slush in a cup - they're often works of art in themselves.
Autumn must-dos in Japan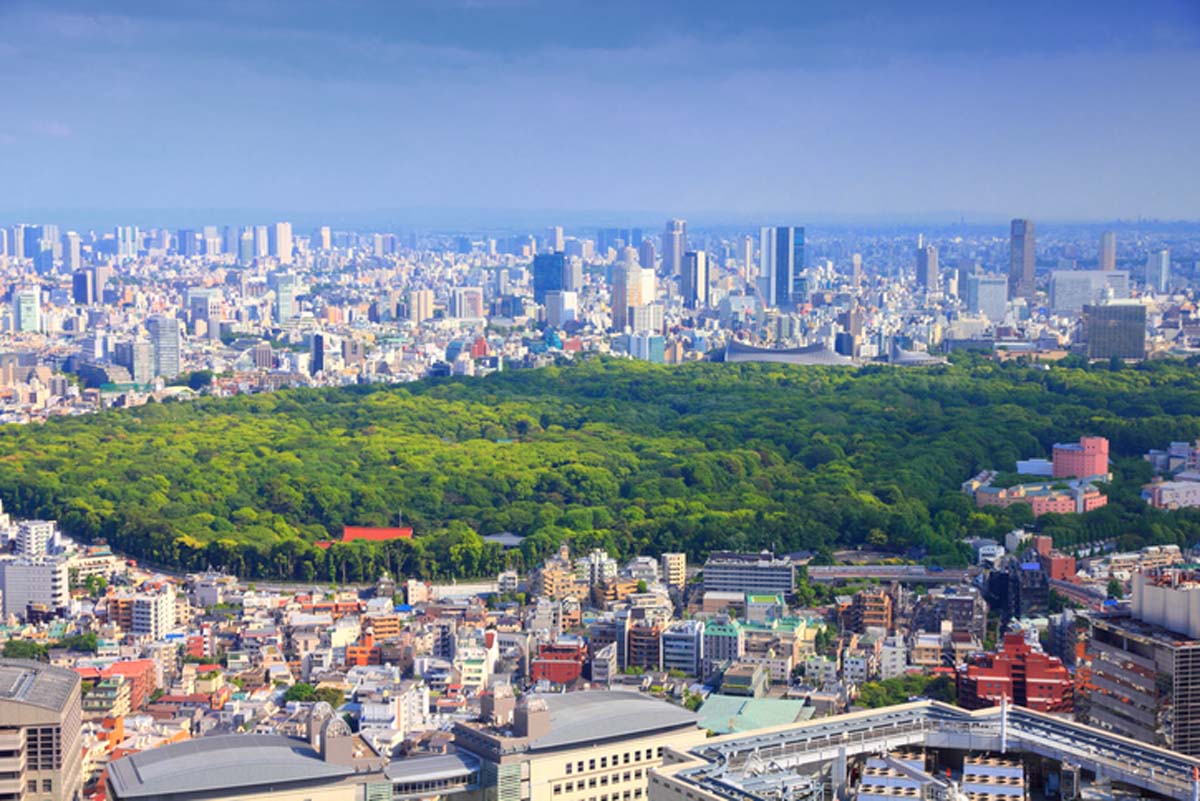 Japan is all about the leaves being in flame. Heading out to the forests and watching the world change colour is striking anywhere, but doubly so in Japan. 
Even if you're city-bound, Japan's metropolitan areas are replete with great parks. Tokyo's Shinjuku Gyoen is lovely any time of year, with a variety of different gardens inspired by different parts of the world… But it's especially breathtaking in the autumn. There's a small entrance fee, but we'd gladly pay it twice.
Autumn is also the season for food festivals. You'll be particularly spoilt if you're in the capital. September sees the Tokyo Wagyu Show in Chiyoda, which is well work staking out. Then late October to early November brings an 11-day ramen festival in Komazawa Olympic Park. And guess what, noodle fans? Entrance is free!
And the Hokkaido Food Festival showcases the best that the northern gourmet prefecture has to offer over the course of four days. It's held in Yoyogi Park, and is scheduled for Friday 4 October to Monday 7 October in 2019, but check beforehand just to be sure. Our hot tip is to go on the Sunday. That way you can hopefully catch the rockabilly dancers who gather to shake their thang at around two o'clock in the afternoon, at one of the south entrances. If you love leather-clad gangs busting some serious moves, this one's essential.
Japan in the winter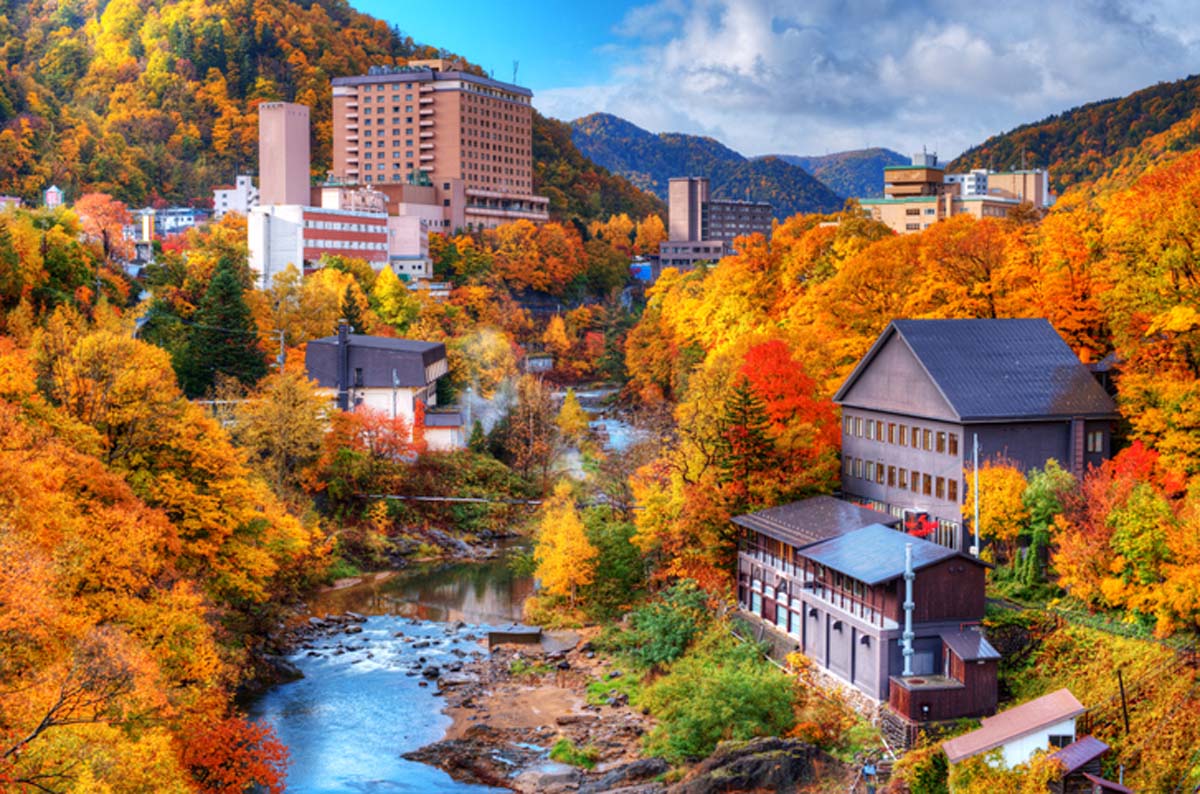 To fully embrace winter, why not head up to Japan's northernmost prefecture, Hokkaido. A magical snowscape awaits!
Home to over a third of the prefecture's population, Sapporo is the springboard into Hokkaido. It also plays host to a spectacular snow festival - Sapporo Yuki Matsuri - usually for around a week in the first half of February. Here you can see massive works of art sculpted from ice and snow, and have a go on some epic snow slides. You heard right - snow slides!
The icy cold of winter is also the best time to experience the onsen, Japan's natural hot springs. The ideal way to warm up after a jaunt in the snow (well, tied with a nice hot sake), there are indoor and outdoor onsen dotted all over the place. Our top tip is to stay in a ryokan - a traditional inn - with an onsen onsite. Although be warned - you may have to go in the buff.
If you're based in the island's capital, the Jozankei Onsen is under an hour from central Sapporo, and has around 50 hot spring sources. It's set in a lovely valley, which is also a great spot for dazzling autumn colours. But autumn was so last season - get over it!
And we can't really talk about the island without mentioning the ski. Japan's wilderness is a haven for powder-lovers. The largest resort is Rusutsu, accessible from Sapporo, and has 42km of slopes ranging across all abilities, with loads of ungroomed, tree-lined runs. Equipment hire is comparatively cheap. Sugoi!
If you're planning on hitting the slopes, make sure you add our Winter Sports Upgrade to your Admiral Travel Insurance to make sure your snow holiday is properly covered. 
Five things to do in Japan all-year round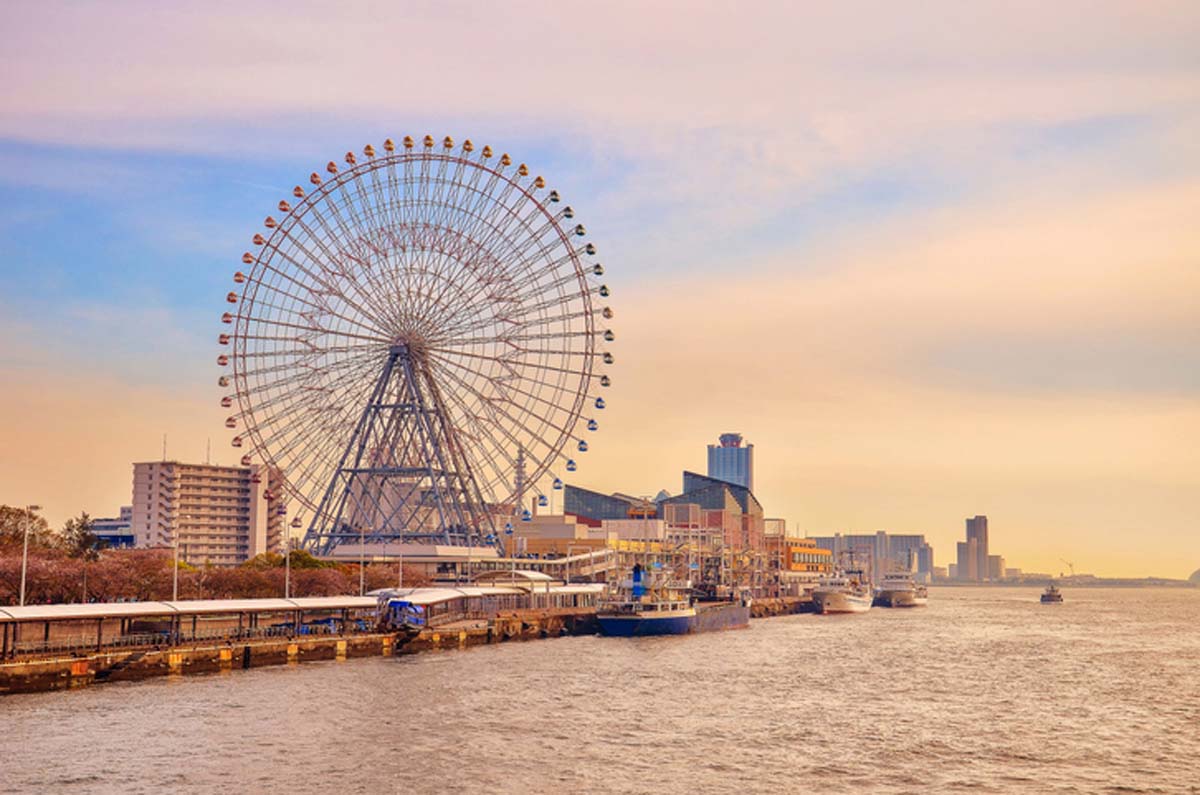 We couldn't hope to squeeze everything there is to do in Japan here, but here are some of our highlights:
Racing: Do you want to race a real-life Mario Kart around the streets of Tokyo? Of course you do! Mari Mobility (formerly MariCAR) allows you to do just that. Tear up the Tokyo tarmac in a custom go-kart, with a guide and GPS to ensure you don't veer off course. And there are no banana peel in sight!
Surveying: At a dizzying 112 metres high, the Tempozan Ferris Wheel in Osaka bay is an amazing way to get a panorama of the city. If you're afraid of heights, there's a sublime aquarium just next-door
Reflecting: Go to Hiroshima in the southwest of Honshu island, and visit the Peace Memorial Museum. It's a moving, sobering experience - but has to be done. You may not be the same when you leave
Marvelling: Kyoto is just a couple of hours from Tokyo on the bullet train (Shinkansen), and well worth a trip for temples, Shinto shrines and geisha-spotting. But we particularly love the Sagano bamboo forest. Try to catch it when there are few tourists milling around - it's incredible and eerie
Socialising: The Golden Gai in Shinjuku is - for our money - one of the best spots to go and hang out after dark. A grid composed of tiny bars, most places can sit a dozen tops. And that's as intimate as it sounds. If you want to meet new people, bar hopping the Golden Gai is definitely the place to do it. Then end the night doing karaoke with strangers!
Customs to be aware of in Japan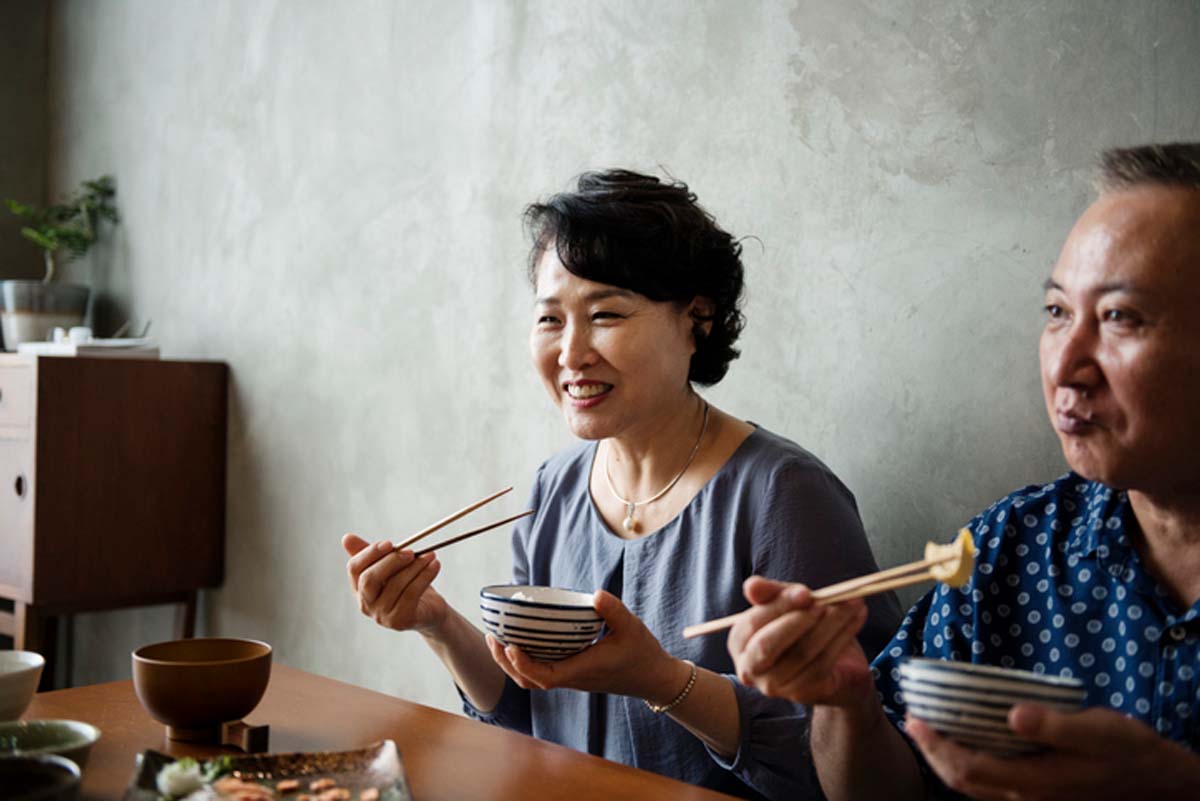 Bowing: This is a traditional Japanese greeting. Although the variations are nuanced and dependent on circumstance, a bow of the head or from the waist will be all that's expected from tourists
Tipping: Don't! For anything. In Japan, the price is the price
Shoes: You'll have to take your shoes off at most thresholds, such as going into people's homes and even some restaurants. As a rule of thumb, if there are shoe racks or slippers provided, take off your shoes. You may sometimes have to change from regular slippers into toilet slippers when going to the bathroom
Table manners: It's okay to slurp from bowls, especially with noodles and ramen. You can also pick up your bowls, and shovel food with chopsticks. By way of contrast, imagine how awkward you look trying to pick up tricky food while bolt upright with your bowl on the table. It's okay to get close to the food
Chopsticks: While we're on the subject, a few things about chopsticks. Don't use them for skewering food. Don't point at people with them. And don't leave chopsticks upright in your bowl after a meal. You'll usually have a small rest specifically to lay chopsticks on when not in use.
Japanese cuisine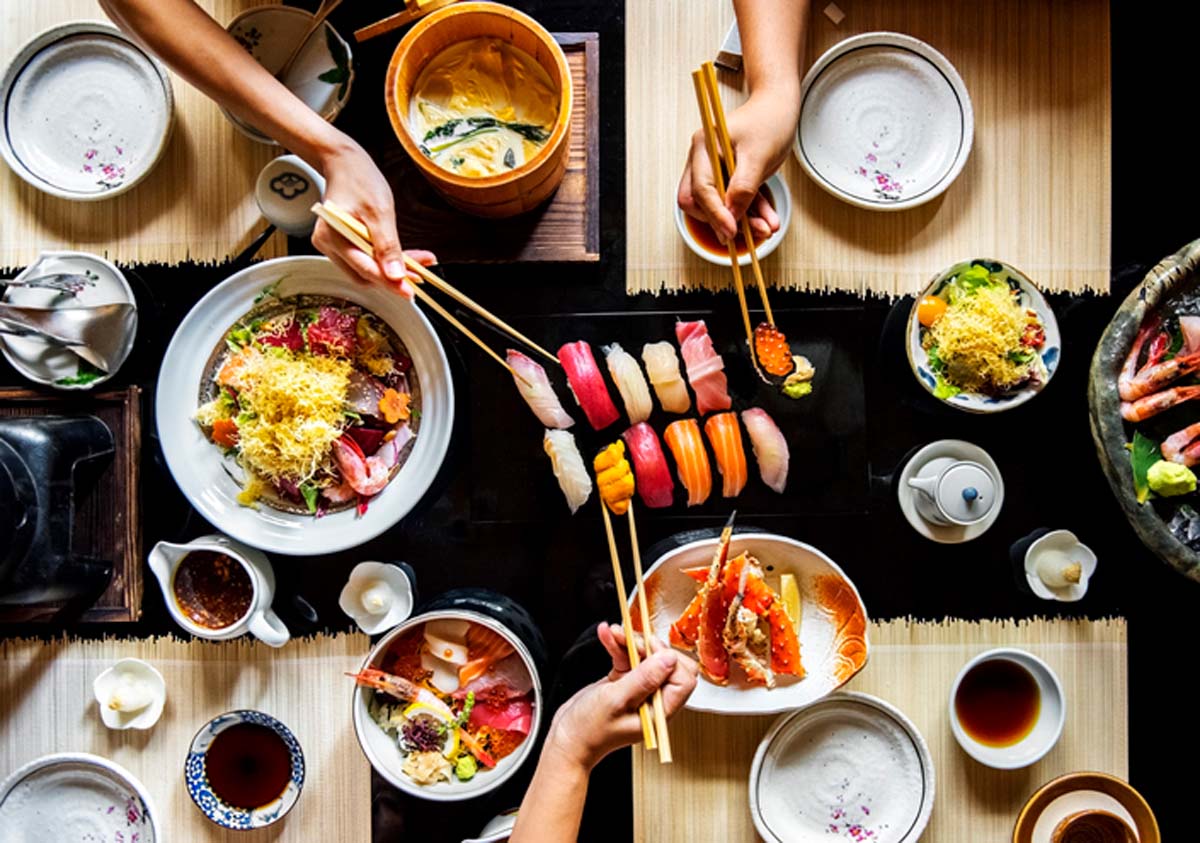 Prepare to be royally spoilt. Japanese food is varied, delicious, and needn't cost a fortune. It's possible to get a serviceable meal in a 7-Eleven, and any snacks you buy to tide you over (such as onigiri - more on that in a mo) are likely to be so gorgeous that they make you gasp. Some of the cuisine will require you to be adventurous. But you don't come to Japan if you're not seeking adventure, right?
Izakayas: The Japanese equivalent of a tapas bar. Izakayas tend to be informal and lively, with a constant flow of small dishes and drinks. Some may do fixed meals, with all drinks included for a period of time, such as two hours. These are often great value, and handy if you're overwhelmed by choice
Ramen: A hearty broth with noodles, usually flavoured with miso or soy sauce. A lot of ramen places will involve having to suss out an ordering machine - but your food will come quickly, with loads of delicious accompaniments. Ramen commonly includes slices of pork, spring onion, seaweed… But it's really all about the soup. Be prepared to see a raw egg cracked in, which cooks in the broth
Bento: A compartmentalised box with a variety of different delicious morsels
Tempura: Deep-fried, well… Anything really. Tempura - despite essentially being batter - shouldn't be heavy or oily
Udon and soba: Thick and buckwheat noodles respectively, these can be eaten hot or cold
Onigiri: A seasoned rice snack. These come in all shapes and with a variety of fillings, sometimes wrapped in seaweed (nori)
Yakitori: Skewers of meat or veg seasoned with teriyaki sauce and cooked on a grill. A common fast food in Japan, there should be a good selection in any izakaya
Gyoza: Mini dumplings with thin wrappers, eaten with some kind of dipping sauce, these are truly little parcels of joy. They tend to be filled with minced chicken or pork, or veggies such as cabbage, mushroom and chive
Wagyu: The Japanese take their beef very seriously. There are over 100 regionally branded types of high-quality beef, with Kobe and Matsuzaka being perhaps the most well-known.
A handful of Japanese words and phrases worth knowing
"Moshi moshi": 'Hello!'

"Arigatō gozaimasu": 'Thank you very much'.

"Hai": 'Yes'.

"Iie": 'No'.

"Sumimasen": An incredibly useful and versatile word, meaning 'sorry', 'excuse me', and several variants thereof. It can be used to get people's attention, make sincere apologies, or while blundering around the metro for the first time, getting in everyone's way.

"Kampai": 'Cheers!'

"Oishi": 'Delicious'. And trust us - you'll be complimenting the chef a lot!

"Sayonara": 'Goodbye!'
Japan travel insurance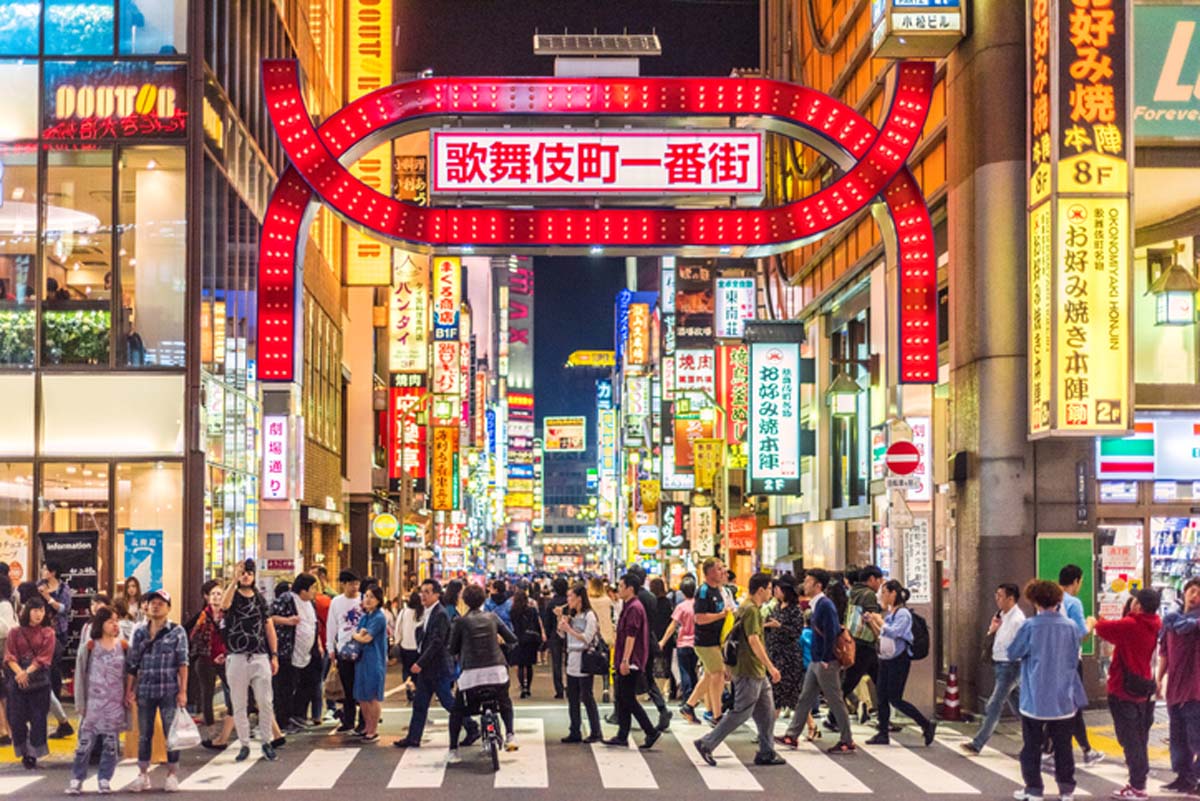 Worldwide travel insurance will cover your holiday to Japan. With Admiral, you can choose Single Trip cover – perfect if Japan is your only holiday this year (and what a holiday it'll be!). But if you're going on more than one holiday in a year, you may find an annual policy better suits as it covers an unlimited number of trips.
Whichever you choose, you'll be covered for:
Cancelling or cutting short your trip
Sports and activities
Money and documents 
Personal belongings