It's a common misconception that your ski holidays need to stop once you have kids. We all know beach holidays are great for young children but most people, myself included, assumed you just had to wait 10 years before you resumed your annual ski trip and your kids could learn to ski with you.
If you're a skiing fanatic you can rejoice because family ski holidays are awesome, even if your little ones are too young to ski. We've been on three family ski holidays and have been with babies, toddlers and young children. Kids can usually start their ski lessons from the age of four but if they're younger or just not quite ready then there's still plenty to keep you busy.
Here are my top tips to survive a family ski holiday.
1. Accept this holiday is going to cost you!
There's no getting around the fact that skiing holidays are expensive. Sure, there are ways to do it on the cheap but they usually involve sharing accommodation with far too many people, drinking far too much cheap beer and enjoying a little more apres ski than actual ski. It's not the kind of experience you'll want as a young family.
2. Opt for a family-friendly resort
Ski resorts come in all shapes and sizes with some being aimed at the 18-30 market who are just as interested in the apres-ski as the actual ski! And if that sounds like you, check out Admiral's ski festival finder to help you find the perfect ski festival anywhere in the world.
Some are for budget travellers, others for more affluent travellers and some are aimed at families.
Family-friendly resorts tend to have a more relaxed atmosphere with hotels aimed at families and plenty of green and blue runs for beginners. They'll also have activities for little ones such as tubing and sledding and mini snow parks. Do your research and find the best family-friendly resort to suit your needs.
3. Think about the transfer time
Not only do you want a family-friendly resort but you'll also want to consider the location and how long the transfer will be from the airport to the resort. After a long flight, do you really want to then get on a coach for three hours as you wind through the snowy mountain roads?
Young children get impatient and grouchy with long travel days so make life easier for yourselves and choose a resort with an airport nearby!
4. Pack travel sickness remedies suitable for your child
The reason I'm stressing the importance of a short transfer is because many kids get travel sick during the journey. A combination of altitude, windy roads, tiredness and (more often than not!) a stomach full of sweets after being bribed to stay quiet on the plane will commonly lead to motion sickness!
It's not a great start to the holiday so if your children are old enough then take some anti-sickness medication and give it to them before you board the transfer bus.
5. Book through a specialist family ski company
You can book everything yourself and arrange your flights, transfers and accommodation separately but it makes life a lot easier if you book through a specialist family ski company. The most popular thing to do is to book a package where you're placed in a large chalet with other families. The chalets are huge and often have around eight families.
These family chalets give you the sociable element that many people love about ski holidays and they also give your kids the chance to make new friends too. You'll have a chalet host who will prepare breakfasts, an afternoon snack and evening meals and they will also keep the chalet clean and tidy.
They'll often have nannies in the chalet too and games rooms for children. Bedrooms are usually large enough for a family of four or five so, unlike hotel rooms, you're not all squished into one room or forced to pay for two.
Another option is a company like Mark Warner who have family-friendly hotels with nannies. This was my favourite option for a family ski holiday because they also had evening babysitting and an Evening Listening service. They played a movie each evening and all the kids would gather together with their sleeping bags and fall asleep while watching a film. Parents could then go for dinner and pick their sleepy kids up at 10pm.
6. Hire pushchairs along with your skiing equipment
If you don't have an all-terrain pushchair, or don't want the hassle of lugging one out to a mountain resort, then you can hire one when you arrive. Most ski equipment shops will also hire out pushchairs like Mountain Buggies which we found to be a godsend for getting through the snow.
Don't forget young children get tired and cold in the snow and if they see a younger sibling wrapped up warm in a pushchair then they might want to take a seat too! We used a double Mountain Buggy for years, even when my older son was a bit too big to go in a pushchair. Even if it doesn't get used by an older child, you can always use it to push your skis around!
If you have your own pushchair at home, most airlines will let you take two pieces of baby equipment with you. If a pushchair folds away into two pieces then this is often considered to be your two pieces unless you put them in a bag to keep them together. Just remember a regular umbrella stroller won't make it along snowy streets.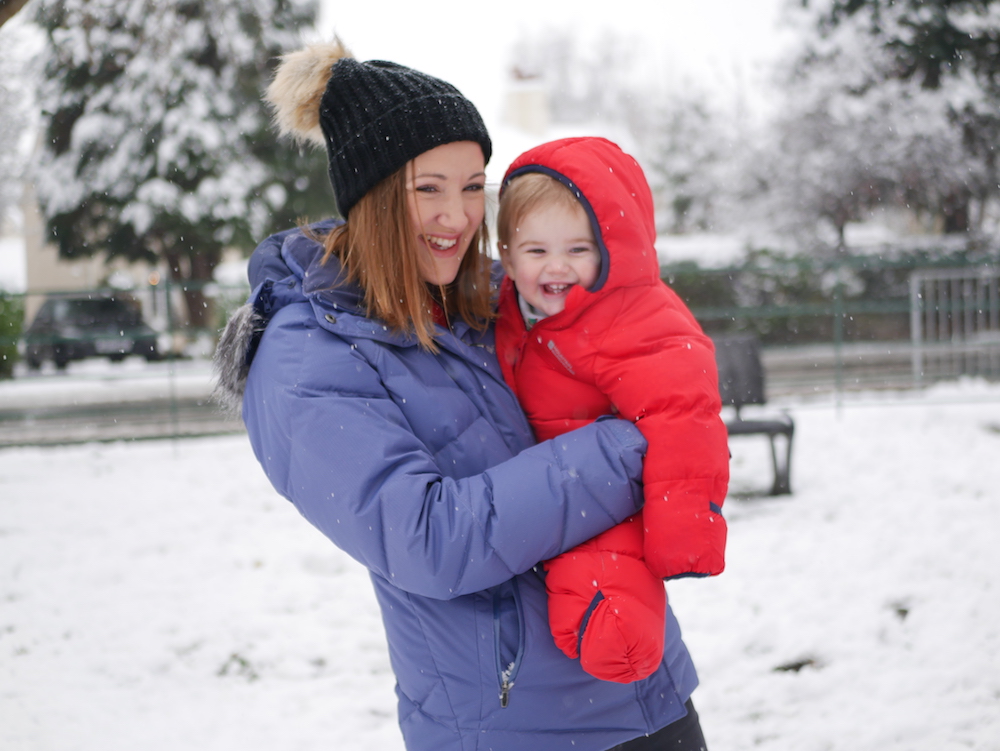 7. Hire toys and baby equipment if you're staying in a chalet
If you've decided to hire a private chalet, did you know you can hire all the child-friendly equipment you'll need? You can usually hire everything from bottle sterilisers to baby baths to potties and little steps to use in the bathroom. Toys, games and books are also available to hire for older children.
8. Book nannies or childcare in advance
Whether you're going through an agency or doing everything privately, make sure you book all your childcare in advance. Nannies and babysitters do get fully booked, especially if you're travelling during the school holidays.
We usually book childcare for the morning so the adults can ski together and then we'll either do something as a family or take turns looking after the kids in the afternoon.
9. Family ski travel insurance
If you're headed for the slopes, you'll need to make sure you have the right travel insurance in place. It's so important to be properly covered when skiing or snowboarding in case of injuries or sickness.
With Admiral, you can get a family travel insurance policy for two adults and up to three children, and add-on the winter sports upgrade to get all the essential cover for a skiing holiday. This includes cover against lost equipment, piste closure and delays caused by avalanches.
10. Book lessons in advance
It's a great idea for kids to have ski lessons, not only to learn properly and build their confidence but also to socialise and make friends. Remember that teaching a child to ski isn't as easy as it sounds! I've witnessed many family arguments as parents attempted to teach their children to ski!
But, just like with childcare, lessons can get fully booked so make sure you book them in advance. Most children do half-day lessons and the morning sessions are usually more popular than afternoon sessions. A lot of children learn best in the morning but there's the chance you'll have a quiet group in the afternoon.
Top tip: Double check you're booking lessons in English or a language your child is 100% able to speak. Learning on a windy ski slope is tough enough and it's even harder when you have language barriers to contend with!
11. Get the kids kitted out in snowsuits
Not only are snowsuits the most adorable thing ever but they're also going to be a lifesaver when you want to get out and about without the kids moaning about being cold. I really like Mountain Warehouse for great quality and affordable ski gear.
If you're trying to keep costs down then look out for second-hand children's ski outfits online. Most children only wear their outfits a handful of times before they outgrow them so you can usually find a bargain.
Not sure what else you'll need to pack for a skiing holiday? Check out our new guide on the complete and easy ski packing list
12. Nervous kids?
If your children are nervous about learning to ski then take them to an indoor ski centre at home to boost their confidence and give them a feel for the sport.
13. Don't forget sunglasses!
Don't forget to pack sunglasses and factor 50 suncream for babies and young children. You can get special bendy sunglasses for babies with elastic to go around their head.
Don't worry if your baby throws them off when you try them on at home. We found that both our children refused to wear them at home but they happily kept them on when they needed them in the harsh sunlight of a ski slope.