The summer holidays are here and many of us will be jetting off on family holidays with the kids in tow. Everyone is looking forward to a week of fun in the sun and endless days on the beach or splashing in the swimming pool.
The only downside to these glorious family holidays is the dreaded flight, particularly flights with toddlers and young children. The flight can be the most stressful part of a holiday and the thought alone can be enough to put you off going away! But don't worry! I fly a lot with my two little boys who are currently aged one and three and I have a few tricks up my sleeve to help the journey fly by.
If you're new to this parenting malarkey and you'll be flying with a baby then rejoice because, believe it or not, flying with babies is the easiest. Babies don't run around and can be easily distracted with toys and books. But best of all, babies sleep a lot and the constant drone of the plane's engines and the motion of flying sends most babies to sleep. Older children are also fine to fly with thanks the modern wonders of iPads.
It's just toddlers and young children who can be difficult to fly with because they have so much energy. They want to run around, and touch everything, and talk to everyone, and climb on everything, or crawl under everything. They often don't understand why they need to sit still and can become frustrated when they're being forced to do something they don't understand. And I don't know about other people's kids, but my one-year-old has the attention span of a goldfish and a new toy will keep him entertained for approximately 45 seconds before he's bored.
I recently flew to Dubai (7 hours) with both my boys and I was dreading the flight. I thought it was going to be a nightmare, so I was crazily prepared and had every gadget, gizmo, game and snack you could imagine. Thankfully, the flight was a breeze and I needn't have worried, but my preparation definitely helped! Here are my top tips for flying with toddlers and young children.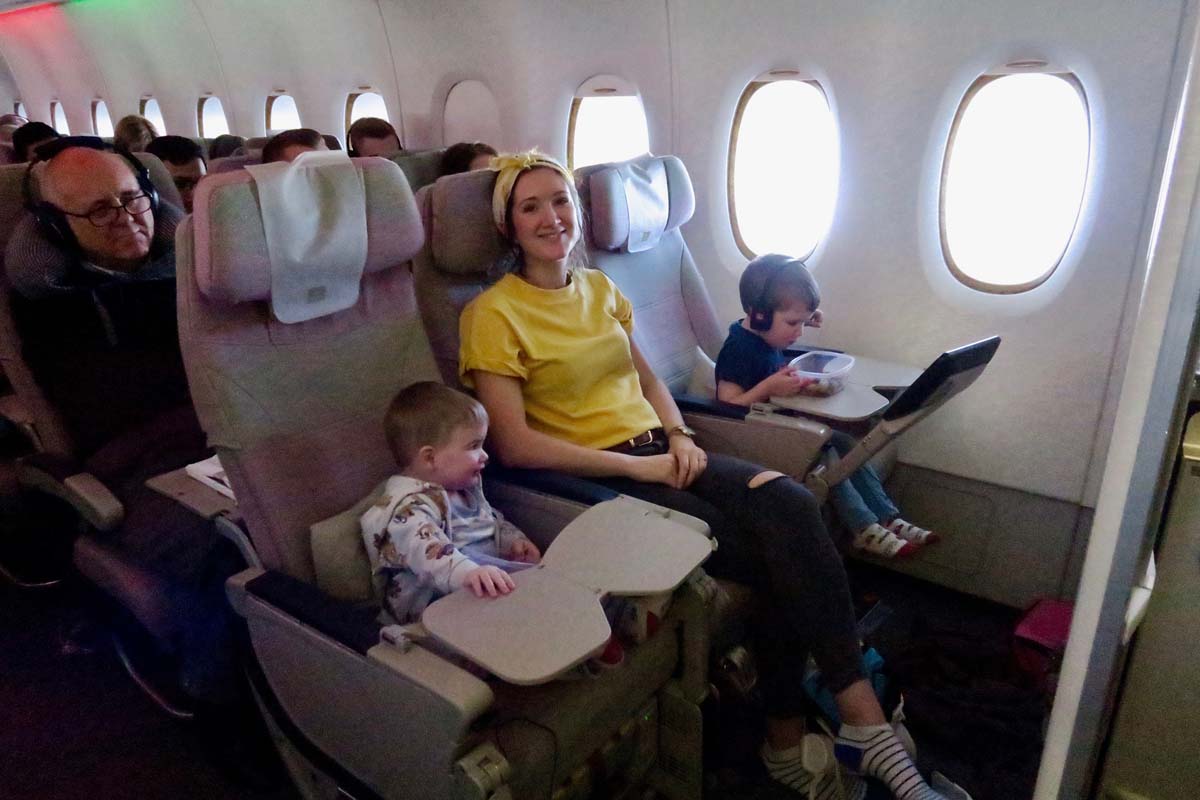 Pre-flight: Run around the airport
Most airports have soft play areas which can be a great place to climb and use a little of that endless energy, but we take things a step further and literally run around the airport. I'll find a quiet gate so we don't disturb anyone and encourage my kids to have running races up and down. We'll have hopping races, jumping races, skipping races- any kind of races that will tire them out! I'll chase them around and we'll play energetic games of hide and seek until they're exhausted. By the time we get on the plane they're puffed out and ready for a sit down.
This is particularly important for the first 30 minutes on a plane when you have to sit still in your seats waiting to take off. It's usually before the air-conditioning comes on so the plane is hot and people are stressed as they find their seats and rummage with luggage. This is when you really want your kids to sit still and be quiet but it's usually when they get bored, so tiring them out really helps!
Board the plane last
Families with children are encouraged to board the plane first but this is the worst idea ever. The last thing you want to do is spend an extra 30 minutes on a hot plane waiting for everyone else to board. I always try to board last to give the kids more time to run around and less time restricted in their seats.
If you have a lot of hand luggage and there are two adults travelling, have one adult board the plane early and get your luggage sorted in the overhead bins while the other adult stays with the kids.
Book bulkhead seats
If you can, try and reserve the bulkhead seats. They're often reserved for babies but if there aren't many babies on the flight you might have a chance! Note that the bulkhead isn't great for sleeping because you often get people queuing near you to use the toilets and you might be near the food and drink preparation area. It can be noisy and busy but having the extra leg space is a godsend if your kids want to play.
We use our bags to block off the aisle and let the kids play on the floor like they would at home. They love it if I rest my legs against the wall and drape the airline blankets over my knees to create a den for them on the floor. They'll play in their dens for hours, pushing their cars around, doing jigsaw puzzles, drawing pictures and reading books …while mum and dad sit back and watch a film with a nice G&T!
No chocolate
I've made this mistake before and I will never make it again. Don't even think about taking chocolate on the plane. Stick to sweets or lollies which can be great during take-off and landing if your kids are struggling with their ears.
Balloons
A simple toy that can keep toddlers entertained for a surprising amount of time is a balloon. They can have fun blowing it up, decorating it with stickers and then playing with it until the inevitable moment it pops. They're also small so they don't take up much space in your bag.
Book the inflight meals
I know inflight meals aren't always great but they're a welcome distraction when you're half way through your flight and you're starting to tear your hair out. My kids only ever eat the bread rolls, the cheese and the dessert but it keeps them entertained for much longer!
Make friends with other families
If you can, try and befriend the other families around you. You can share toys and the kids can keep each other entertained with endless games of peekaboo through the seats.
Mini playdough
Another great thing to keep little ones entertained during flights is playdough. It isn't too messy and can keep them busy for hours. Just remember that playdough needs to be 100ml or less to get through security as they do consider it to be a liquid.
Sticker books
We opt for sticker books over colouring books. If we have pencils or crayons I spend the entire flight picking them up off the floor but stickers keep them entertained for much longer and there's no mess.
Tablets loaded with shows and games
Toddlers might not have great attention spans, so TV shows and electronic games don't keep them entertained for hours like they do for older children, but sometimes a 10-minute distraction is all you need. Load your tablet with their favourite TV shows, apps and games and make sure you don't need wi-fi to access them.
Surprise gifts
My last-resort strategy and something I'll do for long flights is to wrap up little presents and hide them in our hand luggage. Every hour I'll dig around in my bag and pull out another little gift for them to unwrap and play with. Hours of entertainment!
There you have it: my top tips for flying with toddlers and young children.