Walking is a fantastic activity for families, with physical and mental health benefits for children and parents alike. Being outdoors can also boost a sense of togetherness and spark the kind of conversations that don't always happen amid the distractions of home life.
So, with spring just around the next corner, here's to less screen, and more green!
The benefits of walking
One in 10 schoolchildren aged between five and 16 has a diagnosable mental health condition and 75% of all mental health problems are established by the age of 18, according to The Children's Society,
Coupled with this, NHS figures show one in five year six pupils and one in 10 children in reception are obese. 
Walking improves:
Mental well-being
Self-confidence 
Sleep
Weight (it helps to combat obesity) 
Action for Children surveys show many children would love to spend more time outdoors but our fears as parents are holding them back.  
National Trust walking project manager, Liz Nelstrop, said: "We're experiencing a health crisis in the UK, particularly in our children. Parents understand it's important to be healthy and they want to get outside more, but there can be barriers in the way, such as time, money and transport, as well as real cultural barriers.
"We've found that people walk better if the routes are well marked. There are lots of great trails in the national parks and at National Trust properties, and there are also lots of groups where someone will guide."
It's not a walk, it's an adventure!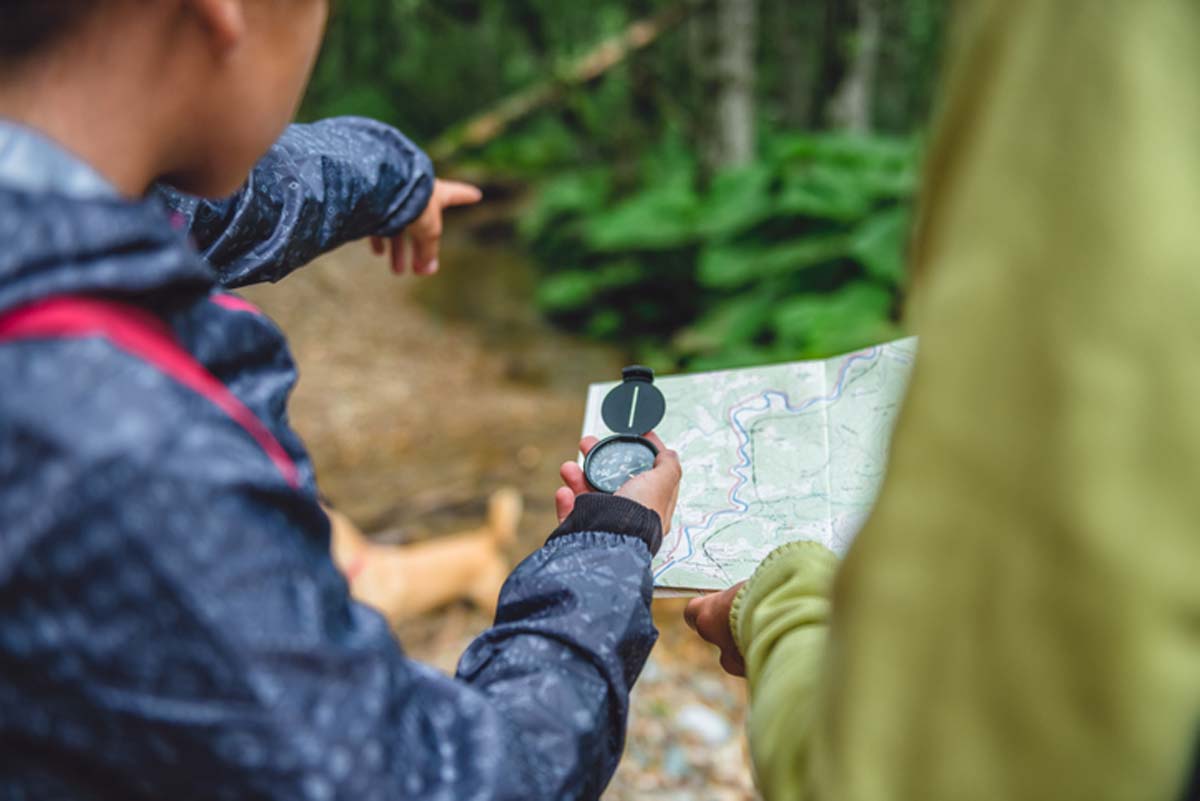 According to the Ramblers, it's all about having a good time along the way rather than simply marching towards a fixed destination. Spokeswoman, Sophia Khan, said: "The key for children is to choose walks that aren't too far for little legs, with interesting routes. 
"Above all, make it fun! Don't suggest 'going for a walk', make it an outing or an adventure to a park, playground, woods or a pond. Playing games and setting challenges along the way, such as a treasure hunt, will stop a walk from feeling like a chore. 
"Get creative; look for animals, birds, trees, people, buildings and colours, or collect tree seeds, leaves, shells, and small stones. Take photographs that children can put in a walker's diary and get them involved in planning the walks too, perhaps by plotting the route on a map and map reading during the walk."
A quick browse online suggests plenty of walking and nature guides designed specifically for children, such as Making Tracks from Walking-books.com, a series of hand-illustrated packs with pull-out route maps and activity sheets. 
National Trust's Liz, mum to two boys aged six and nine, agrees that activities - and food - are essential. 
"Children love something to follow, such as a sensory trail, treasure hunt, art trail or scavenger hunt," she said. "Food is really important! When I lead a walk, everybody gets a muffin before we set off, as it might have been a while since breakfast. Then we walk with the promise of lunch when we get to a particular point." 
'App-y trails 
Much as we'd all like to reduce our children's screen time, gadgets can complement a grand day out perfectly. 
Download the National Trust's '50 things to do before you're 11¾' and see how many you can tick off during each walk
Install an app such as OS Maps and let children follow the route
Geocaching allows young walkers to find 'treasure' via GPS co-ordinates, with containers bearing little prizes such as pencils, notebooks or trinkets hidden at locations across the country. 
Just read up on the etiquette before you go, as it's customary to leave something in return! 
If you're taking expensive smartphones or GPS devices on your walks, make sure you have adequate gadget insurance - and stay away from those fishponds! 
Walking essentials – what to pack for a family hike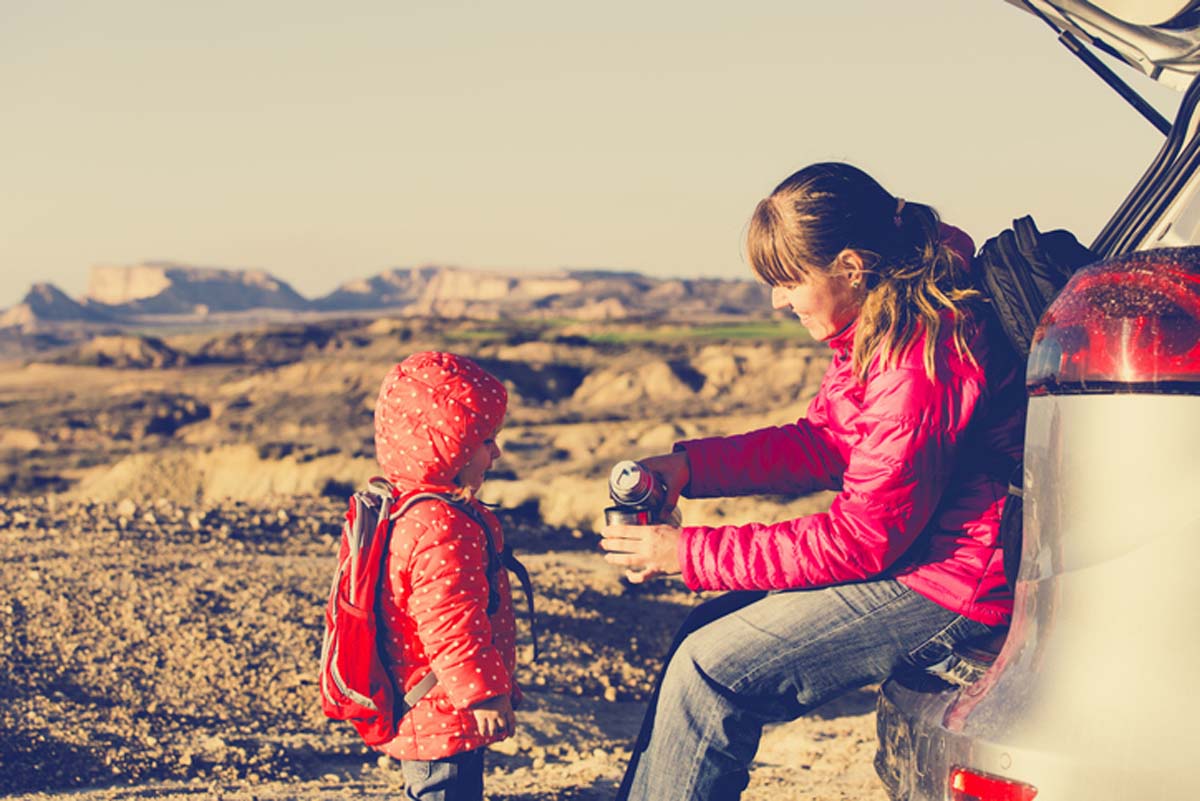 When legendary fell walker Alfred Wainwright said: "There's no such thing as bad weather, only unsuitable clothing" he could easily have had little walkers in mind! 
For children, splashing in puddles is all part of the fun, so go prepared for all eventualities.
Ramblers' spokesperson Sophia added: "Make sure everyone has comfortable clothes, shoes and lots of layers and waterproofs. In warm weather, remember hats and sun cream, and take something for bites and stings. Snacks are pretty handy for keeping up the morale too!"
For your family walk, make sure you take:
Hot drinks in flasks 
Plenty of water for everyone, including dogs 
For longer hikes, especially in remote areas or mountains, always carry:
A map (paper maps or laminated print-outs are important in addition to GPS and mobiles, as phone batteries can die very quickly in cold weather
Compass 
Whistle 
If hiking with babies and toddlers, back carriers enable you to leave the pushchair at home and tackle rougher terrain, many with extra sections for kit and those all-essential baby wipes. Just remember that, while you're working up a sweat, sedentary babies are at real risk of getting cold, so wrap them up well. 
As for school age walkers, helping with the preparation is all part of the fun. "Encourage children to be independent early on and let it be their adventure," said Liz. "My boys pack their own little rucksacks and lead the walk, which gives them a sense of ownership."
Where to walk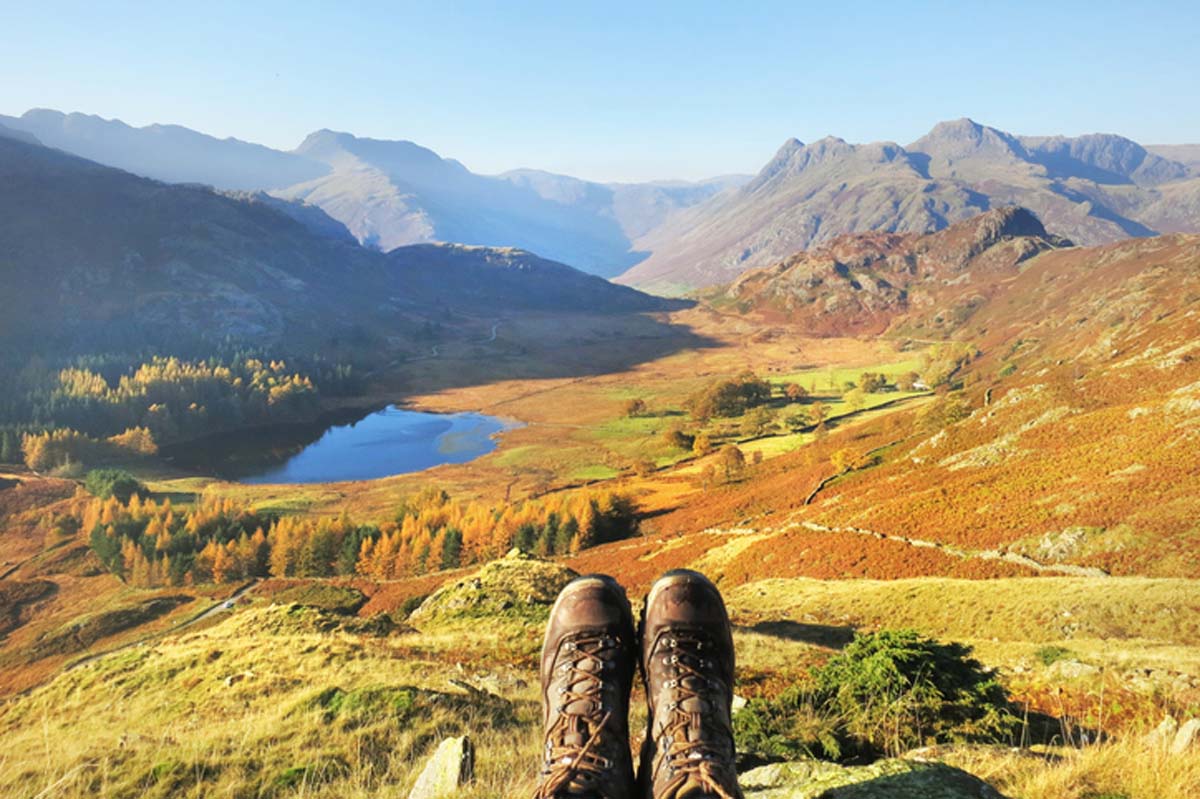 You don't have to travel far to reach the start of your walk; begin on your doorstep. 
We already know the "staycation" was big news last year thanks to our long summer, so if you're thinking of staying put – check out our four favourite UK spots with plenty of opportunity for family walks.
Urban walks can be as interesting as countryside rambles, while local walks are great after school and work - you can even take your torches and stay out after dark!
When you're ready to go further afield, check out routes online, such as Ramblers walks and National Trust walks. Ramblers has also worked with the i Paper to put together the best family-friendly walks in England, Scotland and Wales.
Always cut a stroll short if one member of the family isn't having fun or is tired; pushing children too far early on could put them off walking for life. Sophia said: "With regular walking, children will build up their fitness, just as an adult does, but keep walks short until you know their abilities."
So off you go; just be prepared, stay safe and have fun!