Whether you're seeking stunning mountain views, grand historic chateaux, lazy dappled river banks or sun-drenched southern coastlines, France has a cycling route to please. So, if you'd like a cycling holiday with a little 'je ne sais quoi', where do you start? 
Read our guide on where to go, how to plan and getting the right European Travel Insurance for some of your most memorable biking adventures yet!
Where to cycle in France
You really are spoilt for choice when it comes to top cycling locations in France, but here are a few of our favourites to give you a little taste of what's on offer:
The North
Easily reached by ferry, northern France offers stunning bicycle routes packed with history and charm. From Calais, you can set off for Dunkirk, visit the D-Day beaches and the chic seaside towns of Deauville and Honfleur.
Brittany and Normandy offer lush countryside, quiet undulating country roads, nice long flat stretches (perfect after a big lunch of local speciality cheeses and cider), quiet fishing villages and white sandy beaches.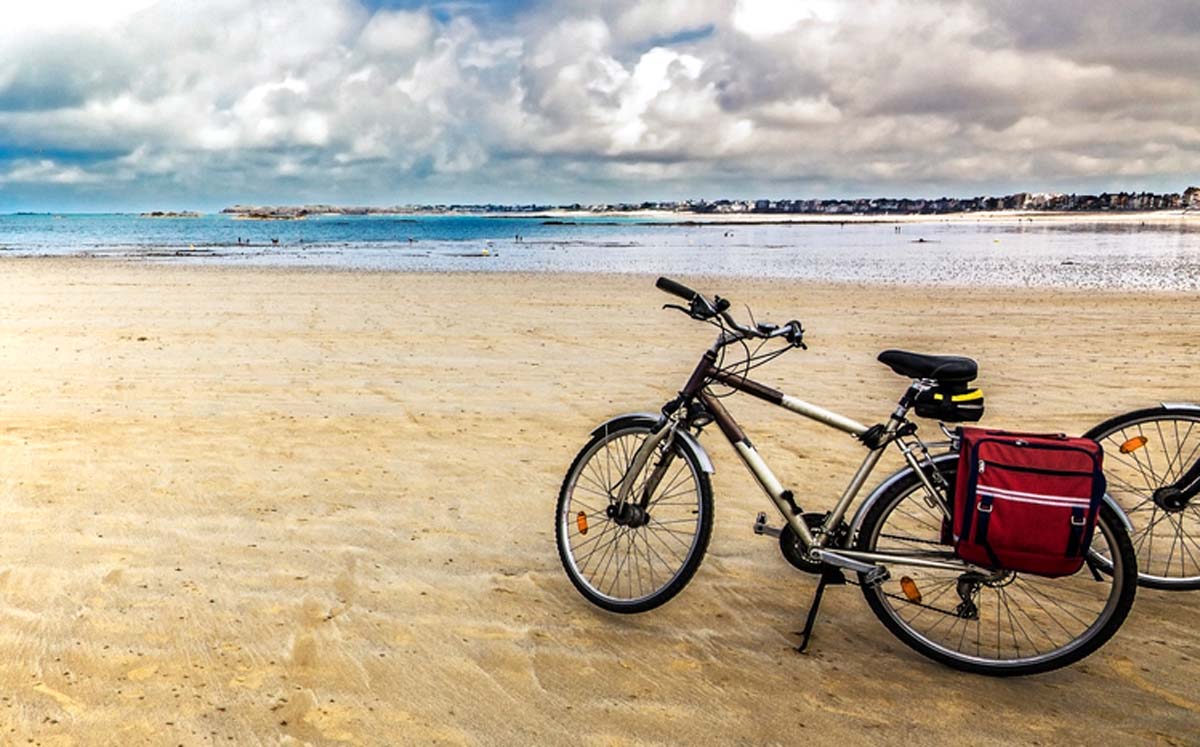 Loire Valley
This UNESCO world heritage site in central France is a great choice for beginners. Its dedicated cycle trail La Loire à Vélo (The Loire by Bike) offers one of the most interesting, diverse and picturesque cycle routes in France.
The clearly signposted route takes you along well-surfaced paths riding through idyllic countryside. You'll enjoy unspoilt riverbanks, pass magnificent Loire chateaux and ride through characterful villages.
And the multitude of lush vineyards flanking the hills also make convenient places for a (tasting) stop!
The Alps

The dramatic landscapes of the French Alps provide some spectacular cycling locations. Here enthusiasts can tick off several of the greatest climbs in cycling, including the 21 hairpin bends of Alpe d'Huez.
But don't worry, not every route features a 1-in-3 ascent! The wide valleys of the Pyrénées-Orientales provide more relaxed inclines for cyclists of all levels, while the Grande Traversée du Massif Central offers an incredible variety of landscapes and challenges.
With hundreds of world-class mountain bike trails it's easy to find a route to suit you; the hard part will be picking one!
Provence
A haven for cyclists, this region is characterised by quiet roads, picturesque hilltop villages and rolling hills awash with rich colours. Home to France's iconic lavender fields, in late June and early July, when temperatures are warmest, the landscape adopts a glorious purple haze.
Avoid the midday heat by exploring the medieval churches, bustling marketplaces and cobbled streets of its ancient villages, then stop to enjoy the delicious Provencal gastronomy. With thyme and rosemary scented roadsides, ochre valleys and olive groves, fields of sunflowers and lavender and much more, Provence truly offers a feast for the senses. 
Côte d'Azur
This shimmering southern coastline of azure blue waters and sun-drenched white beaches has an impressive backdrop of alpine foothills rising above it. Home to several professional riders, the Côte d'Azur provides cyclists with a myriad of scenic routes and climbs, with many roads having cycling pedigree thanks to the Tour de France.
The Café du Cycliste in the port of Nice, which offers hire bikes and cycling kit as well as coffee, has become a 'must' for local and visiting cyclists. The area has fantastic transport links with direct flights to Nice available from most destinations.
Travelling with your bike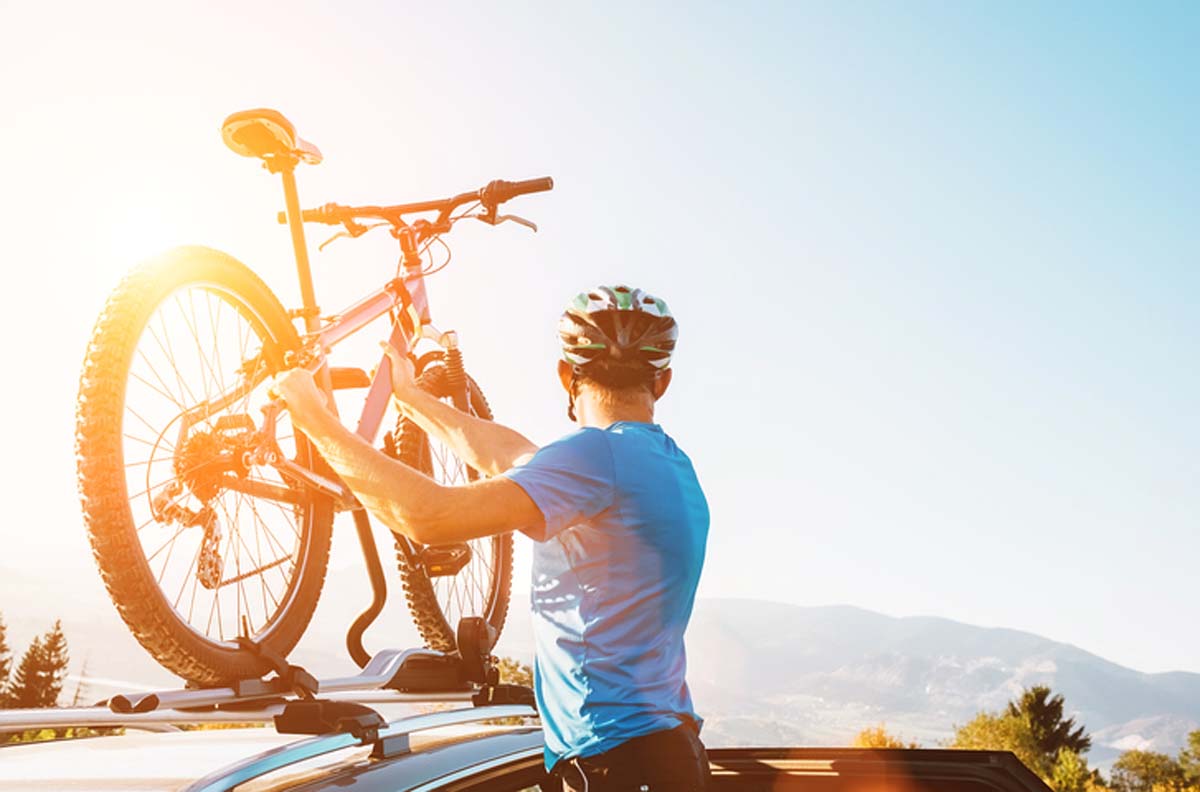 If you're planning to travel by train or plane as part of your trip, it's a good idea to book your bike in beforehand. Check carriers' requirements first, as often you'll need to dismantle and place it in a cycle box or bag. 
If going by ferry, in most cases it's just a case of walking on board pushing your wheels, before heading to the passenger deck. If you're driving to your French starting location, find out what you need to know when driving in Europe. 
Do I need to wear a helmet for cycling in France?
In France, bike helmets are strongly recommended for adults but not compulsory. However, it's obligatory for all children under the age of 12 to wear one. Cyclists must also wear high-visibility waistcoats if cycling after dark. 
You can find more details on cycling regulations in France in the 'Code de la route', the French highway code. Google can automatically translate this into English, depending on the browser you use, while France Velo Tourisme also has an excellent guide to cycling safety.
What insurance will I need to cycle in France?
The type of travel insurance you'll need will depend on how long you plan to be away. Our single trip travel insurance covers you for a continuous trip of up to 365 days, while our annual travel insurance covers all of your holidays in one go (up to 31 days at a time). 
If you plan to take your bike to France and you have a combined Admiral Home Insurance policy, your contents insurance covers bikes worth up to £350 away from home. 
If your bike's worth more than £350, our bicycle insurance will provide protection away from home, anywhere in the world. You can find more tips and information in our jargon-free guide to bicycle insurance.
What to pack for a cycling holiday 
It's wise to take a small multi-purpose toolkit with you for any bike repairs and adjustments you might need to make along the way.
A GPS device can be indispensable when cycling long distances, and a small portable WiFi router can also be useful for keeping in touch in remote areas. You'll find a pocket power bank handy for charging devices on the go too.
If you're taking valuable tech such as a GPS device, camera or laptop, our gadget insurance upgrade will protect them and give you peace of mind should they get lost, stolen or damaged during your trip.
Boasting some of Europe's most glorious cycle routes, exploring France on two wheels is one of the best ways to enjoy this land of cultural charm, delicious cuisine and beautiful countryside. 
If you're looking for a memorable holiday that will fill you with 'joie de vivre', simply get pedalling!