Camping holidays have exploded in popularity in the last 18 months, with many seeking seaside solace under the stars at the numerous beautiful campsites the UK has to offer.
There are so many cool coastal campsites here that choosing the best place to camp  can seem a bit overwhelming, especially if you're new to camping. A good place to start is by figuring out your preferred location and budget and then considering what facilities you are looking for in a campsite? Do you want a remote campsite with very basic facilities, or are you looking for a campsite with extensive amenities like hot showers, electric hookups, and an on-site café, or maybe a dog-friendly site? 
Another thing to consider is what fun activities or family attractions are nearby? Are there hiking and biking routes in the area? Surfing opportunities, or maybe fishing villages and seaside towns to explore? 
Think about what your ideal campsite might look like and you can start your camping research with a must-have checklist. 
Whether you are pitching up your tent, or rocking up in a kitted-out camper, there's plenty of coastal sites to choose from across the UK that will meet your requirements.
From the scenic Welsh coast to serene Scottish beaches and luxury Cornish beach glamping, there's a campsite for you in the UK. Why not plan your coastal camping holiday with my pick of the best beach campsites in the UK and start planning your next night under the stars. 
Troytown Farm Campsite, St Agnes, Isles of Scilly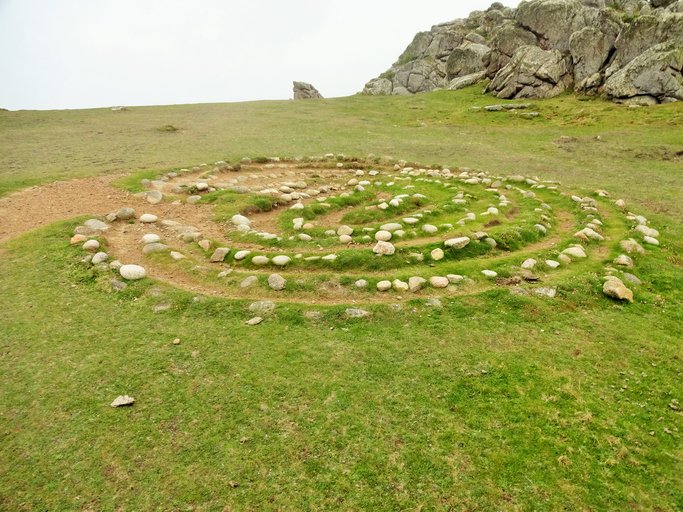 The serene Isles of Scilly are a group of beautiful small islands located approximately 40km away from the southwestern tip of Cornwall. 
Troytown Farm campsite is located above the beach on the island of St. Agnes and has panoramic views of the Atlantic horizon. 
It's also a working dairy farm producing fresh milk, cream, butter, and ice cream daily that you are welcome to explore and learn more about during your stay. 
Amenities are plentiful at the campsite and include hot showers, toilet facilities, and laundry. There's also a convenient onsite shop where you can find fresh produce or rent mats, chairs, and stoves. 
If you're looking for an active camping holiday that the whole family can enjoy, there are loads of nearby activities to keep you busy during your stay including snorkelling, paddle boarding, swimming, diving, fishing, and hiking. 
Eyemouth Sea Aire, Scotland 
Eyemouth Sea Aire is a dog-friendly and family-run camping site that's only 30 minutes from the famous Holy Island in Scotland. 
It's a small site where you can bring your campervan for a coastal stay near local beaches. Nearby you'll find a friendly local pub, lively fishing village, boat trips and a golf course. So there is plenty to keep you entertained on your Scottish camping adventure. 
Make sure to also pay a visit to the pretty town of Eyemouth and the sandy north-facing beach there. This exposed beach is well-known for being a great spot for catching crabs and also has fairly reliable surf if you want to spend the day riding the waves.  
It's a bit of a rustic and simple camping spot as showers and toilets are not provided, so you'll either need to bring your own facilities or maybe make it a quick overnight stop on a Scottish road trip? 
They do however have a water point and free WiFi on-site and all their pitches are set on a reinforced mesh grid which strengthens the grass underneath. 
Shortlake Farm, Weymouth, Dorset 
This coastal countryside campground is perfect for families looking for a coastal campsite that has lots to offer the kids.
There are wide open fields for children to run and play, as well as exciting, hay bale playgrounds. The campground also has a private beach for swimming, and fossil hunting just a short ten-minute walk away.
The site has a charming farm shop, courtesy of the neighbouring farm and campsite Eweleaze Farm, where you can find an abundance of organic bread, pastries, fruits, vegetables, dairy products, and meat raised right on the farm. 
Their handy shop also has a supply of camping equipment, stoves, BBQ gear, sunscreen, kites, and more in case you've forgotten some camping essentials. 
Amenities include a wood-fired pizza van serving organic pizzas, charcoal grills, hot showers, composting toilets, and tame farm animals.
The Shortlake Farm campsite is only open to the public during the summer months, but the grounds are very spacious, so finding a decent spot to camp should be a breeze. 
Manor Farm, Norfolk, England 

If you're looking for an idyllic countryside campsite that's near the coast, then Manor Farm is the perfect spot for you.
This family-run campsite is the perfect place for families and couples alike to get away from the stresses of everyday life. There's ample space to run and explore and reconnect with nature.
The site is set on 18 acres of rolling countryside on a small mixed farm with sheep and cows, giving the site a rustic and rural feel
A rural farm track runs through the site making it quiet and safe for children & pets and far away from any busy roads.
Their impressive amenities include laundry and washroom facilities, electric hook-ups, BBQs and fire pits. 
You'll also find six amenity blocks, all with free hot water and spacious showers, which is ideal after a day at the beach. Four of the blocks have a large family shower room and a hairdryer and razor points are provided in all blocks. 
The Manor Farm campsites are also within easy walking distance from the Victorian village of Cromer and the town of East Runton. Both of these towns have coastal beach access, restaurants, pubs, and shops to explore. 
Lusty Glaze Beach, Newquay Cornwall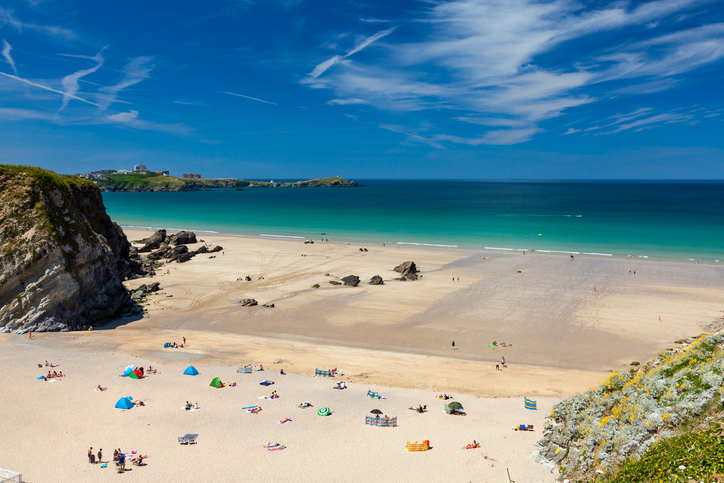 Lusty Glaze is the ultimate in high-end coastal camping in Cornwall for those looking to spoil themselves with a swanky stay right on the shoreline. Their exclusive 'yurt collection' campsite, that's located right on Lusty Glaze beach itself, is only available during the summer months and has a hefty price tag. 
It was crowned Beach of the Year in 2017 by The Times and The Sunday Times and with its serene setting, it's easy to see why.
The picturesque and private horseshoe cove is reached via 133 steep steps, down to a sandy beach and magnificent Cornish swells and is a luxurious camping experience that is unrivalled in the UK. 
There are 12 camping yurts for hire down on Lusty Glaze Beach, meaning a maximum of just 24 guests at any one time, giving it an exclusive feel. 
Beach glamping stays are bespoke at Lusty Glaze and can be tailored with a variety of fun activities such as yoga, surfing or jet skiing. There's also an on-site coastal chic restaurant and bar that offers the most spectacular views of the beach, a beautiful backdrop for a romantic dinner by the sea. 
The luxury bell tents are pitched as close to the ocean as you can be, meaning you can wake up to the soothing sounds of the waves rolling in. 
Their spacious bell tents feature a double bed and also come with their own private wet room facilities. This truly is beach camping with style!
Hill End campsite, Llangennith, Wales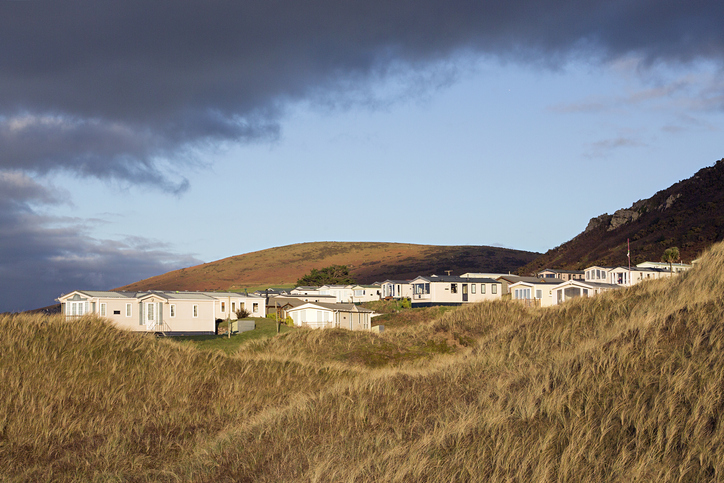 One of the best places for camping in the Gower Peninsular in Wales is near pretty Llangennith beach. This sandy Welsh beach is a popular spot for both surfing and camping and appears to stretch for miles. 
Hill End campsite is a large coastal campsite that's located just behind the dunes of Llangennith beach. It consists of several flat meadows next to undulating sand dunes.
Walk up the dunes at sunset to get the most colourful photos of the sun sinking into the sea.
The campsite is also an ideal overnight spot for keen surfers as the beach is only a short walk away and has pretty consistent waves. If you're new to surfing, why not book surf lessons for the whole family? Many surf schools operate on Llangennith beach and from the Hill End campsite. Let the experts teach you how to ride the waves safely and command the board in style. 
Hill End is well equipped for beach campers with toilets, hot showers and washing up facilities. On-site, you'll also find a modern cafe-bar with lush sea views that serves a mighty fine Welsh breakfast.
Ocean Pitch, Croyde Devon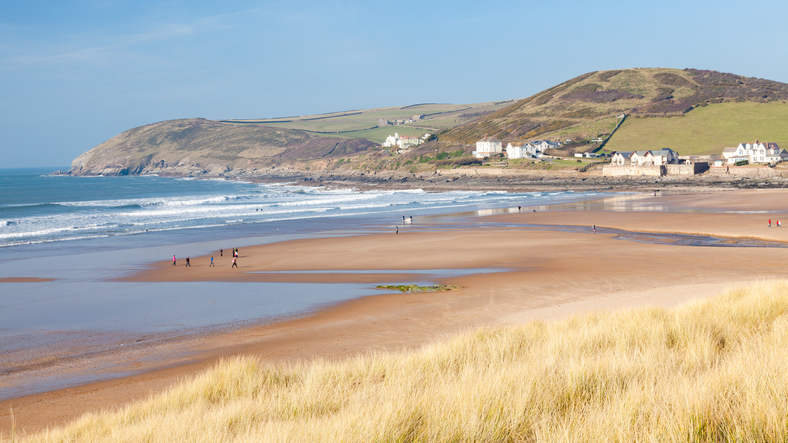 Ocean Pitch campsite in Devon is the top-rated campsite in the area and you can choose from "glamping" with stunning views of Croyde Bay, tent camping, or RV camping. The campsite is a mere 50 yards (three-minute walk) away from the action-packed Croyde beach. 
The beach here is perfect for surfing and lessons are available, you can also enjoy long walks along the coast, sunbathe, or fly a kite on the beach. Looking for something a little more adventurous? Try coasteering,. which involves swimming, climbing, scrambling, and jumping along the coastline, with a local guide. 
Amenities at Ocean Pitch include free wi-fi, BBQs, camper's fridge/freezer, battery charging station, indoor facilities, electric hook-ups, and a shop to rent surfboards, wet suits, and paddleboards from. 
Stop by the onsite Snack Shack for a quick bite to eat, or pop into Biffen's Kitchen, a surf-inspired street food van with delicious meals like chicken katsu, Moroccan wraps with chicke, and halloumi, or satay chicken curry. 
Whitby Holiday Park, Whitby North Yorkshire
This cliff-top park offers glorious views overlooking Saltwick Bay, and the North Yorkshire Coastline. 
It's a dog-friendly site with snazzy glamping pods with two bedrooms and a kitchen, pitches for your RV, and traditional tent camping. The park is just a brief walk from Whitby where you will find an array of restaurants, shops, and cafes to explore. 
Amenities at Whitby Holiday Park include laundry facilities, free wifi, a shop, a cafe, and a pub. It's a coastal campsite with plenty to offer families looking for a seaside break with plenty of facilities and kid-friendly activities. 
There are also indoor shower facilities with hot water and a spot to wash up any dirty dishes you might have. The kids will love the awesome playground that's suitable for children of all ages, and the nearby beach is perfect for wading, rock pooling, and fossil hunting. 
Heritage Coast Campsite, Vale of Glamorgan, Wales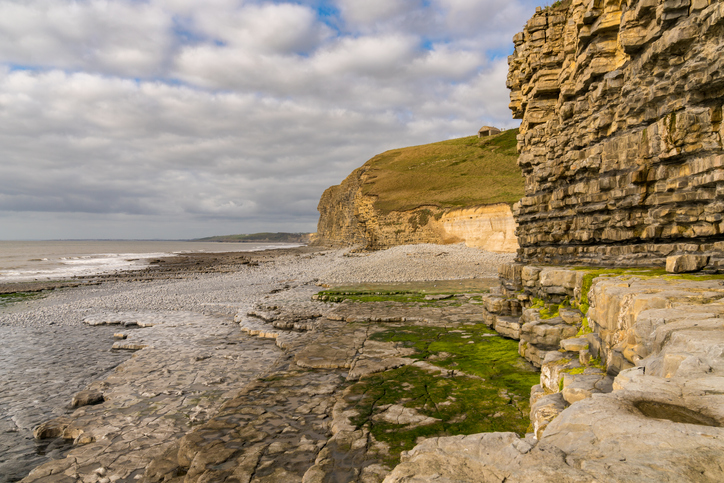 Heritage Coast Campsite offers family-friendly camping in an idyllic coastal location near the secluded Monknash Beach. 
They have pitches for tents and camper vans, and if you fancy a spot of fancy beach glamping, there are spacious, 5m glamping bell tents available for hire.
The campsite is well equipped with grassy tent pitches, electric hook-up for campers, fire pits, toilets, showers and a wash-up area. If you don't fancy cooking your own food, check out the on-site café bar for breakfast and dinner options. 
Make sure to take an evening stroll down to the nearby Monknash Beach to snap some glorious sunset photos on the striking bedrock beach.
Monknash beach has captivating coastal scenery and 300 million-year-old fossils embedded in the rocks that the kids will love to spot. 
Pick up a free Geology leaflet from the Heritage Coast Centre and learn more about the historic remnants of the Carboniferous, Triassic and Jurassic periods that shaped this unique Welsh coastline. 
Henry's Campsite, The Lizard, Cornwall
A small and unique, hippy chic campsite that feels much more like staying in a quirky back garden rather than a campsite. It's at the top of Caerthillian Valley within a couple of minutes walk from the village centre and just ten minutes walk to the coastal paths. Campers will love spectacular sea views and sunsets and easy access to nearby beaches such as Kynance Cove. 
Henry's Campsite is a characterful place with an array of wild and cultivated plants, sculptures, artwork, free-roaming chickens and ducks, and rather rustic amenities It might be better suited to campers looking for a quirky, off-beat coastal camping experience rather than a site with sleek facilities.
On-site you'll find showers, hot water for washing up, electric hook-ups, tumble dryer, washing machines and recycling facilities, as well as live music and the arts and crafts organised for  kids. 
 
Make sure to visit nearby Lizard Village for a pint or an ice cream, or take a scenic hike along the coast path to dramatic and secluded Kynance Cove. It's a steep trek down to the rocky bay but it's worth it to swim in turquoise waters and gaze at the incredible serpentine rock formations. 
Cushendun Holiday Park, County Antrim, Northern Ireland

Cushendun Holiday Park is a family-friendly site in County Antrim set in an attractive woodland that's within a 5 minute walk of a beautiful beach. There's also a small village nearby which has a shop, café, restaurant, pubs and a scenic harbour.
The park offers costal camping as well as pitches for touring caravans, and camper vans, giving holidaymakers plenty of accommodation choice. 
Here you'll find free wifi, as well as electricity supply to pitches at no extra charge. There is however a small charge incurred for shower facilities. 
It's an excellent base to explore many popular Game of Thrones film locations in Northern Ireland, including Cushendun Caves. 
These alluring caves were featured Game of Thrones season two, as a cove in the Stormlands. They are the location where Melisandra dramatically gives birth to the 'shadow baby'.