While you might not plan to journey quite as far as the Pacific Ocean in 2022, January is traditionally a peak time to book holidays and, with the pandemic teaching us to slow down if nothing else, Stevenson's philosophy resonates. 
'Slow travel' was already emerging as a trend before Coronavirus, as travellers started to take heed of their carbon impact on the environment. Now, as destinations open up again, it's the obvious option for any eco-conscious tourist seriously rethinking their footprint.
Less about the end destination and more about the journey, slow travel aims to build a sustainable transport ecosystem while alleviating pressure on tourist honeypots and supporting local businesses. Cat Jones founded travel start-up Byway, ironically, the week the UK went into lockdown in March 2020. 
Cat said: "I raised a few eyebrows when I left a wonderful job to found Byway – but it was actually the perfect time. Holidays built around delightful experiences away from the crowds have never been more needed, and lockdowns have shown us the environmental recovery that's possible when we stop flying."
Byway offers an ABTA-protected package built around each customer's preferences – including those travelling with pets – with the flexibility to replan or cancel your trip with changing travel restrictions. Byway's emphasis is on experiencing the world by travelling through it, rather than flying over it, with awe-inspiring detours factored into trips across the UK and France. If you'd like to take a leaf out of the slow travel book in 2022, here's how!
Go long
Long-distance walking, to be precise! It's hard to think of a more sustainable way of travelling than on foot, and your heart and fitness levels will certainly thank you for it too. There are 16 National Trails in England and Wales, with the equivalent, Scotland's Great Trails, north of Hadrian's Wall (itself a National Trail!). The Long-Distance Walkers' Association is a fantastic organisation with a comprehensive database of paths, and you can also find inspiration in our 10 best walking locations in the UK.
Remember to build up slowly if you're new to hiking – a weekend's backpacking might be a better start than a three-week trek! Think carefully, too, about whether you want to carry your full camping kit or book accommodation along the way. The YHA offers hostel rooms for all ages, as well as camping pitches, cabins and landpods, while Inn Travel – known as the Slow Holiday company – offers self-guided walking, cycling and ski breaks 'to no one's timetable but your own' for those who like the reassurance of booking with an expert firm.
Take the s-train away
According to Byway, rail travel accounts for just 14g of CO2 per passenger mile, compared to 285g for air. That means you could get the train from London to Edinburgh and back five times and your carbon footprint would still be lower than if you flew there! 
Eco-proofing its fleet even further in 2022 is LNER, which covers 900 miles of track between London and Scotland. Its new Azuma trains are a diesel-electric hybrid and have plenty of on-board bike storage too. Buying a railcard can make rail travel work out much cheaper than taking the car, with options including Family and Friends, Student, Disabled, Senior and Veteran. National Rail Enquiries regularly updates its Coronavirus Travel Advice, which includes information on travel safety and what happens if your plans change.  
You might also want to check if friends are planning a UK holiday and, if so, where they are going. If you're travelling to a similar part of the UK, car pooling could make your budget go further – quite literally!
House swap holidays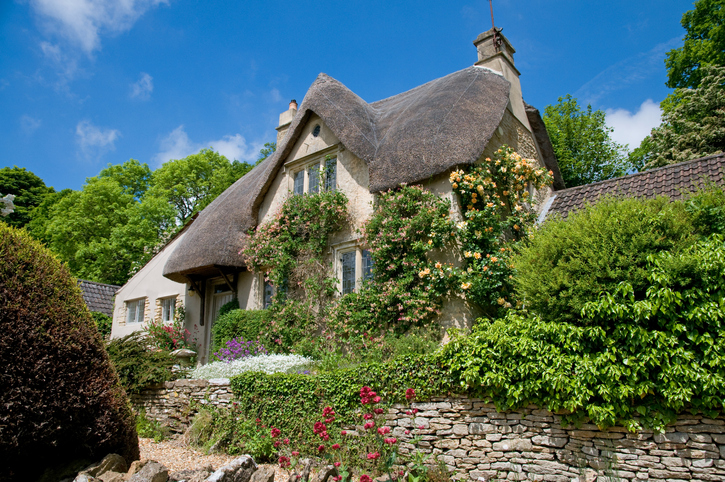 Ordnance Survey predicts that the UK staycation is here to, well, stay in 2022 – but who says the house you stay in has to be your own?
House swap holidays boomed in 2021 as UK accommodation booked up fast and tourists sought alternative means of getting away. Home swapping offers not only the benefits of a cost-effective place to stay, but also the opportunity to support local and contribute to the micro economy – a cornerstone of slow travel.
Beyond asking your network of friends and colleagues if they'd like to house swap, it's best to sign up to a reputable site such as Love Home Swap or The Guardian's Home Exchange. If you have pets, House Sit Match is the perfect place to find someone to look after your pets and home while you're away, or to find an owner who will happily let you care for theirs!  
Before the house swap, have a chat with the swap-ee about things to do in their local area and the best places to visit in your community. If you plan to house swap regularly, you might consider creating a folder of up-to-date tourist leaflets and handy details such as restaurants, pubs and the local A+E. 
Don't be afraid to draw up house rules, either. Love Home Swap has sound tips on safety and security, including what to do if you accidentally break or damage something. It's a good idea to include accidental damage cover on your home insurance policy, but you must tell your insurer that your home is being used by others. 
(Home from) Home Alone
No matter how much we're in need of a break, many of us are still concerned about proximity to others, yet plenty of unforgettable accommodation away from the crowds is available. Take a look at conservation organisations like the Landmark Trust and National Trust, which offer holidays in historic buildings – including several on remote islands! 
The Greener Camping Club is more Bye-de-Bye than Hi-de-Hi!, with its network of low-impact, boutique campsites in stunningly secluded locations. You'll be lucky to get an electric hook-up, you'll probably experience a compost loo and you will undoubtedly lie under the stars, listening to nothing but nature for a soundtrack. Kip Hideaways is another treasure, describing itself as 'small places with soul' and, like Greener Camping, it pledges to plant a tree for every new annual membership.
Borrow A Boat is the place to find a canal or riverboat in which to wend your way along the UK's waterways and, in an industry first, the company has launched its own Environmental and Social Governance Policy. This includes Borrow A Boat's Sustainable Boating Guide, which is issued to every customer and gives practical advice to help you go boating more sustainably, from anchoring safely to refuelling and understanding the on-board greywater system. 
Similarly, you could hire a campervan or motorhome to take the roads less travelled around the UK, and our guide to scenic campervan roadtrips might help you decide where to go! Check out van rental firms such as Camptoo, which offers 24/7 support as well as refunds in the case of Covid cancellations. 
Whenever hiring a vehicle, check it has the right campervan and motorhome insurance, and don't forget the extras, such as gadget insurance for cameras, phones and devices. Also, read up on regulations in your chosen destination – for example, there's no legal right to park up on the roadside in Scotland, while many national parks and beauty spots are now discouraging overnight campers.
With more than 20 years' experience in journalism and PR, I've worked with the BBC, ITV, Trinity Mirror, Metro, MSN and many more leading media, as well as a range of third sector and corporate clients including Macmillan Cancer Support, Visit the Vale and the NHS. A number of my short stories have been published in anthologies and I've written three collections of walking trails in south Wales. Always happiest in the great outdoors, I'm an Ordnance Survey Get Outside Champion and blog about my hiking and camping adventures at www.girlonthetrail.co.uk. I have two teens and a rescue greyhound called Lionel, who, to my shame, is possibly the world's worst hiking dog (the teens aren't much better).