With Christmas almost upon us, it's time to start planning *all* the festive activities in order to make the most of the season. You know the ones I mean: sipping mulled wine with friends, decorating the tree, watching Christmas films (is it possible to get through December without watching Love, Actually and Elf? I think not), baking gingerbread...and visiting European Christmas markets!
European Christmas markets are some of the best in the world. This should come as no surprise considering the birthplace of the Christmas market was Germany, way back in the Middle Ages. We're so lucky here in the UK that we have some great Christmas markets of our own, but it's also easy and affordable to hop on a budget flight and get away to one of the many markets around Europe.
They can be found all over the continent (and beyond), with each city offering its own distinct flavour and charm. Here are my favourites:
Vienna Christmas markets
There's a reason why Vienna frequently tops lists of the best European Christmas markets! There are plenty to choose from, dotted around the city in squares and outside opulent palaces, but the biggest (and arguably the best) of the lot is outside the city's Rathaus (Town Hall).
Not only is this Christmas market stunning to look at (it's festooned in thousands of colourful lights, set against the impressive Town Hall, dominated by an enormous Christmas tree and comes complete with quaint wooden huts), but it's also got loads to offer visitors. You can try different festive treats, shop for local trinkets, snap pictures in a photo booth, watch a live choir performance, and much more.
Dates: 11 November - 23 December 2022. Some will stay open later. 
Direct flights from: London (Gatwick, Stansted and Heathrow), Birmingham, Manchester, Edinburgh, Liverpool
What to buy: As well as the usual delicious foods like mulled wine and roasted chestnuts, keep an eye out for potatoes. Yes, potatoes! But these aren't potatoes like you know them – they're actually made from marzipan. This is a typical Christmas product and you'll find other marzipan fruits and vegetables but potatoes are the most popular. Never has a potato tasted so sweet!
Strasbourg Christmas markets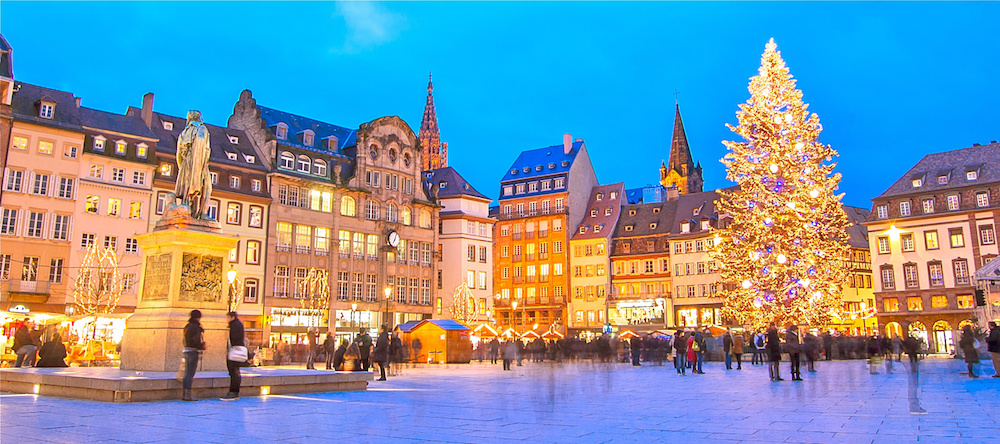 I'll be honest here – the markets in Strasbourg, while lovely and festive and very similar to many other European Christmas markets – aren't really the main draw.
The reason why Strasbourg in France makes this list is because of the way the city is decorated during the festive season. I've never seen anything like it! Almost every shop front is adorned with baubles, wreaths, lights, trinkets, and in one case, even hundreds of stuffed toys. It's incredible, and everywhere you look there's another breath-taking Christmas scene.
The atmosphere means that even if you're nowhere near one of the many markets around the city, you can't help but feel fabulously festive!
Dates: 21 November - 23 December 2022
Direct flights from: There aren't direct flights from the UK so it's easiest to stop in Amsterdam or take a train from Paris.
What to buy: Look out for the beautiful handmade ornaments and Christmas tree decorations at Christkindelsmärik.
Tallinn Christmas markets
The town of Tallinn in Estonia looks like it's been taken straight from between the pages of a fairy-tale. It's a Medieval walled city, so even without the Christmas markets it's nothing short of picturesque. But come December, the Town Hall Square is transformed into a magical winter wonderland.
The centrepiece is a gigantic twinkling tree – Estonia claims that they were the first to put up a Christmas tree, in 1441 – and surrounding the tree are traditional wooden chalets selling handmade woollen goods, Christmas decorations, and delicious Estonian treats.
Dates: 25 November - 8 January 2023
Direct flights from: London (Luton and Gatwick), Edinburgh
What to buy: Treat yourself and your loved ones to some traditional Estonian Christmas food such as black pudding, sour cabbage and gingerbread. 
Krakow Christmas markets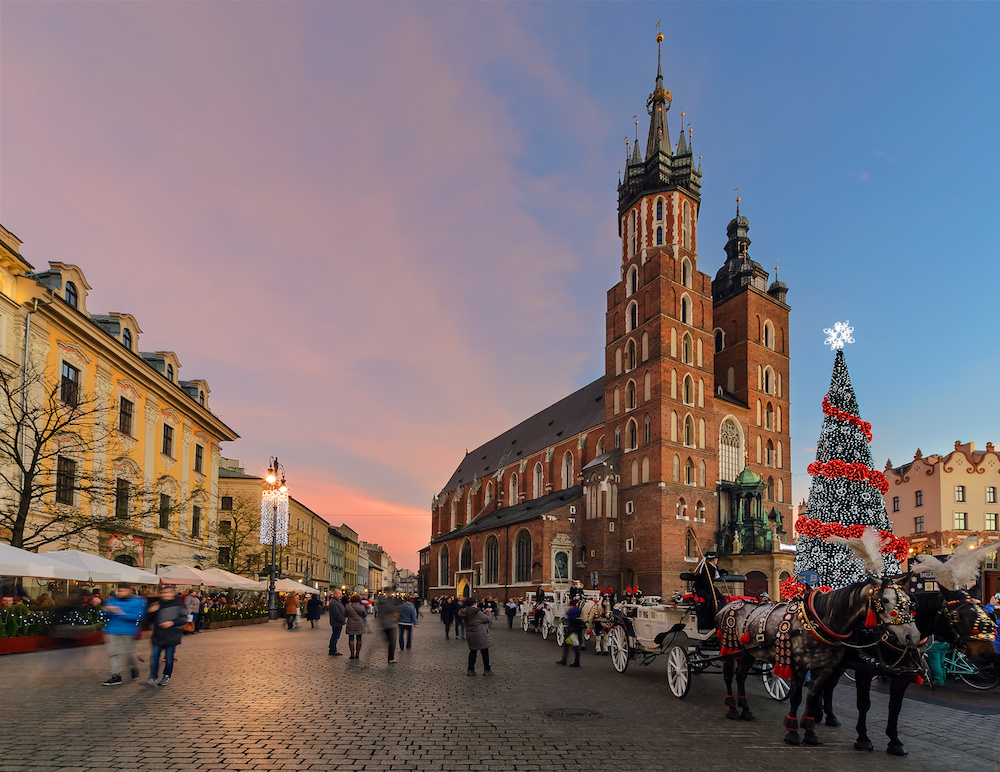 Each year, the historic city of Krakow hosts a traditional Christmas market in its 13th Century main town square – Rynek Glowny – the largest town square in Europe. The market stalls sit in the shadow of the incredible St Mary's Basilica, along with a tree, decorations and plenty of twinkling lights.
Adjacent to the markets is the covered Renaissance cloth hall, or Sukkennice, which is another market selling amber, local handicrafts and jewellery.
Dates: 25 November - 26 December 2022. Some will stay open until 2nd January 2023.
Direct flights from: London, Edinburgh, Manchester, Birmingham, Doncaster, Belfast, Glasgow, Liverpool, Leeds
What to buy: Slippers! You'll find lots at the Krakow Christmas markets as slippers are something found in every Polish home.
Budapest Christmas markets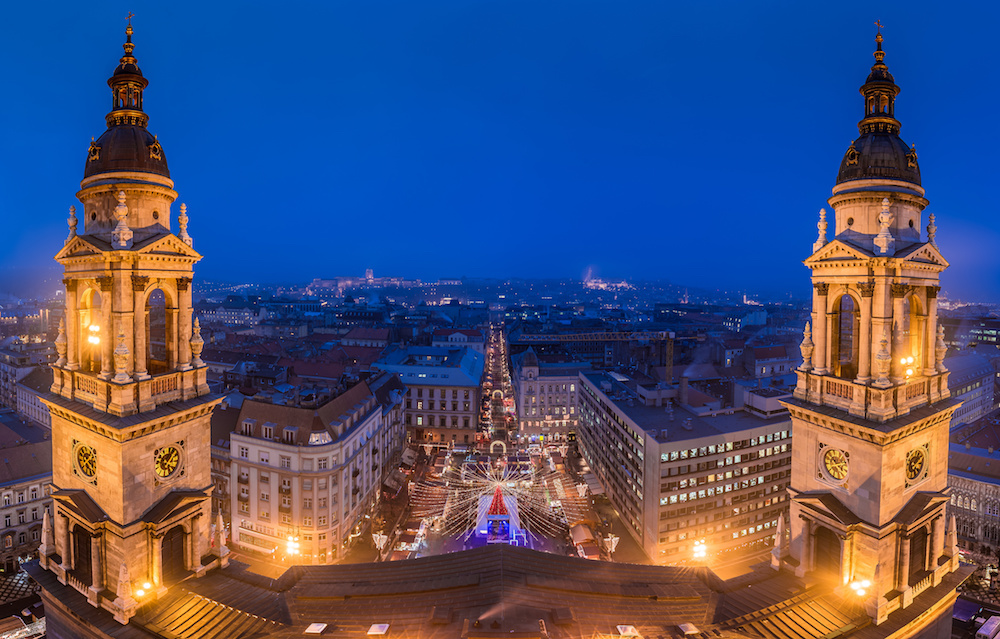 Budapest is a brilliant destination all year around, but it's especially amazing during the festive season. Practically every square comes to life with Christmas decorations, light displays, ice skating rinks, food and drink, and stalls selling all kinds of seasonal treats and trinkets.
The biggest and oldest of the markets is found in Vorosmarty Square, and here you'll find everything I've mentioned above, as well as live concerts. Just a stone's throw from here is another picturesque market: St Stephen's Square. They're charming, festive, and the perfect dose of festive fun in an already incredible city.
Dates: 4 November - 31 December 2022
Direct flights from: Liverpool, Birmingham, Glasgow, Doncaster, Nottingham, Bristol 
What to buy: Sheepskin rugs. It's cold in Budapest so you'll find a great selection of warm clothes and accessories, and lots of sheepskin rugs for your home!
Zagreb Christmas markets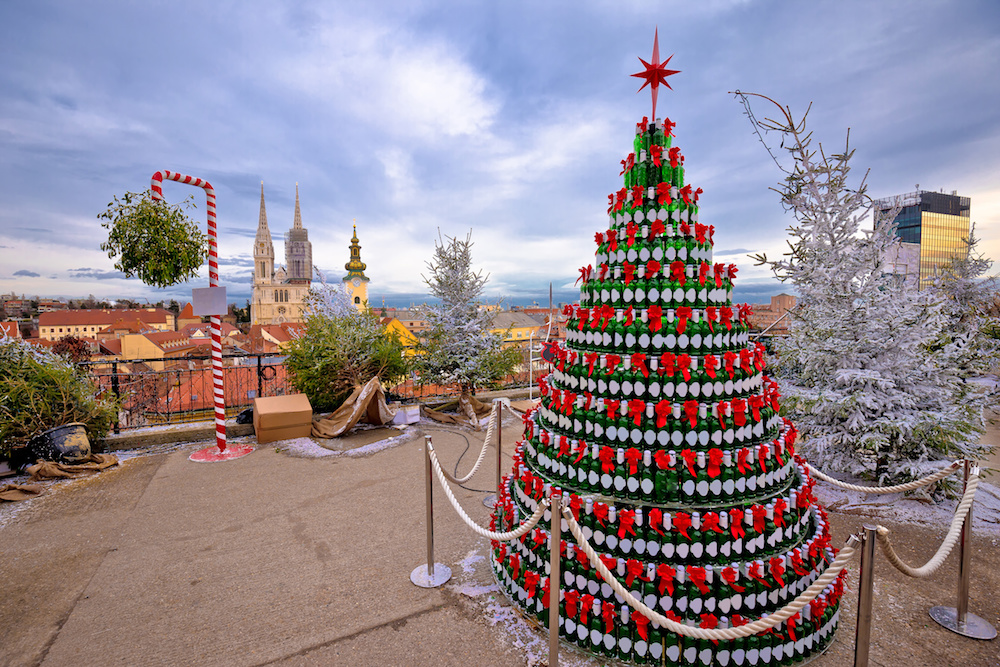 Croatia might not seem like the most obvious destination for a Christmas market, but it's been named the best European Christmas market for a number of years in a row.
The Christmas markets scattered around the city of Zagreb feature light displays, entertainment, festive treats and of course, plenty of shopping. The main markets are found in European Square, Ban Josip Jelačić Square and Zrinjevac Park, but there are things happening almost anywhere you look!
Dates: 26 November 2022 - 6 January 2023
Direct flights from: London Heathrow
What to buy: You'll find lots of beautiful wooden toys.
Berlin Christmas markets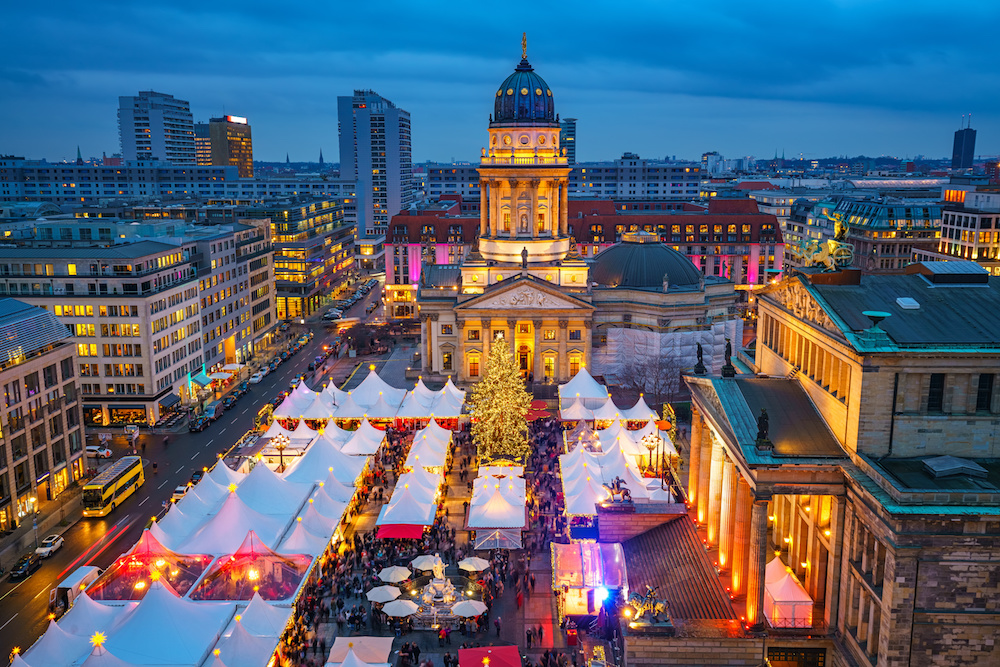 No list of European Christmas markets would be complete without mentioning some of the markets in Germany – the birthplace of the Christmas market – and Berlin is one of the best cities in the country for festive celebrations.
The Berliner Weinachtszeit, located behind Alexanderplatz, is one of the biggest markets in Berlin. Another top spot for festive fun is found at WeinachtsZauber, at the Gendarmenmarkt. But those two are only the beginning – all across the city, you'll find markets selling local crafts, art, food and drink, and perfect gifts for all of your loved ones to open on Christmas day.
Dates: 21 November - 26 December 2022. Some will remain open until 2 January 2023.
Direct flights from: London, Manchester, Edinburgh, Glasgow
What to buy: Rauchmannherstellung (incense smoking man). This adorable, handcrafted wooden man is a traditional Christmas decoration. Light some incense and it looks like he's smoking a pipe – it may be a bad example to the children in the family but it's cute!
Bruges Christmas markets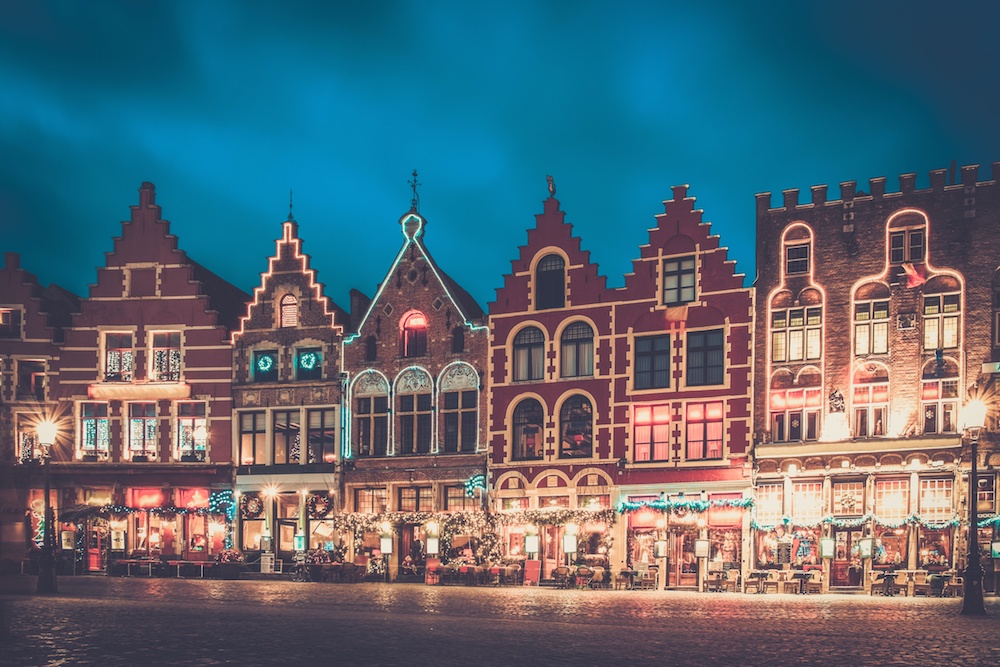 The Medieval chocolate-box city of Bruges is probably the most perfect setting for a Christmas market, as it looks like something you'd find behind the glass of a snow globe.
With gorgeous, colourful buildings lining picturesque canals, the Christmas markets of Bruges make this already stunning city like something from a fairy-tale. Visit Grote Markt, nestled under the famous Belfry, and indulge in some Belgian classics: waffles and, of course, chocolate!
Dates: 25 November 2022 - 8 January 2023
Direct flights from: You'll need to fly to Brussels and take a train to Bruges (it's very easy!). Or catch the Eurostar from St Pancras in London
What to buy: Chocolates! You can't leave Bruges without a few boxes filled with pretty chocolates.
Prague Christmas markets

The city of Prague has a special tie with the festive season: it's the birthplace of Václav, also known as Good King Wenceslas. Born in the 10th Century, the Good King is remembered in the popular Christmas carol, as well as in the market located in Prague's Wenceslas Square.
It's not the biggest of the festive markets in Prague – that one's found in Old Town Square, where there's an enormous tree, carols concerts and plenty of market stalls selling traditional goods. Make sure you sample some klobása – an Eastern European sausage that's best served piping hot with mustard.
Dates: 26 November 2022 - 6 January 2023
Direct flights from: London, Manchester
What to buy: Medovina. This is traditional sweet wine usually drunk at Christmas time.
Copenhagen Christmas markets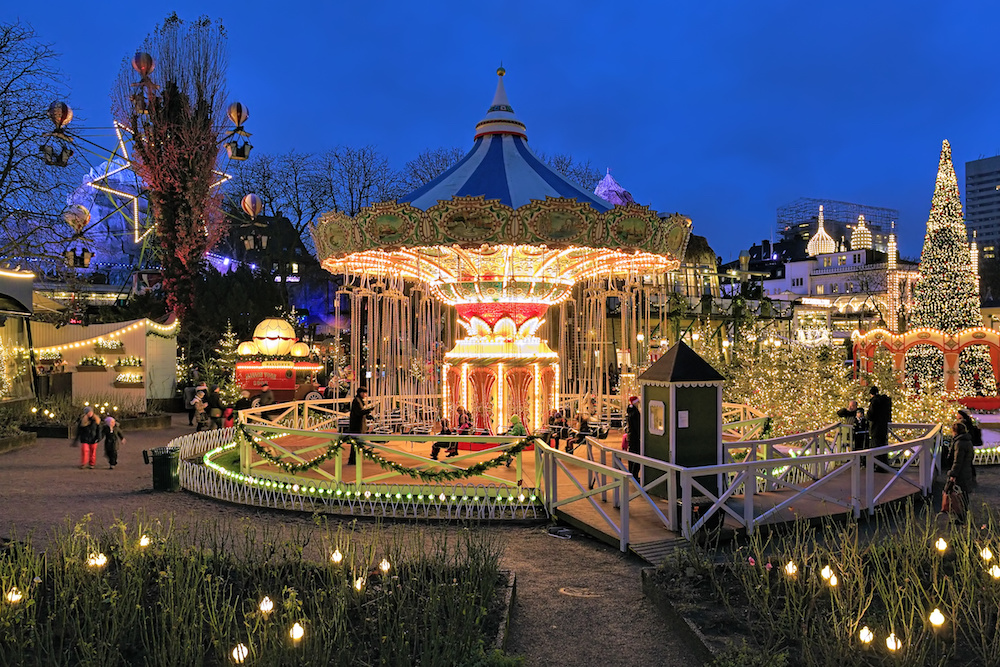 In Copenhagen you can find festive experiences that are both traditional and totally unique. Visit Freetown Christiania for a market that's inspired by an Oriental bazaar – you'll still find plenty of gift ideas, but it's certainly not your average European Christmas market experience!
If you're after more traditional Christmas markets, you'll have no trouble finding them in Copenhagen. One of the best is at the Renaissance Kronborg Castle, and another must-visit is the incredible Hans Christian Andersen Christmas market which, as you can imagine, is something like a fairy-tale – and perfect for kids!
Dates: 18 November - 31 December 2022
Direct flights from: London 
What to buy: Children's toys. What better place to buy handcrafted kids' toys inspired by fairy tales than at the Hans Christian Anderson Christmas Market?
Has your town got a beautiful Christmas market tourists would love to see? Find out about insuring your property with Admiral Host Insurance!