From wild mountain-top raves to luxurious spas, these awesome events are a far cry from the soggy mud of summer festivals held in a field. Forget the wellies and tents – it's all about ski boots and cosy chalets.
If you're about to embark on your first ever ski festival trip, you're probably wondering what to expect from the experience. Keep reading to discover everything you need to know with our essential ski festival guide for newbies.
1. Forget slumming it in a tent
One of the best things about a winter festival is that there's no camping, so you won't be sleeping on the cold hard floor. Ski festivals are set in some of the world's best ski resorts so at the end of a long day skiing and partying, you'll get to relax in a comfortable chalet or hotel.
There's a range of accommodation on offer from economy lodgings to luxurious pads, so you can pick an option to suit your budget. Not to mention most resorts also have a spa which will be a saving grace for soothing your aching joints.
2. There'll be plenty of ski time
You'll get to spend loads of time on the slopes at a ski festival with most offering the chance to ski all day and party all night. Some of the festival crowd just go to immerse themselves in the party atmosphere, but usually the festival tickets include a lift pass that gives you access to the breathtaking slopes. Don't worry if you're a beginner either – most festivals host lessons that range in ability to help you get your ski legs.
3. You need to research the weather
Make sure that you're prepared for the cold before you go! Make a note of the time of year for your ski festival and research the average temperature, then check again the day before you go to make sure you pack the right gear.
And fair warning – many have been caught out by forgetting to pack sun cream too. While the temperatures will certainly be too cold for sunbathing, the snow can reflect up to 90% of the sun's rays!
4. The parties are out of this world
Brace yourself for the craziest parties you've ever seen. Dance the night away at 90's themed parties, take a dip at a pool party and don your warmest dancing threads for igloo raves. If that isn't enough for you, Snowbombing even has its own party in a butcher's shop, with a local butcher as the DJ. Most people stay out partying until dawn, roll into bed, wake up, ski, repeat.
5. Brunch like you've never known it
Brunch isn't what you'll usually expect at a ski festival, but the bottomless brunches complete with a live DJ set are famous and a great way to get the party going as soon as you wake up. Remember to book in advance though as it's an extremely popular event at most festivals and regularly sells out.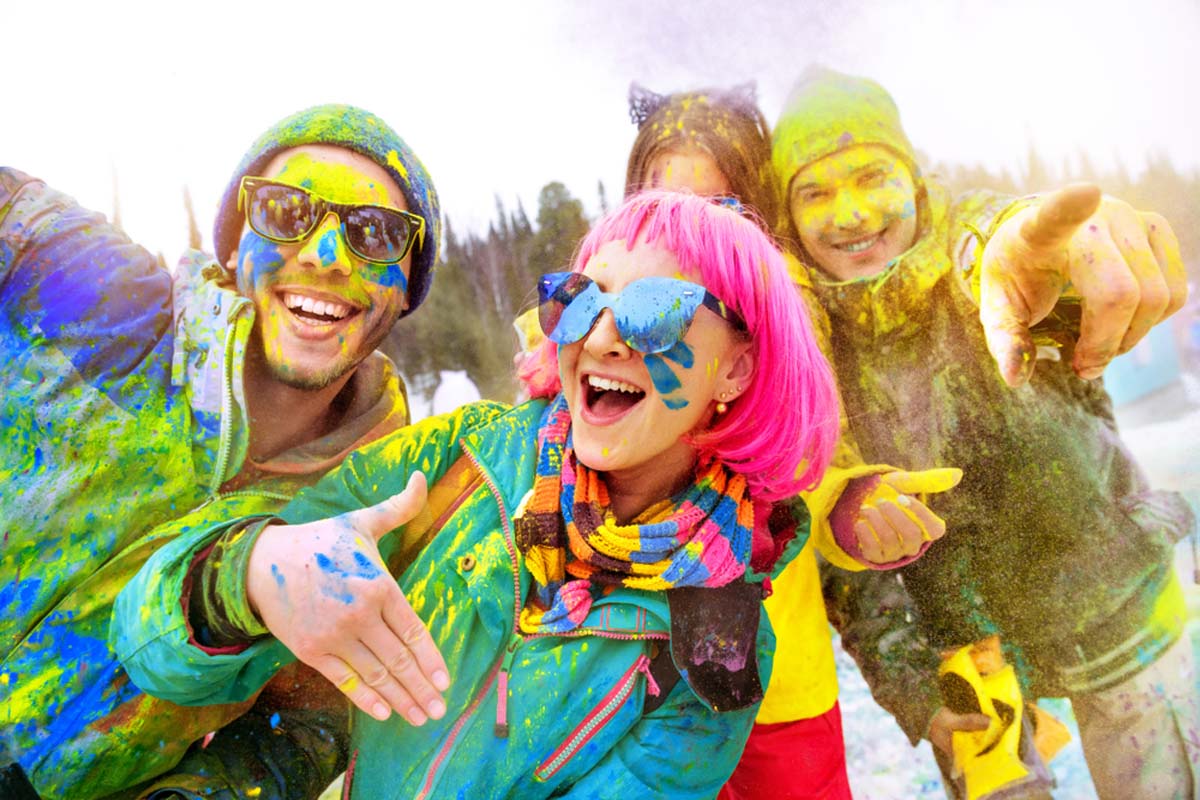 6. Nothing beats skiing through fresh powder
Whether you're a beginner or a true skiing aficionado, you'll appreciate the incredible feeling of being able to get up in the morning and ski through fresh powder. It'll be hard to stay in bed (no matter how hard you partied the night before), with a dusting a fresh snow and the promise of a full day skiing down some of the world's most amazing mountains.
All ski lovers adore the sight of fresh snow – here's 17 more things all ski aficionados can relate to!
7. It's not just skiing and partying
There's more to a ski festival than just skiing and partying – there are usually plenty of other activities on offer, so even if you're new to skiing you don't need to miss out on the fun. Snowboxx hosts seriously competitive snowball fights in their custom-built arena with team kits and ready-made snowballs.
Snowbombing offers the chance to become one with nature in the morning with alpine yoga overlooking stunning mountains, and there's even chairlift speed dating that promises to give you the most scenic date of your life. Check out your chosen festival's website for details on all the cool activities on offer.
8. You'll need fancy dress
Don't be alarmed if you see people dressed up as the Teletubbies flying down the slopes – fancy dress is a huge part of ski festivals! Some festivals have fancy dress themes each year, so don't be caught out and make sure you keep an eye on their websites for more info. Pack your weirdest, most creative costumes and prepare to witness some of the most bizarre outfits you've ever seen – it's sure to be an experience you'll never forget.
9. You'll need comfy shoes
A ski festival is no place for high heels – even at the parties – so don't take up valuable space in your suitcase with shoes that are useless in snow. Everyone dons their ski boots 24/7 so make sure yours are comfy enough for constant wear and dancing as you'll be on your feet all day (and night) long.
For more tips on what to take, read our handy ski festival packing list! 
10. Pace yourself
One of the most essential tips for our first-timer ski festival guide is don't forget to pace yourself and take time for a little self-care. A week-long adventure of partying and skiing can really take its toll, so make sure you eat plenty of warming meals, stay hydrated and take the time to rest, relax and unwind before hitting the slopes and party scene once more.
Find your perfect ski festival with our tool
Find your perfect ski festival anywhere in the world by answering five quick questions!