There was a time when people were happy with golden sands, blue skies and gentle waves lapping at the shore, but now we're looking for more.
We want the best bucket list beaches, the most incredible scenery, epic adventures, memorable experiences or deserted beaches without another person in sight.
If you're looking for the most unique, most beautiful or most memorable beaches for your next holiday, keep reading. And if you're looking for other bucket list travel experiences, we've got you covered there too!
Pink Sand

b

each, the Bahamas
We usually associate golden sands with the perfect bucket list beach but Pink Sand beach in the Bahamas is shaking things up. Before we go any further, it's worth noting that the sand might not be what your Instagram feed depicts. This pinky hue is subtle and rosy so don't be fooled by an Instagram filter that makes it look flamingo pink!
The pink tint to the sand comes from foraminifera, marine creatures with reddish pink shells, as well as broken coral and shells. Regardless of what shade of pink it is, the beach is stunning with crystal clear water perfect for swimming and snorkelling. And did you know snorkelling is covered as standard with Admiral Travel Insurance? 
Vik

b

each, Iceland
We're going from the colourful sand of the Bahamas to the black sand of Iceland on Vik beach. With glistening black sand and foamy white waves, Vik beach is one of the most dramatic beaches I've ever visited. My first visit was in the winter when huge blocks of ice littered the shoreline and slowly melted into natural ice sculptures.
The beach is framed with dramatic cliffs and a hidden cave is the perfect place to shelter from the elements and enjoy a picnic.
Whitehaven Beach, Australia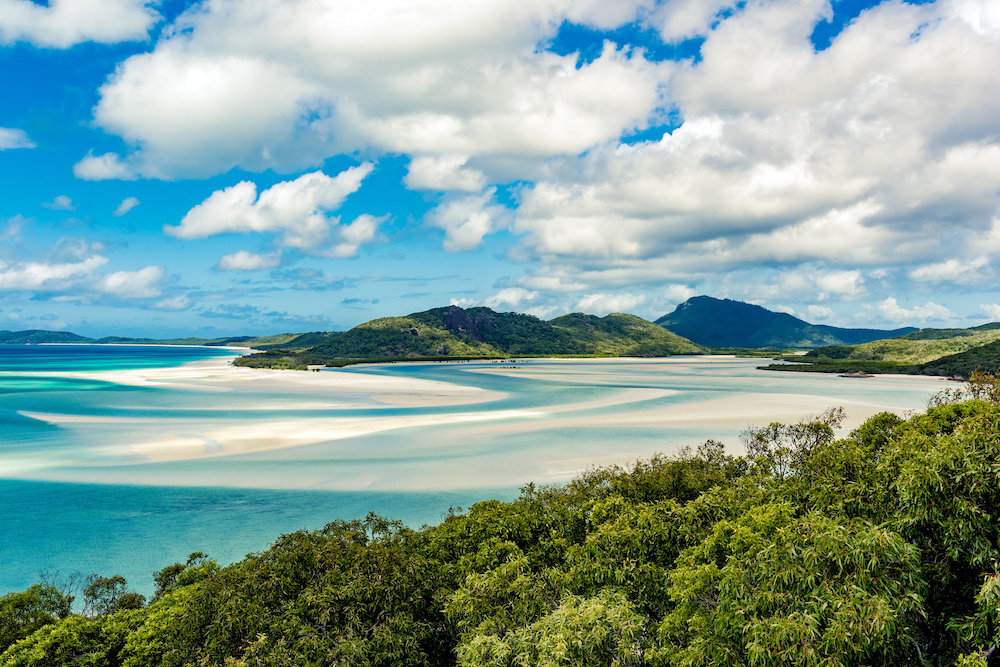 This stunner of a beach is the largest of the 74 Whitsunday Islands and when you picture 'paradise' this is pretty much it. Whitehaven Beach is an award winning beach and the sand is genuinely white. Yes, really!
There are so many beaches described as having 'white sand' but when you arrive it's actually golden. Don't get me wrong, golden sand is beautiful but white sand is something else!
The sand on Whitehaven Beach is so fine that it squeaks beneath your feet and it's said you can use it to clean your jewellery.
Marina Grande, Positano, Italy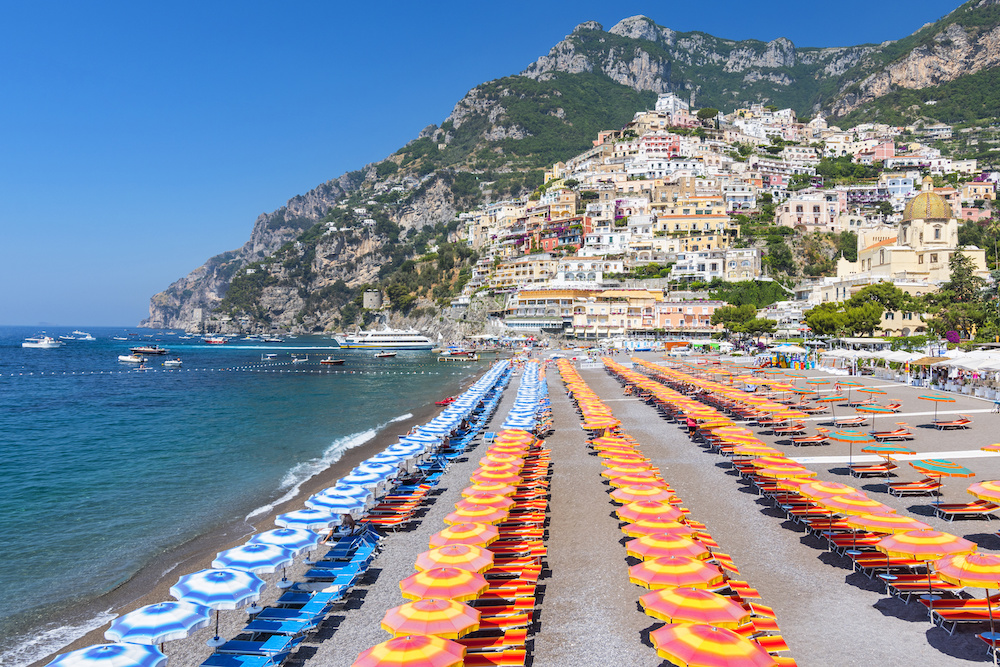 Marina Grande beach is another Instagram favourite thanks to the beautiful, clifftop town in the background, the famous orange umbrellas and the emerald waters. The busy beach isn't the place for peace and relaxation but if you're looking for a bustling atmosphere and an epic backdrop then this is the place for you.
And let's not forget the beach is surrounded by some incredible Italian restaurants where you can enjoy fresh seafood looking over the shore. Perfezionare!
Boulders

b

each, South Africa
Animal lovers can't miss a trip to Boulders beach in South Africa. The beach is beautiful in its own right thanks to the sheltered inlet with white sand and clear water, but Boulders beach is made famous by the resident penguins.
There are thought to be around 2,000-3,000 African Penguins living on the beach and, as an endangered species, the penguins are protected as part of the Table Mountain National Park Marine Protected Area.
There's a fee to enter the beach but don't let this put you off. The entrance fee is generally considered to be a good thing, as it helps with conservation and ensures the beach is rarely too busy.
Pig

b

each, the Bahamas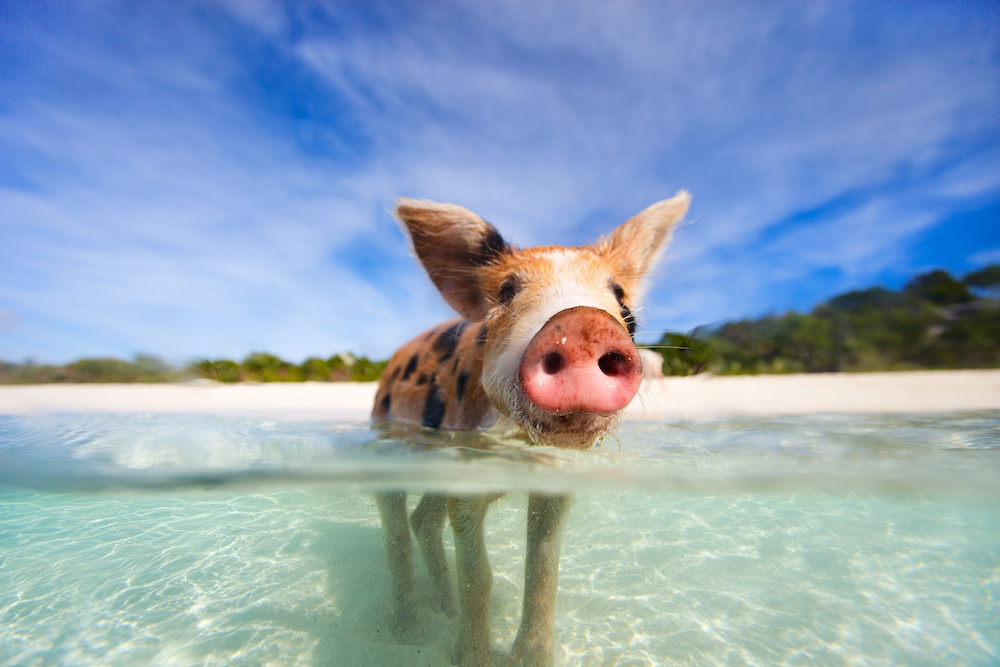 From one animal-themed beach to another and the second mention for the Bahamas! Pig Beach is on an island in Exuma and, if the name hadn't already given it away, it's inhabited by a colony of pigs.
No one knows how the pigs got there but, one thing is for sure, these porkies love to swim and they attract tourists who love to see their cheeky faces splashing in the sea.
Railay

b

each, Krabi, Thailand
During the three months I spent in Thailand, Railay beach was my favourite place. The craggy, limestone cliffs that jut out of the emerald sea make the most dramatic backdrop. The beach is accessible by longtail boat, which further adds to the magical atmosphere. There are places to stay and lots of places to eat and drink and little shops to explore.
If you'd like an adventure, hike up to Railay beach viewpoint for an incredible view over the beach and an exciting scramble through the dense forest. Watch out for the monkeys who aren't afraid to check out your bag for snacks!
Cathedral

b

each, Ribadeo, Spain
This is one of the most unusual yet surprisingly unknown places on the bucket list beach list. Cathedral beach in Ribadeo gets its name thanks to the incredible arches formed after years of erosion by the sea. The archways look more like a sculpture as they form the structure of a grand and impressive cathedral.
You can walk between the dramatic cliffs at low tide and visitors are capped at 5,000 per day so it doesn't get overly crowded. Be sure to book your space in advance, especially in the summer.
Benagil

b

each, Algarve, Portugal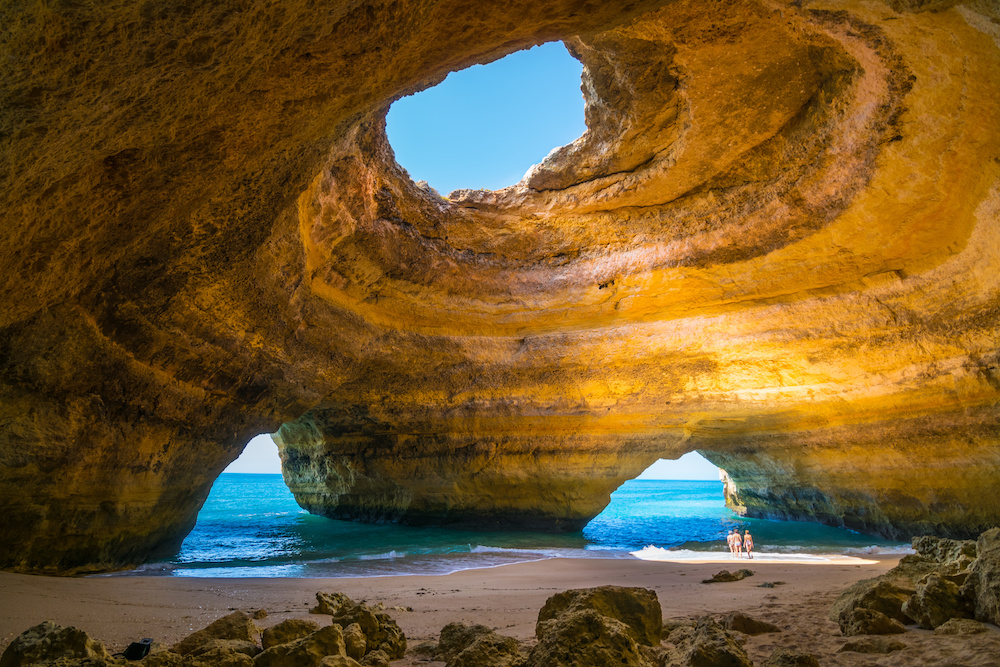 Benagil beach is a small but beautiful golden beach framed by the gorgeous blue waters the Algarve is famous for. But there's something extra special that makes it a bucket list beach and that's Benagil Caves.
The cave is accessible by boat and low arches lead the way inside. As you paddle beneath the arches you'll feel like you're in a film hunting for treasure, so this is a great adventure for kids! There's a large circular hole in the roof of the cave where light streams through and dances off the water, giving a truly magical glow all around.
Giant's Causeway

b

each, Northern Ireland
This one might be cheating because the stony beach at Giant's Causeway isn't the main attraction here but the incredible basalt columns that form this UNESCO World Heritage Site are.
Around 40,000 interlocking columns form this natural site and you can hop from one to another like enormous stepping stones. The columns are thought to have formed around 50 million years ago thanks to volcanic activity, but there are also plenty of myths and legends. It's worth visiting to see which ones you believe!