Planning for holidays can be stressful at the best of times, without the complication of taking your pet away too.
Whether you fancy a staycation or you're gearing up for an overseas adventure with your dog, our guide should help you decide whether bringing a four-legged family member on holiday is worth the effort.
Before you travel
Consider if taking your pet with you is the best thing for them. Many pets can become stressed by travelling and find it hard to adapt to a new routine and environment. Would it be better to leave them in the care of someone responsible at home?
If you decide to bring your pet with you, check your holiday destination has the essential facilities you'll need for your pet. Check if you're able to get your pet's regular food while away, and plan to take plenty with you if you can't.
Check the company you're travelling with accepts pets for travel and find out what documentation you need to bring proving your pet is fit for travel. It can take a while to get this documentation so plan ahead to make sure you meet all the relevant deadlines.
If you're in any doubt about how your dog will cope with going on holiday, consult a vet – they'll be able to advise on the best options for you and your pet.
Travelling in the UK with dogs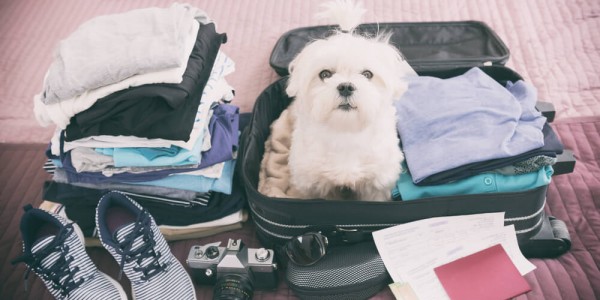 If you're planning a doggie holiday, staying in Britain could be the best option. As well as having a wealth of exciting outdoor environments to explore (not to mention plenty of dog-friendly pubs), being able to travel to your destination by car will avoid the potentially stressful process of arranging oversea travel for your dog.
Of course, there are still important things to consider when holidaying the UK with your dog. First and foremost, you should make sure your chosen destination is dog-friendly.
As a nation of dog-lovers, there are lots of options to choose from when arranging accommodation, from hotels that welcome animal guests to Airbnb properties catering specifically to dog-owners.
If you're travelling with your dog in the car, they may find long journeys stressful and uncomfortable. It's a good idea to practise driving with your dog on shorter local journeys first – this will get them accustomed to road travel and alert you to any potential issues they have, such as motion sickness.
Schedule in exercise and toilet breaks for longer journeys to make sure your pooch remains a happy traveller.
The Highway Code states all animals should be suitably restrained when travelling in cars, so invest in a seat belt harness or dog cage for your luggage compartment that allows your pet to travel safely and comfortably.
For more information about road travel with dogs and other animals, check out our guide Pet safety: hot cars and travelling tips.
Travelling abroad with dogs
Taking your dog overseas requires a great deal of planning and research. Before you begin making arrangements for your doggie vacation, take a moment to consider whether it's really in the best interest of your pet.
While some dogs don't mind travelling on ferries and planes and enjoy the experience of exploring new places, others are much happier sticking to familiar environments and sniffing out adventure in the local park.
If you're not sure whether your dog will enjoy the holiday you've planned, it may be better to ask a trusted friend, family member or dog sitter to take care of your pooch while you're away.
If you're confident your pet will enjoy an adventure overseas, the Government's Pet Travel Scheme (PETS) makes travelling abroad with pets much easier.
The scheme states you can enter or return to the UK with your cat, dog or ferret if:
It's microchipped

It has a pet passport or third country official veterinary certificate

It's vaccinated against rabies
Travel checks with your vet
Regardless of whether your dog is a seasoned traveller or a nervous newbie, it's important you take them to the vet for the relevant check-ups and vaccinations before they go abroad.
Arrange a pre-travel check for at least three weeks before your holiday begins. This will allow enough time for medication to take effect, such as the rabies vaccination which must be administered 21 days before travelling.
Your pet also needs to be microchipped and registered via an up-to-date, numbered EU pet passport by your vet.
Between one and five days before your return to the UK, your dog will need to be treated by a local vet for tapeworm. Make sure your dog's pet passport is signed when this treatment takes place to avoid any issues when you arrive home.
Depending on where you're travelling, your dog could be vulnerable to local diseases that aren't present in the UK. Discuss which countries you're visiting with your vet who will be able to advise on preventative treatments and other measures to help your dog avoid the health risks associated with travelling abroad.
Any ongoing medication your dog currently takes will also need to be brought with you on holiday, so make sure you have enough for the trip, ideally with an extra supply in case your journey home is delayed.
Travelling on planes and ferries with a dog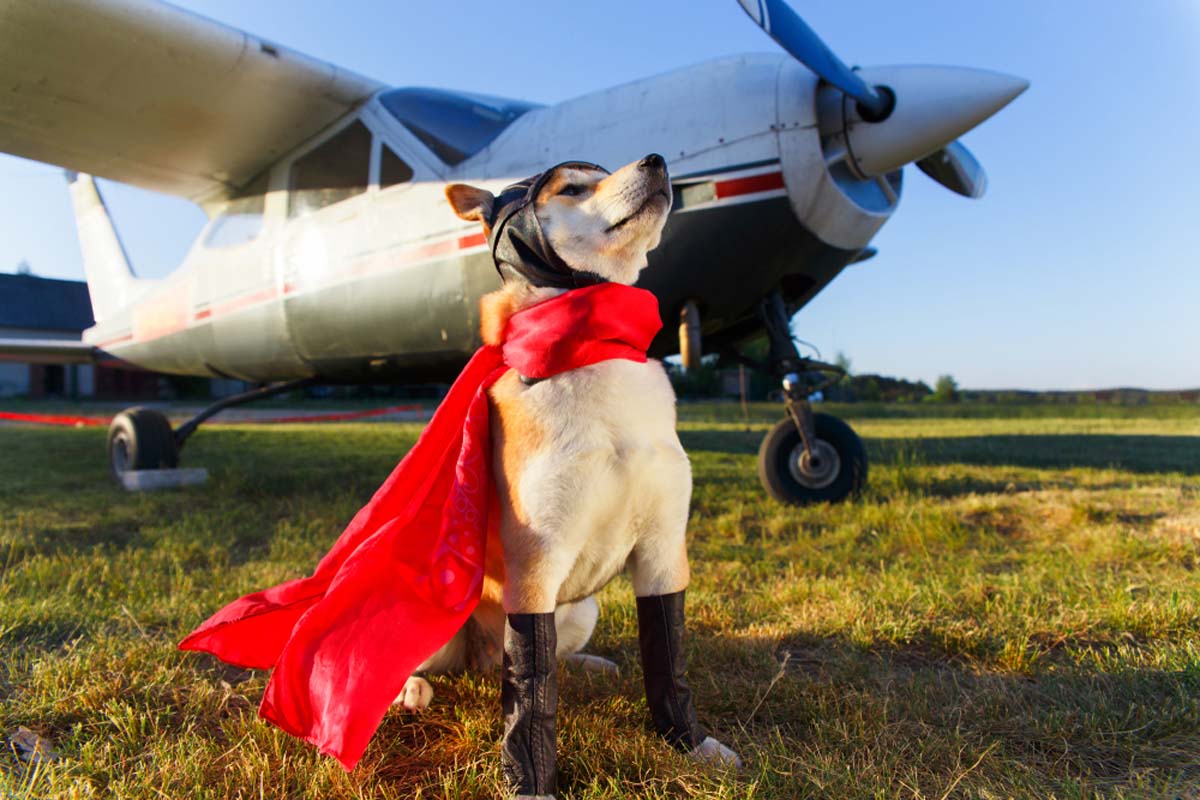 Taking your dog on a flight is an extra challenge that requires careful planning. The International Air Transport Association Live Animal Regulations mean air travel operators offering to carry animals must make sure conditions are right for pets.
Still, the unfamiliar environment and sensation of travelling by plane can be stressful for some dogs. Other than registered assistance dogs, all animals will need to travel in the hold, which could be closed for longer than you expect if your flight is delayed.
Make sure the container your pet will be travelling in is big enough to allow them to lie down and turn without discomfort. Put their blanket or a familiar toy in there to comfort them.
Check your airline's pet travel policy, and make sure they carry animals via the government's official list of pet travel approved airlines.
Ferries are similarly regulated – your dog will likely have to stay in the car or in a designated container area. Again, you should check your ferry company's pet policy for specific details, and make sure they're an approved operator for travelling with pets via the government's pet travel sea and rail route list.
Pet insurance when travelling abroad
Before you go on a holiday abroad with your dog, check whether your pet insurance policy covers you for oversea trips.
At Admiral, our overseas travel extension for pet insurance policies will help to cover emergency treatment for your dog if they need it on holiday. Read our full policy booklet for more information.
The essentials
Pet passport: your pet requires a passport when travelling within the EU, or from the EU to a listed or unlisted country then returning to the EU. If travelling outside the EU, your pet will need a third country official veterinary certificate
Microchip: your pet must be microchipped before they can travel abroad. This should be done before their vaccinations. Microchipping for pet travel can only be done by certain professionals. Your vet should include the microchip number in your pet passport or third country official veterinary certificate
Vaccinations: your pet requires a vaccination against rabies before they can travel. They'll also need booster vaccinations and blood tests may be required. 
If you don't follow these rules, your pet may be put into quarantine for up to four months, or be refused entry if you've travelled by sea.
There are different rules for travelling with guide and assistance dogs; many airlines won't charge for you to take a guide dog into the cabin with you but this service may not be available to book online and you'll have to call the airline to check.
On holiday
If you're travelling to a hot country, avoid exercising your pet at the hottest time of the day and make sure it has regular access to water.
Only give your pet tap water in places where the water is safe to drink. If you're drinking bottled water, your pet needs bottled water too.
For more on keeping your pet safe and happy, read our guide to pet care in hot weather.

Insurance Factory Ltd
For pet insurance, Admiral introduce to Insurance Factory Ltd who arrange and administer the policy. Insurance Factory Ltd is authorised and regulated by the Financial Conduct Authority (No. 306164). Registered in England and Wales Number 02982445. Registered Office: 45 Westerham Road, Bessels Green, Sevenoaks, Kent, TN13 2QB. The policy is underwritten by Zenith Insurance plc, registered in Gibraltar No. 84085 with registered office address: 846 - 848 Europort, Gibraltar. Zenith Insurance plc is authorised by the Gibraltar Financial Services Commission and subject to a limited regulation by the Financial Conduct Authority and Prudential Regulation Authority in respect of underwriting business in the UK (No: 211787).