The 100% electric Tesla Model S is a game-changer. When it came along, traditional motor manufacturers had to take notice. It's only now that they are starting to catch up.
It didn't just look good, but it drove well and its software (which included advanced driver assist features with the ability to be autonomous in the future) could be updated over-the-air.
Tesla's battery technology was also ahead of its time, meaning that it had a longer range and could recharge faster than any other EVs.
The Model S is still the business with few direct rivals, though 2018 sees the launch of the 100% electric Jaguar I-Pace.
Priced from £70,250 to £123,050 (it can also be bought via a contract purchase system), the Model S is an investment, but it still has the longest range of any EV on the market (304-393 miles).
Tesla has its own powerful Supercharger electric charging network and a 30-minute charge can add up to 170 miles of range. 
However, recharging is much slower when using public chargers found at most motorway services and shopping centres, while home charging takes even longer. If you are considering a Tesla, we'd advise checking to check the location of your nearest Supercharger.
The Model S is safe too, achieving a maximum five stars in Euro NCAP crash testing, and as it's an electric car with zero emissions, it's exempt from the London Congestion Charge.
The car gets a four-year/50,000-mile warranty, while the battery pack is covered by an eight-year/unlimited-mileage warranty, which includes roadside assistance.
First impressions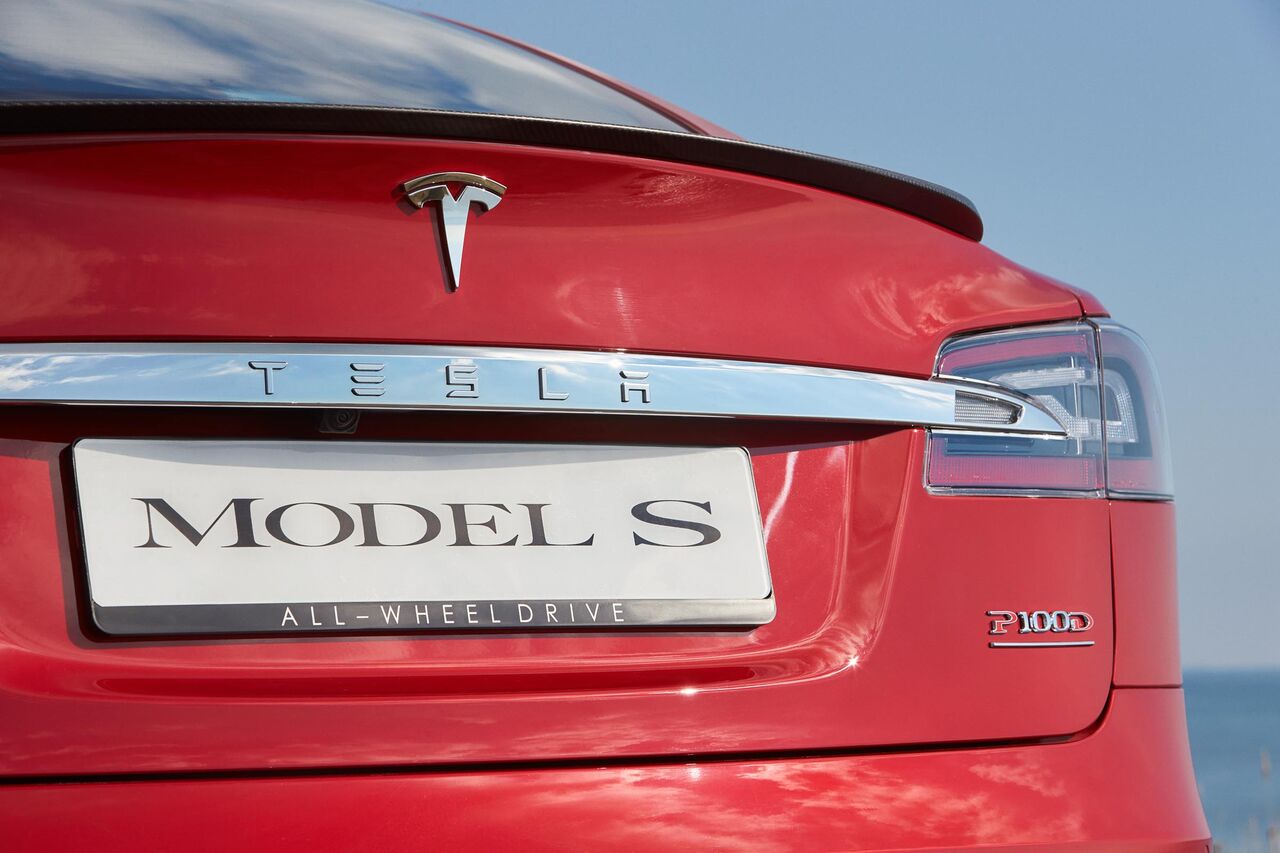 Looking more like a streamlined sports saloon, the Tesla Model S is a large, handsome, five-door hatchback.
Little features, such as door handles that pop out when you approach, combine with big statements, like the minimalist interior dominated by a massive 17-inch portrait touchscreen in the centre console, to make this a car like no other.
There's plenty of space inside for adults front and rear, and because it has no engine, there's storage space under the "bonnet" and in the rear hatch. The rear seats also fold down for extra load capacity and it's possible to option two extra rear-facing seats for the hatch.
It well put together and very comfortable, though it's not perhaps quite as luxurious as some upmarket German sports saloons.
Engine choice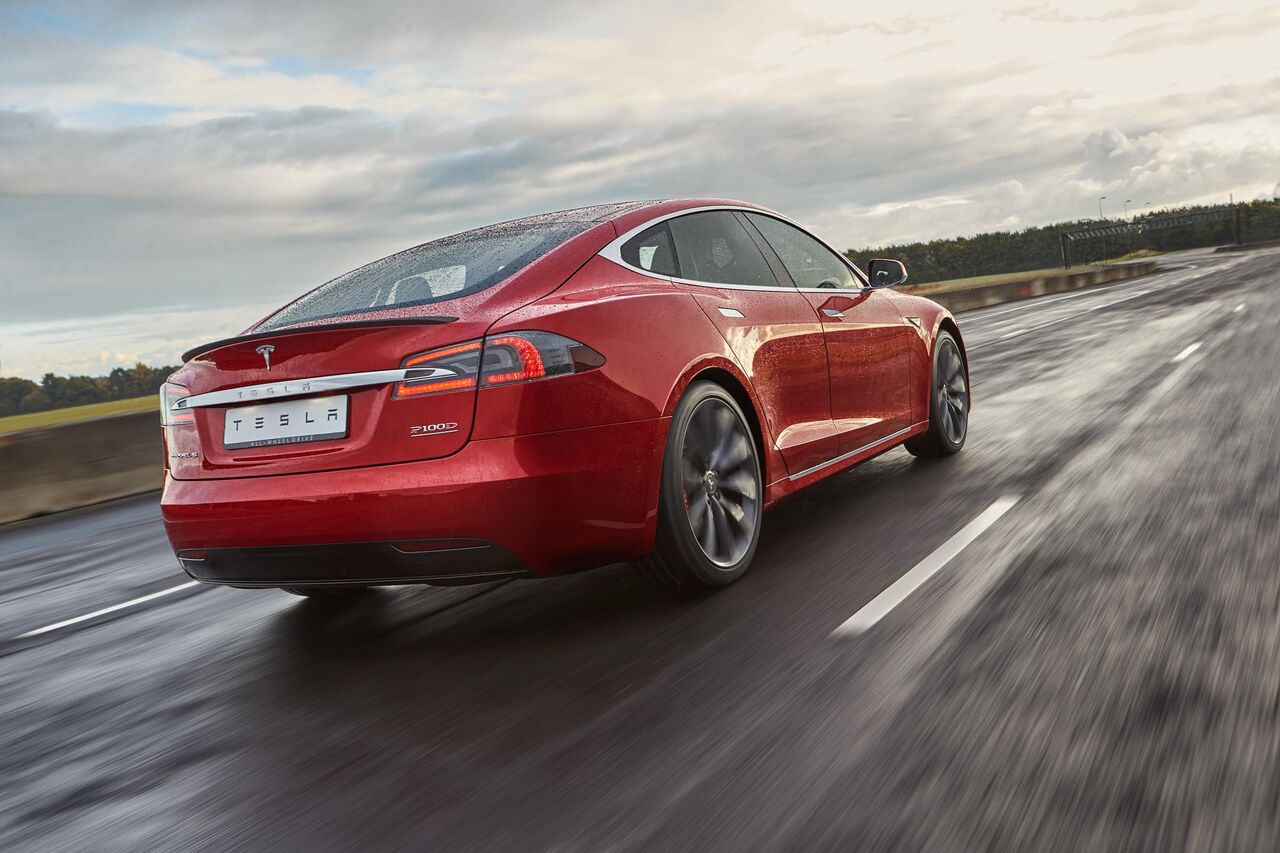 Being 100% electric, the Model S doesn't have a traditional engine. It's powered by two electric motors (one in the front and one in the back), meaning the car is also all-wheel drive.
There are three models - the 75D, 100D and P100D. They are badged according to battery size capacity, so the 75D has a 75 kWh battery, while the 'D' refers to Dual Motor and 'P' is for Performance.
Talking of performance, here's where the Model S comes into its own. In short, it's blisteringly fast. The P100D version, which gets Tesla's Ludicrous Speed option, will do 0-60mph in just 2.5 seconds. An exhilarating experience!
Equipment options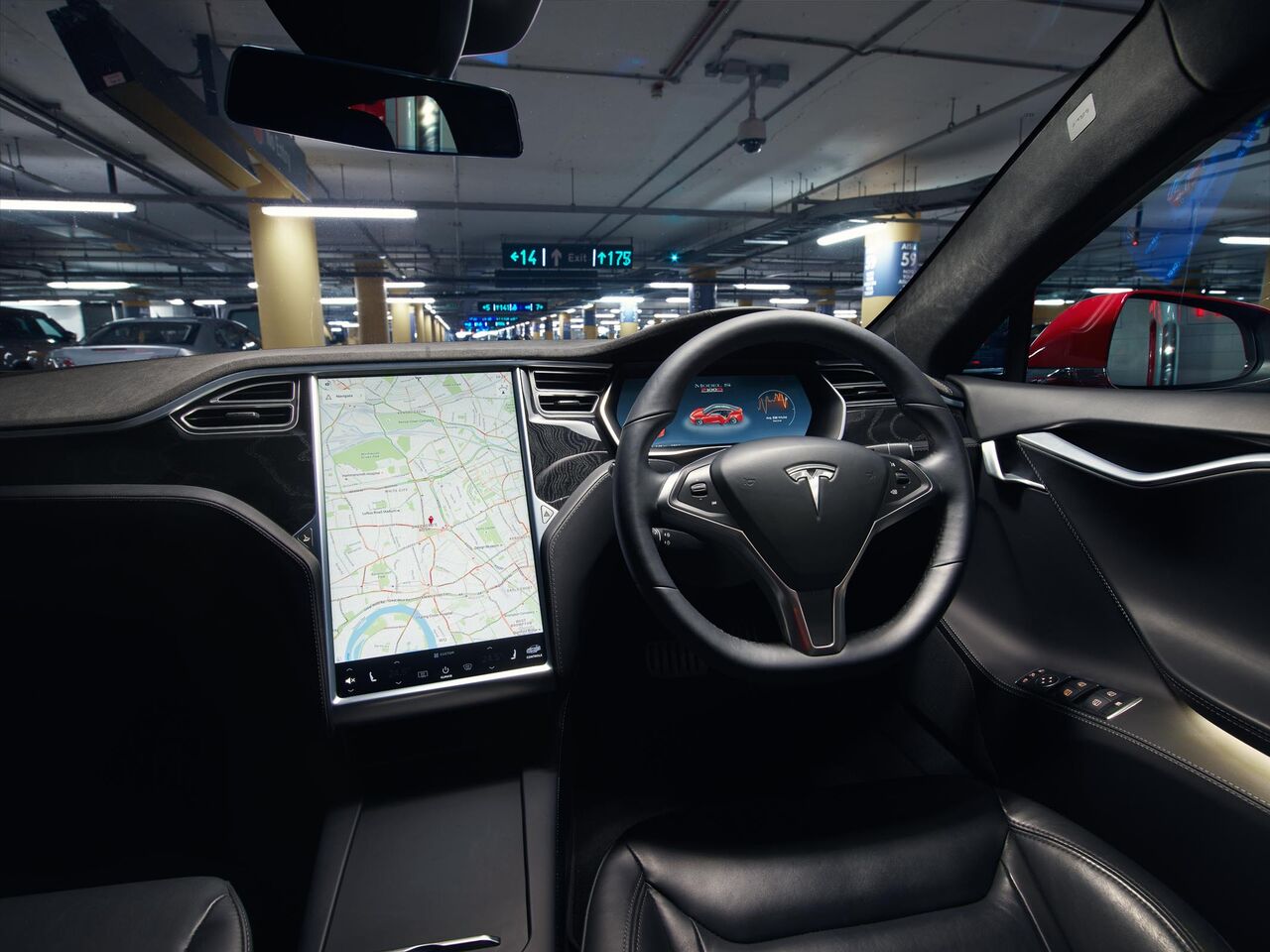 As standard there's everything from Tesla's Autopilot (semi-autonomous driving mode), Wi-Fi and internet connectivity, power folding, heated side mirrors with memory, soft LED ambient interior lighting and dynamic LED turning headlights.
Active safety technologies include automatic emergency braking (AEB), lane departure warning alerts, blind spot detection and adaptive cruise control.
Upgrades include heated seats throughout the cabin, wiper blade defrosters/washer nozzle heaters, heated steering wheel and HEPA air filtration system, which fills the cabin with "medical-grade air" no matter what's happening outside. There are three modes - circulate with outside air, re-circulate inside air and a bioweapon defence mode which creates positive pressure inside the cabin to protect occupants.
How does the Tesla Model S drive?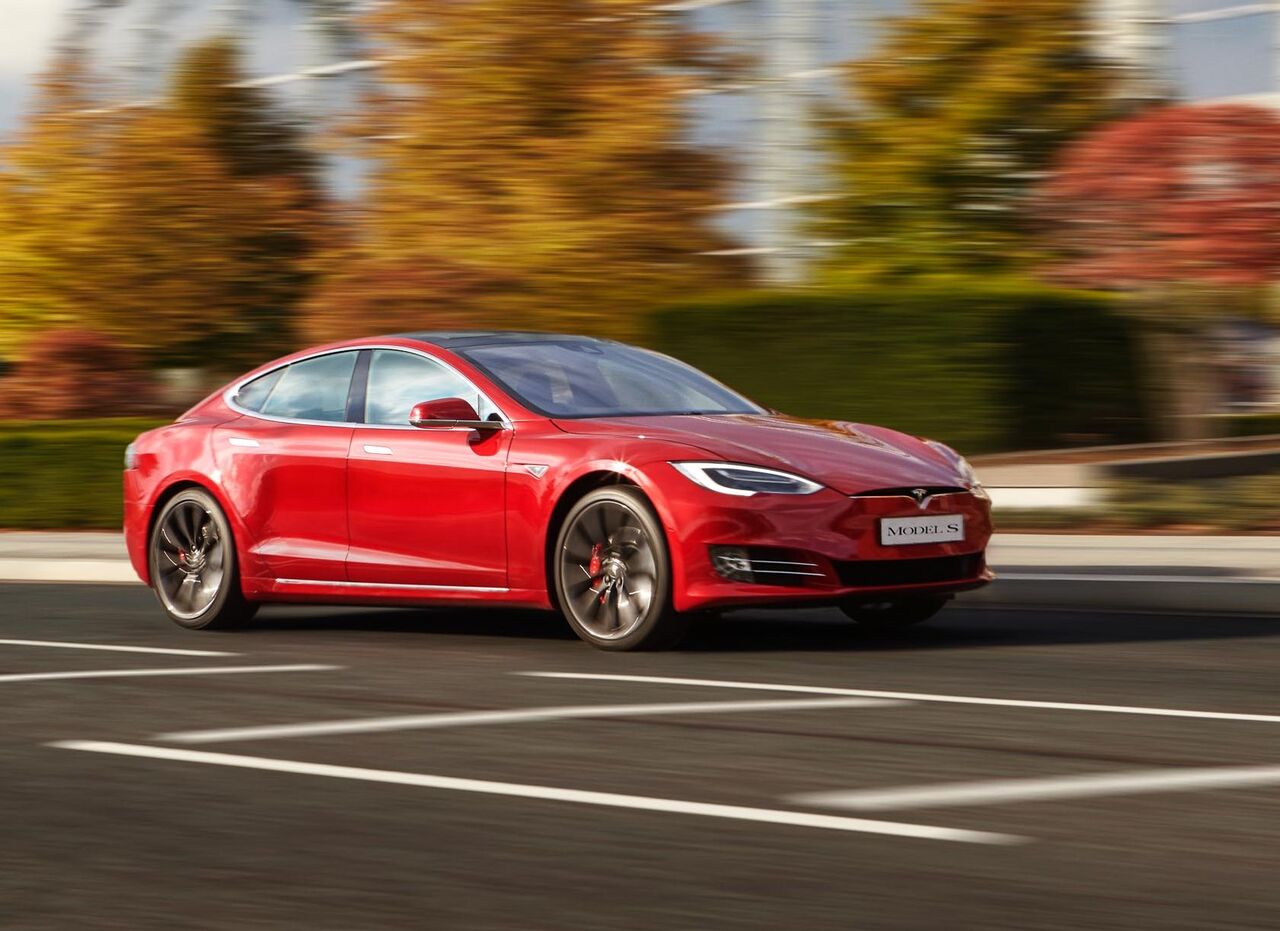 Dip the accelerator and you're off in near silence except for a vague whoosh from the electric motors. 
Once you've got over the novelty of being able to accelerate as fast as a supercar, but without the roar of an engine, the Model S is a relaxed, comfortable cruiser. 
Like all electric cars, if you take your foot off the accelerator, the drop off in speed is quite profound, depending on your regenerative brake settings (the higher setting, the less you use the brakes and the more you can top up the battery), but you soon adjust your driving style.
The floor-mounted battery pack gives the Model S a low centre of gravity, so it handles well for such a big car with little body lean in corners, while the traction from the all-wheel drive is superb.
Tesla Model S: the verdict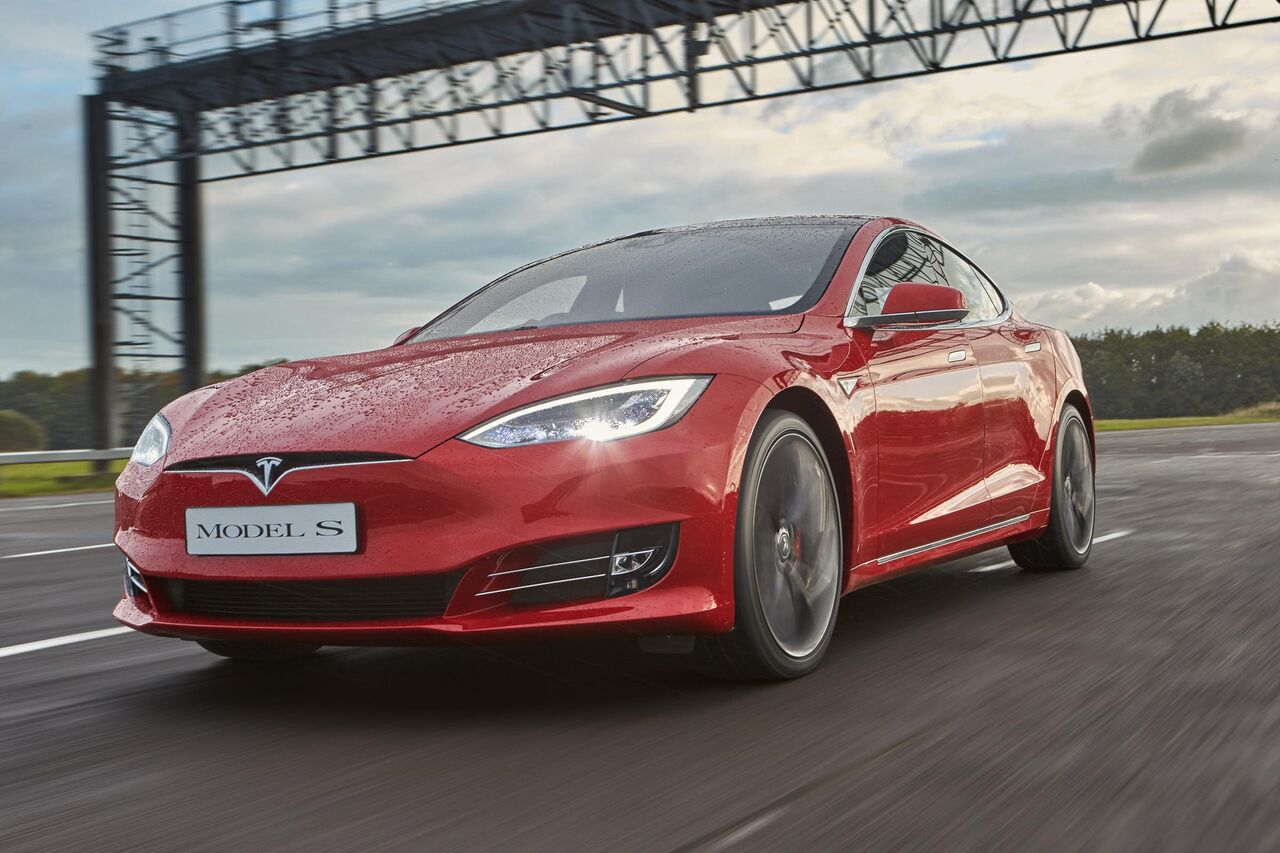 The Tesla Model S is still a very special car. Fast, refined, handsome, well equipped and practical, it's a class act.
Find out more about eco driving
Want to find out more about electric and hybrid cars? Go to our myth-busting eco-driving hub. To find your next new car, go to our eco-friendly car comparison tool and see which cars are right for you.