Built in Britain at Nissan's giant Sunderland plant, the 2018 Leaf promises to be even more successful than its predecessor.Priced from £21,990 (including a £4,500 Government Grant), the Leaf is a fully electric vehicle (EV), which delivers zero emissions.
A mid-sized hatchback, the new model features dynamic new styling, advanced technologies and increases in both range and power.Naturally, the Leaf is road tax exempt, the London Congestion Charge is free and you can even park them for free in some cities. Nissan also claims EV running costs are some 85% less than petrol or diesel cars, while maintenance is almost 75% cheaper. Rivals include the Hyundai Ioniq, Volkswagen e-Golf, Renault Zoe, Kia Soul and BMW i3.
First impressions
Let's put this kindly. The original Nissan Leaf was a slightly odd-looking car, which must have put off some image conscious buyers. Thankfully the new model is a huge improvement, looking not unlike a larger version of the also much-improved Micra from the front.
It's slightly taller than other conventional hatchbacks, presumably because the batteries are housed below the seats. It's also very aerodynamic with a 0.28 cd figure. There's also a more 'normal' feel inside where there are hardly any clues that it's an EV at all, though perhaps the stubby gear selector in the centre console is a giveaway.
The driver and passengers sit a little higher than in most comparable traditionally-powered cars, but that aside, there's plenty of space up front and in the rear for adults to travel comfortably, though the passenger in the rear middle seat has to straddle the large 'transmission tunnel'.
At 435 litres, the boot is much larger than most rivals and even bigger with the back seats down.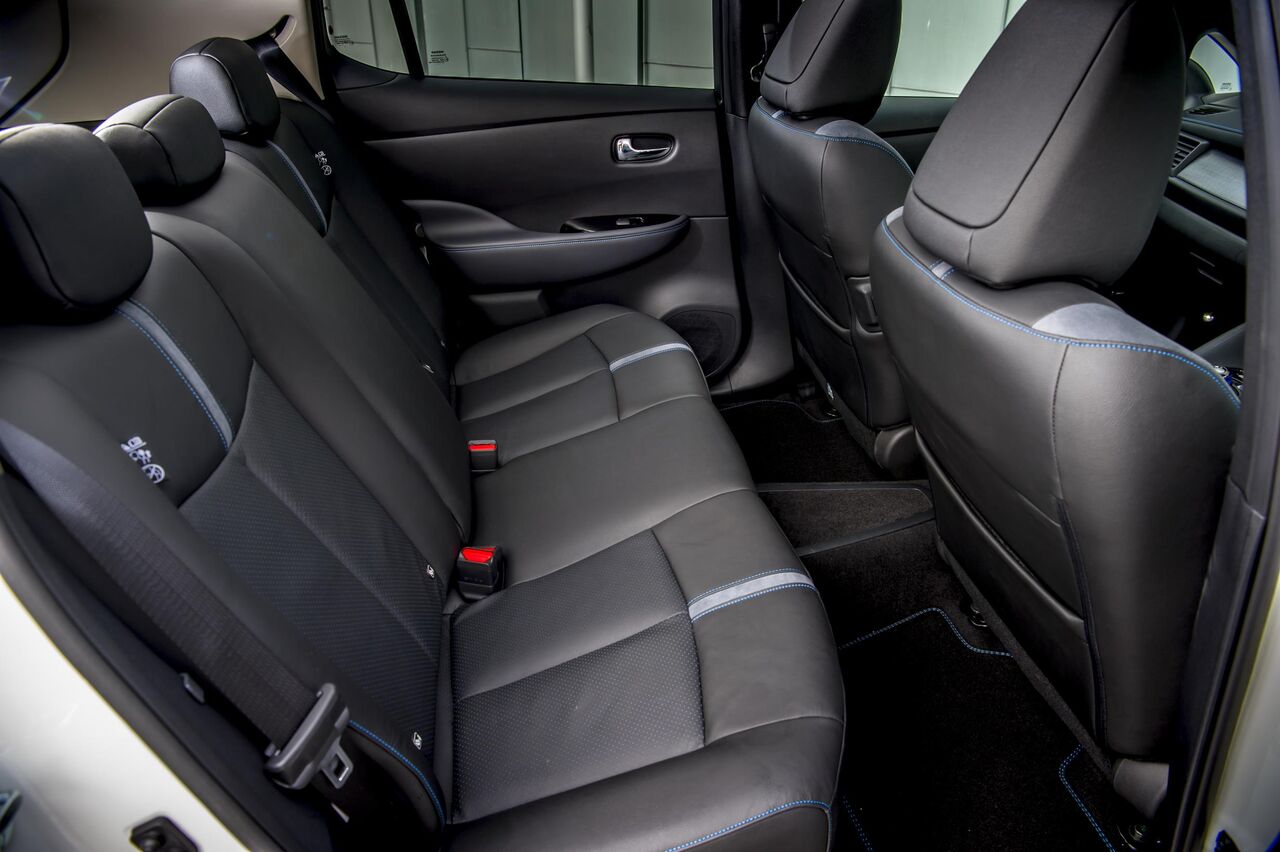 The only downsides inside are that there's plenty of dark plastic on show, and not much in the way of soft-touch surfaces, while the infotainment screen could be bigger and the graphics aren't the slickest.
Special mention for the excellent BOSE sound system fitted to my test car. Cabin noise levels are so low in EVs like the Leaf, so it's well worth investing in decent audio.
Engine choice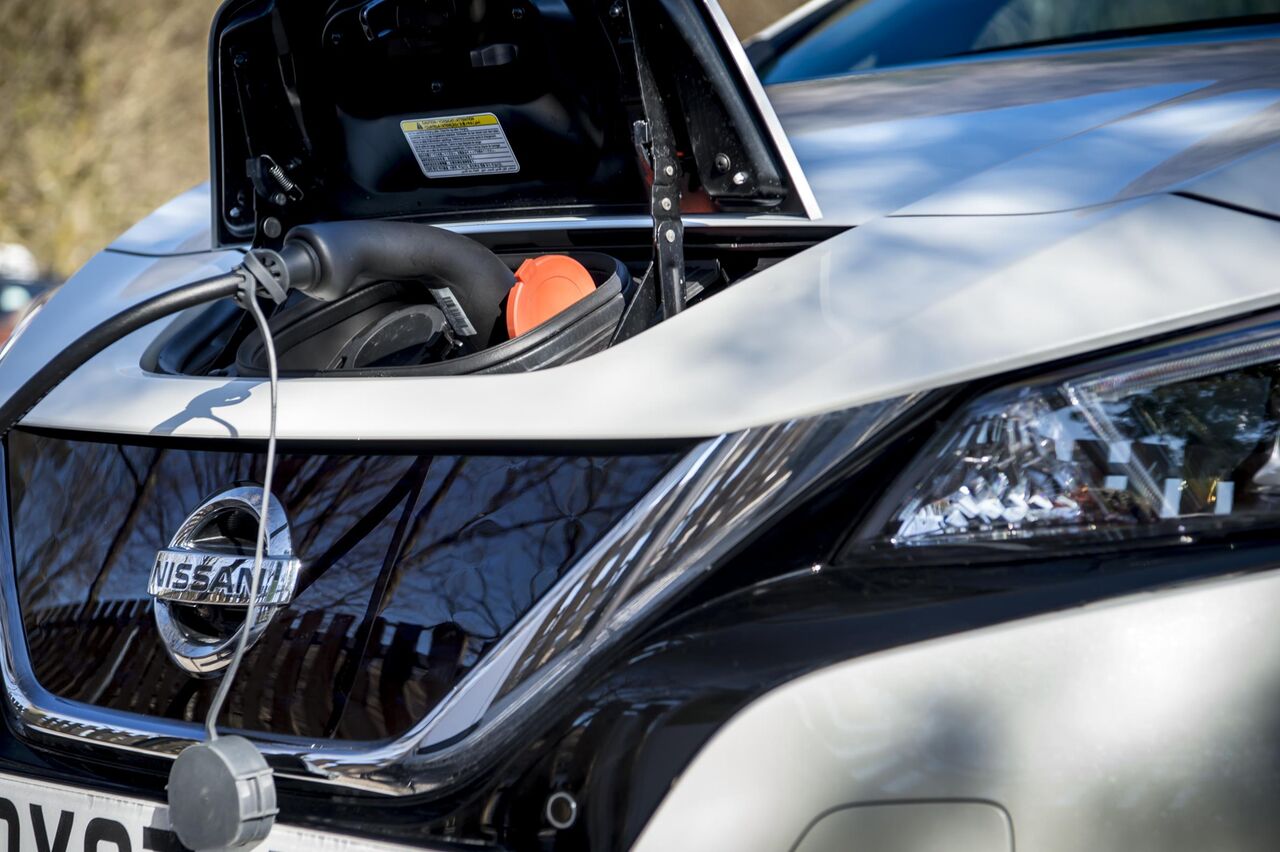 The original Leaf made do with a 24kWh battery, which gave it a claimed range of more than 120 miles. By 2015, a 30kWh battery was available. The new car boasts a 40kWh power pack.
Nissan claims there's a 50% increase in range to 235 miles (NEDC) and a 38% increase in power to 150PS (148bhp) compared to the outgoing model. Range is hard to quantify because it depends on so many factors, including driving style and air temperature, and the new WLTP test puts the Leaf at 168 miles, which is closer to the real world figure. 
So, range anxiety hasn't yet been consigned to history and longer journeys still require a degree of planning.
Full charging takes around 7.5 hours using a 7kWh home charger, but as little as 40 minutes using a 50kWh fast charger.
It's also possible to recharge the battery when decelerating (through braking, coasting and driving downhill) - commonly known as regenerative braking.
Performance figures are academic really, because EVs are all about economy, but for the record - its 0-62mph time is a none too shabby 7.9 seconds and it has a top speed of 89.5mph.
Trim options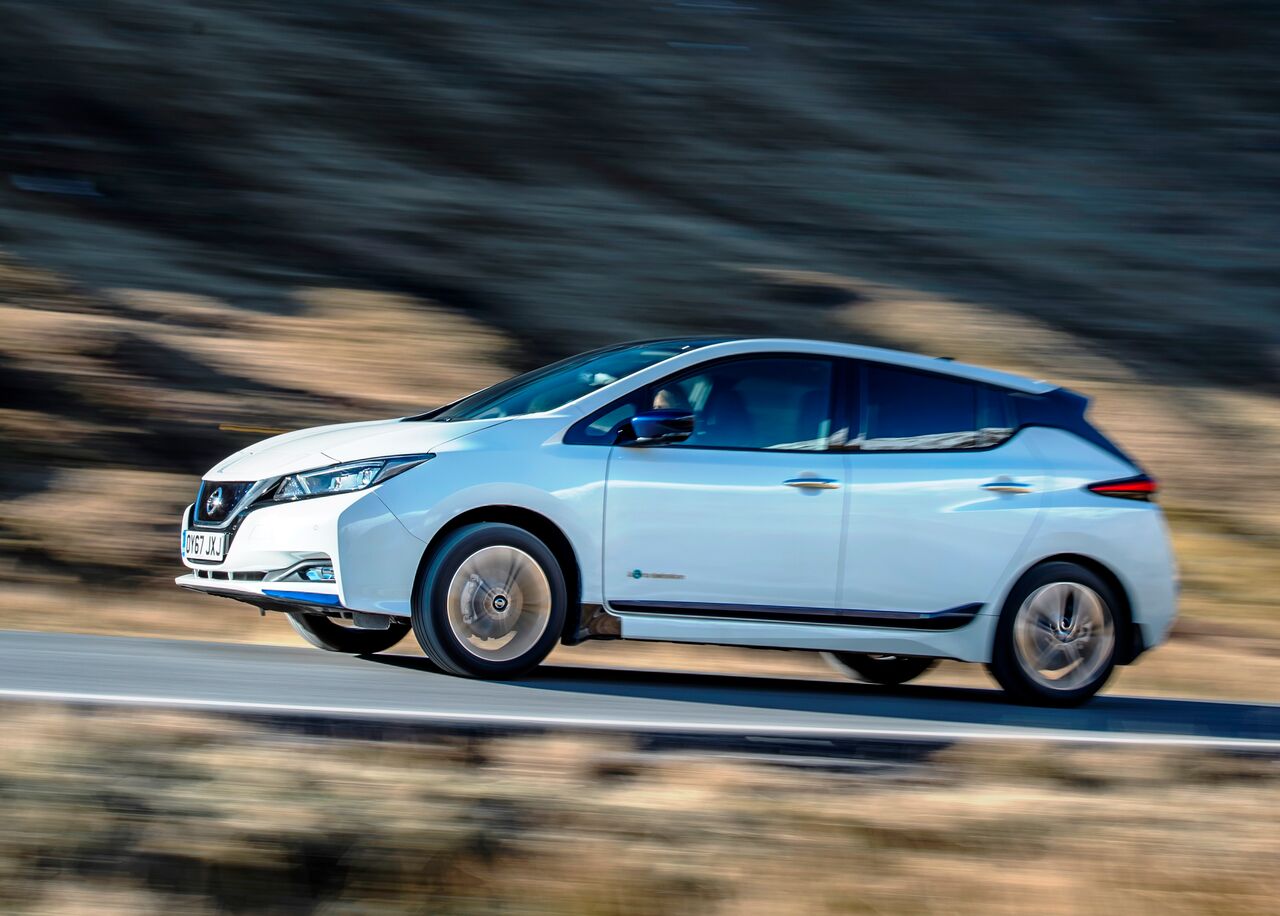 There are five trim levels, ranging from Visia to Acenta, N-Connecta, Zero (Special Version) to top-of-the range Tekna.
Standard features on all models include alloy wheels, air-conditioning and a 7.0-inch touchscreen incorporating Apple CarPlay and Android Auto.
Acenta adds electric folding mirrors, cruise control and fog lights. N Connecta, which is probably the best value model, has part-leather seats, parking sensors and a heated leather steering wheel, while Tekna features full LED lights, full-leather seats, a BOSE premium audio system and ProPilot.
Available driver aids include Autonomous Emergency Braking (AEB), a Lane Departure Warning system, adaptive cruise control and auto-dim headlights.
How does the Nissan Leaf drive?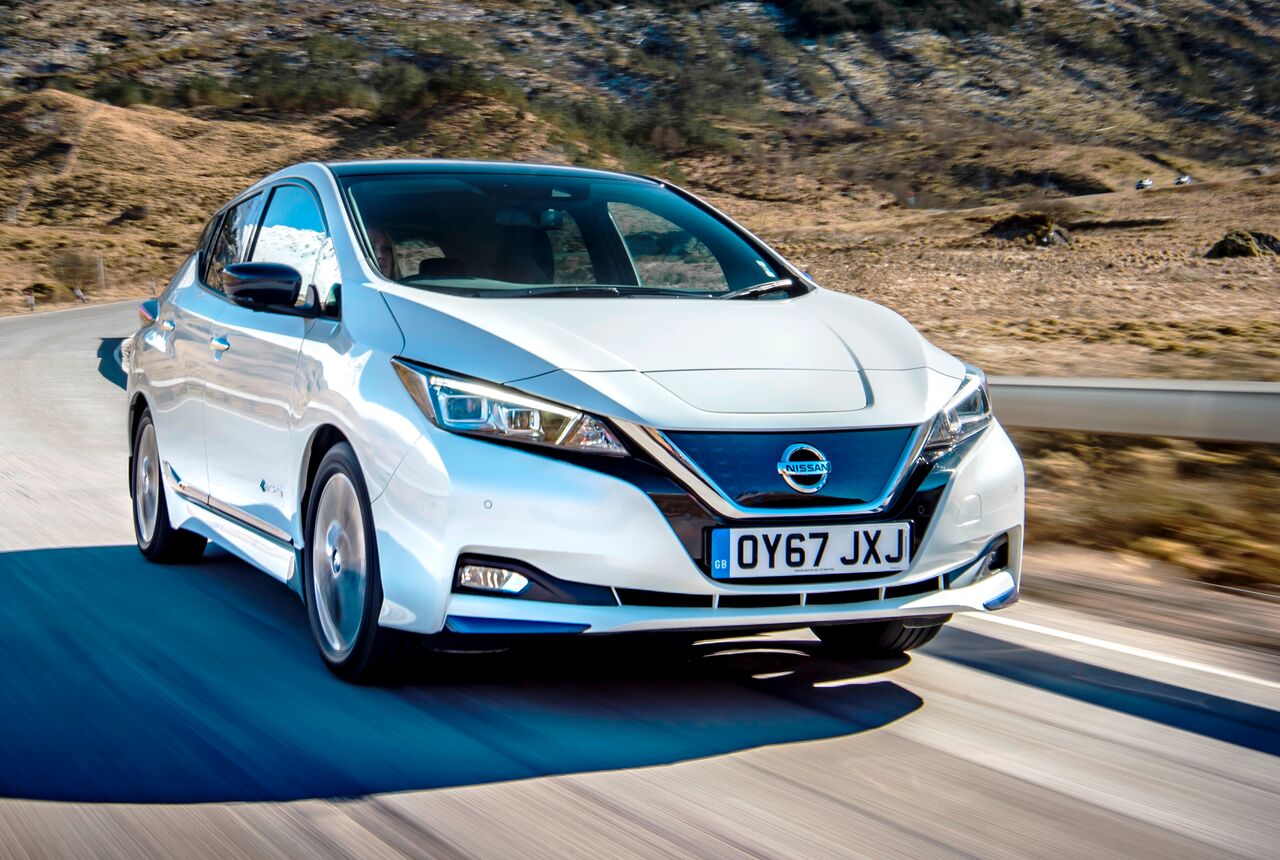 Above all, the Nissan is easy to drive. Hop in, press the start button, select drive, press the accelerator and you're away in silence. Floor it and it's very quick off the mark.
Visibility is good and it's comfortable too. The real surprise is that it handles well. It's no hot hatch, but there's very little body lean and it's generally composed, while the steering is light and direct.
Most of all, the Leaf encourages a whole new style of motoring as your inner Scrooge takes over and you try to eke out as much range as you can from each charge.
Smoother driving is rewarded and you can charge up your batteries on the move via regenerative braking and coasting. 
Unlike conventional cars, you slow down quicker in an EV when you lift off the accelerator as the regenerative brakes harvest energy to recharge the battery. You can increase this effect by pressing the Eco button or shifting the gear selector to B mode.
Nissan's also added an e-Pedal system for 2018, which (when selected) allows you to drive with just one pedal. Press it as normal for acceleration, but ease off and the resistance is even greater and after a bit of practice lifting off can be used as a brake. It seems odd at first, but you soon get used to it.
My test car was also fitted with ProPilot semi-autonomous technology which is meant for motorway and high-speed cruising situations. Using adaptive cruise control and lane-keeping sensors, it can virtually drive itself. Loosely hold the wheel and you will feel in making small steering adjustments, but take your hands off for more than a few seconds and a warning will flash up on the dashboard.
I also tried ProPilot Park. Simply press and hold the magic button and your Leaf will park itself. It requires a leap of faith, but it works!
Nissan Leaf: the verdict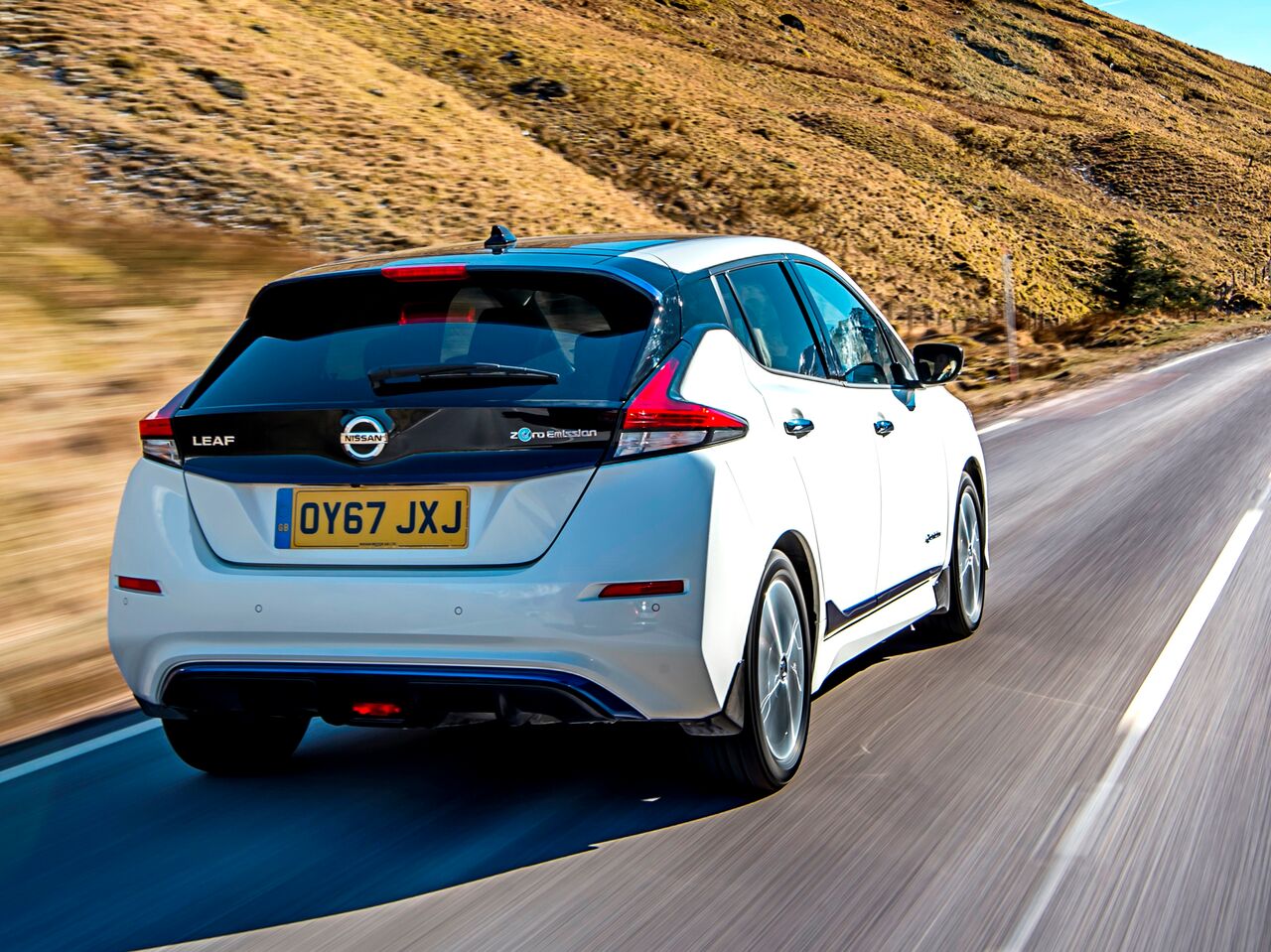 The Nissan Leaf has grown up and is now a good-looking, impressive all-rounder. Easy-to-drive, comfortable, safe and spacious, it's competitively priced, well equipped and packed with tech. Credit where it's due - Nissan is already on to its second-generation Leaf when most manufacturers are struggling to launch their first.