When the Mitsubishi Outlander PHEV was introduced, it was one of the few plug-in hybrid electric vehicles on the market, and the first 4x4 SUV PHEV. 
In early 2018 it reached 100,000 sales in Europe, more than a third of which have been in the UK where it outsold all other pure electric and hybrid plug-in vehicles in 2017, accounting for 7,407 of the 47,263 plug-in passenger vehicles that were registered. 
Combining a petrol engine with twin electric motors and a rechargeable battery, the Outlander PHEV can travel for up to 33 miles in electric mode only, which is more than enough for the average daily commute.
However, the plug-in SUV sector has changed - the Outlander PHEV now has rivals including the Audi Q7 e-tron, Volvo XC60 T8 Twin Engine, the bigger XC90 T8 and the MINI Countryman S E plug-in hybrid.
The Outlander is also sold as a diesel and all models have four-wheel drive. It's safe too, scoring a maximum five star rating in Euro NCAP crash tests.
Priced from £32,305 (including a £2,500 Government Plug-in Grant), the Outlander PHEV has CO2 emissions of just 41g/km, and in theory, is capable of 166mpg. It's also London Congestion Charge exempt.
The car's EV (Electric Vehicle) components are covered by a five-year/62,500-mile warranty, while all its conventional components come under a standard Mitsubishi three-year/unlimited mileage warranty.
First impressions
Back in the day, the Mitsubishi Outlander PHEV was a breath of fresh air in the fledgling plug-in hybrid sector. Unlike some rivals, including the Toyota Prius, here was a refreshingly conventional looking car.
There are prettier SUVs, but the Outlander PHEV is distinctive, and it's spacious inside with plenty of room for adults front and rear, and overall the cabin is a comfortable place to be, if designed more for durability than style.
However, boot capacity is slightly down (14 litres) on the diesel version because the battery takes up some of the space behind the back seats. There's also no seven-seat option. That said, luggage capacity is still a healthy 463 litres, which is 1,602 litres with the rear seats folded.
Apart from a few 'Plug-in Hybrid EV' badges outside, there are other clues that the Outlander PHEV is more eco friendly. There's a green info dial in the instrument binnacle ahead of the driver, a special gear selector in the centre console, an EV priority mode button and paddles behind the steering wheel which allow you to adjust the amount of regenerative braking (of which more later).
Engine choice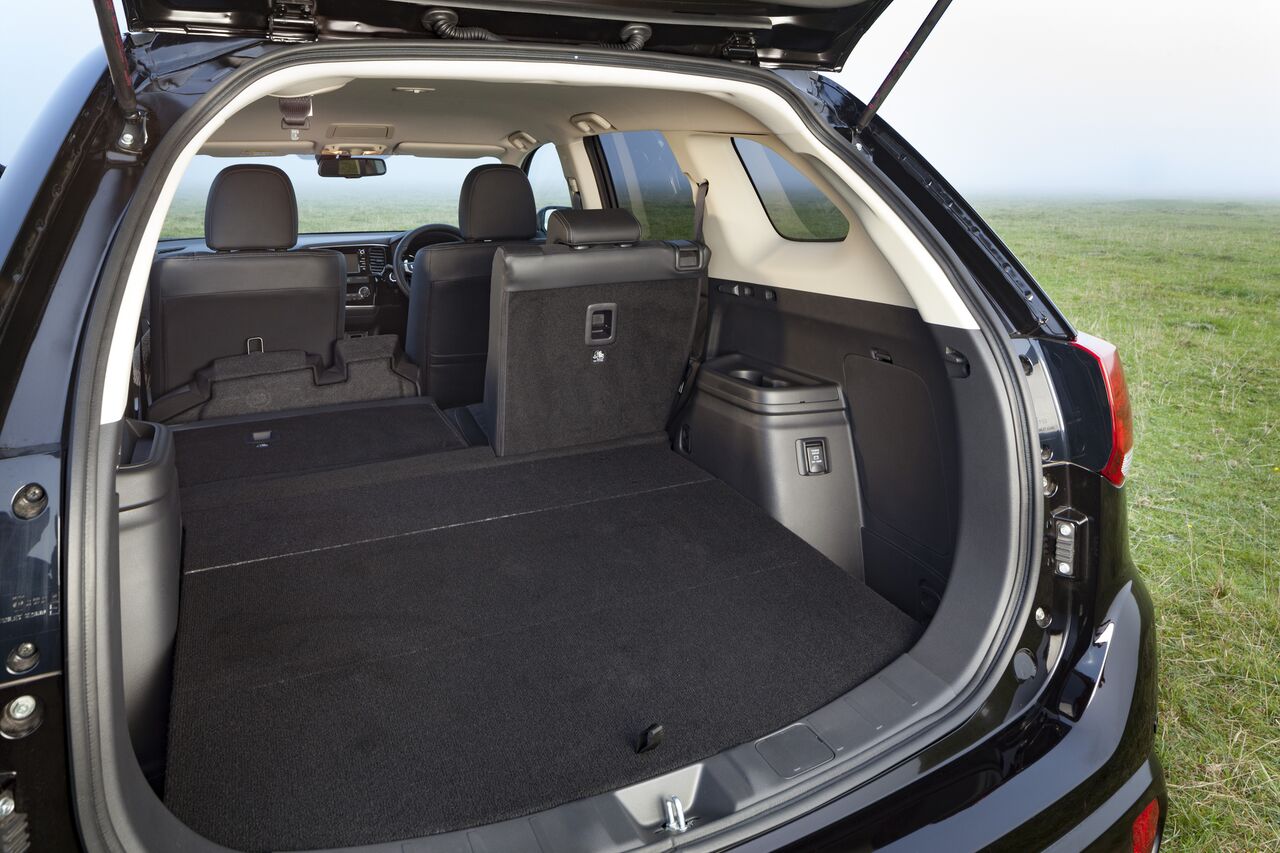 The Mitsubishi Outlander PHEV combines a four-cylinder 2.0-litre petrol engine with two 60kW electric motors electric motors (front and rear), providing 200bhp in total, plus a 12kWh battery pack.
This translates into a 0-62mph sprint in 11 seconds, though it seems faster because the initial acceleration is more instant in electric vehicles. Of course, it's also very quiet in EV mode too, while top speed is 106mph.
Empty-to-full charging the Outlander PHEV from a standard home socket takes around five hours, dropping to approximately three and a half hours using a public charger. A 0-80% charge from a rapid charging station can take as little as 25 minutes.
Trim options
There are six levels of trim for the Outlander PHEV, ranging from entry-level 3h to Juro, 4h, 4hs, 5h and 5hs.  
As standard, it comes with 18-inch alloy wheels, privacy glass, automatic lights, LED daytime running lights, electric heated and folding door mirrors, climate control, keyless entry and dual-zone climate control.
How does the Mitsubishi Outlander PHEV drive?
The overall driving experience is good, but we're not talking Audi/Volvo sophistication here.
Ironically for a big SUV, it's at its best in an urban environment where the combination of silence (when in EV mode), light steering and quick-off-the-mark acceleration are ideal, combined with good visibility thanks to the commanding driving position.
It's pretty refined as a cruiser too, but it's not so settled on more challenging roads where the ride isn't so smooth and it leans into corners. 
The good news is that's there's plenty of grip thanks to the extra traction generated by the four-wheel drive system. It can even tackle a bit of light off-roading and tow a good choice of caravans and trailers with its 1,500kg limit.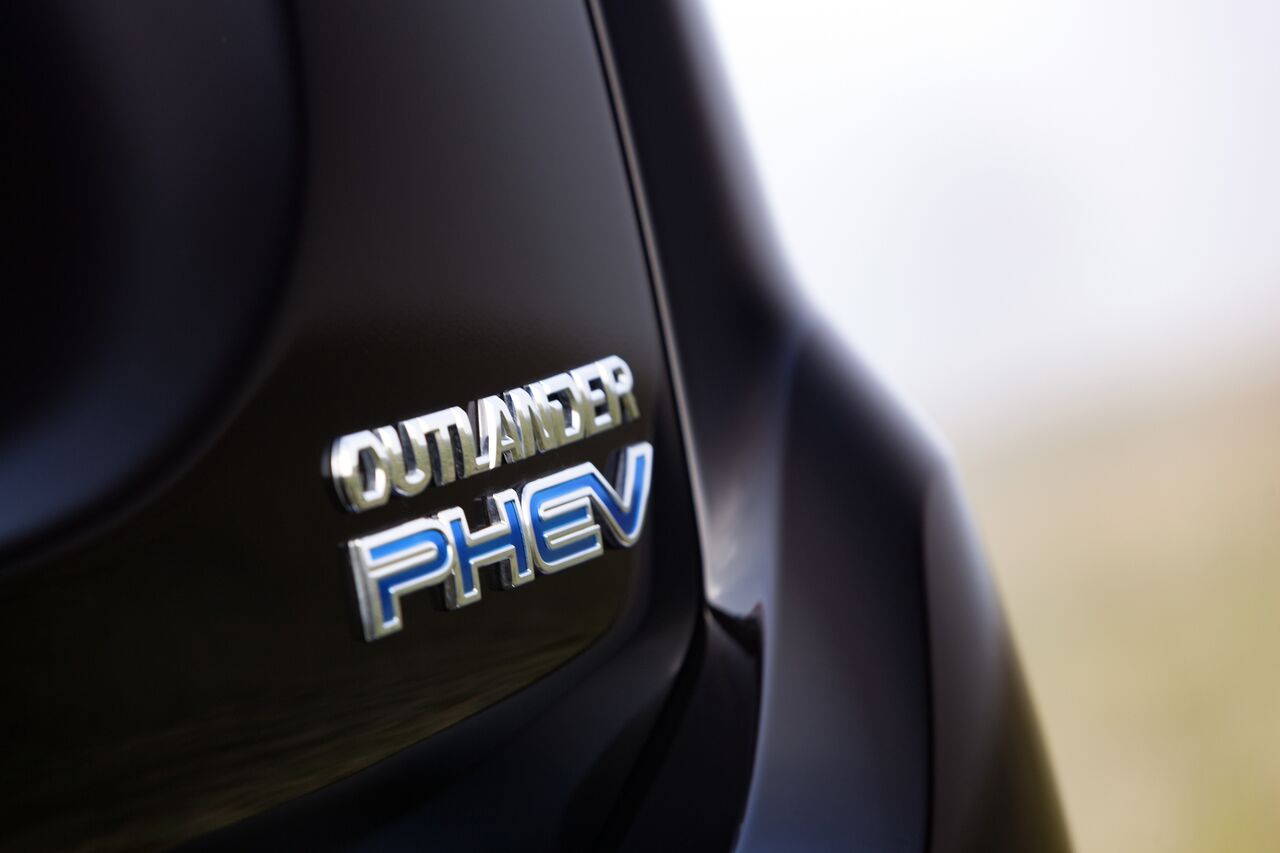 The really impressive thing about the PHEV is that it encourages you to re-think your driving style in the pursuit of fuel economy.
You can charge the batteries whilst driving via "regenerative braking" - a method of harvesting the energy created from braking to recharge the battery.
The amount of regenerative braking can be adjusted via the paddles behind the steering wheel and after a bit of practice, it's possible to use the paddles as brakes when coming up to junctions or downhill, for instance. 
Mitsubishi Outlander PHEV: the verdict
The pioneering Mitsubishi Outlander PHEV is hanging in there against increasingly tough opposition in the plug-in hybrid SUV sector. A solid, spacious and safe choice, it can make real sense, especially if your regular journeys are short.
Compare your next car's green credentials
To learn more about electric and hybrid cars, visit our FAQs page and find the answers you've been searching for. Or, take a look at our eco-friendly car comparison tool and discover the car that's right for the environment, and right for you.