But, of course, the main reasons motorists are switching to electric vehicles (EVs) is because they're cheaper to run and better for the environment.
Below we've listed some of the best electric cars on the market and ordered them by range. All figures quoted are from manufacturers' own websites and use the new Worldwide Harmonised Light Vehicle Test Procedure (WLTP) which is meant to give us a more realistic idea of economy. 
Real-world range depends on factors such as driving style, speed and acceleration, outside temperature and battery age.
EVs are more expensive to buy than conventional cars, but manufacturers are rising to meet the challenge and offering more affordable options. Our choice ranges from the cheap and cheerful to the luxurious. 
And don't forget your Electric Car Insurance – take a look to see what cover we can offer for your EV. 
1. Tesla Model S - 396 miles
When it was launched in 2012, the Tesla Model S was a genuine game-changer – and it's still leading the charge. Depending on which version you opt for, it's capable of up to 396 miles with a 0-60mph time of as fast as 1.99 seconds. 
With a radical design and the ability to receive over-the-air software updates that can add new features, functionality and self-driving technology, it's a class act and a relaxing cruiser.
2. Ford Mustang Mach-E - 379 miles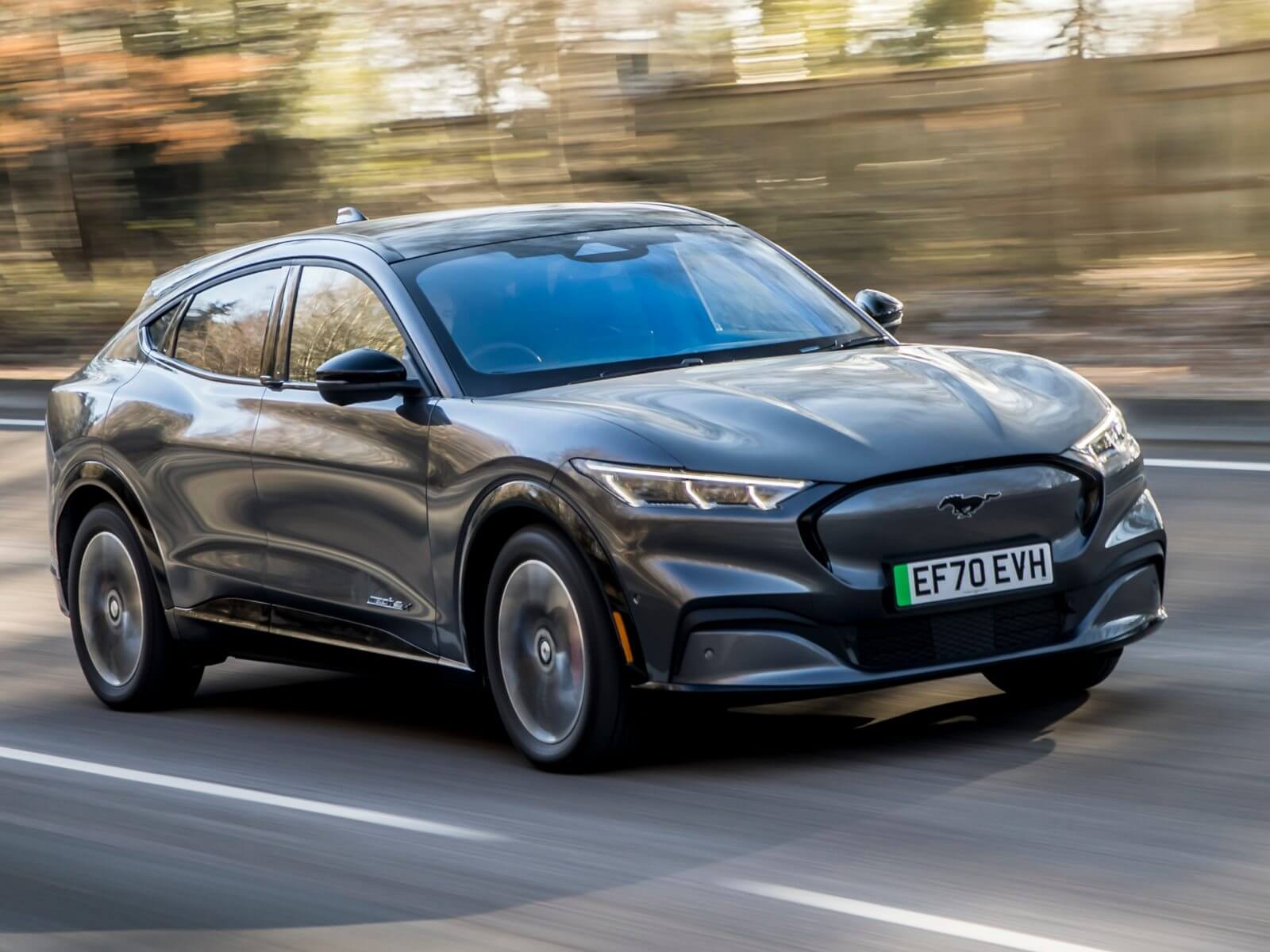 Ford's first fully-fledged electric vehicle is a smart choice. With its combination of kerb appeal, driver engagement, practicality and long range, the Mustang Mach-E is one of the most accomplished EVs in the crossover sector. 
Available with rear or all-wheel drive and two different battery sizes delivering a range of up to 379 miles and a 0-62mph time as fast as 3.7 seconds, it's competitively priced and one of the few electric cars that delivers a genuinely dynamic driving experience.
3. Tesla Model 3 - 360 miles
Tesla's new BMW 3 Series-sized saloon has been a global sales success. The most affordable model in the Tesla range so far, there are three grades available in the UK – Standard Range Plus, Long Range and the flagship Performance, with varying ranges. 
Swift, smooth and agile, the Performance version can hit 60mph in just 3.1 seconds!
4. Volkswagen ID.3 - 340 miles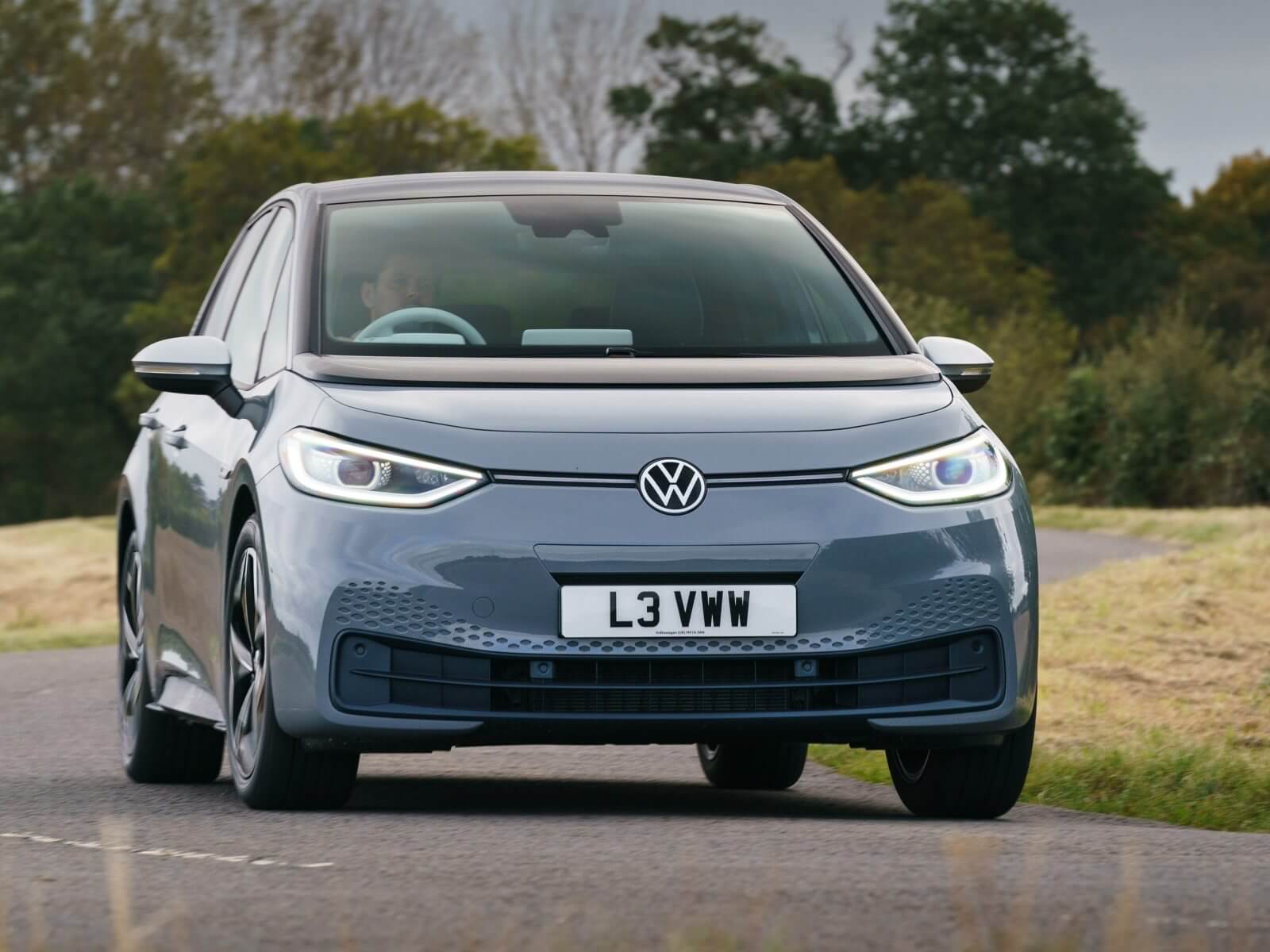 The first model from Volkswagen's new ID electric car sub-brand, the ID.3 effectively replaces the earlier e-Golf. Slightly shorter, yet wider and taller than the latest Golf, it has a futuristic look and offers plenty of space inside and a generous boot capacity. 
Available with three sizes of battery with range varying from 217-340 miles.
5. Polestar 2 - 336 miles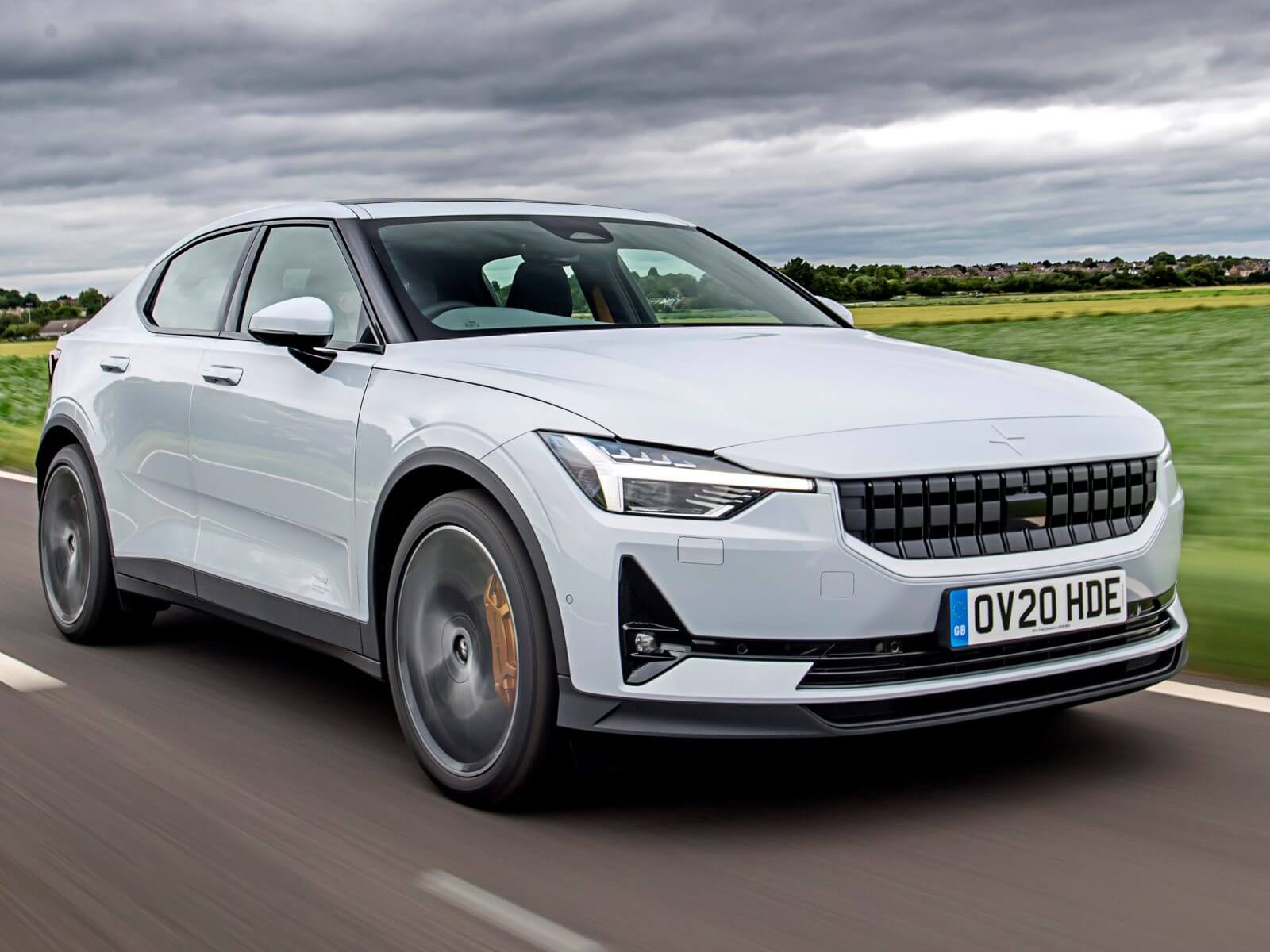 This distinctive five-door fastback is from Volvo's all-electric sister brand, Polestar. Taking on the Tesla Model 3, it oozes kerb appeal outside and Scandi chic inside. Blending practicality with performance and cutting-edge technology, it's whisper-quiet and there's stacks of instant torque. 
Choose from standard range, long range (single motor) or long range (dual motor) versions of this stunning EV. Range varies from 255-336 miles, while the 0-62mph sprint is as quick as 4.5 seconds. A class act.
6. Skoda Enyaq iV - 336 miles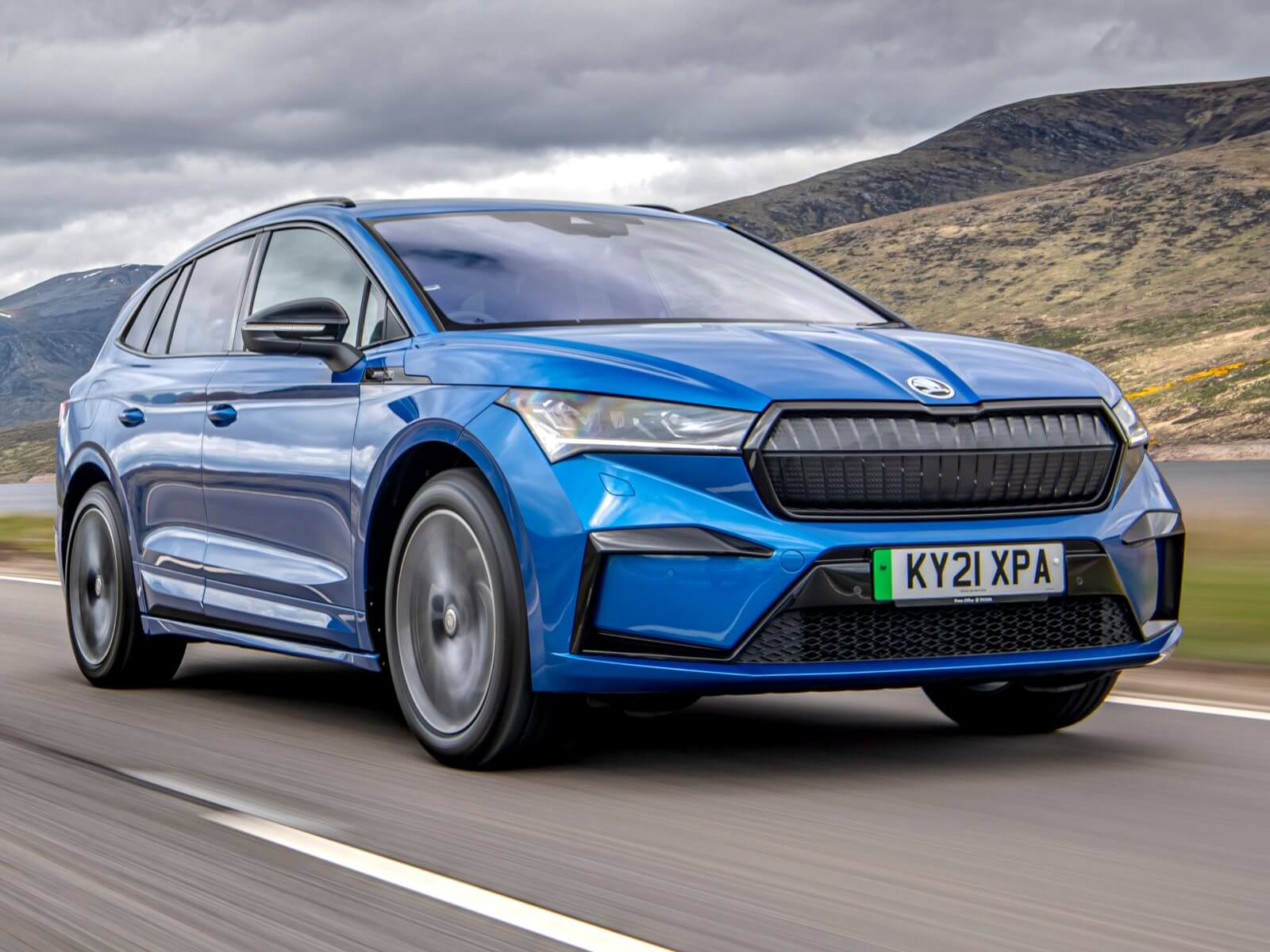 Skoda's first purpose-built EV is a revelation. Fast, spacious, packed with tech, well built and a doddle to drive, it even outshines its VW cousin, the ID.4. 
Competitively priced and available with either a 62kWh or 82kWh battery, it has a range of between 256-336 miles, while its bold design delivers serious road presence. 
If you're looking for an electric SUV, definitely test drive an Enyaq.
7. Tesla Model X - 333 miles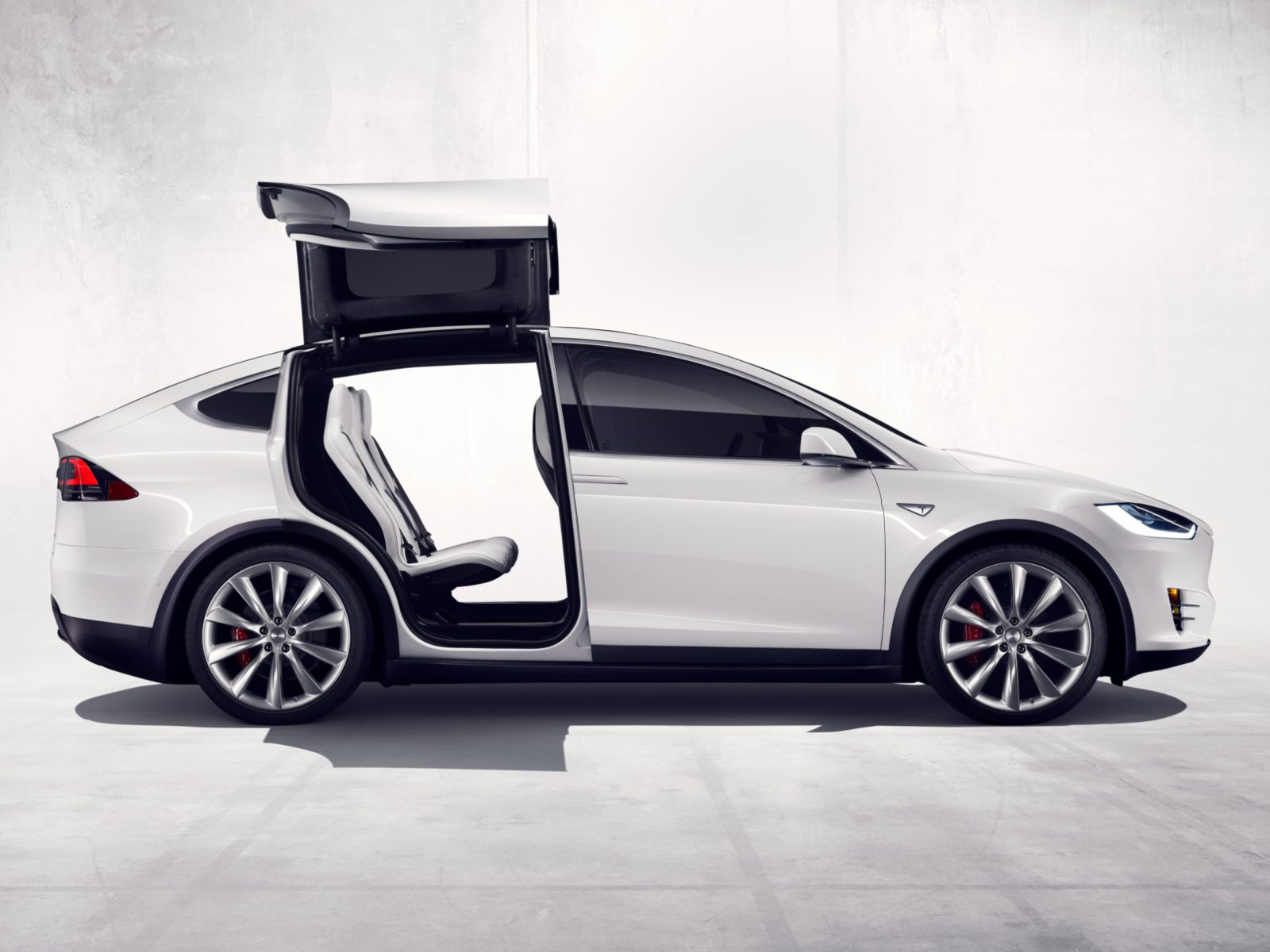 Tesla's epic all-electric SUV can seat up to seven people and features cool falcon-wing rear doors. Much like the Model S, it's a big smoothie. 
An ideal cruiser, its straight-line speed is impressive (the fastest version can hit 60mph in a blistering 2.5 seconds), but remember, it's at the more expensive end of the market.
8. Kia EV6 - 328 miles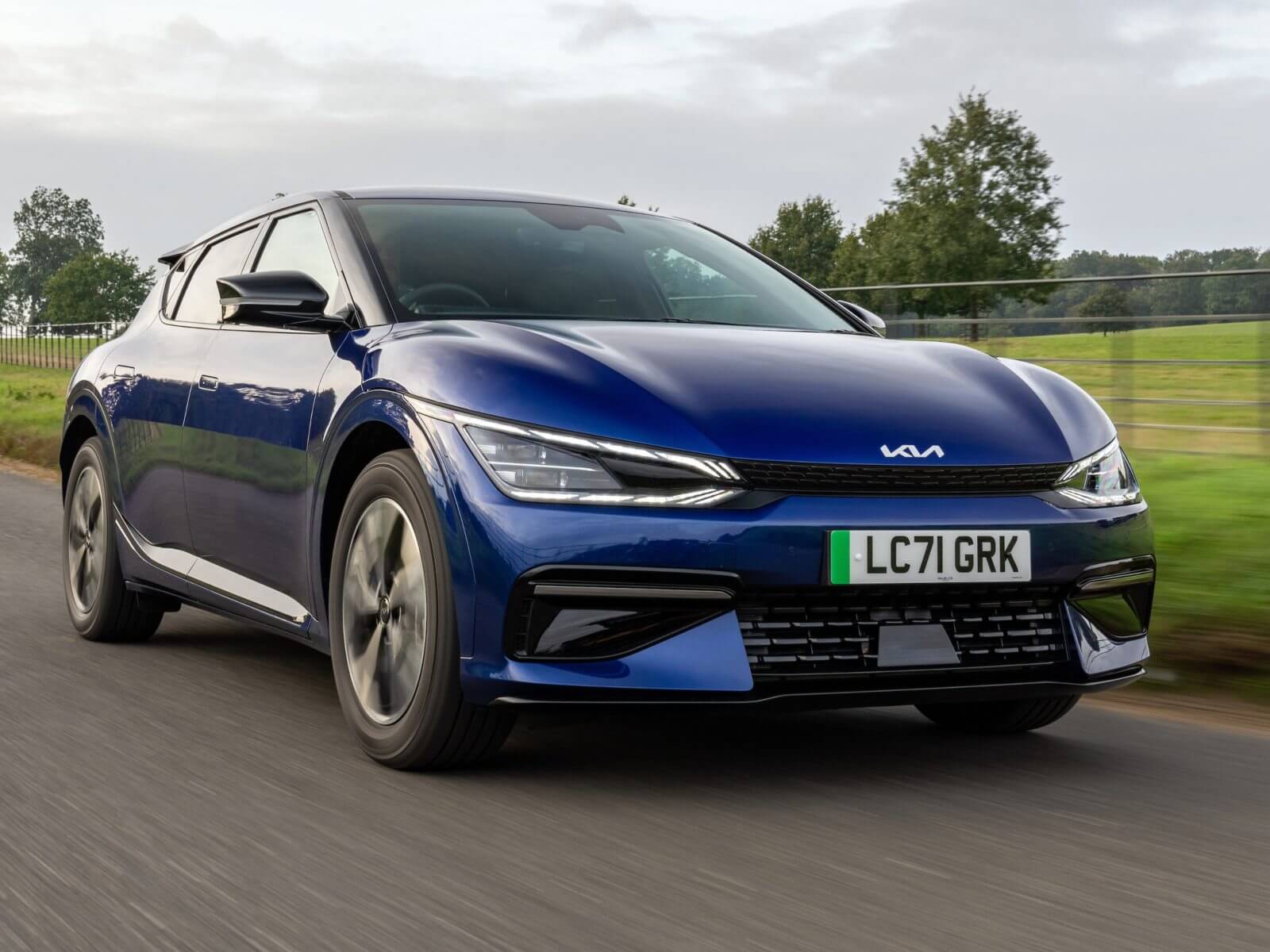 The futuristic EV6 is Kia first's electric-only vehicle. Initially available as either a 321bhp four-wheel-drive (dual motor) or a more affordable 226bhp rear-drive (single motor), the single motor has the greatest range (328 miles compared to 314 miles). 
The top speeds for both are 114mph, while the 0-60mph time for the four-wheel-drive version is 2.1 seconds faster at 5.2 seconds. 
In short, the EV6 is another great value game-changer from Kia – a winning blend of style, performance, practicality, technology and long-range capability. It also comes with a tempting seven-year warranty, while battery size is 77.4kWh.
9. Hyundai Ioniq 5 - 298 miles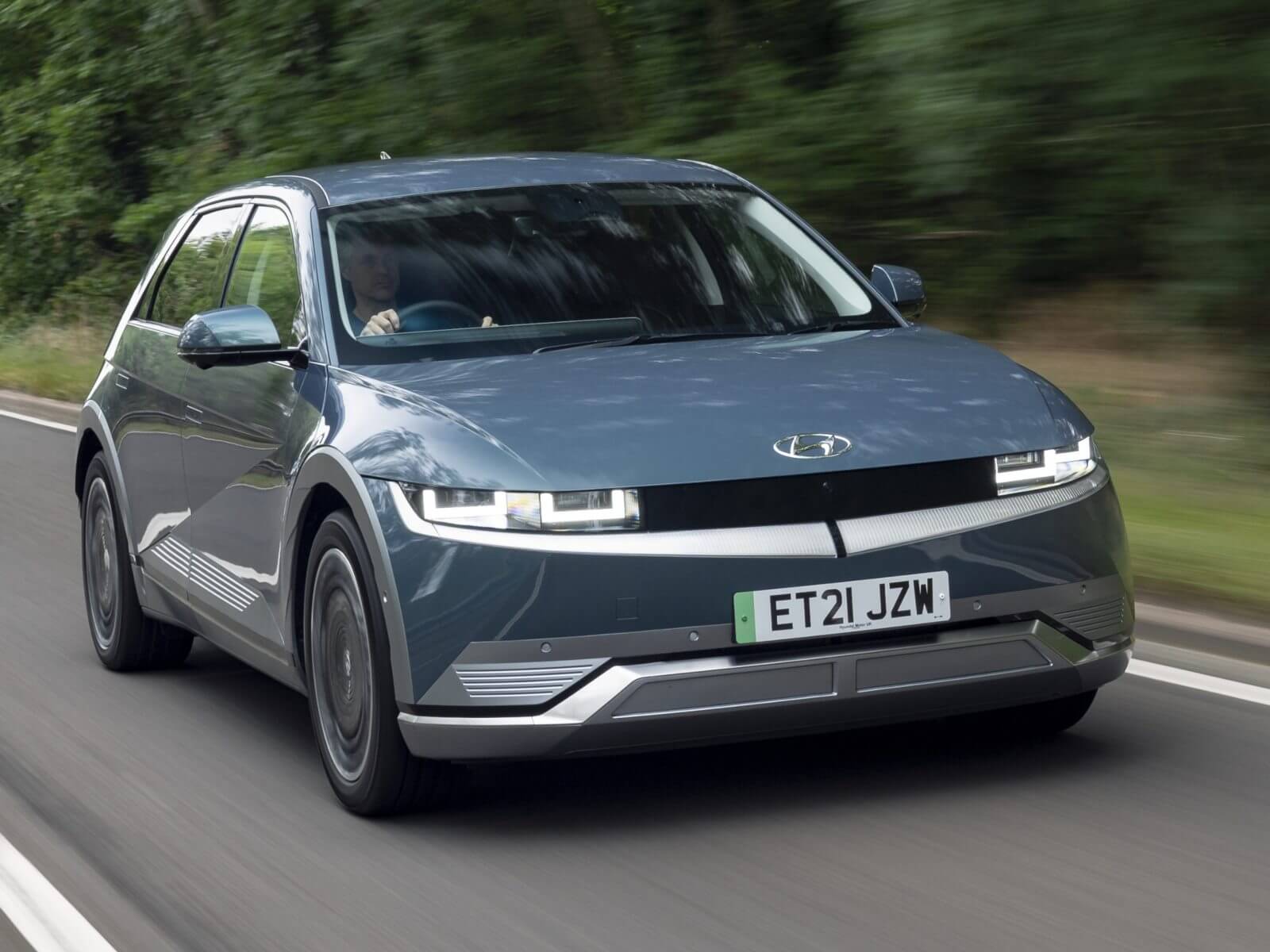 Crowned 'Car of the Year' at the Auto Express New Car Awards 2021, the retro-modern, pure electric Hyundai Ioniq 5 looks like nothing else on the road. Sharing its underpinnings with the Kia EV6, it's bigger in the metal than you think so there's a serious amount of space inside. 
Competitively priced, there's a range of battery and motor options available, plus rear-wheel drive or all-wheel drive. Pack with technology and futuristic inside, it's a revelation. 
For the record, its 0-62mph sprint time is as quick as 5.2 seconds, while charging to 80% using an ultra rapid 350kW chargepoint takes as little as 17 minutes!
10. Jaguar I-Pace - 292 miles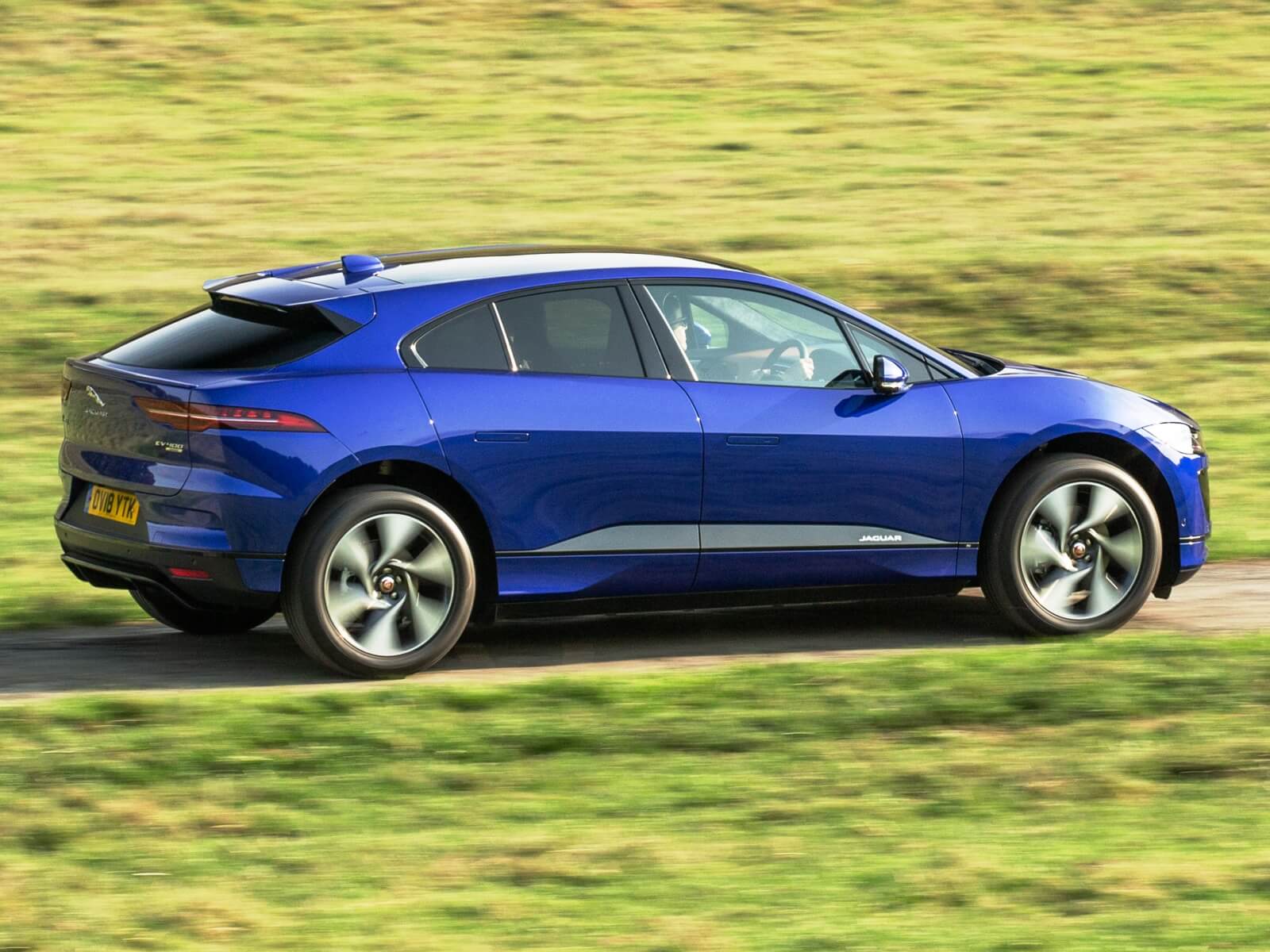 Jaguar became the first mainstream manufacturer to challenge Tesla in the premium sector when it launched the distinctive and impressive I-Pace in 2018. 
Not only does it look great, it's spacious, great to drive, has a 0-60mph time of just 4.5 seconds and an impressive range of up to 292 miles. Add to that its SUV practicality and four-wheel drive off-road capability and it's a compelling proposition. 
11. Kia e-Niro - 282 miles
The Kia e-Niro is quite simply one of the most affordable long-range electric vehicles on the market. Apart from being good to drive, spacious, well-equipped and packed with safety features, it has the flexibility of a crossover. 
Add Kia's generous seven-year warranty and reputation for dependability, and the new e-Niro is an impressive eco-friendly daily driver. Also consider the quirky, slightly cheaper Kia Soul. 
12. Porsche Taycan - 279 miles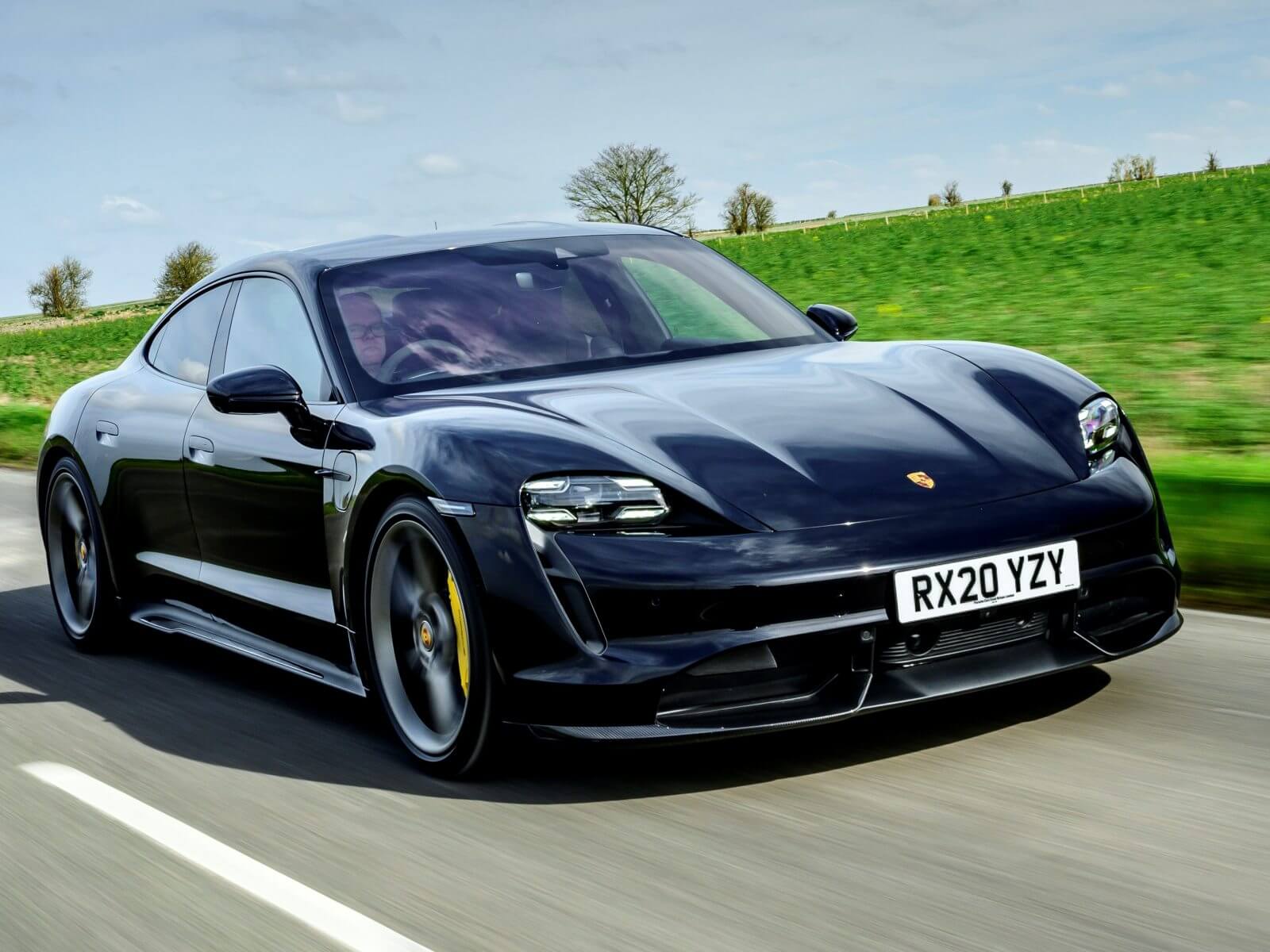 The stunning Tesla-rivalling Porsche Taycan EV is a revelation. A planet-friendly combination of superb driving dynamics, luxury, surprising practicality and excellent build quality, it's also savagely fast with a 0-62mph time of just 2.8 seconds. 
It's at the expensive end of the market, but then the Taycan is no ordinary five-door hatchback.
13. Hyundai Kona Electric - 278 miles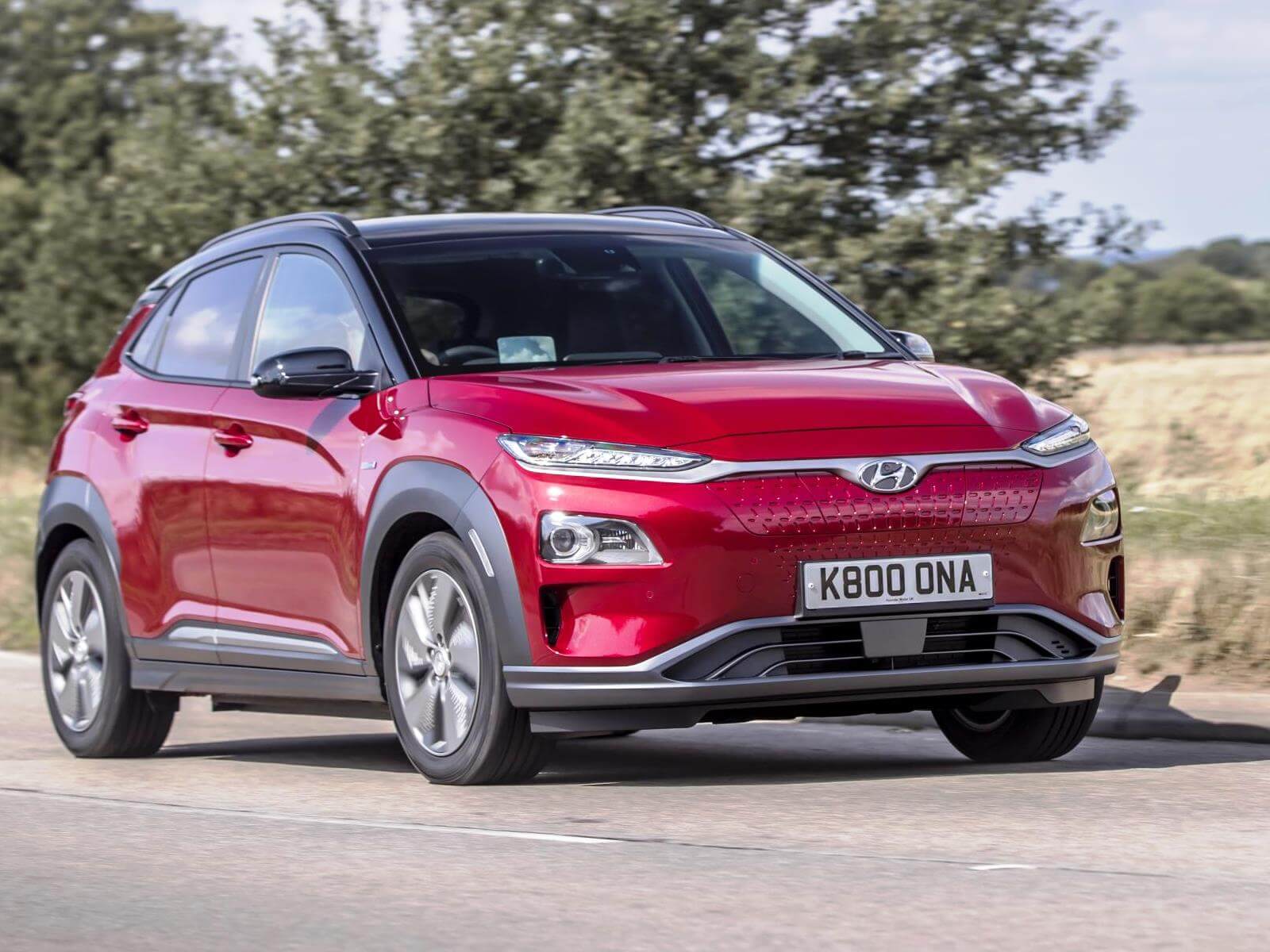 Based on the boldly styled Hyundai Kona compact SUV, the electric version comes with two sizes of battery (39 and 64 KWh), giving it a range of between 189-278 miles. Keenly priced, it was named Affordable Electric Car of the Year at the Auto Express Awards 2018. 
Refreshed in 2021, it's now better than ever. It offers peace of mind too because it comes with a generous five-year, unlimited mileage warranty, plus eight-year/125,000-mile battery cover.
14. Volvo C40 Recharge - 273 miles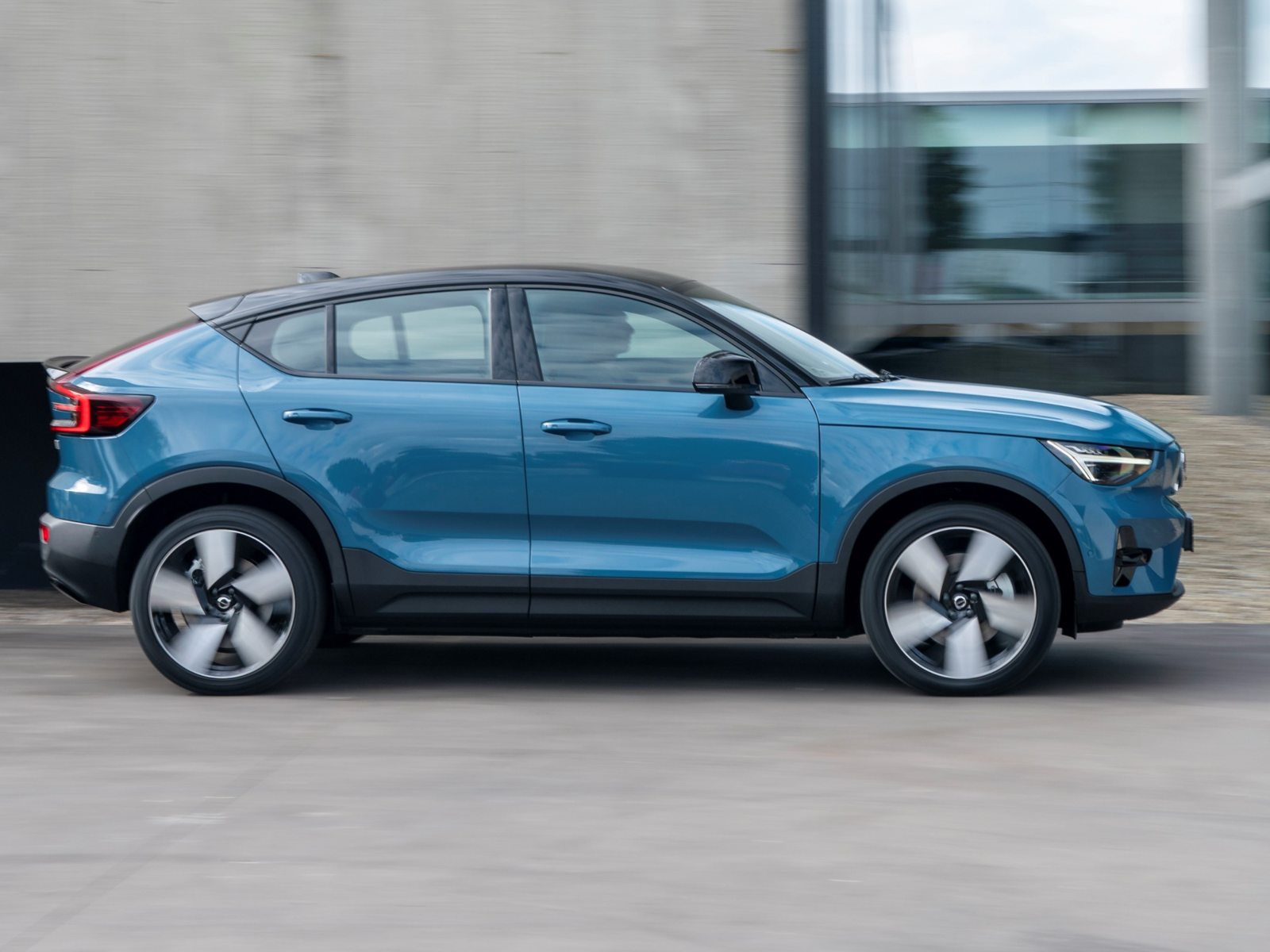 The stylish C40 Recharge is Volvo's first electric-only model (there will be no petrol or hybrid variants) and it's manufactured using a variety of sustainable materials. 
Sharing its EV powertrain and much of its body with the XC40 – Volvo's big-selling SUV – it's sleeker with a lower roof line and steeply-raked rear window, while the front end introduces the new face for the brand's electric vehicles. 
Blending performance, practicality and refinement with a good EV range, top tech and extensive safety features, it's a class act.
15. Audi e-tron S Sportback - 261 miles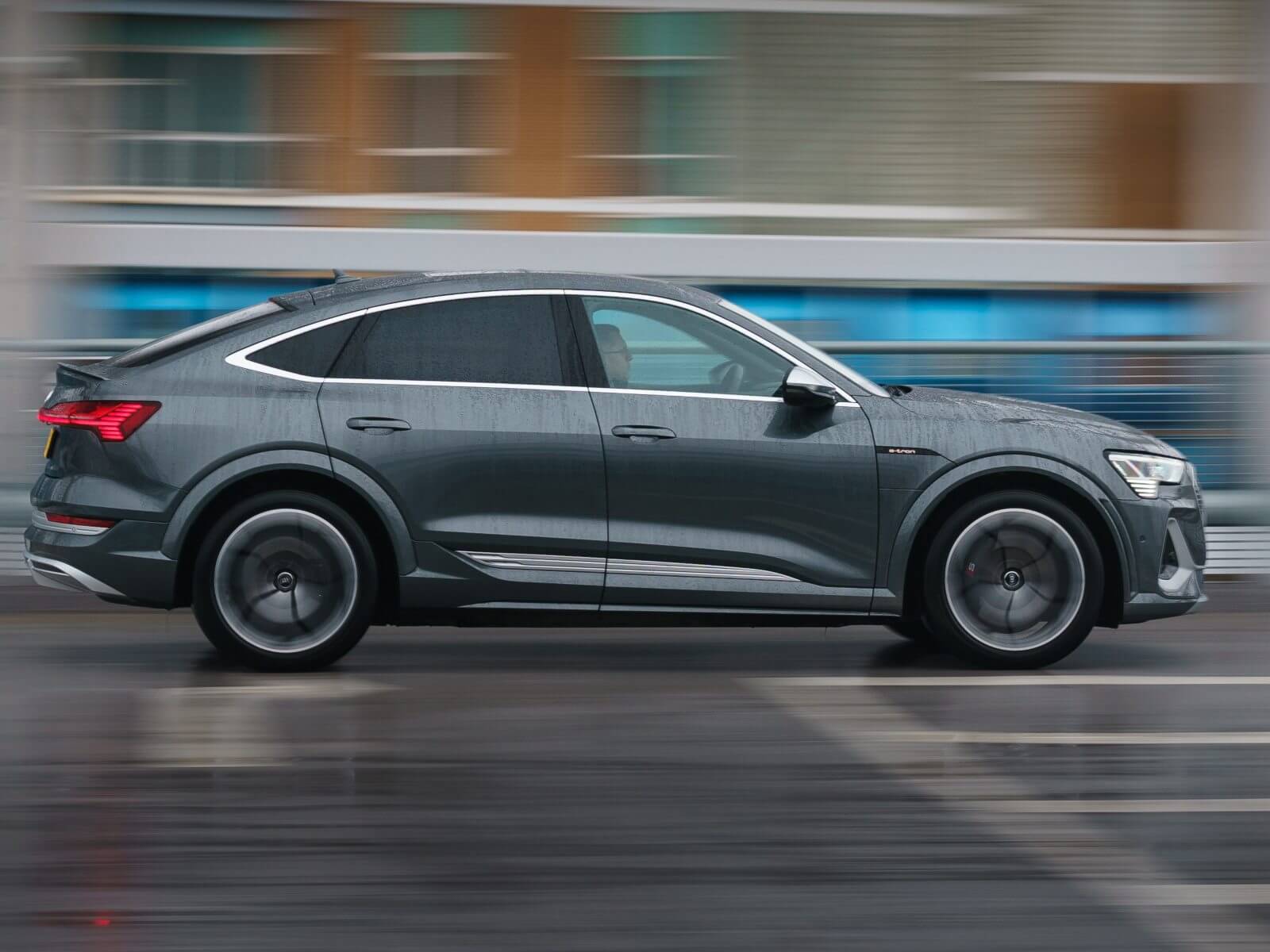 Audi's second fully electric production model has all the advantages of an SUV, plus brisk performance (it can sprint from 0-62mph in just 5.7 seconds) and the premium brand's excellent build quality. 
An enticing, zero emissions blend of performance, luxury and driving pleasure, the e-tron Sportback is spacious with genuine off-road ability.
16. MG5 EV - 250 miles
There's a reason why this self-effacing electric vehicle is fast becoming an increasingly common sight on our roads. Not only is it the only zero emissions estate EV, but it's superb value for money. 
The MG5 may not be the most handsome load-lugger on the market, nor does it handle like a Focus or Astra estate, but it does offer honest, practical, electric motoring at an affordable price. 
There's extra peace of mind too, courtesy of a generous seven-year/80,000-mile warranty.
17. Renault Zoe - 245 miles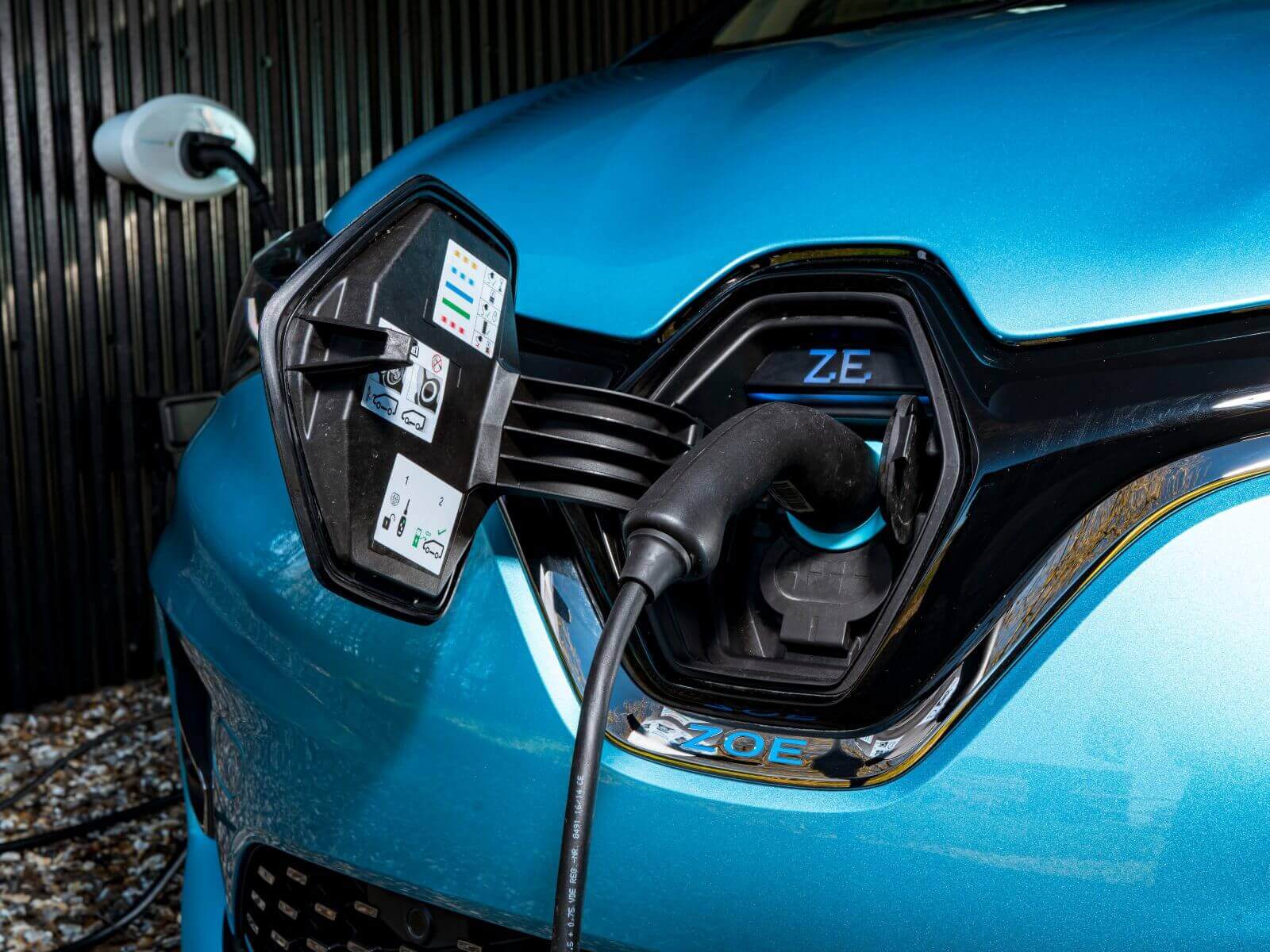 The Renault Zoe hatchback is the best-selling pure electric car in Europe and has had the cute supermini end of the market to itself for years. However, it's now facing tough competition from the likes of Honda e, Mini Electric, Peugeot e-208 and Vauxhall Corsa-e. 
The good news is the latest Zoe is better than ever and is hanging in there with its winning combination of space, equipment, driver engagement and personality.
18. Nissan Leaf - 239 miles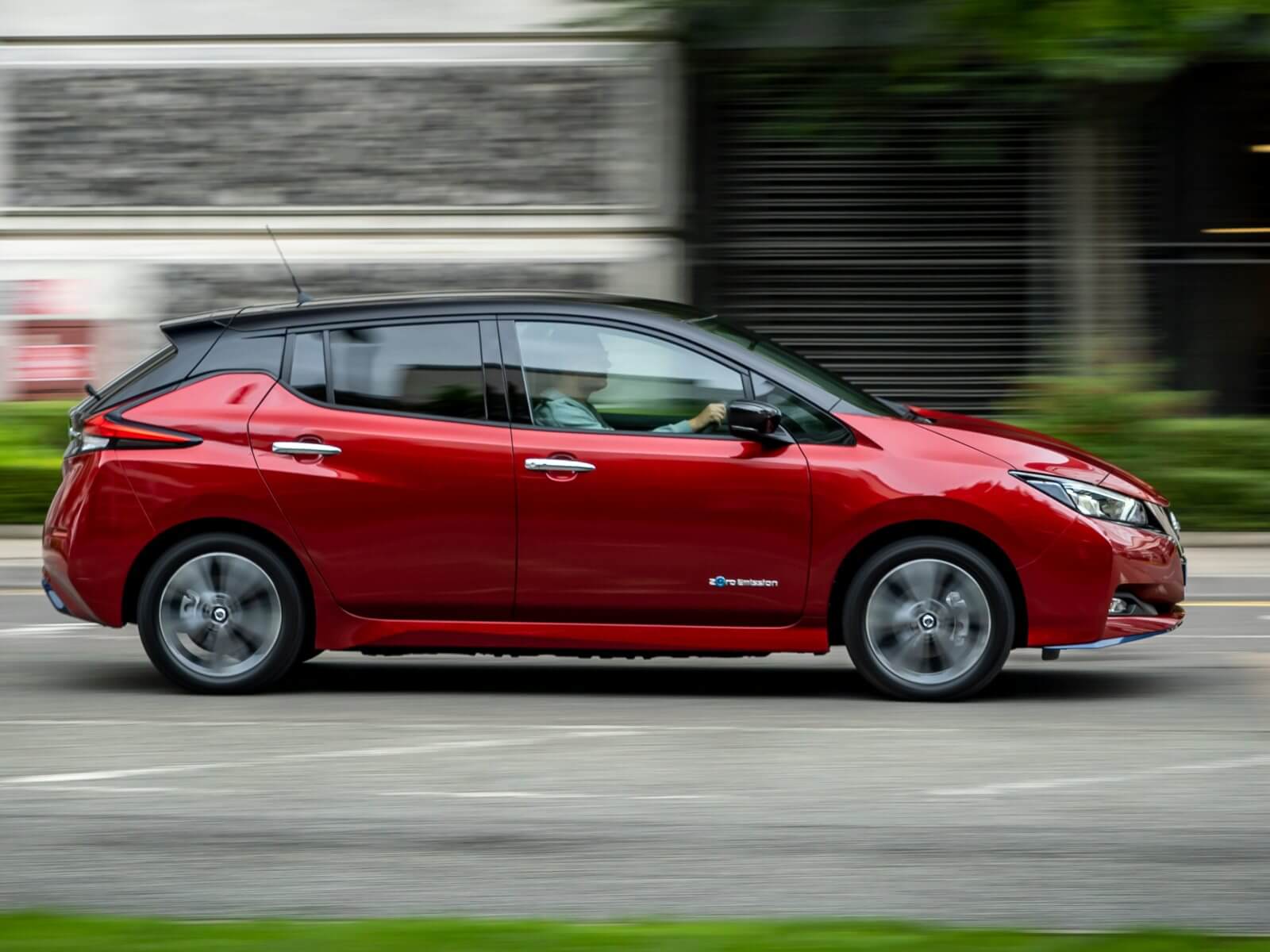 The pioneering Nissan Leaf is the world's most popular electric vehicle. Built in Britain, the top-of-the range version now has a 62kWh battery and looks far more conventional than its predecessor. 
It's also practical, pleasant to drive and a full charge takes around 7.5 hours using a 7kWh home charger, or as little as 60 minutes to get to 80% using a 50KW fast charger. 
19. Peugeot e-208 - 217 miles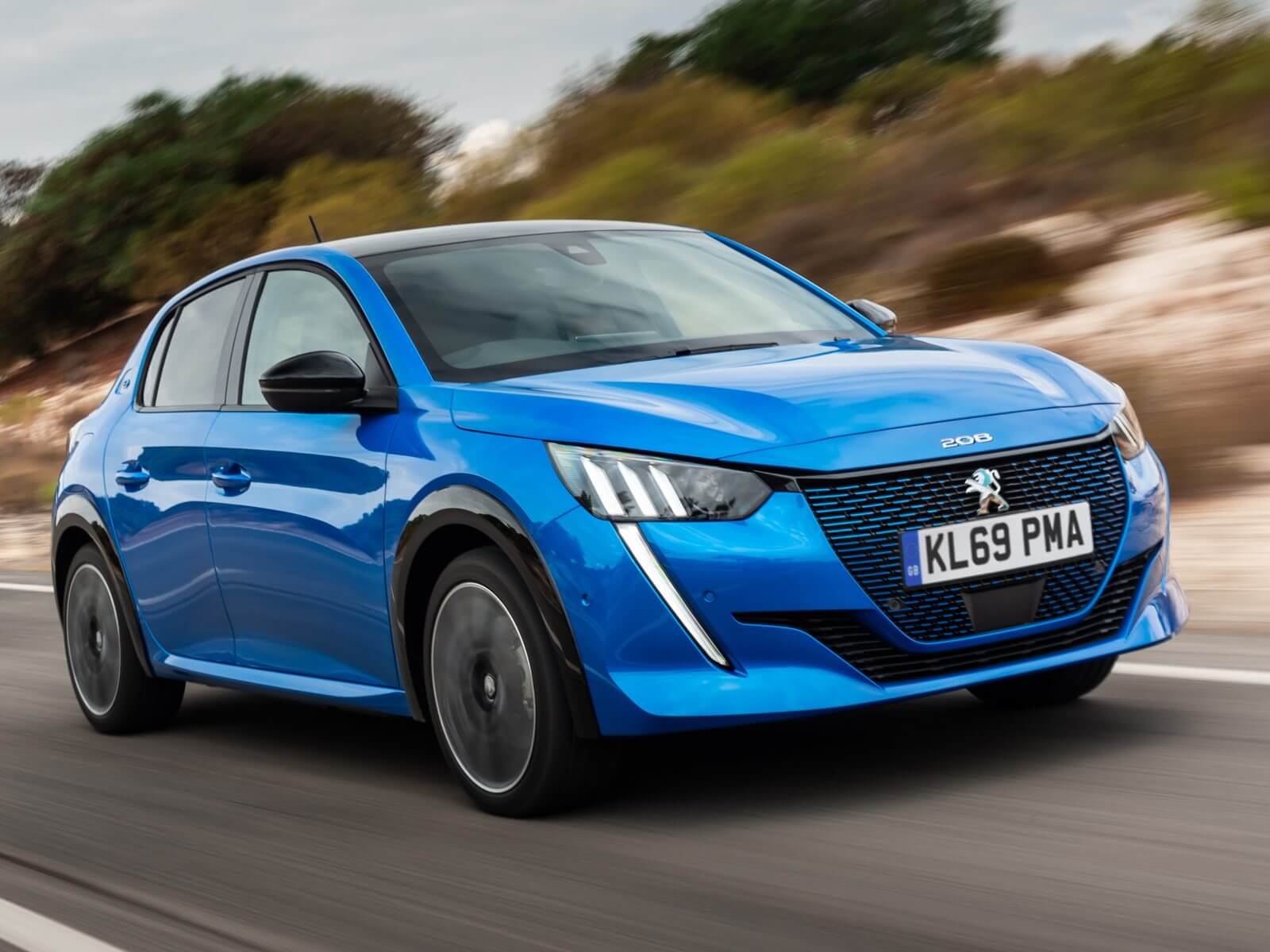 The 2020 European Car of the Year is one of the best-looking superminis on the market. 
Just like its diesel and petrol-powered siblings, the Peugeot e-208 drives well and boasts a classy interior. Naturally it's nippy too, with a 0-62mph time of 8.1 seconds. 
Charge overnight, or if you can find a rapid 100kW chargepoint, it can reach 80% in as little as 30 minutes.
Also consider the very similar Vauxhall Corsa-e.
20. Vauxhall Mokka-e – 201 miles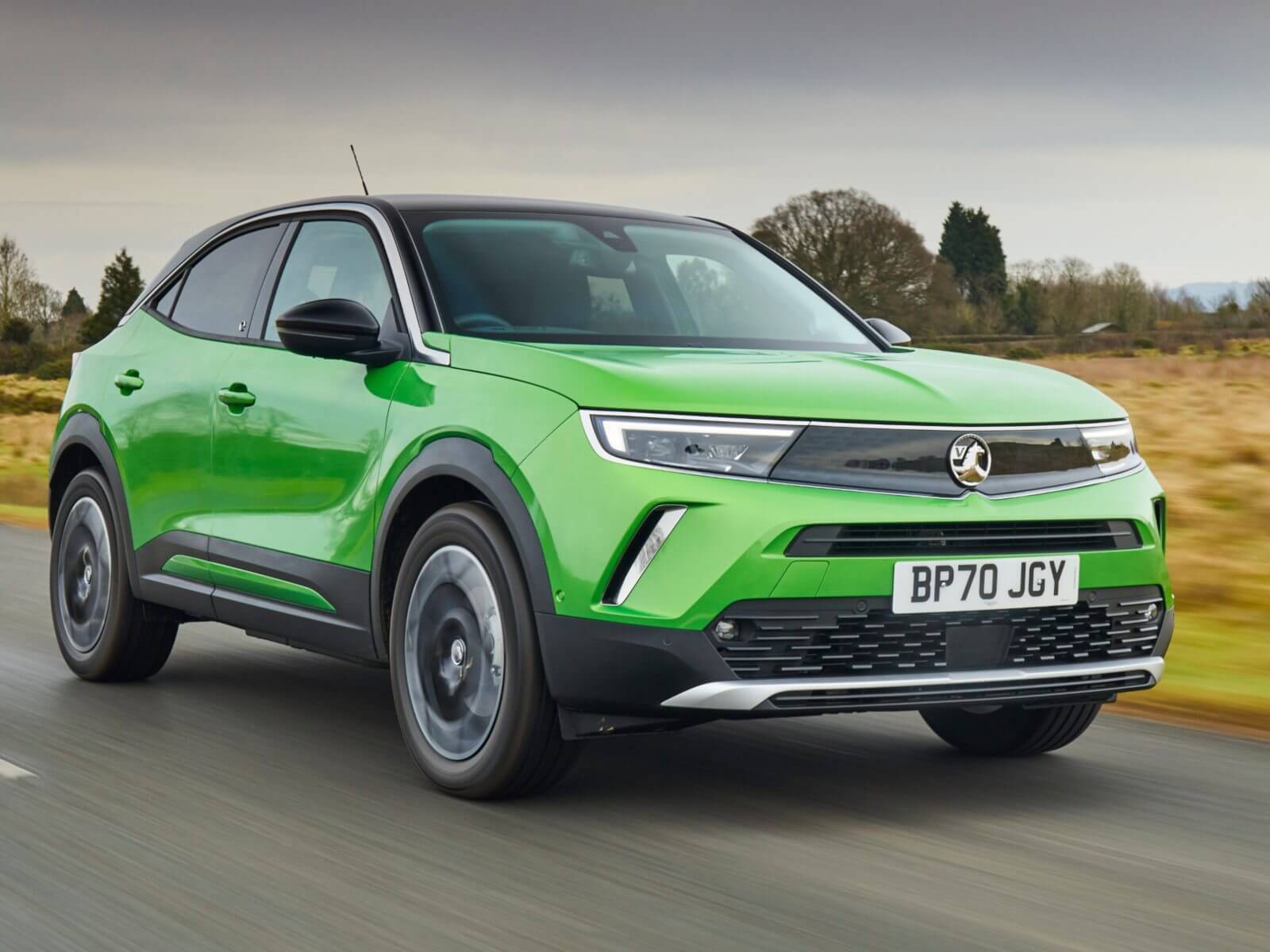 Arguably the best-looking Vauxhall ever, the 100% electric version of the Mokka is a distinctive urban crossover that should be on your EV shortlist. Competitively priced, it's swift and silent, and there's just enough room in the back for taller adults. 
Driven cleverly, it's also possible to visibly add the odd mile to its range via regenerative braking, which is always satisfying. 
Ultimately, the Mokka-e has a lot of charm, and being able to view that long, horizontal bonnet with the strong centre crease as you drive along is such a unique pleasure these days! 
21. Fiat 500 Electric - 199 miles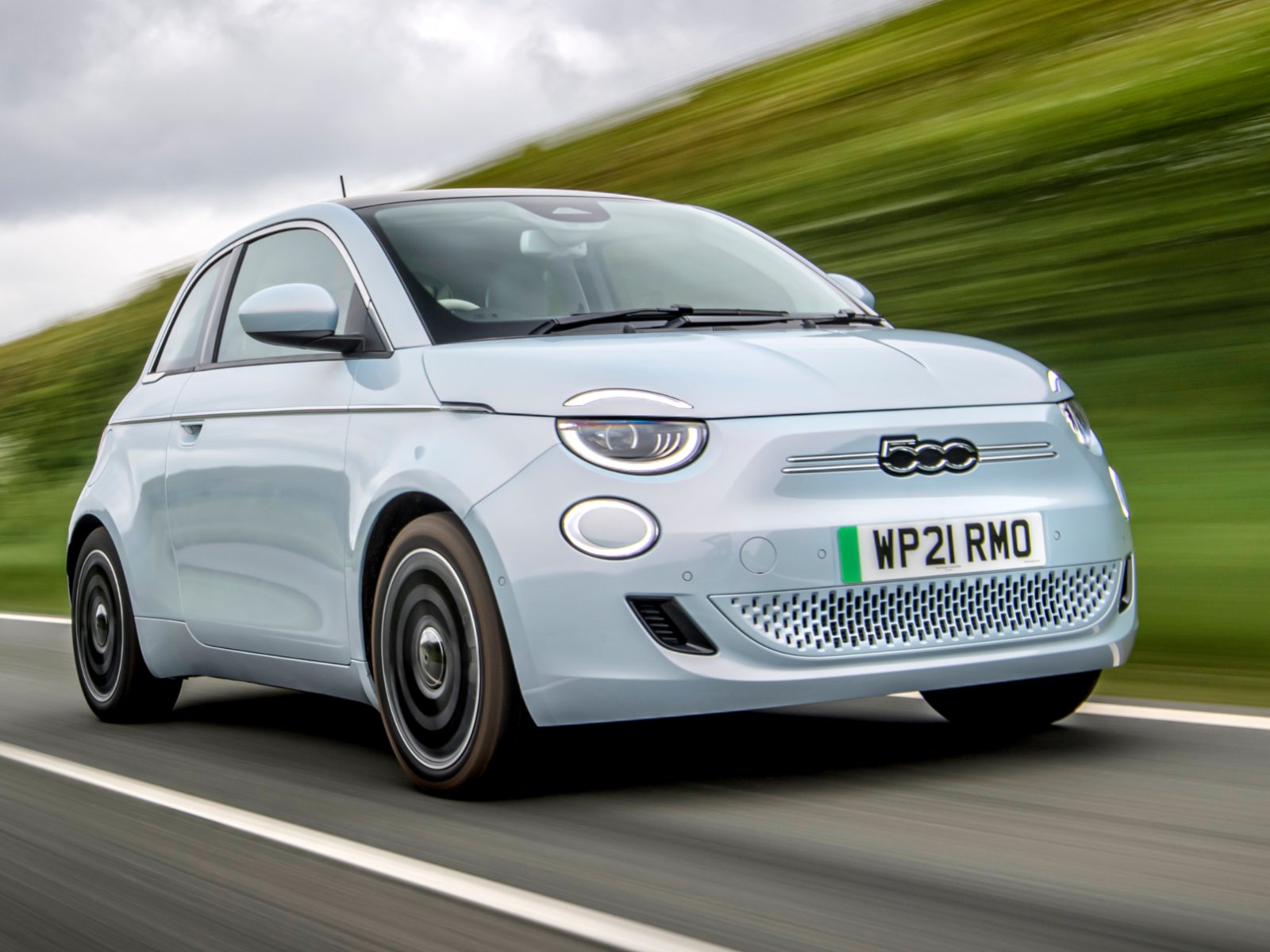 The all-new, all-electric third-generation Fiat 500 is one of the cutest and cheapest EVs on the market. 
It's grown up in more ways than one too, because not only is it packed with the latest tech, it's also slightly bigger. Despite the larger dimensions, it's still a squeeze for rear passengers, but all is forgiven because it's such fun to drive and it looks so cool. 
Available as a hatchback or convertible (Cabrio), it has a claimed range of up to 199 miles and can be charged from 0-80% in 45 minutes using a 50kW fast charger or overnight at home. 
22. BMW i3 - 190 miles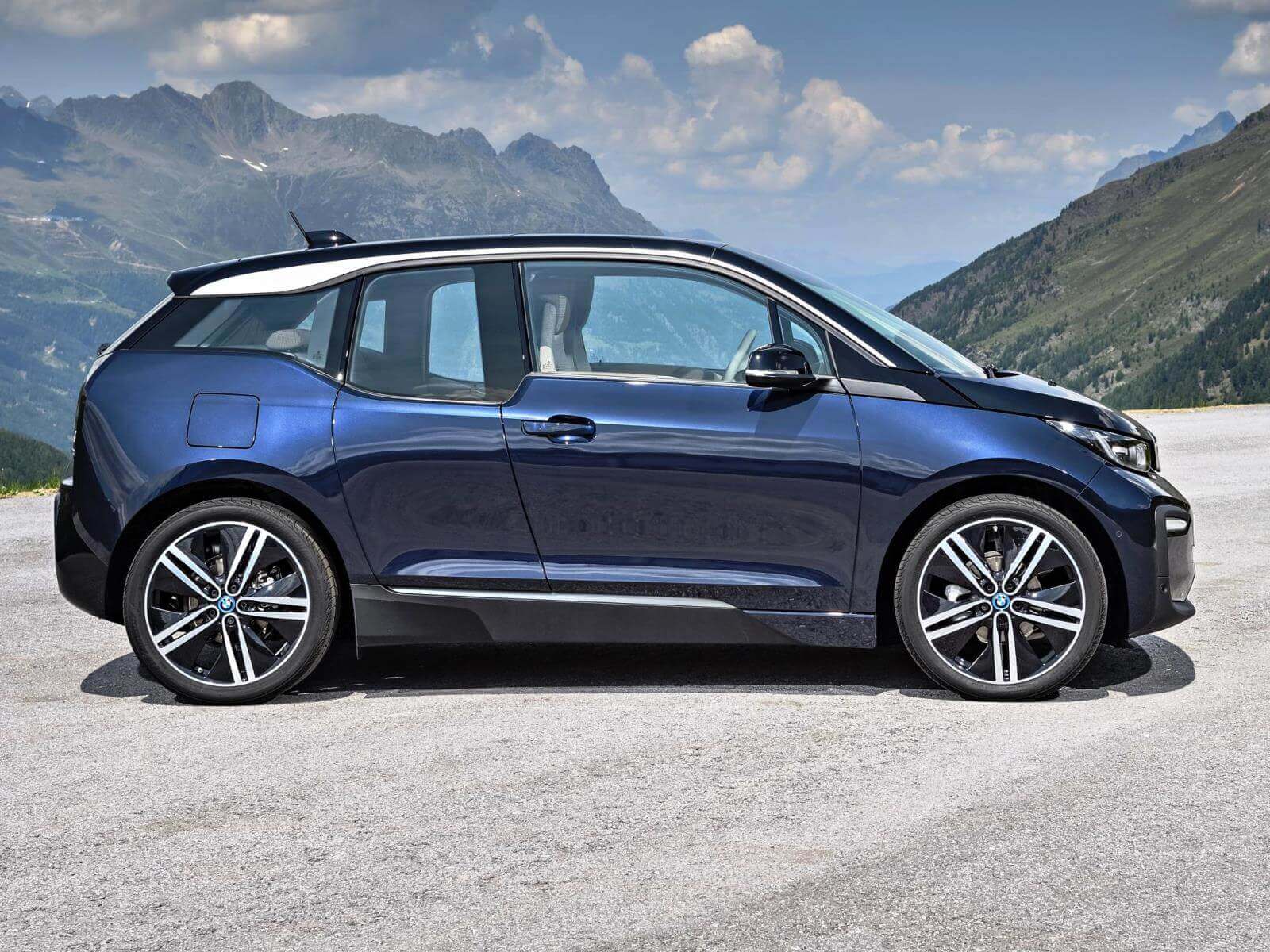 Still one of the coolest electric cars on the market, the i3 is fun to drive with premium badge appeal. Launched in 2014 and refreshed in late 2018, it now sports a more powerful battery (badged 120Ah) and is capable of a 0-62mph time of just 7.3 seconds. 
BMW reckons the i3 "can get you from London to Brighton, and back again, on just one charge". Top Gear magazine says: "The i3 remains the best premium small EV out there. Just be prepared to pay proper money." 
23. MINI Electric - 145 miles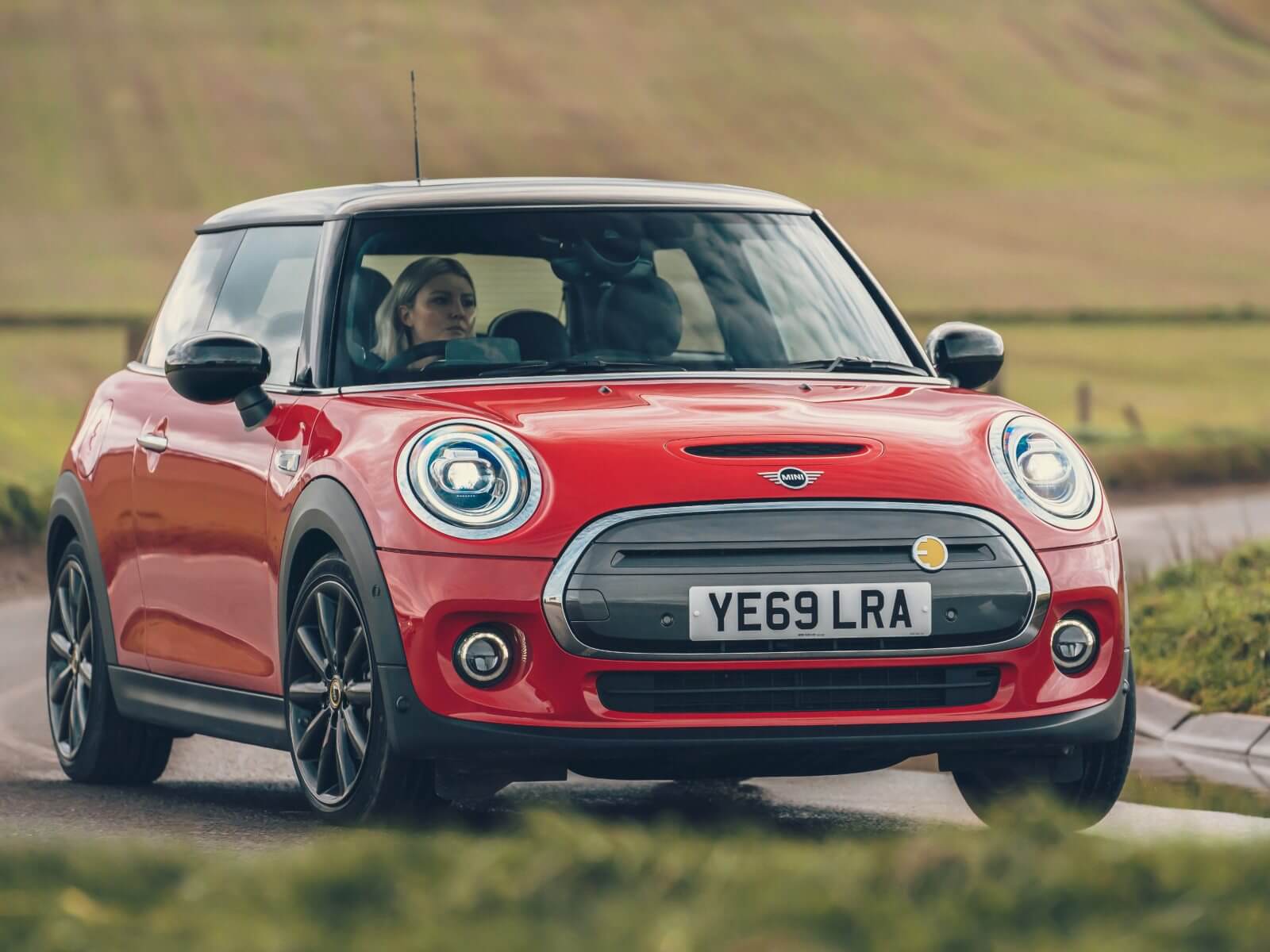 If you want an electric car, but prefer a more conventional look, then the all-new MINI Electric might be right up your street. 
That's not to say that the first fully electric vehicle from MINI is dull, because it's based on the popular and funky three-door MINI Hatch and it's still just as agile on the road. It's nippy too, with a 0-62mph time of 7.3 seconds but seeming much swifter.
24. Honda e - 137 miles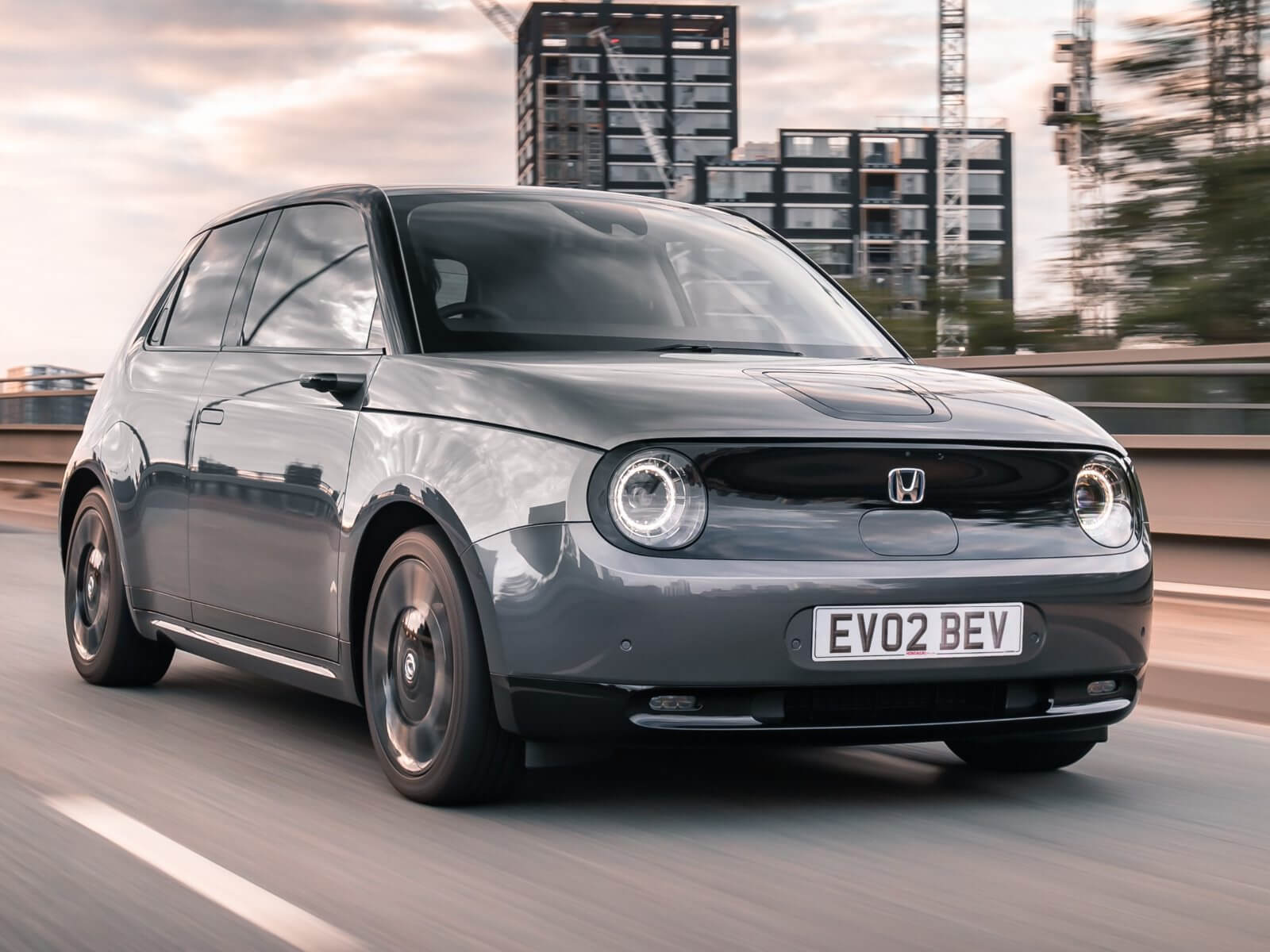 Easily one of the cutest cars on the market, the retro-styled Honda e is packed with tech and features a remarkably clever interior design, maximising space and storage. Most of all, it's easy and fun to drive, so if you're looking for an affordable, eco-friendly urban runabout, this should be at the top of your shortlist. 
The Honda e is a real game-changer, and we urge you to take one for a test drive to find out for yourself why it's so special. Small car, big personality.
25. Mazda MX-30 - 124 miles
Mazda's dramatic first electric car is an eye-catching coupe-like SUV with quirky rear-hinged back doors. A fun and fascinating addition to the EV scene, it's swift, smooth and near-silent. Not only does it stand out from the crowd, but it can be charged up to 80% in 36 minutes (via a 50kW rapid charger) or from home in under five hours. 
As standard, it's fitted with AEB (autonomous emergency braking), lane-keep assist and adaptive cruise control. There's also 'e-call with GPS', which informs the emergency services and provides them with your vehicle's exact location in the event of an accident.
Go green, enjoy savings
As we've shown, there's now plenty of choice in the EV market. But the environment isn't the only thing you could save by switching to electric.
Use our journey cost calculator to see how much more money you could keep by going green.
Whatever you drive, make sure you have the right motor insurance.