As sales of SUVs and crossovers continue to accelerate, let's not forget that the good old family hatchback is far from dead.
The Volkswagen Golf, Ford Focus and Mercedes-Benz A-Class all held their own in the UK's top 10 best-selling cars of 2019.
Mid-sized hatchbacks still make up a large proportion of new and used car sales, yet they have one of the hardest jobs. They must be good value, spacious enough for a family, comfortable, reliable, safe, easy to park and cheap to run.
Back in the day, family hatchbacks were often dull to look at and drive, but that's certainly not the case now. Most are stylish and engaging on the road, and some are positively upmarket.
We've only got space for 10 in this list, so controversially, we've left out some other very good family cars including the five-door MINI Hatch, Mazda3, Vauxhall Astra and Renault Megane, such is the competitiveness in this sector.
Prices quoted are correct as of September 2020.
Skoda Octavia – from £20,965
Launched in 2020, the fourth generation of Skoda's best-selling car is better than ever. This family favourite continues to offer a winning blend of space, practicality, comfort and value for money, but now with cutting-edge tech and a sharper new look.
Slightly bigger than its predecessor, it's also more refined, while Skoda's reputation for dependability will seal it for many new car buyers. At launch, there's a choice of frugal petrol and diesel engines, with a plug-in hybrid to follow.
Toyota Corolla - from £24,185
Back in the UK in 2019 after a 15-year absence, the 12th generation Toyota Corolla is the best yet. Built in Britain (and still the world's best-selling car), it's at the top of its game.
The only hybrid car in our top 10, there's a choice of 120bhp 1.8 or 178bhp 2.0-litre petrol engines. Using Toyota's tried and tested self-charging hybrid system (it recharges while you drive, so no need to plug in), the smaller engine is capable of up to 62.7mpg, while emissions are as low as 110g/km.
Well equipped, safe and spacious, it offers a smooth and surprisingly engaging drive.
Volkswagen Golf - from £23,300
Another 2020 newcomer, the eighth generation VW Golf is a sleek evolution of the outgoing model. There's new digital technology for one, including voice activated control, which allows you to manage a whole range of functions without touching a button.
Considering its predecessor still managed to be the second best-selling car in the UK in 2019, the latest Golf has got success written all over it, because it's more refined, comfortable and dynamic to drive than ever.
Offered with a choice of efficient petrol and diesel engines with mild hybrid options, a plug-in hybrid version will follow. 
BMW 1 Series - from £25,005
It shouldn't be underestimated how important the 1 Series is for BMW because it accounts for roughly one in five cars sold by the German giant.
Originally launched in 2004, its combination of distinctive looks, classy feel and dynamic drive have proved to be a winning combination. The third-generation car, introduced in 2019, may not look much different to its predecessor, but crucially for families, there's now much more space inside.
Now add superb build quality, a top infotainment system, the latest safety tech and premium badge appeal, and it's no surprise that the BMW 1 Series is a classy choice.
Ford Focus - from £22,210
Launched in 2018, the fourth-generation Focus is a return to form after its lacklustre predecessor. The UK's third best-selling new car in 2019, it's stylish, comfortable, safe and practical, and handles superbly too.
Like most modern family hatchbacks, it's only available with five doors, while the excellent choice of efficient petrol and diesel engines means there's something for every buyer, whether you're looking for economy, performance or low emissions. Hard to fault.
Audi A3 - from £23,875
Another fresh face for 2020, the handsome fourth generation Audi A3 Sportback builds on the success of the outgoing model, with its blend of driver engagement, refinement, a comfortable, quality interior, the latest tech and serious badge envy.
Available with a choice of petrol, diesel and mild-hybrid engines (with a plug-in hybrid to follow), it's a class act. Battling it out with the BMW 1 Series and Mercedes-Benz A-Class at the premium end of the family hatchback sector, there's frankly not much between them.
Saloon and Cabriolet variants of the A3 are also on offer, but the hatchback offers the best space for families.
Kia Ceed - from £18,855
The third generation Kia Ceed was introduced in 2018. A real step-up from the previous model, its smart looks, extra space and good range of engines, combined with improved driving dynamics and build quality, put it among the leaders at the affordable end of its class.
Available with a selection of petrol and diesel engines, it's also blessed with Kia's generous seven-year warranty and reputation for dependability.
Opt for the XCeed (similar but with a slightly raised ride height and more rugged look) and there's also the option of an impressive plug-in hybrid with an electric-only range of 36 miles, CO2 emissions as low as 32g/km and fuel economy potential of 201.8mpg. On longer journeys, an average of 55-60mpg is very possible. 
Seat Leon - from £19,855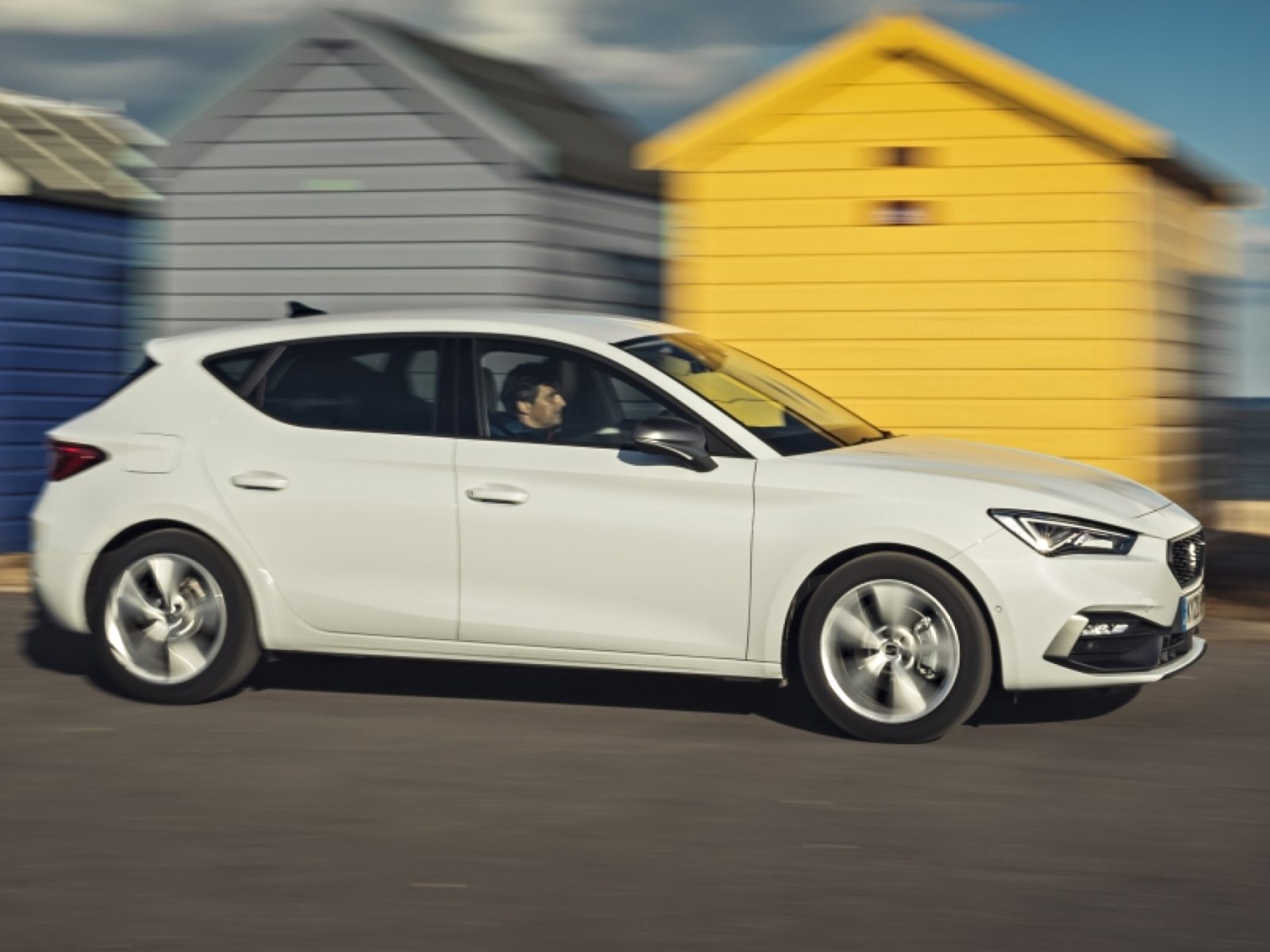 Another newcomer for 2020, the fourth-generation Leon offers good looks, value for money, space, loads of standard kit and sharp handling.
Related to its VW Group cousins, the Volkswagen Golf, Skoda Octavia and Audi A3, buyers can choose from six trim levels and standard equipment on the entry-level model includes LED headlights, keyless entry and an 8.0-inch infotainment system. Available with a choice of two petrol engines (a 1.0 or 1.5-litre) or a 113bhp diesel, a plug-in hybrid will follow.
Again, only available with five doors, by all accounts it's the best Leon yet. "Cheaper than a Golf. As well equipped as a Golf. Drives as well as a Golf," reckons Top Gear magazine.
Mercedes-Benz A-Class - from £23,755
Now in its third generation, the latest Mercedes-Benz A-Class is a hit with British buyers, coming in at a healthy number five in the UK's best-selling cars of 2019.
Comfortably beating its premium rivals in this sector, the BMW 1 Series and Audi A3, its upmarket image, class-leading technology, gorgeous interior, comfort and refinement have proved to be a winning combination.
Available with a wide choice of petrol and diesel engines, there's also a plug-in hybrid version. It combines a 1.3-litre turbo petrol engine, a battery and an electric motor to produce a punchy 215bhp, meaning it can sprint to 62mph in just 6.6 seconds, yet its CO2 emissions are as low as 26g/km. It can travel for up to 44 miles purely on electric power, while fuel economy is (on paper) more than 200mpg.
Honda Civic - from £20,270
Built at Honda's UK manufacturing plant in Swindon, the 10th generation Honda Civic was introduced in 2017 and couldn't have looked more different than the outgoing model. Longer, lower, lighter and wider, its radical styling makes it one of the most distinctive five-door family hatchbacks on the market.
Spacious, safe, comfortable, well equipped and a pleasure to drive, two turbo petrol engines are on offer – a 127bhp 1.0-litre three-cylinder and a 180bhp 1.5-litre four-cylinder. Add Honda's reputation for reliability and the Civic is a tempting alternative.