It's estimated that more than a million people around the world have survived car accidents thanks to the three-point seatbelt invented by Volvo in 1959.
Technology has moved on big time since then and these days the list of safety and driver assistance systems when you buy a new car is as long as your arm. Most do what they say on the tin, but some need some explanation.
We've highlighted 10 of the best bits of car safety tech available and attempted to explain how they work and what they do.
Annoyingly, manufacturers often use their own naming conventions for their systems, so it's often not easy to know what you're getting. As you'll see, we've tried to use generic terms where possible.
The vast majority of new cars are tested by Euro NCAP (European New Car Assessment Programme), an independent organisation which performs a range of crash tests and rates each car. You can use its free 'How safe is your car?' online tool to find out more.
1) Autonomous Emergency Braking (AEB)
Source: Skoda
Most new cars now feature this safety essential, though in some it's sadly still an option and not fitted as standard.
Autonomous braking systems use sensors and cameras to monitor the road ahead, alerting you (usually via a flashing graphic on the dashboard and a beeping noise) to an impending collision. If you don't take any action, the AEB system will automatically perform an emergency stop to lessen the impact.
At lower speeds, it can even prevent an accident altogether.
2) Lane Departure Warning (LDW)
Another increasingly common feature on modern cars, a lane departure warning system is a safety technology that alerts you (again, usually via a beep and flashing warning light on the dashboard) when you unintentionally drift out of your lane without indicating.
LDW shouldn't be confused with Lane Keeping Assist (LKA) systems which actively counter steer in order to keep your vehicle in a lane.
3) Lane Keeping Assist (LKA)
This technology uses cameras and sensors to warn you when you unintentionally leave your lane, but also actively intervenes to keep your car in lane. Some manufacturers use beeps and warnings lights to alert you, while others vibrate the steering wheel or even give your seatbelt a light tug.
If you don't react, the system will automatically bring your vehicle back into its original lane using a 'correcting' application of the steering wheel, and the brakes, if necessary.
4) Driver fatigue alert
According to The Royal Society for the Prevention of Accidents (RoSPA), driver fatigue may be a contributory factor in up to 20% of road accidents, and up to a quarter of fatal and serious accidents.
Most manufacturers now fit various driver alert systems, giving you early warning of when you need to take a break on long and tiring journeys. For instance, Subaru's Driver Monitoring System uses a camera combined with facial recognition technology to detect if your gaze has wandered or if you're dozing off, alerting occupants if this occurs.
Vauxhall's Driver Drowsiness Alert also triggers an audio and visual warning if the vehicle veers unexpectedly, suggesting driver fatigue or inattention.
5) Rear/front cross alert
Source: Lexus Europe
When you've driven a car with this technology, you'll never want to do without it again. These systems sense traffic that may cross your path as you reverse (maybe when you're backing out of a parking space).
Cars fitted with front cross alert are great for when you're emerging from a driveway or side road onto a road where vision is limited. Cross alert tech uses sensors and/or cameras to detect if there's a vehicle in your blind spot.
6) Blind spot monitoring
Blind spots can be the cause of major accidents, especially on the motorway. Blind-spot monitoring uses a set of sensors mounted on the side mirrors or rear bumper to detect vehicles out of sight. The most common systems feature small light indicators in your mirrors to warn you that it's not safe to change lane.
The all-new Kia Sorento goes a step further with a Blind-Spot View Monitor fitted in the 12.3-inch instrument cluster ahead of the driver. If you indicate to change lane with another vehicle hidden in your blind spot, it triggers a video feed on the left or right side of the display highlighting the 'hidden' vehicle.
7) Head-up Display (HUD)
Inspired by fighter pilot technology, a head-up display beams essential information (anything from current speed to basic sat nav direction) into your field of vision.
The most basic HUD systems feature a small transparent screen that pops up from the dashboard with info appearing on its surface. More expensive cars have the information projected onto the windscreen itself.
Again, it's really useful, and it's especially good for keeping track of speed limits.
8) Adaptive Cruise Control (ACC)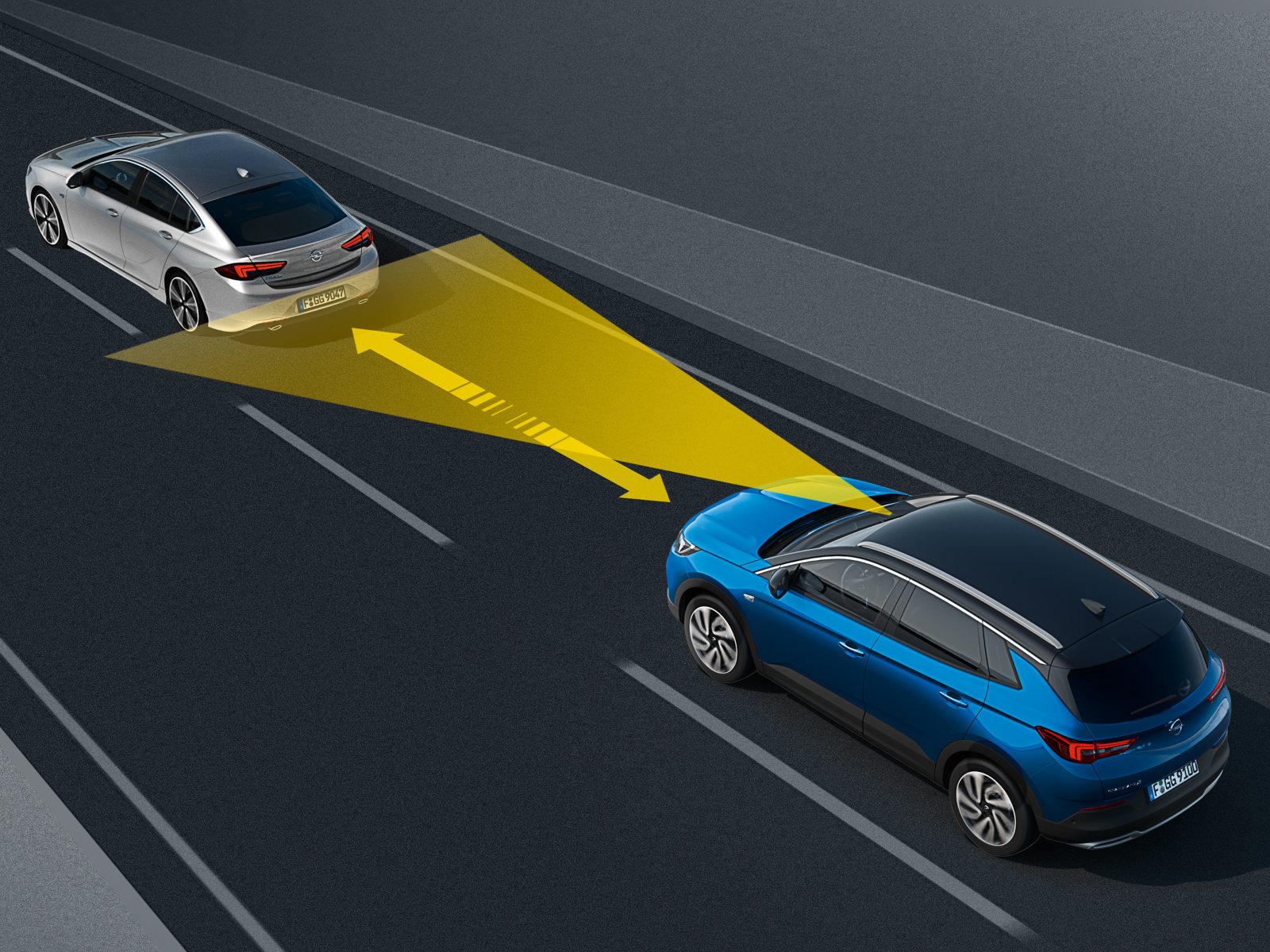 Source: Vauxhall
Cruise control and speed limiting functionality are nothing new. Adaptive Cruise Control not only lets you choose the speed you want to drive at and maintain it, but it uses sensors and/or cameras to detect a vehicle ahead and the system will automatically slow down your car to maintain a safe distance. Once the road in front is clear, the system will accelerate back to your chosen speed.
Some ACC systems can also take control in stop-start traffic jams and even read speed limit road signs. If you regularly spend hours on the motorway, Adaptive Cruise Control is a must.
9) Night vision
Many premium car makers, including Audi, BMW and Porsche, are now fitting night vision assistance to their cars. These systems use a thermal image camera (infrared camera), typically integrated into the grille, to look for 'warm' objects ahead which would otherwise be hidden from view in the dark.
In other words, these systems can pick out cyclists, pedestrians and animals as far as 200 metres ahead, displaying an image in the digital display ahead of the driver.
10) Automatic high beams
Source: Volvo
Switching from dipped headlights to high beams in order to avoid dazzling oncoming traffic is something we all grapple with, especially on poorly lit roads or on unfamiliar journeys at night. Automatic high beam systems automatically flick from low to high beam and back again.
Systems vary, but basically a camera sensor detects the headlamp beams of oncoming traffic or the rear lights of vehicles in front and takes the appropriate action.