From a tiny bundle in your arms, your little ones will grow up in the blink of an eye. As soon as they've taken a few short crawls, they'll be racing about in no time and your home is the perfect playground for your little urban explorer. As exciting as it is to see them taking those early steps, it means it's time to get babyproofing.
It's probably been a fair while since you were a baby, and so much of your household furniture, stairs, doors and fixtures can become new and unexpected hazards that it's great to prepare for early.
Last year (2019) over 1,100 accidental damage claims involved a baby or toddler – which makes up nearly 10% of all our accidental damage incidents. Home contents are adding up to be worth more and more each year – which is why it's so important to protect you and your family as soon as possible. 
So to help you get your house prepared and proofed for inquisitive hands, minds and fingers – take a look at our handy guide.
Get low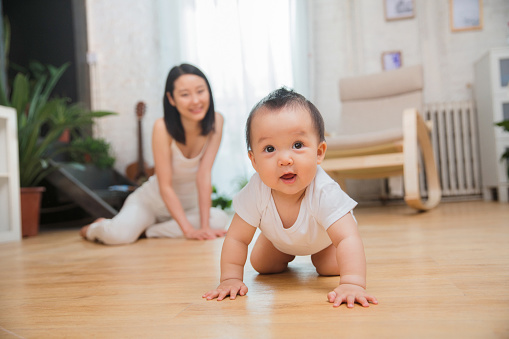 The first step to take when planning out your proofing is to think like a baby! Or at least look from their angle – get down to the floor, what can you see? Table legs, wires, rugs, corners, stairs, plugs – these are some of the potential dangers your little one will face and will need to be taken care of.
The baby gate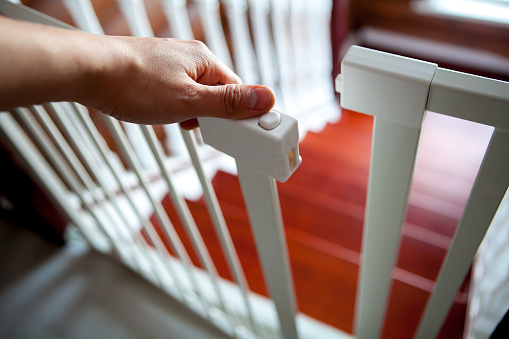 A classic staple of the child-friendly home, the baby gate is a necessity for almost any baby household. Stairs, bedrooms, bathrooms and kitchens are all perfect places for a baby gate – but there are a few important elements to consider.
Baby gates come in two styles - pressure and hardware. Hardware gates are drilled into the wall and are harder to dislodge – perfect for the top of the stairs. Pressure gates use extendable arms and legs to push themselves in place against doorframes and walls – perfect for bedrooms and kitchens where there's less of a hazard if they were to be knocked over.
At Admiral we know the value of a good MOT – and you should too when assembling your baby gate
M – Measure. Measure the space your baby gate will sit in to ensure you get the correct size, too big or too small and it's no good
O – Open and Close. Be sure the gate has space to open and you understand exactly how to work the gate too – if you ever need to get to your little one quickly you don't want to be struggling with a complicated gate
T – Test. Remember that your little darling will be pushing and pulling on the gate at any given time – you want to make sure that it's sturdy. Test it, make sure it's strong and sturdy.
Corners and legs
 It doesn't matter how old you are, we know accidents happen. However, there's loads more opportunity for bumps to occur for your little movers. A key obstacle they'll face day to day are table corners and legs – especially for your coffee table in your stylish living room. Plastic corner caps and leg guards are the perfect way to protect them without stopping their new love of exploration.
Sockets and wires
Cables and sockets should be the next port of call. Toddlers want to interact with everything – they'll push, they'll pull, and they'll most definitely bite - so it's important all cables are tucked away behind furniture and away from little hands. The same goes for any dangling window blind pulls.
Unless obviously in use, all plug sockets should have a plastic cap in them to protect your little adventurer from getting a nasty shock. Big items with cables, like your TVs and lamps, should be fixed down – you don't want one sharp pull to cause a major accident.
Drawers and cupboards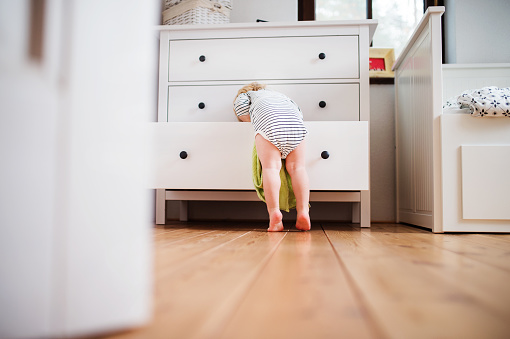 Last but absolutely not least, as your little crawler starts trying to stand, they'll use anything they can find to pull themselves up – sofas, toys, pets, you, anything they can find. Although this adventure is adorable, it comes with risks too. Any heavy furniture should be fixed to the wall to stop them being pulled over and leading to a nasty accident.
After they've tried going up the cupboards, they'll be trying to get in them too. Especially in the kitchen, child-safety locks and catches are essential to stop those nosy minds and hands getting in places they shouldn't.
Watch those danger zones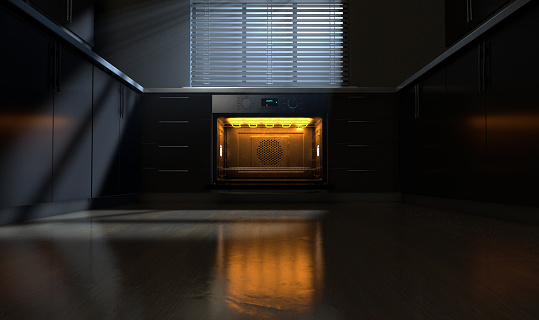 As generally safe as you'll make your home, there are certain areas where every step should be taken to protect your little one from harm
The oven: There should be no compromises around the oven – even if it's off, make it clear that this is a no go area

Resting water: Everyone understands the dangers of leaving a child unattended near water, so never leave your little one unattended in the bath, and consider blocking off or draining any ponds or pools you may have until they're a little older.

High windows: You'll be surprised where your child can reach when you're not looking, make sure that all high windows are locked – or at least have a child safety catch to stop them opening too far

Open fires: If you're lucky enough to have a working fireplace, be sure that there's a full fireguard all the way around the hearth
Bumps and scrapes are a big part of growing up, and no matter how much proofing you do accidents are bound to happen. These tips will help you look after your little one as they take those big first steps –  and why not let us look after your home too.