New year is when we say goodbye to the old and hello to the new, with attention turning to refreshing our homes almost as soon as the Christmas decorations are down. 
In fact, according to research by cleaning and laundry experts Dr Beckmann, more than a quarter of Brits (26%) claim that cleaning their home is their go-to stress buster – and that having an untidy or dirty home affects the mood of nine out of 10 of us.
So as the Christmas lights are packed away, here's how to make sure your home remains sparkling – all year round! 
Undeck the halls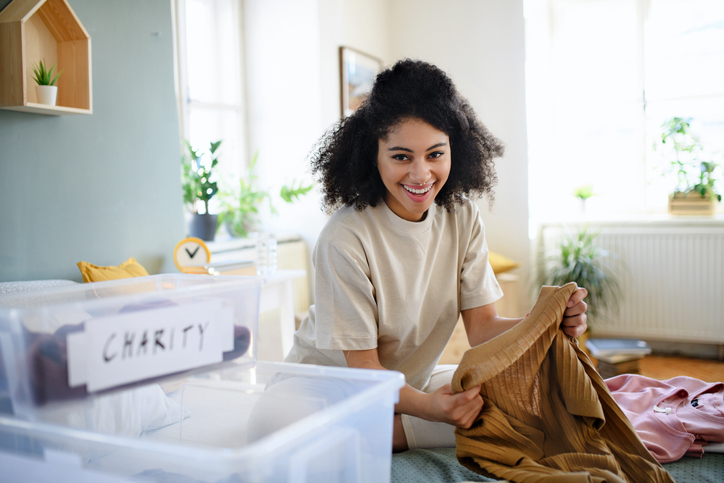 Government statistics show that between six and eight million real Christmas trees are sold in the UK each year. If your tree still has its roots, replanting it in a pot or the garden is a fantastic way to help combat climate change. 
Otherwise, take it to your local recycling centre, where trees will be shredded into chippings for use locally in parks or woodland areas. You can also recycle Christmas cards, some gift wrap and cardboard packaging.
Clean machines 
How often do you clean around the kettle, toaster, dishwasher and washing machine without paying any attention to the appliances themselves? It's time to give your electrical goods a little TLC – but always check the operating manual for special instructions first. 
According to 'Queen of Clean' Lynsey Crombie, kettles should be cleaned monthly by half filling with water and then another quarter using white vinegar. Lynsey said: "Leave to sit for a while, then boil, pour away, fill with plain water and boil again. Dispose of this water before enjoying a cup of tea! 
"If you use your toaster on a regular basis, shake the crumbs out once a week – you can shake it in the garden to feed the birds. Wipe over the electrical cord (unplugged) and the sides, and use a cream cleaner on the metal. Ketchup is also great for getting rid of rust!" 
To clean the microwave, Lynsey recommends filling a microwave-proof bowl with water and adding a few slices of fresh lemon. "Pop on full power for five minutes, then remove the bowl and wipe the sides over," she added. 
For ovens, the regularity of cleaning depends on how often you use it and what you cook. Rosie Clarke of domestic appliances manufacturer Miele GB said: "If you have an oven with a Pyrolytic self-cleaning programme, you can probably afford to go a bit longer between doing a full clean.
If cleaning by hand, you should wipe after every use and do a full clean ideally once a week, to avoid a build-up of grease and staining that will become more difficult to remove with subsequent use." 
"For dishwashers, the filter should be checked after every use to remove any food deposits, pips or bone fragments and rinsed under the tap if it looks clogged or dirty.  A dishwasher cleaning product should be run through on a hot wash once every few months to clear any fat deposits or build-up in the pipes." 
Your laundry appliances will certainly thank you for a detox at this time of year, with the extra demand winter brings. Sophie Beckett-Smith of AO.com said: "Run the washing machine on an empty cycle without detergent, on the hottest cycle possible. This will help get rid of any mould or bacteria, especially if you usually run your machine on cooler wash settings.
Don't forget to pull the detergent drawer out and clean it with a toothbrush and hot, soapy water to scrub away any detergent or gunk build-up. 
"If you have a tumble dryer, the machine will need freshening up from time to time. Start by spraying old towels with white vinegar and lemon and pop them on a cycle, which will help to neutralise odours and freshen the appliance up. Also, remember to clean lint out of the drum and seals."
What's in store?
Detoxing your home doesn't always mean bringing out the bleach and rubber gloves. Sam Baldry, head of design at furniture brand Swoon, said: "Sometimes, a simple declutter is exactly what's needed! 
"With searches for 'storage ideas' peaking at over three million per month on Pinterest, it's clear the nation becomes obsessed with organising in January, with a tidier home contributing to a more tranquil living space." 
With many still working from home, it's no surprise that we're searching for storage ideas to keep home offices neat and tidy. Sam said: "A clean workspace can encourage higher productivity and better mental health, so creating a space that works for you is important. If your office is small, think about opting for a folding desk, which will hang on your wall unassumingly when not in use." 
Feng Shui is an ancient Chinese tradition used to create balance. Carme Home interior design expert Marc Epstein said: "Feng Shui can be broken down quite simply. The first step is to declutter and only live with items you love. 
"As Marie Kondo says, 'does this bring you joy?' Really consider what you keep in your home and why. Surrounding yourself with items you truly love will help to create positive energy. Then, organise everything! Once your home is decluttered, this allows space for more of the things you love." 
Feel the energy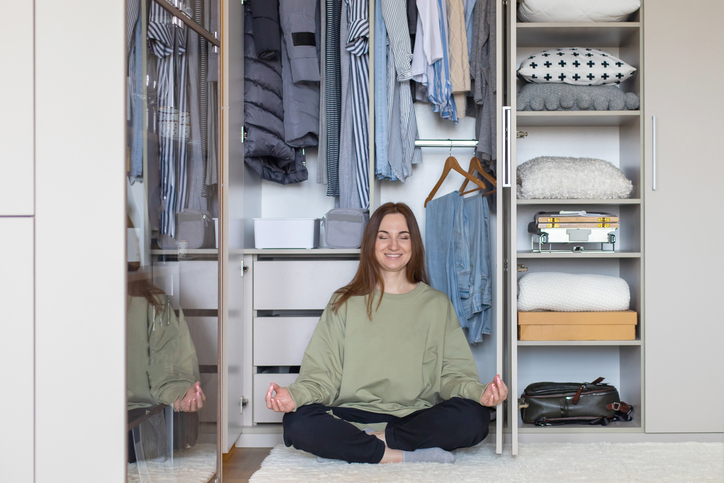 Once you've recycled or given away everything you don't want or need, paying attention to the energy in your home will maintain the sense of calm. Energy healer and yoga teacher Aysha Bell recommends the use of certain plants to create a happy, relaxing space. 
Aysha said: "Palo Santo (bursera graveolens) is a tree that grows on the coast of South America – its name means 'holy wood.'  My granny used it for its cleansing and healing properties and I grew up loving its fresh pine, mint and lemony scent. 
"I use lavender in my meditation boxes, candles and bath salts. Lavender is renowned for its ability to soothe anxiety and stress, and used to treat anxiety, insomnia, depression, and restlessness. My granny would put lavender in the water when mopping the house to clear the energy, and I genuinely can feel the difference when it's used in this way." 
Everything in the garden
It might be cold outside, but don't forget exterior jobs such as clearing your guttering and weatherproofing your garden ahead of winter snow and storms. Garden fences and boundaries can take a battering during winter months, so read our guide to make sure you keep your side well maintained. 
Patios and decking can become particularly hazardous during the winter months, when they are slippery from rainfall and algae starts to build up. Mike Nicholson, managing director at decking suppliers Gripsure said: "Pressure washing is a popular choice as it is very quick and easy. Always keep the head of the pressure washer at a minimum distance of 200mm with a wide jet spread, to prevent damage to the timber.
"An alternative is a good old-fashioned scrub with a bucket of water and a stiff brush, which reduces the risk of damaging the timber. Timber decking cleaner is available from most DIY stores and garden centres, and can help with those stubborn, hard-to-clean areas."
Of course, not even the Queen of Clean can tick every chore off the list in a month – so consider creating a 'cleaning calendar' to tackle jobs throughout the year, such as cleaning the kitchen cupboards, fixing a dripping tap and dusting lampshades, banisters and skirting boards.
Don't forget your pets, washing and airing their bedding and sorting out their toys and blankets. With animal rescue charities sadly busy at this time of year, your local rehoming centre will be glad of donations. 
This is also the time many of us resolve to sort our finances. Comparing home insurance and pet insurance can get your new year savings off to a great start!