Meaning 'a love of life or living systems', biophilia is emerging as the latest trend in interior design. Biophilic design is based on a number of principles aimed at resolving our disconnect with nature, transforming not only our living spaces but our emotional health, too.
Biophilic design emerged as a movement in North America in the late 1960s and was popularised by biologist and naturalist Edward O Wilson with his volume, Biophilia, in 1984. But, according to designer Alex Bond, "it's actually been around forever."
Alex, who established Biophilic Designs four years ago to introduce the idea of urban greening into homes and workspaces, grew up in Australia, a self-confessed 'outdoor creature'.
"I'm very much against being stuck inside for any length of time," he said. "For the last 10 years, I've been working with architects and designers and coming across the concept of biophilic design, thinking, 'this is me'. I started to research it and the interesting thing is that, although many people may not have heard of it, we are all intrinsically connected to the idea. It's nothing new. 
"In the tropics, people tend to live outside or have greater access to the outdoors and are more in tune with nature. In the northern hemisphere, we have more intense, fast-changing seasons and we are used to shutting ourselves away from the outdoors for long winters, increasing that disconnect.
"Biophilic design is now becoming far more popular – hugely so in the last 18 months as we have changed the way we live and work. Our Instagram account, for example, is more popular with the younger generation, who have been sent home to work and have found they enjoy working in the garden. It has a huge impact on how we approach life and the work-life balance we seek to achieve." 
This will resonate with anyone who came to rely on their garden, local park or urban nature reserve during those early days of lockdown. According to Mind, being in nature or green space helps to improve mood and reduce feelings of stress or anger, and it can even boost confidence and self-esteem.
The benefits of green space and plants are increasingly being recognised by health professionals, too. One example is taking place in south Wales, where Swansea Bay University Health Board is working with Biophilic Wales to transform sites around hospitals, health centres and mental health facilities into green oases.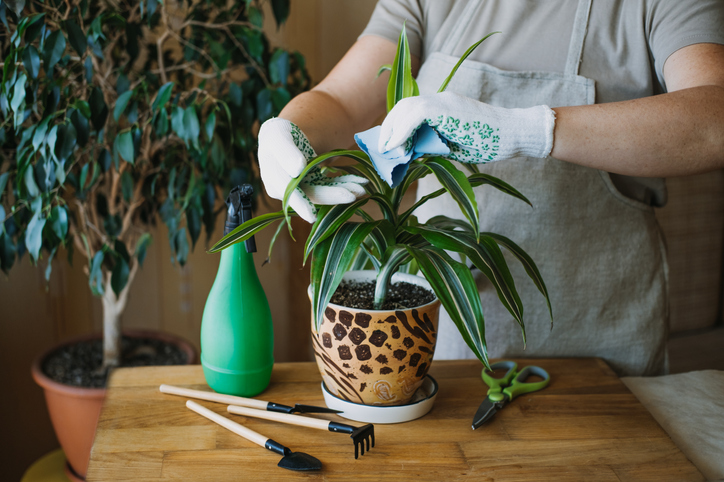 At The Little Botanical, plant specialists for more than 100 years, customers are encouraged to think differently about indoor greenery, such as considering adding a 'living wall collection' or botanical art to their home. 
Co-founder Morag Hill said: "Our mission is to provide consumers with quick, easy access to horticultural home styling and inspire them to incorporate greenery into their everyday lives.
"Houseplants can add depth, texture and natural architecture to an indoor space. Green walls and botanical art can bring to life any space, whether that's your kitchen or home office space. Plants also improve the quality of air around you, removing toxins from the air, reducing stress and improving productivity."
The principles of biophilic design include natural features, such as plants, water features, natural materials and earthy colours; natural light and space; curved lines; and natural patterns and processes. Biophilic Designs works with commercial clients, as well as private homeowners, to incorporate all these elements into buildings. 
"Recently I met with a client, a large corporate, who said they need plants for their office as a way to get employees back into the workplace following the pandemic," said Alex. "They said that they have to get this right and become more human-centric. Another of our clients is fortunate to have a yoga room and they have asked us to create a green wall and a water feature in it."
We might not all have a yoga room, but we can certainly introduce the principles of biophilic design into the smallest of spaces. "Plant sales have risen significantly in the last 18 months, and there are many sub-tropical plants, some of which barely need watering and are child and pet friendly." said Alex. 
"Post-pandemic, one of the few good things to come out is the realisation that we are disconnected. Biophilic design as a concept is not just about plants; it's also about daylight and different colours to reflect emotions. Changing the colour of our walls or improving natural light can have a huge impact on our circadian rhythms and sleep hormones."
Biophilic design can be incorporated just about anywhere – although there are a few things to consider. Creating a green wall indoors could have an impact on a load-bearing wall, for example, and, although it is unlikely you will need planning permission, it might be required if you live in a listed building.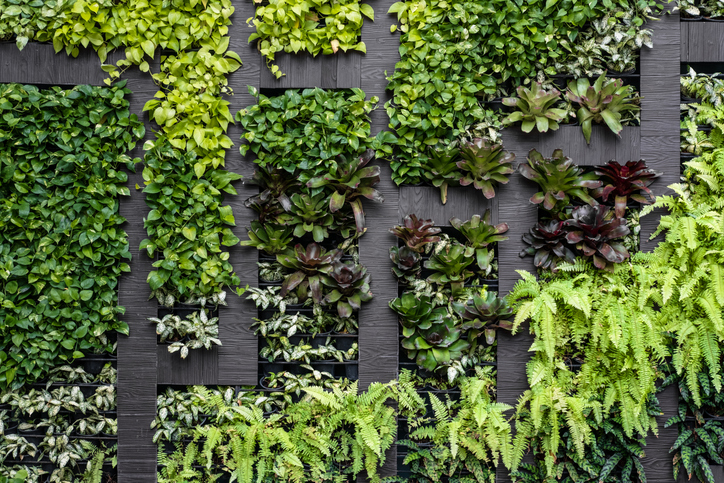 "If you want to create a green roof, you may need a structural engineer, depending on how large it will be, and you will also need to consider irrigation and access to mains water and electricity," said Alex. 
"Some installations will need these, but they are not always necessary – you could install a simple felt green wall, for example, which can be hung like a picture and you simply water it with a watering can! Biophilic design can be very easy or very complex, depending on your space and your needs." 
Don't forget to check with your home insurance provider if you're thinking about making any significant changes, especially structural, to your home. 
No matter the size of your pad, there are lots of ways to connect with nature from home – read our article for some great ideas. You can also encourage wildlife into your outdoor space, including small balconies and window sills, and you might also be inspired by our environmentally-friendly garden trends! 
With more than 20 years' experience in journalism and PR, I've worked with the BBC, ITV, Trinity Mirror, Metro, MSN and many more leading media, as well as a range of third sector and corporate clients including Macmillan Cancer Support, Visit the Vale and the NHS. A number of my short stories have been published in anthologies and I've written three collections of walking trails in south Wales. Always happiest in the great outdoors, I'm an Ordnance Survey Get Outside Champion and blog about my hiking and camping adventures at www.girlonthetrail.co.uk. I have two teens and a rescue greyhound called Lionel, who, to my shame, is possibly the world's worst hiking dog (the teens aren't much better).