Watch any US sitcom featuring a multi-occupancy property and the idea of a house share seems a lot of fun. However, with rising rents and living costs, the prospect of living in a shared property is an increasing possibility for many people. Flatsharing site, SpareRoom, have compiled their top five tips for finding your perfect housemate.
1. Know what you want
It's helpful to know the kind of set up you want with your new housemates. Are you looking to share the odd meal together or are you happy to keep to yourself? 
Some people's idea of the perfect housemate is one they never see! It's a good idea to figure out what you want your relationship to be and use this as a starting point for finding the right match.
2. Consider your lifestyles
It's vital to find housemates whose lifestyles complement your own. For example, when meeting prospective housemates, consider their working hours, hobbies and whether they like to have guests over regularly. How would that work for you?
3. Tackle the subject of cleaning
Cleaning is usually the biggest issue in house shares, so when you meet potential housemates, ask about their cleaning priorities, and be open about yours too.
The best way to avoid any resentment building between housemates is to create a cleaning rota early and stick to it. Additionally, staying on top of the cleaning will help to keep the house in better condition and make it a nicer environment to live in.
What to include in a cleaning rota
When you put together your cleaning rota, it's best to focus on communal areas as bedrooms are personal spaces and should be left to individual housemates. 
Divide the rota between the kitchen, communal bathrooms and living areas and put together a list of the most important tasks for each area. For example, the kitchen would include: washing the dishes or filling the dishwasher, cleaning the hob, microwave and stove, cleaning the kitchen table and checking the fridge for out-of-date food. The bathroom rota would be to clean the shower, bath, sinks and toilets, along with mopping the floor. 
Some people like to include taking out the rubbish as part of the general cleaning rota, but that can depend on what days your bins are collected, so you may need to set up a separate rota for that.
What if my housemate doesn't stick to the cleaning rota?
If a housemate is not sticking to the rota, it's best to deal with this as soon as possible before it creates any friction.
Have a word with the housemate to see why they are skipping their turn, explain to them that everyone must take on their share of the cleaning, and it's unfair of them not to do so. If they're unable to clean on their appointed days due to work commitments or shift patterns, then see if they could swap with another housemate, or move their turn to one of their days off.
If most of the household is opposed to a rota, then you could look at other options such as hiring a cleaner and splitting the cost.
4. Meeting in person
Video calls are a great way to get an idea of potential housemates or see the property you're interested in, but nothing beats meeting face to face to see whether you click or not. 
Make sure you're up front about any potential guests such as boyfriends/girlfriends, as space is limited, you'll need to be mindful of your other housemates and their schedules. 
If you all agree on the days and nights you have partners over, then that should keep any disagreements to a minimum and you'll be much more likely to enjoy a happy house share.
5. Discuss house rules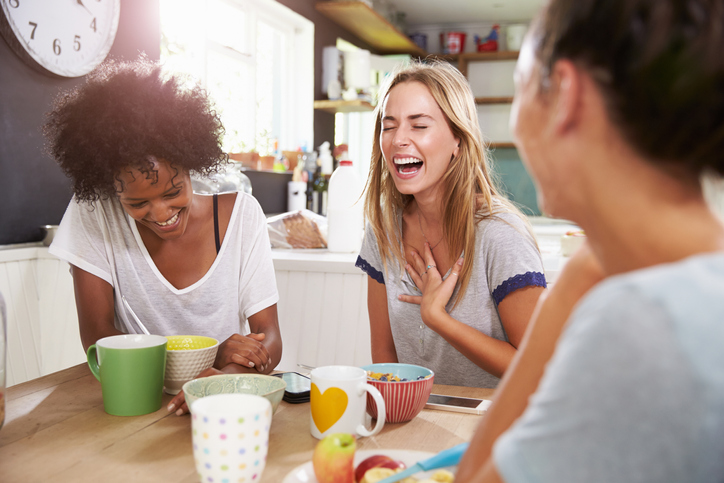 It's important to have these conversations up front, as you need to decide whether you're comfortable with how the other person likes to live and how they like to keep their home. You'll save yourself a lot of hassle if you avoid moving in with people who have rules you don't agree with.
Miriam Tierney from SpareRoom advises: "The most important thing when looking for a new shared home is the people you choose to live with. To help find the right housemate it's key to be honest when meeting people, let them know what you're looking for in a new housemate and the kind of environment you want to live in."
"That way everyone's clear on what living together would be like and you can weigh up whether you click or not."
If you're looking to share a house or a flat and want to make sure your belongings are protected, you can see just how much your stuff is really worth with our contents calculator before getting a Contents Insurance quote.