5 ways to make your home cosy this winter
Whether you love the colder months or not, there's no denying this time of year makes us think about how to make our homes warm and welcoming. Read on for our tips.
The summer heatwave is beginning to feel like a dim and distant memory, as temperatures drop and the mornings and evenings begin to get a little darker.
If you're the kind of person who loves the changing seasons, this won't be a problem. But if you live for the summer, the cold, dark winter months can be a struggle.
We've put together a list of ways to help make your home cosy and welcoming at exactly the time of year you're most likely to be indoors.
Lamps
A bit of ambient lighting can make the world of difference. Rather than using the ceiling light, which can be harsh , dot a few lamps around the room. The soft glow is certain to make the room feel cosier.
Mix it up between table and floor lamps so you can move them and make sure there's enough light where you need it. A floor lamp is perfectly placed at the end of the sofa to make sure you don't strain your eyes when reading. 
Throws and cushions
Adding throws and cushions to your sofa or bed makes all the difference. It's a relatively inexpensive way of transforming a room and adding some different colours and textures. Think comfortable, warm, cosy fabrics you'll want to surround yourself with.
Snuggling up under a blanket with a hot drink is sure to make you feel relaxed, content and happy – especially if it's raining outside!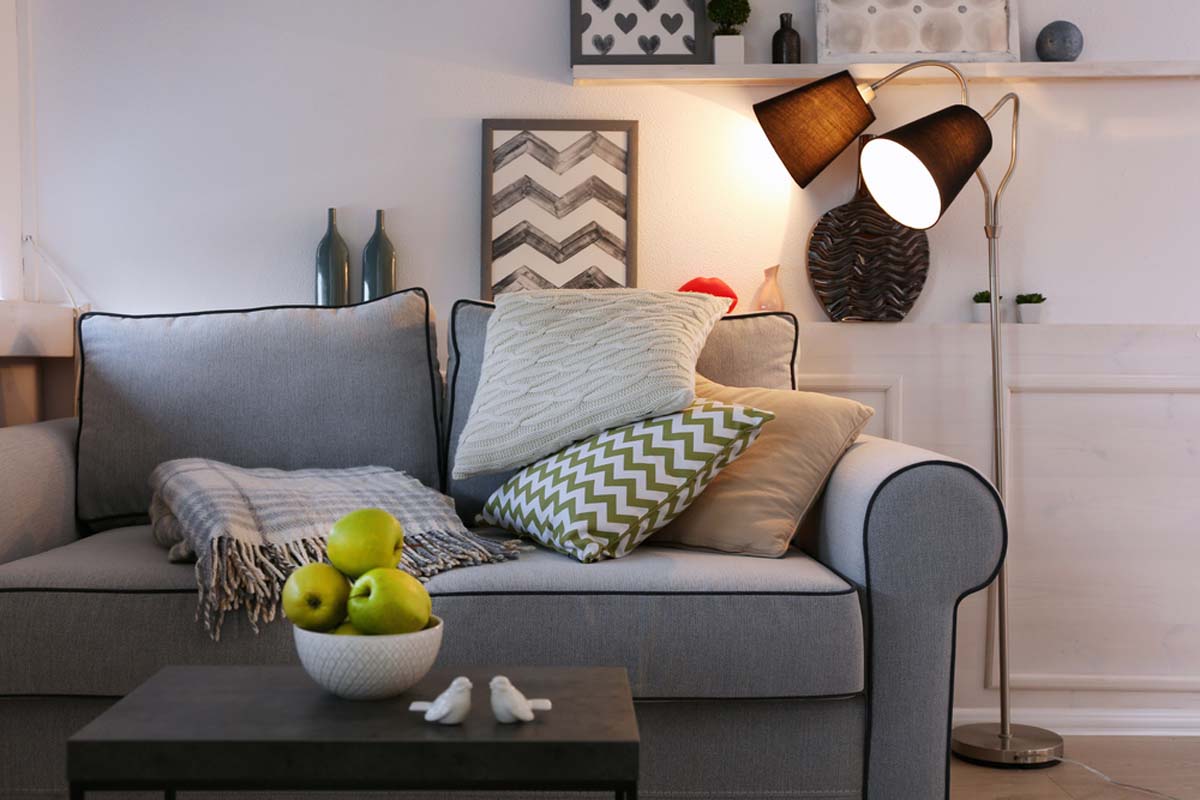 Rugs
Walking on a cold floor is guaranteed to make you feel chillier, and if you have wooden or tiled floors, adding a rug or two is one of the quickest ways to make the room feel warmer and more homely.
While thick, warm socks and snug slippers can help, a rug is a great way of taking the homely feel up a notch. A thick rug with long pile feels especially cosy and luxurious.
Candles
Flickering candlelight is guaranteed to add a little atmosphere to a room. Don't leave your fancy candles to gather dust rather than burning them – make the most of them to brighten a dark autumn night!
If you're a fan of a log fire but don't have a fireplace, you could try candles with wooden wicks. They crackle as they burn, evoking the feeling of being in a room with an open fire. Heaven.
Just remember to blow them out before bedtime!
Scents
The scents you have in your home can make a huge difference to the way you feel. I'm sure there are certain things you smell that prompt a memory to come back to you. In the same way, very floral or coconut-based scents make you think of summer.
Embrace the new season with something more autumnal, such as a spicy scent that might be a bit much on a warm summer day. Pop a reed diffuser in each room or kill two birds with one stone and invest in some scented candles.